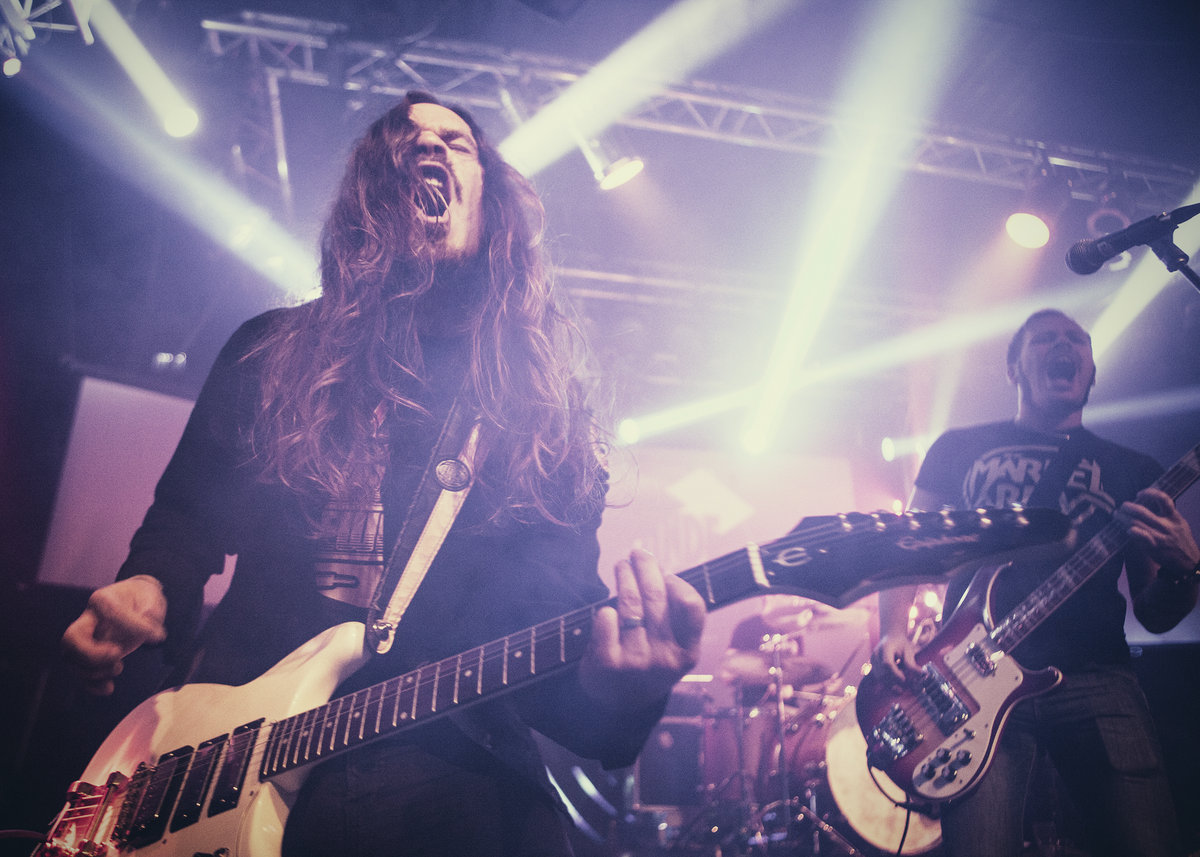 Dregen has serious form with punk and garage rock through various groups – most prominently Backyard Babies and The Hellacopters, though fans will also recall stints with Michael Monroe and Tyla (of Dogs D'Amour) as well as highly charged supergroup (with Ginger Wildheart) Supershit 666. Now the busy Swede has teamed up with countrymen Grande Royale for this jet-packed blast of shouty, in-yer-face (yet deceptively sweet) garage rock'n'roll, fresh out of 90s Scandinavia with a twist of 70s London. Grande Royale has a history of working together with prominent names of the Swedish rock scene. The band has previously worked with Nicke Andersson (The Hellacopters, Imperial State Electric) and Ola Ersfjord (Dead Lord, Honeymoon Disease, Lucifer). For the release of the band's fifth studio album "Carry On" they teamed up with Dregen, who adds vocals to the third single "Just As bad As You". 

Grande Royale's upcoming album "Carry On" contains 11 tracks of high energy rock n roll. The Band has applied a rawer and more back to basics- approach for the album, keeping production simple while focusing on strong and catchy material. Orange fuelled electric guitars, crushing bass tones and thundering drums inspired by 90's rock. Vocalist Gustav Wremer sings with more grit than on previous albums, adding a ton of attitude to the new songs. All put together, "Carry On" offers an energetic and straight forward take on garage rock. Produced by the band members themselves, and mixed by Robert Pehrsson .

"On our previous record 'Take it Easy' we experimented a lot with different instruments and sounds to challenge ourselves. To make something that, to us, is a bit unusual and that stands out from our other albums. On 'Carry On' we're focusing on what we're best at – dirty garage rock n roll. We've basically recorded and produced the entire record ourselves. I think it ended up great. No fuzz, no muss, just rock!" – Gustav Wremer (guitars/vocals) 
Dregen (The Hellacopters, Backyard Babies) has joined forces with Grande Royale for the release of the single and music video "Just as Bad as You". The single is released on Friday, January 22 on The Sign Records, and is the third single leading up to Grande Royale's upcoming album "Carry On". With special guest Dregen on vocals, the band has created a highly energetic piece, delivering garage rock to a new generation. 
Official music video for Grande Royale's single "Just as Bad as You". The track is featured on the band's fifth studio album "Carry On", released On The Sign Records