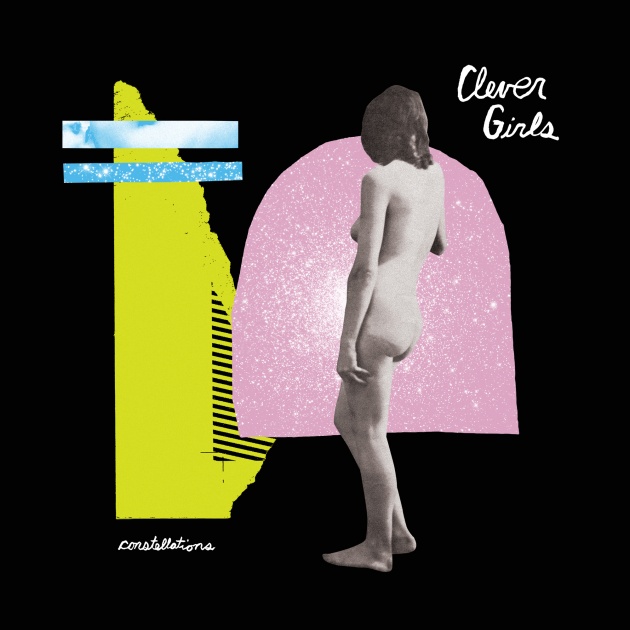 Burlington, Vermont's Clever Girls, the indie-rock songwriting project of Diane Jean, waited a long while to release their second album "Constellations". They started writing the record in early 2018, before they'd even finished recording their debut, Luck, and after Jean had come out as queer and gender-nonconforming. These songs find the songwriter working towards personal autonomy and acceptance, and surround their unflinching emotional journey with versatile, always-compelling guitars and dynamic arrangements that keep the listener off balance, unsure of what's around the corner of the next measure. Constellations is music for those who look inside themselves and are unsure of what it is they see, but refuse to turn away. 
Clever Girls' Diane Jean does more than just sing about their issues, they make you feel them viscerally. In order to capture the exhaustion and frustration that people assigned-female-at-birth can feel in relationships because of societal expectations, they recorded the vocals to "Stonewall"  the moment they woke up. Scratchy-throated and weary, they were still wrapped in a sleeping bag after spending the night in the studio. This kind of commitment is a big part of what makes Clever Girls' second full-length LP, "Constellations", so compelling.
Clever Girls are a Vermont-based quartet Diane and their bandmates prove to be fluent in a myriad of sounds throughout the record. Opener "Come Clean" shifts from a hushed indie lullaby to a noise rock cacophony in jarring fashion. "Remember Pluto" is blissful and beachy, recalling bands like Alvvays and Fazerdaze. The closing track "Fried" even has an IDM quality thanks to its thumping beat and oscillating guitar.
There's a looseness through Constellations that makes the album especially inviting — you get the sense that the takes used were chosen more for emotional resonance than technical perfection. After all, it was pandemic isolation that inspired the tremendous sense of longing on lead single "Baby Blue." The record as a whole was partly inspired by Diane's encounter with the Major Arcana Tower tarot card, a symbol of tumultuous change and personal revelations, and the twin feelings of optimism and unease course through each track.
The songs on Vermont indie rock outfit Clever Girls' sophomore album, "Constellations" via Egghunt Records will make you feel big and brave even when bandleader Diane Jean sings about feeling small and scared, which is often.
"I think the funny thing about song writing for me is that it's the sphere of my life where—I don't think of myself as a dishonest person, but it's just where honesty comes most naturally to me," Jean recently said over the phone. "So I carry guilt or shame or fear or love around—all of those big, big emotions—and they come to light first in song writing for me, which is always fun and always surprising."
In Constellations, Jean navigates those big emotions through vivid song writing and layered, swirling instrumentation. The New Jersey-born singer-songwriter and guitarist wrote the record between 2018 and 2020, with most of the songs taking shape around the time they came out as queer and nonbinary. The final product is self-probing and celestial, tender and intense. "There is so much experimenting going on [in this record]," says Jean. "What I want to say is that it really came from a place of self-discovery."
Songs written by Diane Jean and Clever Girls
Clever Girls, "Constellations" Due March 26th