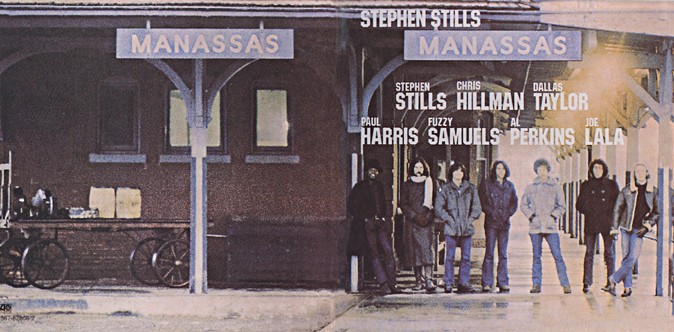 With Manassas, Stephen Stills reconciled warring impulses between obsessive control and solid musical partnerships to forge the best band and consistently strongest album of his solo career. Stills' name loomed over the title, but unlike his studio instrumental dominance on Crosby, Stills and Nash's debut or the kitchen-sink indulgences that marred the two previous solo albums, his third full-length as  band leader showcased a collaborative ensemble flexible enough to cover a broad stylistic palette that ranged from Stills' folk-rock country, bluegrass, Latin and hard rock elements.
The genesis for the Manassas band stemmed from a chance encounter with fellow folk-rock veteran Chris Hillman as Stills toured behind "Stephen Stills 2″ in June and July of 1971. Hillman, then soldiering on as the surviving founder of the Flying Burrito Brothers, would later recall, "Stills was playing a concert in Cleveland with the Memphis Horns. I was sitting in the audience, going, 'Jesus Christ. They're making 25,000 bucks and they're shitty. The Burritos are better than this.' I went backstage, and that's when we renewed our friendship."
In 1966, Hillman had helped Stills and Buffalo Springfield snare a gig as house band at the Whisky a Go Go that jump-started their career. Beyond that early debt, Stills recognized that the ex-Byrd as a kindred spirit seasoned beyond his years, a former bluegrass prodigy on mandolin and guitar before joining the seminal folk-rock band on bass. His skill at working with volatile partners including the Byrds' Roger McGuinn and Gram Parsons, with whom Hillman defected to launch the Burritos, contrasted with the internal rivalries that had undermined Crosby, Stills, Nash and Young a year earlier. Encouraged by the reunion, Stills invited Hillman to join him in Miami to jam during studio sessions.
If the band Hillman heard in Cleveland turned in a lackluster set, it included journeyman players: bassist Calvin "Fuzzy" Samuels, veteran keyboard player Paul Harris, vocalist and percussionist Joe Lala and drummer Dallas Taylor, all joining Stills and Hillman for the recording sessions. With some new material leaning toward country, they added three more Burrito alumni, starting with guitarist Al Perkins, who would become a formal member of the Manassas band, and fiddler Byron Berline and acoustic double bassist Roger Bush, who would guest on the set's bluegrass arrangements. While flexing his multi-instrumental prowess on guitars and keyboards, there was no need (and little room) for Stills to cover all the bases as he had with CSN.
How effectively the band invoked different styles is illustrated by "It Doesn't Matter," a graceful mid-tempo ballad, co-written with Hillman, that seamlessly integrates Stills' concise electric guitar figures, Perkins' gliding pedal steel, and Lala's timbales beneath plush vocal harmonies from those four members.
The resulting studio band (abetted in a few sessions by Rolling Stones bassist Bill Wyman, two additional keyboard players and an uncredited Jerry Garcia) jelled quickly during the sessions at Criteria Studios. Stills brought an already substantial set of new songs, having originally planned his previous album as a double LP. With that bumper crop of originals, he envisioned four thematic album sides: The first would be devoted to songs inspired by his doomed romance with Rita Coolidge, organized as a would-be suite titled "The Raven"; side two, "The Wilderness," would lean into country and bluegrass; side three, "Consider," evoked Stills' more melodic folk-rock instincts; and side four insisted "Rock & Roll is Here to Stay" with a trio of rockers that led to Stills' solo acoustic elegy, "Blues Man," saluting departed comrades Jimi Hendrix (who had appeared on Stills' self-titled debut), Duane Allman and Canned Heat's Al Wilson.
Preceding that lament was "The Treasure" a full-throttled rocker verging on progressive rock sprawling over eight minutes. A showcase for the ensemble's collective power, the song would emerge as a live highlight during the band's subsequent maiden tour.
That grand design was consistent with the album's ascendance as the dominant focus for Stills and his rock peers, even if lyrically the songs largely plumbed more modest and familiar romantic themes with a few stabs at philosophizing, as on the unintentionally ironic "Rock & Roll Crazies," warning of rock lifestyle hazards then handicapping Stills more than the song's intended audience. That track stalled as a single, as did "It Doesn't Matter," but the album, which was released on April 12th, 1972, was able to land in the top five on the Billboard album's chart while largely restoring Stills' critical esteem after the criticism he experienced on the previous two solo sets.
On balance, Manassas impresses most through Stills' melodic gifts, soulful vocals and instrumental chops. If the lyrics suffer by comparison with his strongest songs with Buffalo Springfield and CSN&Y, the material succeeds overall through the ensemble's collective taste and the ambitious array of styles. More than any other project, the album documented Stills' eclectic influences as absorbed during an itinerant upbringing as a military son in the South, along the Gulf Coast, and Central America, where Afro-Cuban styles would join his more familiar folk and blues.
Relaxing the obsessive need for control that shaped earlier solo and band projects, Stills found common ground with his band mates, sharing writing on selected tracks with Hillman, Lala, Taylor and former Burrito (and future Firefall member) Rick Roberts.
It's tantalizing to consider what Manassas might have become had those bonds had the time to deepen. Instead, a follow-up was hastily recorded following a hiatus prompted by an ill-fated album reunion for the five original Byrds. That project took Hillman out of the picture in the first of a series of recombinant band distractions that would gradually dismantle the original septet. Hillman would be lured into a new supergroup proposed by manager David Geffen, teaming him with Eagles collaborator J.D. Souther and Buffalo Springfield/Poco survivor Richie Furay. Stills himself would be pulled away first by his wedding to French singer Veronique Sanson, then by CSN&Y reunion talks on Maui that soon collapsed.
By the time Stills reunited with his band Manassas, they had lost Dallas Taylor to a crippling heroin addiction, as well as Calvin Samuels, defecting for personal reasons. With a new bassist and drummer, the band limped through a 1973 tour before one of the final dates on that circuit, at San Francisco's Winterland, signalled their impending end when David Crosby and Graham Nash joined them onstage, with Neil Young stepping in later in the set, prefiguring the 1974 CSN&Y reunion tour. Hillman would depart as planned for the Souther Hillman Furay Band, taking Paul Harris and Joe Lala with him.