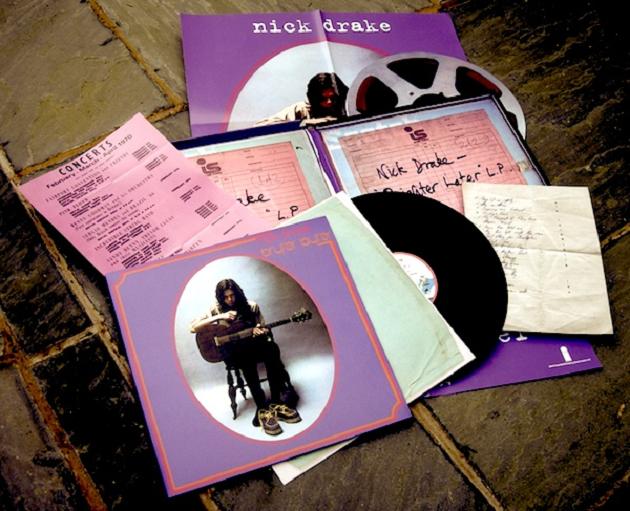 English folkie Nick Drake barely created a ripple during his lifetime. He recorded three albums of beautiful acoustic folk, but barely sold a copy during his lifetime. His acoustic music was sophisticated, with flourishes of jazz, and his acoustic guitar finger-picking was beautiful; he used alternative tunings to create tone clusters. Drake studied English literature at Cambridge and enjoyed the poetry of Yeats, Blake, and Vaughan; his lyrics have the same evocative spirit, with images drawn from nature.
Nick Drake passed away in 1974 from an overdose of anti-depressants, leaving a legacy of three studio albums. He didn't enjoy playing live, and languished in obscurity despite his immense talent. The release of the "Fruit Tree" box set in 1979, shout-outs from famous fans like The Cure's Robert Smith and R.E.M.'s Peter Buck, and the use of his song 'Pink Moon' in a US car commercial all contributed to Nick Drake's growing stature.
By the 1990s, Nick Drake's work, overlooked at the time, had been reassessed. Drake's three albums are now all critically acclaimed.
Each of Nick Drake's three studio albums provide a different angle on his acoustic folk sound. His 1969 debut, "Five Leaves Left", is a pretty mood piece, with Drake's guitar often accompanied by the bass of Danny Thompson (from contemporary folk-rock band Pentangle) and by Robert Kirby's string arrangements. 1971's "Bryter Layter" is more detailed – Drake is accompanied by a rhythm section on almost every tune. 1972's final album, "Pink Moon", is stark, with Drake performing completely solo – it was recorded quickly in two late night sessions.
Additionally, Time of No Reply and Made to Love Magic are overlapping compilations that mop up Drake's studio out-takes, most notably the four songs that he recorded in July 1974. It's worth hearing one of them, but they're not as essential as his studio records.
All of Nick Drake's albums require some persistence to enjoy, as Drake's songs are subtle and nuanced, but the diversity of Bryter Layter makes it the most accessible. The fuller sound also helps; the Fairport Convention rhythm section of Dave Pegg and Dave Mattacks appear, while Fairport guitarist Richard Thompson plays lead guitar on 'Hazey Jane II'. Robert Kirby reprises his role of orchestral arrangements from Five Leaves Left, although John Cale's beautiful arrangements on 'Fly' and 'Northern Sky' are next level.
Choosing a favourite Nick Drake album is purely an academic exercise, as all three are essential, but it's the magical contributions of the other musicians, particularly John Cale, that elevate Bryter Layter as Nick Drake's best album.
"One of These Things First" On the gentle and jazzy, Drake is joined by a cast of American musicians – rhythm section Ed Carter and Mike Kowalski were both involved with The Beach Boys, while pianist Paul Harris later joined Stephen Stills in Manassas. The gently meditative song was later featured in the film Garden State.
John Cale, at a loose end after his dismissal from The Velvet Underground, was sent a demo from Drake. Cale was impressed by Drake, particularly his "sensuality", and added his arrangements to two songs on Bryter Layter. The classically trained Cale is a terrific foil for Drake, adding an exquisite beauty to his songs without drowning them in sentimentality. 'Fly' is the more ethereal of Cale's two arrangements, with his viola colouring Drake's delicate song.
The other song arranged by Cale, 'Northern Sky' is a romantic tale of wistful longing. While the subject of the song has never been confirmed, it was reported to have been inspired by Linda Thompson. Cale augments the song with beautiful work on celeste, piano, and organ. None of Nick Drake's records were popular upon release, and none charted.
A contemporary review of the compilation Nick Drake in Rolling Stone by Stephen Holden read: "An incredibly slick sound that is highly dependent on production values (credit Joe Boyd) to achieve its effects, its dreamlike quality calls up the very best of the spirit of early Sixties' jazz-pop ballad. It combines this with the contemporary introspection of British folk rock to evoke a hypnotic spell of opiated languor."
All three of Nick Drake's albums are included in the original edition of 1001 Albums You Must Hear Before You Die.