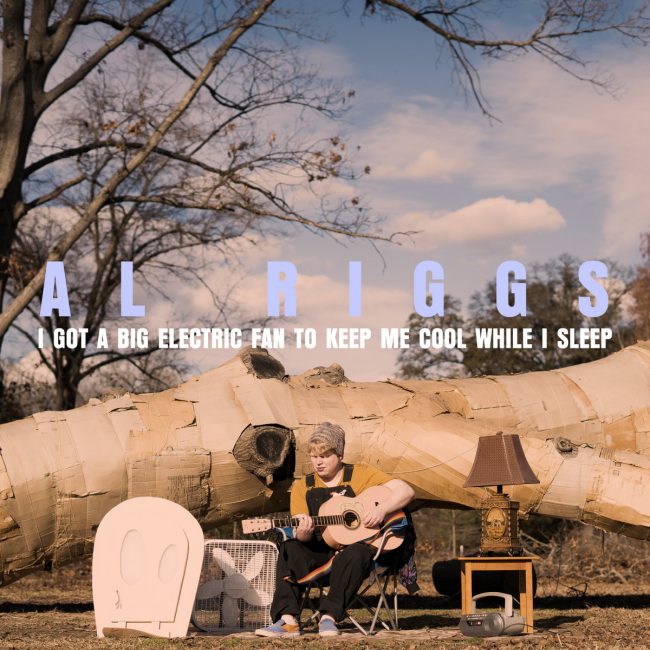 Al Riggs is back today with the new single "American Pencil" off of his upcoming album "I Got A Big Electric Fan To Keep Me Cool While I Sleep" from the opening notes there is a sense that this song is going to be full of dread. Those guitar chords are full of doom, the organ that comes in is haunting, and the drums are powerful. Al's thoughts on what an artist is in today's world are biting and stick with you long after you've listened to the track.
There is a big, honking, humming box fan in the bedroom of our barely-insulated century-old Durham house. Like most meaningless noise, it is white.

Noisier than this fan are the earworms that pervade the space. They're in the walls, the floorboards, and even the couch cushions. The earworms–let's call them Strum, Kick, and Wail–nest in our second bedroom: a de facto recording studio. I try not to interrupt the work. But upon hearing the demos for piano-powered "America's Pencil" and the rhythmically elusive "Emo Revival," I kicked the door in and, wearing little more than a handful of shaving cream, proclaimed "that's the hit!" But they knew that already.
Al speaking about the song: "This is a song about being delusional and in your twenties and thinking you're discovering poetic bitterness for the very first time. You sort of make every single thing in your life interesting for the sake of hopefully putting it in a song one day. Eventually some people learn that no one really cares about the sandwich you ate or the girl at the bookstore with the cool hair, and then some people just write 'Universal Themes'."
Those we know and/or love are present and accounted for. A.C. Niver's pure tones make "Wishing and Clapping" a Three Stooges-esque harmonic casserole while Chuck Johnson's pedal-steel witchery makes "Blighted By the Light" as dreamlike and borderless as a Carolina Country Night. Neither queer nor country enough in their own right, Al booked two of the gayest fabric samples in the business Patrick "Lavender Country" Haggerty and Paisley Fields to plug up the holes in "Ragged But Right."
http://

Like shuffled pages from random chapters of a yet-to-be-finished novel about being an old queer married couple (in our 20s and 30s yet), the sonic scraps have been dropping clues to what was to come: I Got A Big Electric Fan to Keep Me Cool While I Sleep. 
Releases April 2nd, 2021