In June 1967, The Beatles album 'Sgt. Pepper" had just hit the US and the Summer of Love had barely began when Jefferson Airplane headed from San Francisco to L.A. The year 1967 saw the emergence of an entire new wave of American rock, much of which centered around the San Francisco scene of bands like Moby Grape, Country Joe and the Fish, The Grateful Dead and the Quicksilver Messenger Service. And within this cohort, no group showed more promise, exerted more influence or found more early success than Jefferson Airplane.
They'd spend the next four months recording 'After Bathing at Baxter's" It was their third album with the classic lineup. Following the smash success of the debut 'Surrealistic Pillow" fired by two unexpected AM radio hits ("Somebody to Love" and "White Rabbit" they had a surprisingly big budget and creative carte blanche from their major label, RCA Records. 
They also had a radical plan: to move past the poppy folk-rock that had been the Airplane's stock-in-trade since the band's first version formed in 1965.
Airplane, signed to RCA, started the year with a record already under its belt, 1966's Jefferson Airplane Takes Off. Its gently twisted folk-rock had received decent reviews but hadn't sold much of anything. That wouldn't hold true for Surrealistic Pillow, the group's second album. 
To start with, that meant beefing up the studio sound to match the group's live shows. As in, Jack Casady's bass had little heft on 'Pillow'—not at all the fat-toned omnipresent rumble my teen self witnessed at the Café Au Go Go in spring 1967.
Besides, the group's dynamics and ambitions were rapidly evolving. Internal frictions were pivoting them in directions heavier sounds, art-rock song forms, looser vocal interplay that would define the Airplane going forward.
On 'Baxter's', the creative and personal tensions that would undermine Jefferson Airplane's cohesion over the next three years found powerful artistic balance. Despite period-piece flaws an overlong jam, some hippie-dippy lyrics it is arguably the most daring and accomplished album this trail-blazing band ever made.
When the Airplane cut 'Baxter's', the San Francisco counterculture they were such an integral part of was peaking though nobody at the time knew it. The album's dazzling array of song structures unusual, eccentric, oblique distills and reflects that scene's trust and hope in the joys of experimentation. It sought to embody the shared feeling that the world was open to question and on the cusp of change.
As was the Jefferson Airplane itself. Their internal chemistry was deliberately shaken up to yield a sometimes uneasy democracy, where all six members contributed compositions, dialed up new sounds, and pushed at the edges of their talents. It didn't always work; why would it? But it's why 'Baxter's turns through a marvelous kaleidoscope of sounds, moods, and textures that are darker and denser, more layered and aggressive than anything they'd done to date.
Jack Casady and guitarist Jorma Kaukonen were among the key drivers of the sonic shift. Casady honed his agile, melodic runs, which routinely spilled with jagged finesse across bar lines, while playing R&B with the likes of James Brown; he and Kaukonen had played together since high school. Back then, ironically, Kaukonen played rhythm to Casady's lead guitar. All those years gave the duo an almost telepathic interaction (Hot Tuna,) that drummer Spencer Dryden, a trained jazz musician with years of experience, prodded and anchored with skilled finesse. They all came to 'Baxter's wanting to inject more jamming into the mix a la the Grateful Dead, Cream, and Hendrix.
Grace Slick joined the Airplane just in time to record 'Surrealistic Pillow'; somewhat ironically, she brought that album's surprisingly edgy hits with her from her old band, The Great Society. Adept on keyboards, gifted with a supple, richly timbred voice, she was catalytic, strong-minded, and far from a hippie earth mother. On 'Baxter's, she was determined to pursue her idiosyncratic composer's voice and explore her fierce feminist perspective.
Airplane co-founder Paul Kantner, originally a folk singer who idolized Pete Seeger, went to a military high school which helps explain the martial rhythms and feels to many of his songs. Since 'Pillow', though, he had started developing his own offbeat song forms and wanted more space for them. That and his shrewd musicality and sense of the times led him to buy into the others' ideas and redirect the Airplane's flight plans.
That left co-founder Marty Balin, an ex-folkie with an acute pop sense who, as singer and writer, was at the center of the earlier Airplane. Watching his role diminish on 'Baxter's didn't exactly elate him. But he also knew he owned one of the band's biggest assets: a fantastically flexible, expressive, and outsized tenor that, whether out front or part of the blend, capped the group's utterly distinctive singing.
In fact, with Balin and Slick, the Airplane had two of rock's most distinctive and charismatic singers. Their vocal ranges overlapped, though with very different timbres that offered possibilities they soon learned to manipulate and maximize. On 'Pillow', Kantner's baritone anchored their nuanced blends. On 'Baxter's', though, their approach becomes looser and richer, with harmonies unwinding into counterpoint lines and offshoot solo moments; that became another Airplane signature and helped shape subsequent outfits like The Band.
Then there's the material, ranging from grungy garage rock to cantilevered art rock. At the dawn of classic rock's golden era, 'Baxter's' surveys the teeming musical landscape and filters it through the Airplane's hydra-like sensibilities and talents. Sure, there are clunky moments. But they're far outweighed by the thrilling, at times purposely disorienting probes into new turf.
Still, this early "concept" album has its share of disposable pretension, like grouping tunes into "suites." Sometimes this makes some sense. The first, "Streetmasse," gathers the initial three songs, which share a sense of whimsy, assembling "found" materials, and youth perspectives. "The War is Over," the second "suite," yokes two quite different Kantner pieces that share themes of connectivity and change. "Schizoforest Love Suite," the last, contains "Two Heads" and two songs interwoven, so that fits. For the other two, your guess is as good as mine.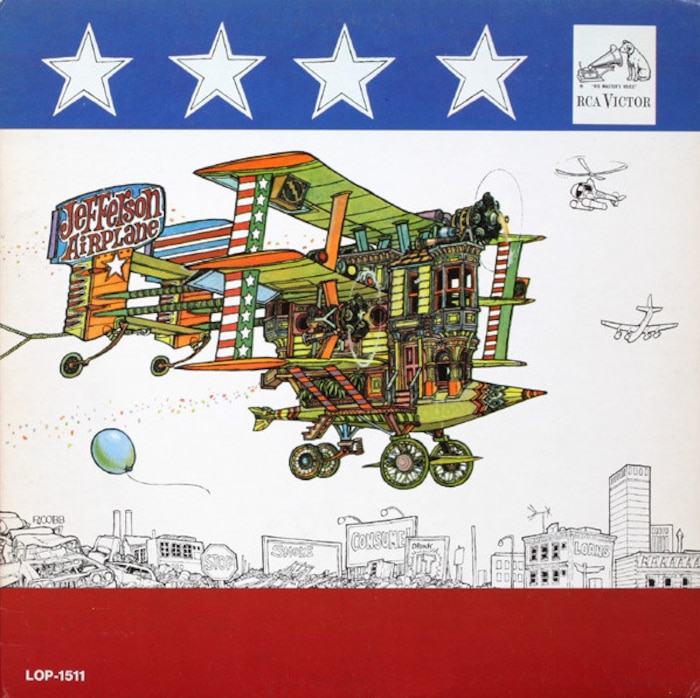 "Ballad of You & Me & Pooneil"
By now Jorma Kaukonen has mastered the joys of feedback, and his opening longer and more intense live is a call to arms that starkly contrasts with the sonics and poppier feels of 'Surrealistic Pillow'; it will be a band staple from now on. Strutting in Kantner's favored 2/4 sprung rhythms, the lyrics, a la William Burroughs, mash up pieces of A.A. Milne's kids' poetry. (Slick thought folk-blues artist Fred Neil, a Kantner pal and model, resembled Winnie the Pooh and dubbed him Pooh-neil.) Its multipart structure is tight and complex; the dynamic and rhythmic contrasts create breathtaking drama between the strut and the hovering chorus. And the finale's sly harmonies create an open-ended feeling that segues into the next cut.
"A Small Package of Value Will Come to You Shortly"
OK, this collage is definitely period-piece, but it's also clever dada-style fun: making it 'Baxter's second track illuminates why the band originally asked Frank Zappa to produce the record. Dryden, who composed it, was a skilled jazz musician who took a lot of crap from "serious" players for working with these guys, and his uncle happened to be Charlie Chaplin, so maybe comic irony came naturally. That irreverence was as much a part of hippiedom as drugs and courses through 'Baxter's—though in Slick's hands, it can turn more savage.
"Young Girl Sunday Blues"
This brilliant blues-rock piece navigates around almost every blues-rock cliché—no mean feat. Dryden's preternatural ability to shift accents and mesh with Casady's fluid, serpentine bass powers the band's supercharged engine. The inventive craft shaping Airplane charts is evident in how each section's instrumental colors and interaction morph. The yearning tune and emotive (if druggy) lyrics let Balin unleash his loose, rangy tenor to terrific effect while avoiding standard-issue blues moves. Ironically, it's also the only song on 'Baxter's that Balin, until now the Airplane's chief composer, penned with Kaukonen. From here on, their mutual antipathy grew.
"Martha"
Ah, the Summer of Love: this paean to Kantner's then-girlfriend, the runaway teen daughter of Sausalito's mayor, has its hippie-lyric moments, but also gestures toward the incipient feminism ("She does as she pleases") that Slick's pieces deepen and slam home. Structurally, it's a tour-de-force, playing minor and major keys off each other to yield a Mideastern/modal feel. Its impacted syncopations are punctuated by Casady's sudden climbs up the neck. The tonal colors rotate and mutate: Casady's burbling bass against Slick's breathy snake-charmer recorder, Dryden's delicate blocks, Kaukonen's slicing fuzz guitar. Then comes the entropy of the finale's gradual slowdown, until there is only Kantner's voice, intoning, evoking, remembering: the bittersweet transition between the preceding and following tunes.
"Wild Tyme"
The track lifts off like a rocket, with a hooky riff delivered by an entwined guitar army crackling with Kaukonen's barely suppressed feedback. At times the vocals are backdrops for the Kaukonen-Casady-Dryden proto-metal instrumentals; then the mirror flips, in that patented way this band veers away from clichés just when you expect them in order to feed dramatic tension. Kantner's often eccentric chord progressions, like Ray Davies', swerve in unique ways that encourage the Airplane's powerhouse instrumental core, prodded by Casady's ever-restless rumbling, to dive headlong into openings and teeter enticingly on the edge of chaos.
"The Last Wall of the Castle"
Teetering on the edge of chaos is actually this track's goal. Here the rough edges running through 'Baxter's' experimental ethos are foregrounded, as the high-octane rhythm section, spearheaded by Casady's frenetic bass firing off counter-rhythms and filigrees, at once drives and battles with its grooves, creating disruptive tension as it romps hungrily through its varied sections. "The Last Wall of the Castle," whose tightly-packed, half-spoken lyrics and soul-influenced chords reveal very real connections with the Nuggets-style garage rock then bubbling out of college towns across America. Where a garage band would stick tightly, head down, to the beat and song structure, the Airplane's rhythm section struggles to break free, pulling the band into a thrilling middle ground between jam and song, the driving rhythm fraying into a heaven of skidding, slicing guitars. The record isn't precise because the band isn't going for precision – instead, it's the sound of a rough democracy in living action.
"Rejoyce"
Grace Slick's art-rock compositions on 'Baxter's' highlight the dawn of feminism. No hippie earth mother, she wields her assemblage culled from Molly Bloom's internal monolog in Ulysses—the ur-modernist experimental novel that, like the Pooh stories, was a counterculture fave like an acerbic rapier, slicing openings for women to speak truth to a man's world. Her music is provocatively eccentric and experimental, anchored by her limber, accomplished piano, too often overlooked as an essential Airplane ingredient. Dryden's horn chart evokes jazz classics like 'Sketches of Spain and the ride-out incarnates the feminist pushback lurking beyond men's glances and desires. It remains one of classic rock's most powerful, unsettling songs.
"Watch Her Ride"
Sure, this Kantner anthem's lyrics are shot through with hippie clichés, but they also link up, at least tentatively, with Slick's feminism: relationships between males and females aren't about possession, but about the freedom to share hope and risks. But skip, if you prefer, and focus on the densely textured musical layers, far subtler and more finessed.
"Spare Chaynge"
Here's where the boys who'll become Hot Tuna get their wish to stretch…and oh yeah, it's too long and meandering with sporadic jawdropping passages. So try a different angle: listen to it upside-down, focusing on Casady and Dryden. Kaukonen, the feedback maestro and fingerpicking genius, is frankly at his weakest in extended solos like this. Remember that Casady played lead while Kaukonen played rhythm in high school, that Casady plus Dryden create tension and release as casually as breathing in and out, and you'll find half to two-thirds of this comes interestingly alive, its rawness a sharp contrast with the rest of the album. But it's still too self-indulgent.
Freedom is also the best word to describe what is arguably Baxter's definitive track. In an age of overly indulgent jams, the dark, minimal grind of "Spare Chaynge" is astonishing, a bass-heavy excursion that slowly builds to a crescendo of pounding drums and circling guitar. As close to "free rock" as almost anything on record, the jam has a sense of space and style that reflects the band's ballroom-honed chops. It conjures an aggressive, almost primal minimalism, resembling something from early Can or Hawkwind.
"Two Heads"
The gated percussive shock that opens this Slick piece punches this album's ambitions about art and feminism home with brooding menace mixed with savage humor. What can you say about a line like, "Wearing your comb like an ax in your head?" The clipped harpsichord is teamed with Casady's now-surging, now-thumping bottom-end bombs for a disorienting study in contrasts that mates perfectly with the lyrics. Slick's rich contralto can wail or sneer, while Balin's ghostly soaring behind her mimics the lyric's central conceit while reminding us this outfit boasted stronger, more unconventional vocals than almost anyone else around. All that is just part of what makes it timeless.
"Won't You Try/Saturday Afternoon"
This phenomenal two-tune mashup—it's not a medley, really knits together the album's moods and themes into an uplifting and challenging finale; its sonics, pacing, structure, and execution recap 'Baxter's musical journey before releasing listeners back to reality. See, the album wasn't meant to be a soundtrack for the LSD-laced times; it was meant to embody them in musical form. So this highly wrought composition and chart, with dazzlingly mutating mini-sections that pulsate with mesmerizing tension and release, puts you inside the psychedelic peaks of the San Francisco hippie dream, the gatherings at Golden Gate Park, where the moods were free and easy and hope was abundant and change seemed imminent and palpable. Naïve? Oh, sure. But I still listen to this cut on 11 to find reasons to believe in the future.
RCA was unhappy about how long and complicated the sessions for 'Baxter's were. After the gold rush of 'Surrealistic Pillow', with two hit singles showcased on prime-time TV shows as well as AM radio, 'Baxter's two singles didn't crack the top 25; the album peaked at 17 and never went gold.
Whatever. 'Baxter's set the Airplane's conceptual template for the next three years. The band, obviously, disagreed with the market. But by 1970, its internal tensions, synthesized on 'Baxter's into ear-opening creative leaps, would tear it to pieces.
All around them, too, things were falling apart. The Summer of Love unleashed an overwhelming influx of runaway teens, drug dealers and pimps, and cops on the fragile, insular hippie counterculture's epicenter. In its wake, the original scene-makers regrouped and dispersed. Baxter's is, without a doubt, a record of many flaws – its jams can go on too long, its sequencing is uneven, and those oh-so-hip-at-the-time sound collages haven't aged particularly well. It's also a remarkably sloppy record; vocals often run askew, full band hits are fudged and the drumming occasionally runs aground. Yet, in a lot of ways, the album is a thrilling listen because – not in spite of these problems.