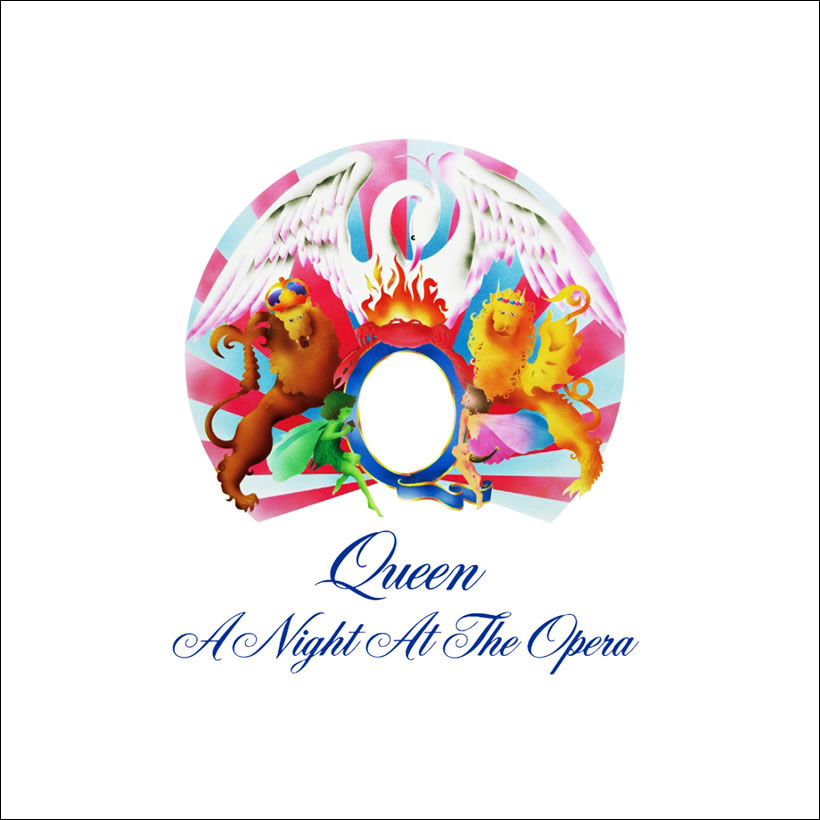 As the 1970s became the 1980s and all four members of the rock band Queen blossomed as songwriters, their albums started to sound like musical tugs-of-war. In fact, Freddie Mercury compared the group's competitive streak and overall dynamic to "four cocks fighting". However, the feathers were already flying on 1975's ground-breaking, six million-plus selling fourth album, "A Night At The Opera".
The UK tour to support the release of Sheer Heart Attack got underway during the autumn of 1974, and after taking in Europe and America, it finished at the Budokan in Tokyo, Japan, on 1st May 1975. Between the band's return and the start of another UK tour on 14 November 1975, Queen recorded the album that would turn them from big stars to superstars. Work on Queen's fourth album, another co-produced by the band along with Roy Thomas Baker, began in August 1975, and it was only finished shortly before the opening date of their tour at Liverpool's Empire Theatre on 14th November. A Night At The Opera, as we all now know, is a masterpiece.
John, Roger, Brian and Freddie took much needed holidays before work on the new project began in earnest with a three-week writing and playing session in a rented Herefordshire house. They then decamped over the Welsh Marches once more to Rockfield Studio. The band later worked in five more studios (Roundhouse, Sarm East, Scorpio, Lansdowne, and Olympic) in their pursuit of perfection, and in so doing, their own self-belief was fully justified.
Everything about Queen's fourth LP sounds big. The production. The performances. The sheer scope of the songs. You can boil it all down to the hit "Bohemian Rhapsody" if you want, but all of 'A Night at the Opera' is on this scale. It was their fourth studio album, and almost 45 years later the iconic "A Night At The Opera" is still one of the most talked about albums of all time. Queen's discography spans over two decades, with 15 albums total, but "A Night At The Opera" is the masterpiece that made the band legendary.
"A Night At The Opera" set the forefront for rock albums to come. With its intricacies and surprising twists and turns, this album is anything but boring. And there is never a wrong time to review and talk about it.
The timeless and beloved hit song "Bohemian Rhapsody" changed how we listen to music today. With praise from big names from the '60s (The Beach Boys) and names from today (Panic! At The Disco), this song still is relentlessly covered, loud and relevant. Featured in movies like the famous scene in "Wayne's World" and still one of the most played songs of all time, "Bohemian Rhapsody" isn't your average album single. It's what made Queen one of the most famous bands of all time.
"Bohemian Rhapsody" challenged all preconceived notions of what it meant to record a rock song. The song itself was never made for radio, clocking in at nearly six minutes long. It's filled with obscure allusions and an inconsistent pace that should've sent fans running, but instead sent them to No#1 in the charts.
Though "A Night At The Opera" has one of the famous songs of all time, the album, overall, is full of incredibly organized chaos. Kicking off with a sneering "Death On Two Legs (Dedicated To…)" that's followed by a less serious "Lazing On A Sunday Afternoon."
The album isn't complete without Roger Taylor's tongue-in-cheek "I'm In Love With My Car," a rock song that Taylor felt was more important and better quality than Mercury's "Bohemian Rhapsody."
"A Night At The Opera" explores various genres within itself. From the ragtime "Seaside Rendezvous" to the folky "'39," there is everything in the nearly 45-minute long, showcasing Queen's ability to explore various genres, emotions and stories.
The ballad "Love Of My Life" was written by Mercury for his ex-fiance and close friend, Mary Austin. Mercury pleads in the song for his love to not leave him, a very different feeling than the seeming indifference he showcases at the beginning of the album. An orchestral feel with strings, piano and Mercury's poignant vocals, that later progresses into a rock song with a brief Brian May solo, "Love Of My Life" reinforces Mercury's lyrical vulnerability and songwriting expertise.
"A Night At The Opera" is a complete collection of everything good that's ever come out of Queen's songwriting. It's intricate, in-depth, it has multiple layers. It's to be taken very seriously and not seriously at all somehow at the same time. It's incredibly detailed and has somehow managed to land among the greats. It is Queen's career-defining LP, and to be taken seriously by many more generations to come.
The 12 tracks that make up A Night At The Opera comfortably broke the 43-minute mark, and like its predecessor, the sequencing of this record creates its own dynamic. This is an album that should be listened to in its entirety.
12) Lazing On A Sunday Afternoon
Rock, pop and vaudeville – it was all fair game to Freddie Mercury. As fun as it is, the trouble with Lazing On A Sunday Afternoon is that Mercury had already written one vaudeville pastiche, Bring Back That Leroy Brown on Queen's Sheer Heart Attack album. The world didn't need another. Freddie's 'Lazing On A Sunday Afternoon' continued to showcase his piano playing skills and his growing confidence on keyboards helped to make the whole album so much better.
11) Good Company
Brian May has always been a one-man guitar orchestra, and rarely more so on this homage to Dixieland jazz, in which he sang a charming When I'm 64-style lyric while his guitar mimicked a ukulele-banjo and a clarinet. Once heard, rarely played again, though (unless it comes up unexpectedly on iPod shuffle and you can't forward it quickly enough). Brian's 'Good Company' is one of his wise family pieces – a song full of sound values and mature reflection. Recorded with the ukulele and his trusty Red Special to hand, their overlapping mimics a traditional Dixieland jazz band feel; the poignant narrative has a twist in the tale.
10) God Save The Queen
Queen's version of the National Anthem closes A Night At The Opera album – and quite rightly so. Where else should it go? Still a testament to Brian May's regal guitar skills, the most surprising thing about God Save The Queen is that it took the band four albums to get around to recording it.
9) Seaside Rendezvous
More old-time musical japes from Freddie. But preferable to Lazing On A Sunday Afternoon thanks to Mercury and Roger Taylor's pin-sharp harmonies, some imaginative use of kazoo and the singer's final payoff 'Give us a kiss!' which, unusually for Freddie, is delivered with all the grace and panache of driver Stan Butler leering at a buxom 'clippie' in the 70s TV comedy On The Buses.
8) Sweet Lady
Even Brian May's tidy Zep-meets-Free riff can't save Sweet Lady from obscurity. True, there's a nice Communication Breakdown-style guitar dust-up at the end, but May would do it better in the years ahead (see: Tie Your Mother Down, Hammer To Fall…). Also contains one of the worst Queen lyrics ever: 'You call me sweet, like I'm some kind of cheese…' Brian's 'Sweet Lady' accentuated the almost wilful diversity of Queen at this point in their career, with its live rhythm section and heavily distorted rock thrash in ¾ time. Mercury's 'Seaside Rendezvous' is another track that shows the band's inventiveness, since Freddie and Roger provide a woodwind section performed by just their voices, along with a tap dancing sequence they performed on the mixing desk with thimbles over their fingers.
7) The Prophet's Song
On paper this Brian May-composed pomp epic should be one of Queen's finest hard rock moments. But it struggles to match past gems such as Brighton Rock and Father To Son. Instead, it's an oddly sluggish affair – like Jethro Tull on Night Nurse – but salvaged by that insane a cappella vocal mid-section. Brian's lengthy, 'The Prophet's Song', that was inspired, if that is the right word, when he was feverish with hepatitis during the Sheer Heart Attack sessions. A heavy, moody piece, 'The Prophet's Song' was the ideal centrepiece for the forthcoming tour. Its Biblical atmosphere being accentuated by the guitarist's use of the toy koto, a traditional Japanese stringed instrument more usually associated with experimental classical music.
6) '39
Brian May once described 39 as "sci-fi skiffle". But while he does set a Robert Heinlein-inspired lyric to a Lonnie Donegan guitar thrashalong, its sing-song campfire melody and simple charm make it May's best song on A Night At The Opera. Brian May's '39' is his first composition to appear on this album and it is a science fiction come space travel number that is a reminder of his learned interest in astrophysics and astronomy in general. Given the song's weird skiffle arrangement, Brian asked Deacon to play double bass, and the number was included in Queen's set-list by 1976, becoming an instant crowd favourite.
5) I'm In Love With My Car
Some would give Roger Taylor points on his licence for I'm In Love With My Car, the B-side to Bohemian Rhapsody. But why? The 1975-vintage Taylor, with his blonde girl's hair and fine line in self-aggrandising, laddish rock songs (see also: Tenement Funster), captures the essence of Queen's barefaced cheek and grandeur. Plus, any song that rhymes 'forget her' with 'carburettor' can't be all bad, can it?
4) Love Of My Life
It says much about Queen's embarrassment of riches that this romantic ballad (reputedly written for Mercury's soon-to-be- ex-girlfriend Mary Austin) was dropped from the set in the mid-80s despite becoming an audience singalong at shows in the late '70s. Other, lesser bands would have clung on to it for dear life – and forever.
3) You're My Best Friend
Freddie Mercury nicknamed Queen bassist John Deacon "the ostrich". Deacon's songwriting moments were rare, but he laid some golden eggs (the most golden being Another One Bites The Dust). However, You're My Best Friend, a slightly twee pop song dedicated to Deacon's missus Veronica, came first. Not that his bandmates liked it: Taylor thought the lyrics too soft and Mercury refused to play electric piano, making The Ostrich play it instead. But what did they know?. More new ground is broken by John Deacon's 'You're My Best Friend', which in 1976 became the eminent bass man's first composition to be released as a Queen single, and a hit at that. Very much John's baby, he even supplies the Wurlitzer organ.
2) Death On Two Legs
For all his charm and wit, Freddie Mercury could be a vicious sod. And the opening track on A Night At The Opera, apart from being close to its best, is certainly its most vicious. Lyrics such as 'You suck my blood like a leech' were aimed at Queen's ex-co-manager Norman Sheffield, and were so vituperative the now late Sheffield threatened Queen with a lawsuit. From its Hammer Horror movie intro through May's scything guitar solo and Mercury's impassioned 'You're tearing me a-p-a-r-t', this is Queen at their rococo rock finest.
1) Bohemian Rhapsody
Over-familiarity, over-exposure and hearing that terrible version in a recent TV ad for a well-known holiday company, has truly taken the shine off Bohemian Rhapsody. Yet to put Queen's mini-symphony anywhere other than at number one seems churlish and, worse still, fake. More than 40 years on, its daring fusion of heavy metal, show-tune balladry and light opera remains the high watermark on A Night At The Opera, and a tribute to 70s Queen's collective imagination and sheer bravado. Composed in six sections, mostly by Mercury in his Holland Park home, this was the song that divided opinion even within the ranks. Surely they couldn't expect to get away with this? Mercury was certain of its merits, but seldom gave much away concerning the lyrical structure and the references to classic opera, Old Testament seers and the principal characters Scaramouche and Galileo.
Ironically, prior to releasing it as a single, one senior EMI executive was convinced that it was too long and he tried to convince the band that it needed to be edited if it was to stand any chance of getting any radio plays.
Mixing the gloriously bombastic with the sweetly simple, May's guitar solo is bang on the money. 'Bohemian Rhapsody' was very much "Freddie's thing" and also his tour de force, containing as it did elements of works in progress from earlier ventures.
As if the song wasn't visual enough, it was accompanied by a ground-breaking video, and while it was said to be the most expensively constructed single made to that point in time,
And that wasn't the end of the affair, and there was only one way to follow it. A revisit to May's arrangement of the National Anthem, 'God Save The Queen' (surely that didn't go unnoticed in Sex Pistols circles either); it was something they'd been using as a tour finale for some time. Instrumental, multi-layered and strangely affecting, May would achieve a kind of lifetime ambition many years later when he performed it from the roof of Buckingham Palace for the Queen's Golden Jubilee in 2002; it was also a kind of homage to Jimi Hendrix's Woodstock version of 'The Star-Spangled Banner'.
And so the album was released on 21st November 1975 and as a result, that Christmas belonged to Queen. The sold-out tour that had begun a week before the album's release culminated with a Christmas Eve concert at Hammersmith Odeon that was videotaped and broadcast by the BBC on The Old Grey Whistle Test.
A Night At The Opera, as we all now know, is a masterpiece. Everything from its title (borrowed from The Marx Brothers 1935 movie) to the music, the album's artwork and the whole pomp and circumstance of the entire package is majestic.