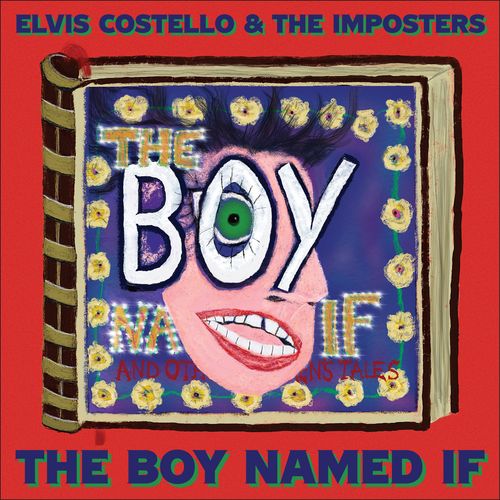 Elvis Costello's most uproariously raucous album in many a year explores the tumultuous transition between adolescence and adulthood. "The Boy Named If," certainly bears a strong resemblance to the angsty-yet-articulate 22-year-old permanently etched in the grooves of his 1977 debut, "My Aim Is True". But this, his 32nd album, is far from a nostalgia trip. Rather, it's a return to the scene of the crime, the moment when one receives those grievous emotional injuries we spend the rest of our lives trying to reconcile. According to Costello, the 13 tracks "take us from the last days of a bewildered boyhood to that mortifying moment when you are told to stop acting like a child which for most men (and perhaps a few gals too) can be any time in the next 50 years."
It takes a certain amount of bravery to revisit a time in the lifecycle that most would probably rather forget. But then again, bravery is Costello's stock-in-trade as a musician. Who else would take artistic leaps as frequent and fruitful, seemingly limited only by his imagination and good taste. He's played with everyone from the Roots to the Brodsky Quartet, Allen Toussaint to Chet Baker, not to mention Marcus Mumford, Roy Orbison, Anne Sofie Von Otter, Paul McCartney, Burt Bacharach and Iggy Pop.
To call Costello an artistic chameleon is putting it too simply. He's more akin to a Cheshire Cat, appearing and disappearing across the popular music spectrum at will, identifiable only by the sly grin that permeates his work. 
"The Boy Named If" pairs him once again with the Imposters, his crack band consisting of two members of his long time backing group the Attractions drummer Pete Thomas, keyboardist Steve Nieve plus bassist Davey Faragher. As with most "quarantine albums," it was recorded remotely, with the bandmates spread across Canada, France and the United States, and assembled in a piecemeal process by co-producer Sebastian Krys. But unlike most quarantine albums, it's vibrant, unified and as un-claustrophobic as a cool breeze. The tone is set with "Farewell, OK," a gleeful kiss-off bolstered by an onslaught of slashing guitar, organ stabs and thundering four-on-the-floor rhythms. The album's lead single, "Magnificent Hurt," could be a long-lost addition to the Nuggets garage rock compilation.
A distant cousin of "Pump It Up," it's an obvious future classic in Costello's canon. The searing lead guitar of "What If I Can't Give You Anything But Love" is tempered with the glimmers of vulnerability found in lines like "Don't fix me with that deadly gaze/It's a little close to pity." Another highlight is the title track, an ode to a puckish invisible friend who takes the heat for our childhood misdeeds. The older we get, the less he's seen, leaving us to accept the blame alone. 
It's hard to resist the urge to psychoanalyze Costello's decision to take this decidedly unsentimental look back. After all, it's common during times of mass geopolitical turmoil to derive comfort from our past and solace from the things we once loved. This current crisis finds many of us spending more time in our rooms than we have since adolescence, which no doubt provides ample time for self-reflection. In Costello's case, so did upheavals in his private life. A cross-continent move from Vancouver to New York City with his wife Diana Krall and their twin 15-year-old sons marked a major transition. A more tragic milestone was the loss of his mother last January at the age of 93. In light of such shifts, it seems only natural to retrace one's steps. 
Perhaps there are clues in his two most recent projects. In September he released Spanish Model, a reimagined version of his 1978 album This Year's Model, which featured a host of Latin artists singing Spanish-language lyrics over the original backing tracks he'd recorded all those years ago. That same month, he issued the Audible Original How to Play the Guitar and Y, a joyous and hilariously idiosyncratic spoken-word treatise on the nature of music-making and creativity. Steeping himself in his early rock-centric recordings, while simultaneously rediscovering the uncomplicated joy of bashing out an elementary three-chord wonder, may well have paved the path for "The Boy Named If".  
Or not. Speaking about Costello in anything approaching absolutes is a mistake. Nuance is quite possibly the hallmark of his work, if one had to choose. Nothing is ever a simple declarative, be it the genre of his music or the meaning of his words. The energy of youth mixed with the wisdom accrued through Costello's 67 years of hard-won experience makes "The Boy Named If" a deeply thoughtful blast of rock 'n' roll, and one of the most enjoyable records he's ever produced. The album's themes contrast the most frightening elements of adolescence with the equally terrifying moments of adulthood, leaving you to figure out exactly which side of the grass is greener.