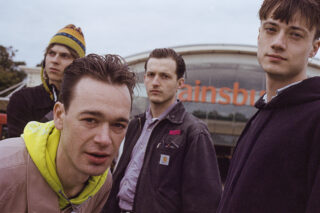 For many up-and-coming South London bands, the first play on Steve Lamacq's BBC Radio 6 show is a sacred rite of passage. One that rewards their hard work, cements their 'one to watch' status, and sets them on their way. Well, Legss aren't your typical South London band. Vocalist and guitarist Ned Green recounts the revered DJ's debut play of Legss' recent single 'Hyde Park Coroner'. "He played it and at the end just said, 'Well, that was rather oblique.'" Despite the anti-climax, Green wears a beaming smile while relaying the story. 
With but one headline tour under their belt, the mathy post-punk of Legss are already sending whispers rippling through the London music scene. That's in large part because they're thrillingly tight live; a blast of power that has managed to overshadow many of the bands they have already supported. Their capricious sound regularly strays far from centre, entering realms unfamiliar for guitar-driven music, incorporating dark sonic expositions, strong fictional characters, and elements of theatre. At times, all three all at once.
Now at the head of many a line-up, this London four-piece will be treading the Shame/Squid/black midi path to national consciousness in 2022, if not for frontman Ned Green's pithy lyrics then for the dizzy improbability of their musical acumen.