"As you get older, you realize that rock & roll is an attitude. These days, everybody's mom has tattoos and a piercing just to be dangerous. But being honest is more dangerous, and that's one thing I saw with Lucinda Williams. As a writer she's fearless. She has more swagger and attitude than most rock & rollers I know." Jesse Malin
Lucinda Williams is one of the most celebrated singer/songwriters of her generation, She is celebrating her 69th birthday today. Williams has released a string of albums that have earned her critical acclaim and commercial success. Among her various accolades, she has won three Grammy Awards, from 17 nominations, and has received two Americana Awards from 11 nominations.
Williams is ranked No. 97 on VH1's 100 Greatest Women in Rock & Roll in 1999, and was named "America's best songwriter" by Time Magazine. In 2015, Rolling Stone ranked her as the 79th greatest songwriter of all time. Tom Petty was a huge fan of hers, covering her song "Change The Locks" on his 1996 album with the Heartbreakers, Music and Songs from "She's The One". She enjoyed a lifelong friendship with Tom, from opening for him in 1999 through opening for him again the last 3 nights of his final tour in 2017. She paid tribute to Tom in her recent album "Running Down A Dream", the first from her "Lu's Jukebox" series of cover records.
Lucinda Williams, (1988)
"The kind of album that makes me happy to get out of bed in the morning. It gives me happiness as it plays out of my radio while I pump gas, which is too expensive. The album comes from my world, the one that describes happiness as being able to have a beer at night and getting paid alright at an office job. It's a world where as long as you have a comfortable bed, food to fill you up, and warm clothes, you can get by. I live in the middle of nowhere in rural Georgia, I eat beans and cornbread, and I listen to Lucinda and John Coltrane. This album speaks to the part of my soul that believes that this life is enough."
Born in Lake Charles, Louisiana in 1953 Lucinda Williams was raised in an academic environment where her father Miller, a poet and professor, was her mentor. She wanted to be a cultural anthropologist but music got in the way and she grew up loving Bob Dylan, Joan Baez, Hank Williams and Peter, Paul and Mary.
Once deemed too rock and roll for Nashville, too country for LA (heard that one before?), Lucinda Williams is a stickler for her own style and doesn't let a whole lot get in her way. If she was once considered too much of a perfectionist, why should she care? "You can't praise the work and then criticise the process" is her response to that and the results of her labours are there for all to hear. After a few years of struggle, without compromise, but also without much commercial success, this doyenne of literary country music was determined to ensure her songs of the South would get through and they did on the break out disc, the long-awaited "Car Wheels On A Gravel Road" (1998), which is akin to a guide book on her chosen terrain – emotional and geographical. Williams has a magnetic appeal and while her surname is coincidental you can be sure that when Lucinda does it her way the outcome is utter conviction: stories tumble out and tunes chase those stories down. Real people seem to leap `off her lips.
Happy Woman Blues (1980)
It is difficult to discern the folk singer-songwriter behind this simplistic Dylan style riff from the fully realized country rocker Lucinda established with her 1988 self-titled release.
A little late for the folk revival that swept the late 60s and 70s, this rambling cry to the ether reflects an early innocence. Simple, and vulnerable, the early tune uncovers the roots that run deep beneath the decades of musical evolution that followed.
A gifted creative writer and a budding guitarist who rapidly developed her own voice, Williams graduated from the University of Arkansas and then moved to Texas. Her early recorded forays, "Ramblin' On My Mind" and "Happy Woman Blues" are both excellent but received little notice in the US and it was the English alternative label Rough Trade who snapped her third album up. The self-titled "Lucinda Williams" (1986) now began to shape her sound. Recording with producer Gurf Morlix, another Austin resident, she honed her lyrics and blossomed.
Car Wheels On A Gravel Road, (1998)
After two decades of navigating the perilous industry, Lucinda finally hit her stride on the title track of her fifth studio album, "Car Wheels On A Gravel Road". Vivid lyrical imagery uncovers the shallow roots of her transient childhood. Poignant details – "Set of keys and a dusty suitcase" – perpetuate the turbulence of her masterpiece album. In terms of sales she's been Gold standard since "Car Wheels…" She recorded her first albums in 1978 and 1980 in a traditional country and blues style and received very little attention from radio, the media, or the public. In 1988, she released her self-titled album, Lucinda Williams which screeched up and she has the Grammy for Mary Chapin Carpenter's version of her lovely song "Passionate Kisses"
But "Wheels…" itself won as best contemporary folk album (also topping various Best of Year polls) and causing Emmylou Harris to venture that "Lucinda should be at the centre of the country music world, she is the very best the music can offer." We'd echo that but Williams is more concerned with her musical palette. "I like to pay homage, it's like a respect thing almost, like being proud of where you're from and proud of your roots. I think everybody should be proud of where they're from." Let's see where she's coming from.
Nearly 20 years later, Lucinda revisited "Happy Woman Blues", re-shaping a central track with her industry-hardened edge. The newfangled 'I Lost It' unplugs the mainlined fiddle, swapping out the folk foundation for percussion.
Checking in on her past work from a sturdier sense of self, Lucinda emboldens the younger artist behind the original song to come undone. Yet, the steady two-step—present in both forms—is an undoubted nod to her Cajun roots.
Most artists are lucky to have one artistry-defining song per career, but Lucinda released two on her 1988 LP. Alongside the title track, this freight train of a track set the standard for her rowdy, radical records.
The stop-and-go production structure evokes the almost rhythmic rough-and-tumble of the relationship with slick lyricism.
"This is one of the few country albums – certainly one of the few '90s country albums, anyway – that's unlikely to ruffle any feathers if you decide to play it aloud in a social situation. A rock or soul fan can get down with this music, or at least abide it painlessly. And the embarrassing-ness of loving this album so much comes from exactly that: it's almost too easy. It's an album so easy to like that there's a temptation to suspect that it's secretly 'not even real country' somehow."
"Sweet Old World" (1992)
"Sweet Old World" cemented her reputation and was graced with guests like Benmont Tench, Byron Berline and Duane Jarvis, Morlix handling most of the stringed stuff.
The rave reviews began to flood in, not before time, and her fifth disc – "Car Wheels On A Gravel Road"– set her on the smart side of main street. Steve Earle, Morlix and Williams herself worked on producing this album, many months in the making. The gestation was troubled but the outcome was magnificent. Travelogues around the South, broken love affairs and superb observational stories abound. This is a total classic and is the ideal place to discover Williams.
Emmylou appears on "Greenville" and the backing cast is exemplary: Earle, Charlie Sexton, Buddy Miller, Greg Leisz all specialists in their own right. They willingly provided their services and boy was it worth the wait. Look for the Deluxe Edition where you can hear gems like "Metal Firecracker" and "Right in Time" in the studio and live on the boards in Philadelphia. A true coming of age disc that was accompanied by significant tours supporting Dylan, The Allman Brothers and Tom Petty and the Heartbreakers.
Essence, (2001)
Too good to deny, they said: and she was and is. "Essence" lands in 2001 with Sexton and bassist Tony Garner (from Dylan's band), Jim Keltner, Reese Wynans and Ryan Adams involved. The souped-up "Car Wheels.." tone hasn't gone but the tone is more intimate and Williams sounds like she is inside the listener's head during "I Envy the Wind", "Are You Down" and "Out of Touch".
The toxic elixir of a no-good partner seeps through this dark and delirious grunge tune. Completely overtaken by this person, Lucinda ideates their presence with palpable yearning; their absence seems to result in a potentially lethal chemical imbalance. She likens the wanting to an overdue drug dosage from an addict: "Whisper my name / Shoot your love into my vein."
"This is quite simply a beautiful album , in many ways a superior album to "Car Wheels" . Its a mellow record full of melancholy that describes female longing and sexuality in a deeply passionate way ."
Her brand of therapy and honesty strikes so many chords that it can't be filed away under Americana.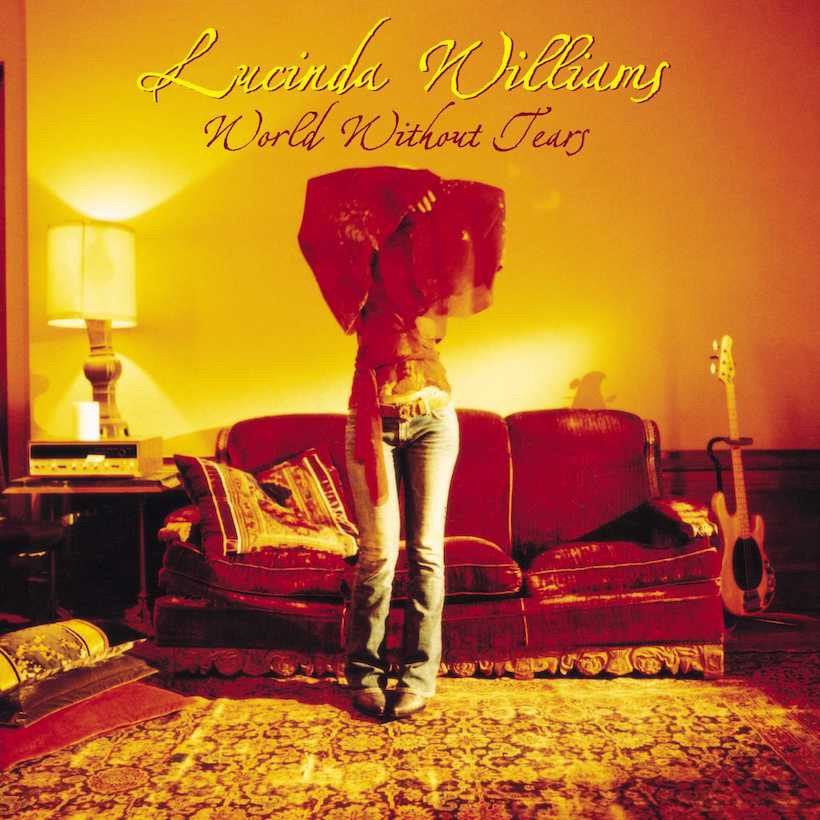 World Without Tears, (2003)
"World Without Tears" strips the arrangements right back and leaves Lucinda out front. Once again she won unanimously euphoric plaudits. Grooves, riffs and smoking hot words are everywhere and some writers will assert that she is now the key album maker of the age. We can only echo that sentiment and still pull out "American Dream", "Atonement" and "Ventura" for sustenance. There's anger and bloodletting here and tunes that stick in the teeth and Doug Pettibone looms large on electric.
"Those Three Days" In a conversation with two versions of her slowly healing self, Lucinda rotates between deep sorrow and the maddening confusion that occasionally combusts into fits of anger after a relationship halts unexpectedly. The multi-dimensional track conveys an inescapable pain, as it resides within her. "You built a nest inside my soul," she sings accusingly. "You managed to crawl inside my brain."
Lucinda's storytelling strength shines through the dark well of emotions discussed in the 2003 psych-infused album opener. Velvet curtains distance Lucinda from the world outside her window as she dives deeper into her past. Like a pile of polaroids scattered across her bed, each verse wields poetic detail to re-construct nearly tangible, bittersweet memories.
"World Without Tears' is possibly Lucinda Williams deepest album, and its subject matter is fairly intense in places. So the tough nature of what we have here, doesn't really make for an album that represents an easy listen. It's certainly more gritty many of her other albums."
Sweet Old World, 1992
"To use a cliche, Lucinda Williams' music really speaks to me, man. It just and this is probably a less cliched description – stabs me in the heart sometimes. For example, someone very close to me died a few years back and may or may not had taken her own life. Every time I hear the song "Sweet Old World", I think of her and suddenly there's that proverbial blade heading for my chest. It's no doubt a song about suicide, but from the point of view of those left behind, those who knew and cared about the deceased. Very angry too. well, more weary and sad I guess.
For anyone who has experienced the shock that swallows you whole in the wake of suicide, this simplistic account returns the listener to that shattered, forsaken place.
The genius of Lucinda's song writing lies within the almost mundane detail with which she masterfully constructs a tangible memory—one capable of penetrating a seemingly airtight fortress of defences and coping mechanisms intended to lock away the pain forever.
This comfortingly country ballad is Lucinda's best attempt to describe the tantalizing effects of exchanging words with a particular person. She is unapologetic in her sexually charged search for meaningful conversation. Lush vocals convey her regrets over spare arrangements, kicking herself for never having crossed the line from making conversation to making love.
"I could not speak a single word / No tears streamed down my face," she sings. "I just sat there on the living room couch / Starin' off into space."
An ethereal entrance aptly introduces this meditation on life and the components of our humanity that make death impossible to accept. Lofty vocals interrupted by a fiddle-driven interlude capture what's lost upon the inevitable passing from earthly life to the beyond – "The breath from your own lips, the touch of fingertips / A sweet and tender kiss"
The rest of the album is pure trademark Williams' storytelling, like the tale of the messed up guy who kills someone in "He Never Got Enough Love", or the pining and yearning of the guy who has a lost love living close by on "Six Blocks Away".
West, (2007)
Four years on Lucinda Williams goes "West" with the legendary Hal Willner shaping another masterpiece whose thirteen cuts etch themselves into the listener's cranium. The opening heart breaker "Are You Alright?" is a crushing intro that was used in True Detective (episode 4) and just grows more telling in the aftermath. Williams has also never sung better than she does here and on "What If" and "Wrap My Head Around That". The melodies are powerful, the words resonate – soulful country doesn't really get much better. Essential and recommended for discovery this is an emotional rescue disc.
Against an almost metal layer bedrock, Lucinda exhibits one of her strongest examples of the poetic lyrical structure that elucidates her artistry.
Tactfully, she collages fragments of thought or emotion, attempting to convey the weight of the world she feels buried beneath. Undertones of unquenched desire and lost love saturate the sorrowful lines for a lingering sense of seduction. "Are You Alright?" The exploratory empathy Lucinda expresses throughout this track is a hallmark of the artist's career spent identifying with the marginalized.
Like a lullaby, this melodic sees Lucinda once again directing the lost, offering a hand to the lonely. Sincerity resounds from the repetitive chorus line as she genuinely asks "Are you alright?"
"West' is definitely one of my favourite Lucinda Williams albums, and perhaps an album which best illustrates what is at the very heart of this extraordinary song writing talent. 'West' is a good place to start if you have not yet been seduced in to the world of this brilliant alt-country star."
Little Honey (2008)
With the world awoken to Williams' worth the balm of "Little Honey" can prop us up again. Flocking to her cause are Elvis Costello ("Jailhouse Tears") Matthew Sweet and Susannah Hoffs, while Charlie Louvin and Jim Lauderdale keep it on a pure country track during "Well Well Well". Whatever the secret, it was out now and this becomes her first Billboard Top Ten disc with a little AC/DC in the shape of "It's a Long Way to the Top" closing out an album of enormous clarity.
Blessed, (2011)
Lucinda's tenth studio disc is "Blessed", in every sense. Don Was, husband Tom Overby and Eric Liljestrand sit in the booth, Costello adds electric guitar, Sweet lives up to his name on backing vocals and Leisz slips in his trademark and excellent Pedal Steel. Stand out cuts are – well, the whole lot – but try "Seeing Black (dedicated to the late Vic Chesnutt) and the sinuous "I Don't Know How You're Living" for their visceral charm. The Deluxe Edition adds demo versions known as The Kitchen Tapes and these bolster a brilliant venture. To kick off the Grammy Award-winning Americana album, Lucinda offered the much-needed reprieve of a – somewhat – playful love song. Once again, the artist has distanced herself from a deceitful lover.
Her pride beams with moments of "I told you so", but her empathic nature forces, her to consider the brokenness behind the subject's wrongdoings.
This is no doubt the most elegant sophisticated album she's brought to the table, full of alternative country images, ringing guitars, gentle blues, and one bone-numbing shiver after another. Much of that is in part due to Don Was, who has a knack for finding the essence [no pun intended], and allowing it to flower with a richness unimagined … though, to her credit, I would contend that this is just how Lucinda heard it in her head."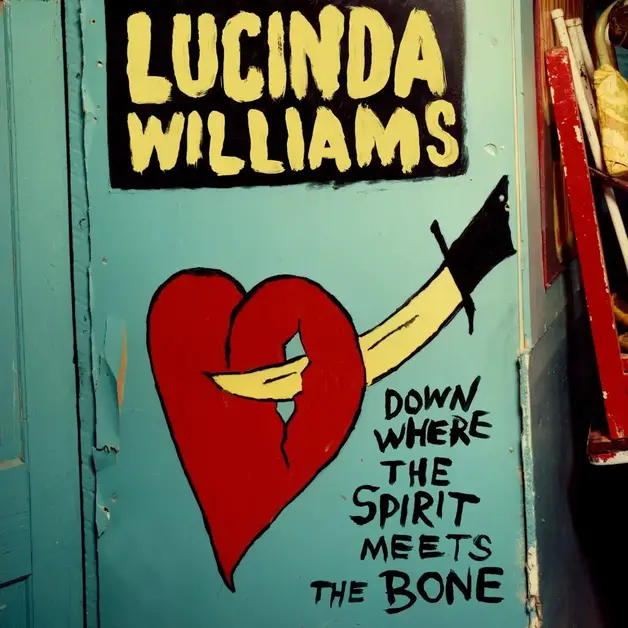 Down Where The Spirit Meets The Bone, (2014)
"Down Where the Spirit Meets the Bone". If grief and raw fury have pervaded her work on occasion she now sounds more circumspect and yet no less incisive when it comes to exploring the human condition. A songwriter at the peak of her powers Williams is unmatched when it comes to telling a home truth and on "Stowaway in Your Heart" and "Wrong Number" she nails the pitfalls and paradise of love like no other artist in her field. Again the music is sublime: Tony Joe White, Jakob Dylan, Bill Frisell and the late lamented keyboard player Ian McLagan are on hand but it's Lucinda's songs that carry all before her. "Compassion" is based around a poem by her father Miller, and his phrase gives her the album title. Lucinda Williams did this in the knowledge that her father was in his last months and he passed away in January 2015.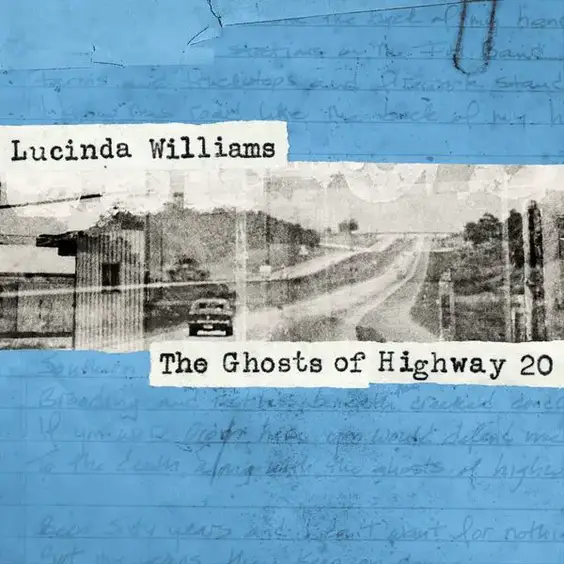 The Ghosts Of Highway 20, (2016)
"I remember a radio broadcast around the release date of "The Ghosts Of Highway 20", where Lucinda got a bit deeper into a couple of songs from the album. She talked so vividly about her dad's poor health and his ultimate death, while very openly about herself aging and coping with everyday blues, and it sounded so honest and real. That makes her music something to treasure."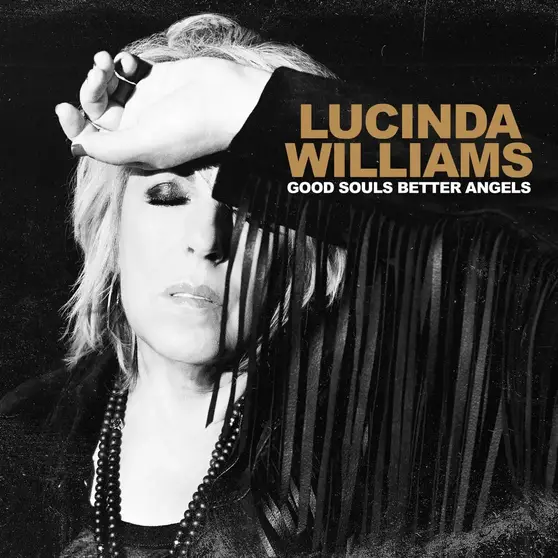 Good Souls Better Angels, (2020)
Lucinda does punk rock!' "Good Souls Better Angels" is full of emotion, rage, and bile – Lucinda literally spits out her dissatisfaction. This is her anti-establishment punk rock album and includes some great song titles 'Bone Of Contention', 'Man Without Soul', 'Bad News Blues', 'Pray The Devil Back To Hell' etc etc!"
"Yeah, man, I got a right / To talk about what I see," Lucinda sings. "Way too much is going wrong / It's right in front of me."
If Lucinda's whole career has been in rebellion, then this lead track from her latest LP marks the pinnacle. Her keen ability to cut through the bullshit arrived just in time to stomp her proverbial foot down on the socio-political trash fire of 2020 and beyond.
Time magazine called Lucinda Williams "America's best songwriter" and her devotees will say amen to that. Discover that fact for yourself and look forward to what she does next. Given that her fans include David Byrne, Chuck Prophet, Yo La Tengo, Allison Moorer, Mike Campbell, Greg Dulli and the great Shelby Lynne you'll be joining some illustrious company. The woman is simply a legend, but don't take our word for it: discover Lucinda Williams for yourself.