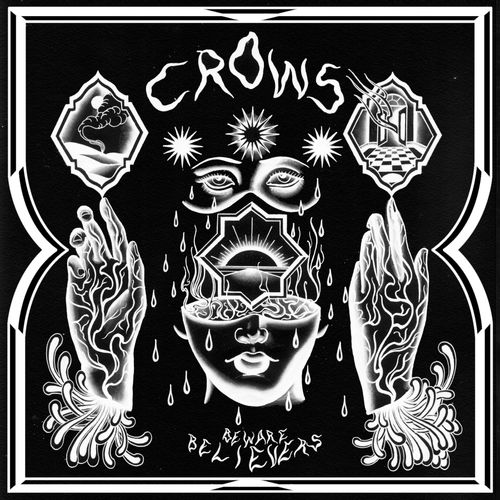 Are you ready to be blown away by one of our very favourite racket makers? loud, cathartic & abrasive – a quintessential Crows record this certainly is!, equal parts ferocious & hedonistic, the London four-piece's 2nd album (following their 2019 debut on the Idles-run Balley Records label) conjures a dark & visceral post-punk. It's been hardened by years of notoriously rowdy live shows (we've seen many of you at the shows & some of you will even have had the pleasure of seeing them play up close & personal on our shopfloor). we're stoked to be presenting their outstanding new offering to you for preorder. We are massive fans of the band's aesthetic too & as you can see, this awesome dinked edition package is a real celebration of everything they are about, in full monochrome glory!
London four-piece Crows will release their highly anticipated second album, 'Beware Believers', via Bad Vibrations Records. Conjuring a dark and visceral post-punk that's been hardened by years of notoriously rowdy live shows, Crows have amassed a legion of die-hard fans since they formed back in 2015 and cultivated a singular, much-adored presence in the British alternative music scene. Equal parts ferocious and hedonistic, the incoming 'Beware Believers' LP arrives off the back of their critically acclaimed 2019 debut 'Silver Tongues', international touring and festival appearances, and shared stages with the likes of IDLES, Wolf Alice, Girl Band, Metz, Slaves and Protomartyr.
Following the release of their long-awaited debut album on the IDLES-run Balley Records back in 2019, Crows immediately set to work on its follow-up and by January 2020 they were already back in the studio tracking what would become the 'Beware Believers' LP and then Covid hit. "Once we knew Covid was here to stay, we took the first break we've taken since we released our first single 'Pray' in 2015.
Being locked down for three months unable to finish the last bits of the record was very frustrating but it did mean we could come back to the album with fresh ears and make sure it sounded like it should: a true representation of Crows." Loud, cathartic and abrasive a quintessential Crows record it certainly is.
"Beware Believers" has felt like a marathon, a real endurance test that's been a long, winding road filled with highs and lows and plenty of twists and turns", frontman James Cox says: "The majority of the themes on the album came from what was going on in the world around Summer 2019 when we started writing the album. Covid wasn't in our lives and the biggest impact was Brexit and the madness our government were putting us through. I was reading a lot of J.G. Ballard and Kurt Vonnegut, mad dystopian novels, whilst all this craziness was going on around us and it was a weird headspace to get into."
Bad Vibrations records