Siouxsie and The Banshees weren't exactly a band that rose from the embers of punk, as many would believe, more a group forged by the roaring fires of the genre's first incendiary moments. Taking the stage with a rag-tag band that included Steve Severin on bass and Sid Vicious on drums, the first iteration of Siouxsie Sioux's band The Banshees took the stage at the first-ever punk festival at The 100 Club in 1976. Ever since that show, a performance which largely consisted of heavy notes and the Lord's Prayer being yelled at a searingly high volume, the band has been the foreword in avant-garde rock.
A part of the Bromley Contingent, a group of punks who had a rather large hand in the formation of the movement, Siouxsie was always destined to be a star. As well as showing up as part of the Sex Pistols entourage for their iconic four-letter-laden appearance on Bill Grundy's "Today" show, Siouxsie has always found ways to cut herself apart from the rest. She has, both with and without her band, been a consistent and continual pursuer of artistic freedom and spreading her message. Transformed and validated when David Bowie's Ziggy Stardust album came along in 1972, Susan Ballion of Chislehurst, got her first taste of night life when accompanying her go-go dancer sister to work, flaunting provocative fetish images – self-described "armour" – as she found sanctuary in London's underground gay clubs. She met like-minded misfit Steven Bailey from Bromley at a Roxy Music gig, and the pair started going to early Sex Pistols shows with fellow local malcontents, who were dubbed 'the Bromley contingent' by press. Siouxsie was gaining popularity and appearing on magazine front covers, but the Banshees couldn't get a suitable record deal, receiving only insulting offers and rejections from A&R men. After their John Peel session in December became the most requested in the show's history, the DJ even suggested releasing the Banshees on BBC Records. Fans sprayed 'SIGN THE BANSHEES' on record company doors, gigs sold out, and their self-promoted event at Alexandra Palace was well-attended.
Eventually Polydor Records' Chris Parry secured their signatures by promising them control over packaging, promotion and track choices. Meeting the band in Soho Square, an ebullient Sioux seemed almost shocked.
If you're unsure of where to start with Siouxsie and The Banshees eleven album strong discography, then let us guide you. Fearlessly experimental but boasting an uncanny pop sensibility, their 20-year reign would see them invent goth while regularly enlivening the charts with edgy, classic singles.
In truth, The Banshees have had such a varied career and sonic journey that chances are every one of the band's fans will have a different favourite. And they've got a lot of fans too. As a foundational artist for not only post-punk (the industrialised sister of punk) but goth rock (the melodramatic cousin of post-punk) too, The Banshees have become cult favourites and outsider heroes.
Even nearly 45 years after they first became active, Siouxsie and The Banshees are still accruing fans as they continue to appeal to the disaffected youth just as they had done before. Providing some anthems, the band have transcended any genre classification or stylistic categorisation and now operate within a broad Banshees spectrum. Toying with the ferocity of punk, the theatrics of goth and the brute force of post-punk all while managing to skirt the mainstream can be regarded as one of rock music's miracles.
Across eleven studio albums Siouxsie and The Banshees have proven time and again to be serial creators and musical agitators. Below, we get down to the nitty gritty of confirming which of those classic albums is the best. Siouxsie And The Banshees made incredible music and gave rock a true icon.
The Scream (1978)
Released in August 1978, "Hong Kong Garden", with its infectious xylophone fanfare, reached No.7 as a glorious post-punk pop single. Its lyrics were inspired by a Chislehurst Chinese restaurant suffering racist skinhead attacks ('harmful elements in the air'). This song was Siouxsie and the Banshees' debut single, released in 1978, one year after the group started touring, and it's hard not to think of it as their best.
The Scream, produced by Steve Lillywhite, is one of the era's great debut albums. Dark, dramatic and utterly new, it redefined traditional voice-guitar-bass-drums line-ups. McKay's guitar sparked malevolent thunder clouds over Severin's pulsing bass, while Sioux was a regal, animated presence on Jigsaw Feeling's monolithic surge, the desolate "Overground" and "Suburban Relapse's" harrowing, JG Ballard-influenced nightmare.
After they'd savaged The Beatles' "Helter Skelter", the epic "Switch" busted punk's three-minute barrier as Sioux highlighted the grim consequences of a scientist, a doctor and a vicar swapping identities. Greeted with effervescent reviews, "The Scream" shot to No.12 in the UK album chart.
Released to rave reviews, the Banshees' 1978 debut, "The Scream", remains one of the stone tablets of post-punk. Journalist Paul Morley – frothing about the album's inversion of musical cliches, dark colours and naked moods – declared it "unlike anything in rock", and its influence is still audibly present in the work of current bands such as Florence and the Machine, and Savages. The Scream is packed with killer tracks – "Pure", "Jigsaw Feeling", "Mirage" and the rest – but "Switch", the closing track, sums up just how far the band had travelled from punk in such a relatively short time. 
Their debut album, 1978's The Scream, 'Switch' is one of those tracks that can sometimes fly under the radar when considering The Banshees. It's so easy to be drawn into their goth aesthetic and numerous stylistic changes that one can forget their fire-breathing introduction to the world. Perhaps the finest reflection of post-punk music there ever was. It's not the only great song on the album; in fact, much of the track-list is tucked neatly in spots after number ten in our collective consciousness. But the album's closer showed that Siouxsie and The Banshees were one of the most progressive acts around. They had seen the devolution of punk coming from a mile off and quickly demonstrated how to get away from the sound, the style and the now-unwelcomed moniker of 'punk'.
'Switch' proved that The Banshees has not only grown up from punk but had now left it so behind, You only get one shot at a good first impression and for Siouxsie Sioux and The Banshees, they delivered that impression like a straight jab to the jaw. Buoyed by the brutishness of punk, The Banshees had already to add an arthouse mystique to their sound which elevated their role within the scene. With The Scream, they became leading figures overnight.
While punk had been built on the back of buzzsaw riffs, The Banshees with Steve Severin on bass, used his skills to provide a deep rhythm that no other group was attempting. It would undoubtedly become one of post-punk's first moments on record and preceded many of the genre's other greats. Influential and inspirational to this day.
Join Hands (1979)
The sophomore record for any band is a difficult one but The Banshees showed real promise when they not only delivered a top-quality follow up to their debut but packed it full of a clearer vision of their pathway forward. The band's sonics had moved from the frenetic into the measured and deliberate, it was a tour de force. With two commanding singles later – the sinister waltz of "The Staircase (Mystery)" and the flanged-up onslaught of "Playground Twist" The second album "Join Hands" was underscored by the isolation that Sioux still felt occasionally.
The album took inspiration from World War One's carnage for its memorial cover and ominous "Poppy Day" intro. The juggernaut grandeur of "Regal Zone, Icon" and a spine-freezing "Premature Burial" was offset by a softly disturbing "Mother", which found Sioux singing sweetly over a music box playing "Oh Mein Papa" (before cataclysmic closer "The Lord's Prayer"
"Join Hands" tour warm-ups in Bournemouth and Friars Aylesbury were marked by the rift opening between Sioux-Severin and McKay-Morris that started at rehearsal. When Sioux, Severin and crew indulged their (little-reported) sense of humour, the other two tut-tutted like Victorian grumblers.
The group were watching reports of repression and curfews in Iran and saw, for the first time, video of people being shot and killed in real life. In England too, the world was tough according to Siouxsie, it was "a real time, everything in flux and uncertain but also festering underneath, and because this stuff from the past that was just left there rotting there and it needed to be acknowledged and then cleaned up, not just swept away still rotting"
The sophomore record for any band is a difficult one, but The Banshees showed real promise when they not only delivered a top-quality follow up to their debut but packed it full of a clearer vision of their pathway forward. The band's sonics had moved from the frenetic into the measured and deliberate; it was a tour de force. One song on the album shines particularly brightly, 'Icon'.
Sioux and Severin seized the shake-up as a chance to move forward, nicking drummer Budgie from the Slits while Robert Smith played guitar with the Banshees after his Cure set. It sounded amazing even at rehearsal. A rescheduled tour opening night in Leicester saw the rejuvenated Banshees driven by Dunkirk spirit and a bright new buzz, with Sioux strutting, skipping, dancing, working herself into a frenzy on "Suburban Relapse". Drummer Budgie was a polyrhythmic powerhouse, while Smith weaved in ethereal subtleties. Afterwards he said: "I was blown away by how powerful I felt playing that kind of music. It was so different to what we were doing with The Cure." His Banshees experience catalysed his new look and The Cure's next phase.
It motivated the band to depict the atrocities of war with a new sound and used the Great War as their further inspiration. It's harrowing and marvellous at the same time.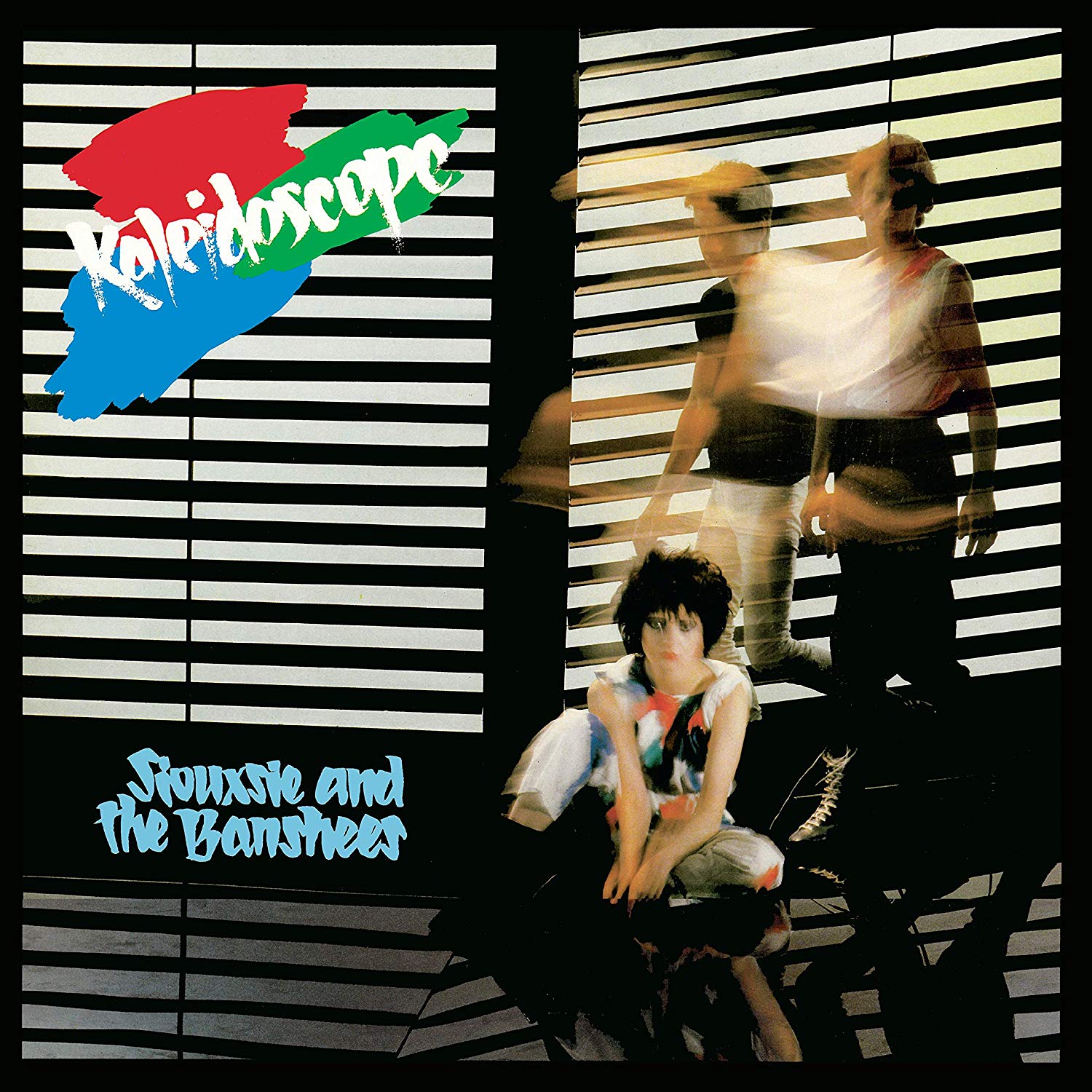 Kaleidoscope (1980)
After auditioning vainly for a new guitarist, the Banshees enticed John McGeoch from Magazine. Completed with the newly rejigged line-up, their catchily insane single "Happy House" brought the Banshees a brilliant Top 20 return in March 1980.
When Budgie, the influential drummer, arrives to join the band you know something is going right. "It was almost a different band," said Siouxsie, reflecting on both Budgie and John McGeogh's appointments. The album itself was, as the name suggests, a whirlwind spin of different themes, fragments of styles and a holistic view of creation. Designed to be somewhat unquantifiable, it remains the band's most successful LP in Britain, charting at number 5. While recording at Polydor's studio, Sioux glowed with delight as she told me: "It's given me and Steve a good kick up the arse to just do things. In the end we've got to thank John and Kenny for leaving. It's turned out for the better that they left. I feel very jolly lately. It's almost like starting again, which is how we wanted it.
Another song by Siouxsie and the Banshees, 'Happy House', was initially released as a single in June 1980 and then later added to the band's third album, "Kaleidoscope" . Around this time, two new members had joined the group with Slits drummer Budgie and Magazine guitarist John McGeoch, thereby incorporating greater musicality.
'Happy House' is basically a song where Siouxsie mocks the pretentious nature of the so-called happy family in a society that is designed to suck all the happiness out of people's lives. As the song goes, "We've come to scream in the happy house / We're in a dream in the happy house / We're all quite sane." Siouxsie commented on the song saying, "It is sarcastic. In a way, like television, all the media, it is like adverts, the perfect family, whereas it is more common that husbands beat their wives."
"We're all really excited by anything that's unpredictable. Some sort of pressure, so you drive yourself rather than have someone to make you do something. It's down to yourself to get out of your mess. The new album's called "Kaleidoscope" because of the nature of the situation we're in. It's fragmented, but every fragment is strong, bright and positive."
With Sioux writing on her new synthesiser and Severin his drum machine, new songs "Christine" and "Eve White, Eve Black" were inspired by The Three Faces Of Eve, a book (and subsequently a 1957 film) about Christine Sizemore, who hosted 22 different personalities. "They all had different names, which was a really good source for the lyrics," Severin explained: The diversity of the album was something that would go on to shape their band's entire legacy. Never keen to sit still for too long, the two singles from the LP 'Happy House' and 'Christine' proved that the group could hit either end of the spectrum should they wish to. With the band's imagination running will on this album, they provided iron-clad proof of their upcoming notoriety. The Banshees' third album, "Kaleidoscope", was their most commercially successful yet, beaming to No.5. It was followed by the atmospheric Israel, which welcomed the liberation of 12-inch singles.
Juju (1981)
Having become one of the pivotal figures in punk rock during the late seventies, by the early part of the next decade, Siouxsie and her band were beginning to find their own feet and creating a brand new sound of their own. After touring the US for the first time, they descended on co-producer Nigel Gray's Surrey Sound studio to record "Juju". For many, this is regarded as their best album.
May '81 single "Spellbound" made an evocatively dynamic trailer, with blazing pyrotechnics from McGeoch and thunderous dynamics from Budgie. The album itself displayed Sioux and Severin's creative muse on stunning form, with "Arabian Knights", "Voodoo Dolly" and "Nightshift" (about a serial killer) imbued with cinematic depth.
This could have been the band's live peak, gloriously Gothic (in the original sense), raising the bar for mesmerising rock theatre. Drapes parted to reveal clouds moving behind four stark silhouettes on the custom-built perspex stage striking up "Israel". Different settings were used for each song: dusky moonlit evening for "Arabian Knights"; blood-red inferno for "Sin In My Heart"; lightning striking the stained glass window in "Nightshift". Afterwards the band signed autographs while we sold T-shirts; worlds away from the aloof beings presented by the press.
The fifth song on the LP, 'Monitor,' is another masterclass in marrying dark tones with jovial melodies. Though the song is rich in the creepy credence that would elevate the group into the position of Goth Overlords, it also has a habit of gaining some heavy boots on the dancefloor. The band had already begun to gather up imitators, which may have been behind Sioxusie's exclamation "sit back and enjoy the real McCoy", but, in truth, she was ascending to her rightful role.
Siouxsie really announced herself as a legend. Only a comparatively short time into her career,
Following Monitor on the album after only a second's pause, "Night Shift" is the third track from "Juju" here, but exerts such a powerful grip it is impossible to ignore. From the eerie, vulnerable intro ("I see you in darkness, I feel you …") to the fracturing guitar, to the drums, which sound like they were recorded in a tomb, this is arguably the band's most successful exercise in creeping tension, which finds intoxicating release in raw power and a brilliant hook line. It wasn't immediately known at the time that the song was based on the crimes of Peter Sutcliffe, aka the Yorkshire Ripper, and it presents a chillingly realistic portrait of a killer at large.
Arising from sound-check jamming, Sioux and Budgie's voice-drum duet "But Not Them" was a "Juju" outtake that swelled into their spin-off project The Creatures. They released the double-EP "Wild Things", which included "Mad-Eyed Screamer" and their take on The Troggs' 1966 classic "Wild Thing". Meanwhile, Severin produced tour support Altered Images, including No.2 hit "Happy Birthday".
In 1981 they released the brilliant "Juju" and it signified a big change, not only in The Banshees' sound but in the culture of Britain entirely. The brazen and bratty side of punk had resided and now there was something more artistic awaiting the group. With Steve Severin's basslines and Siouxsie's theatrical vocals, the move into something new was always likely to be a touch darker.
Few albums have been as influential as 1981's "Juju". The record is one of the seminal moments in the band's career and should rightly be considered one of the decade's best records. Within the album was this gem, 'Spellbound' that perfectly described the state of the band at the time. They were dark, magical and utterly captivating.
There are hits all over the LP too. 'Spellbound' and 'Arabian Knights' are obvious bangers while a similarly dark territory is explored on 'Voodoo Dolly' and 'Night Shift', as two fine pieces of goth-pop gone right. While the album was just a stepping stone for the band towards their neo-psyche-pop stardom, the LP is a clear cultural touchpoint for any fledgeling goth.
A Kiss in the Dreamhouse (1982)
1982's "A Kiss in the Dreamhouse" is a foundational moment in the band's legacy. The first time the group ditched guitars for strings proved that The Banshees weren't just another new wave band looking to piggyback on the posturing of punk. No, this was a group who had artistic intent and musical integrity.
 1982's singles "Fireworks" and "Slowdive" preceded the swamp visions and pyramids of fifth album "A Kiss In The Dreamhouse", on which their love of psychedelic Beatles charged experiments such as having backwards strings on Circle. At a sneak preview at Camden's Playground studios, Sioux explained that the "Dreamhouse" was a 1930s Hollywood whorehouse, and "Juju" "like closing an era. That's why we waited a long time before recording a new LP, so we could work out of that."
'Peek-a-Boo', surprising as it may sound, came out via a glorious mistake. Mike Hedges, their producer, had accidentally played a track backwards, resulting in a sound loop that inspired Siouxsie to write a song. Released in 1988 as the first single of the Banshees' fifth album, 'Peek-a-Boo' became their fifth top 20 UK hit, peaking at number 16. It's a piece of pop that defies expectation and settles itself firmly in the future.
A critical and commercial success upon its release, the album's prestige has only gained extra weight during the last decades. A feat of imagination that had scarcely been achieved before, the album was a breath taking release in 1982 and left those who had predicted The Banshees demise ripping up their betting slips.
It would seem strange to feature covers in a list of an artist's finest song but to ignore the power The Banshees brought to this and plenty other original songs is to ignore a key part of the group's intrigue. They were so unique they could even make The Beatles sound fresh and get commercial success too. "It was a surprise, but it didn't really sink in until we'd finished the touring and we were back home for the winter," Siouxsie remembered. "Then we thought, 'Blimey! We got to number three!' 'Dear Prudence' got played a lot on the radio, and of course, we did the Christmas/New Year Top Of The Pops. I don't remember much about doing it except for I was wearing a new leather dress that a friend had made for me, and stripy tights."
After the enveloping darkness of Juju, fifth album "A Kiss in the Dreamhouse" unexpectedly throws open the curtains to let in the light. This final track (and 1982 single), which later gave shoegazers Slowdive their name, sounds like the lid being slowly released on a pressure cooker, as the band emerge from the black and flit from suspense to sensuality. They change course again musically, too, switching from brooding rock to psychedelic pop, and here a violin/percussion dance groove so hypnotic it made perfect sense for LCD Soundsystem to cover it years later.
The changes taking place were compounded by a heavy-drinking McGeoch suffering a nervous breakdown and departing (he joined PiL, and died in his sleep in 2004). The Banshees decided to tour less and do solo projects. Severin played with Lydia Lunch and had a blast making psychedelic whoopee with Robert Smith as The Glove. With Smith returning briefly, their baroque-psych version of The Beatles' "Dear Prudence" reached No.3, and their triumphant gig at London's Royal Albert Hall in 1983 gig was captured on their live record "Nocturne".
The Creatures replaced goth shackles with jungle-fever loincloths on their 1983 album "Feast".
Hyaena (1984)
The Banshees took such peaks as licence to experiment on their hallucinogenic album "Hyaena", notable for (among other things) the Camden Palace dancefloor-friendly gallop of "Dazzle". Orchestral arrangements of old Banshees songs were captured on "The Thorn" EP, introducing new guitarist John Carruthers, previously with Clock DVA (after he passed his initiation playing a gig at a lunatic asylum in Milan), along with keyboard player/ cellist Martin McCarrick.
It was on this record that the music world finally accepted Siouxsie Sioux as not just a musical agitator but a sublime vocalist. The song 'Dazzle' had confirmed that her range was as formidable as anybody and on the rest of the album, the group delivered a choral-like rendition of why they were such an important group.
Now seen as the moment the band hit some kind of mainstream success, "Hyaena" is also notable for containing perhaps one of the finest Beatles covers of all time with their fearsome version of 'Dear Prudence'.
Tinderbox (1986)
Released in 1986, the band's seventh studio album would prove to be one of their finest as they welcomed new band member John Carruthers and began to assert themselves on a grander stage. Beloved for its lead single 'Cities in Dust' the album was a refreshing sound still drenched in the style of the group that provided it.
When the Banshees toured in autumn 1985 (while recording seventh album "Tinderbox"), Sioux's leg was in plaster after she cracked her knee at their Hammersmith Odeon show. The show I saw at Nottingham's Royal Concert Hall, she might have been perched on a stool, but she still berated crowd-bashing bouncers before Severin dropped his bass and steamed in. In typical fashion, the fracas ignited a killer set, the Banshees powering like a juggernaut dervish. New song "Candy Man" was one of the blackest in their black catalogue, emotionally sung from experience by Sioux, who told me it was "against the perpetrators of incest or child-molesting, using a sickly-sweet person as the theme".
Sioux and Severin were almost 10-year veterans by then, and still refusing to sell their souls or become self-parodies. "We're lucky we're not so big that we're untouchable," said Severin. "It still matters that when we go on stage we have to be good and live up to our reputation. We've never slogged up and down the motorway for no reason other than to get famous. We've had an advantage in a way, because we're so arrogant and stroppy about what we do it keeps us sane. "We still have interest and time to breathe around everything. That's the only way you can carry on and still be good. A big reason we've kept going is because it hasn't been the same format and personnel.
"All mistakes somehow seem swayed in our favour, mishaps or bad luck turned to our advantage," added Sioux. "That's all; you cannot bemoan it or feel sorry for yourself. I think being really good friends is important. So many groups hate each other, don't socialise or even work well together.
While the aforementioned song is rightly seen as the standout moment on the album tracks like 'Candyman,' Cannons' and 'Parties Fall' are all rich piece of the band's iconography previewing their bittersweet perspective on the world and the dark twists those views usual take. Listen to this one with headphones and listen loud, you're about to get lost in the world of The Banshees.
Through the Looking Glass (1987)
It's not often a covers album can be as well-received as 1987's "Through the Looking Glass". Positively packed with notable songs like The Doors' 'You're Lost Little Girl' and The Modern Lovers' 'She Cracked', it was proof that The Banshees knew what good music was and, more importantly, how to make it.
Originally taken from Iggy Pop's LP Lust For Life, 'The Passenger' is a song that will likely outlive us all. So deeply entrenched with the gloom of city living, it's hard to imagine a world without the track. It may seem like an over-estimation, but the song is a tribute to the mercurial genius of Iggy Pop and, perhaps most importantly, his relationship with David Bowie. When the song was put in the hands of post-punk royalty Siouxsie and The Banshees, things kicked up a notch.
Released on the band's 1987 album "Through The Looking Glass", Siouxsie's vocal, as imposing and impressive as ever, leads the song into a brand new direction. Now far more haunting and with a whiff of cobwebs in the air, the song's long-standing imagery is rendered in a fine gloom before being punctuated with a swinging beat and the brassy breath of modernity that now feels inextricable from the original song.
It may be difficult to think that a band can be incredibly creative with a cover song but the startling thing about this album was how they managed to turn so many different songs into what sounded like an original Banshee creation. Of course, the best cover of the bunch is their version of Iggy Pop's classic 'The Passenger'.
Peepshow (1988)
1988's "Peepshow" introduced Specimen guitarist Jon Klein, before Sioux and Budgie took another Creatures detour with 1989's "Boomerang" (Jeff Buckley later covered the song Killing Time). They also got married and relocated to south-west France.
To assimilate one's love for this album just be revisiting the single 'The Killing Jar' is all well and good—it's a damn fine single. But to ignore the ginormous variety offered on this record, the wild creativity and the employment of some many production techniques would be to ignore exactly why The Banshees are still so beloved today.
The unpredictable orchestrations within the LP highlighted the band as avant-garde heroes of rock. Not content with hitting the same old patterns, the group instead used the notions of jazz and classical music to push the boundaries of the modern palette. By doing so, the band create a visionary album that not only paves the way of the future but painted one of the group's most vivid sonic landscapes.
A swirling circus of an album, this is one to enjoy alone as the rivets of industrialised punk and the smell of disturbed pop take over.
Superstition (1991)
The Banshees returned with 1991's "Superstition", with producer Stephen Hague stoking Sioux's disdain for studio computers. It's hard to call any of these albums the 'worst' but if there's one record where you could argue the group were lacking a bit of zip, it is this one. The record does arrive with some luscious string arrangements and a classic single in 'Kiss Them For Me' but otherwise, in comparison to the rest of the canon, "Superstition" falls flat.
Dealing with themes such as obsession, phobia and emotional damage is all par for the course and there are some classic doom-laden tracks for the Banshees pursuit to enjoy.
The Rapture (1995)
For a band like Siouxsie and The Banshees, a fiery drive is an essential asset for making an album. One could argue that by the time they came to making 1995's "The Rapture", that fire had begun to burn out. An album split in two parts, the first recorded near Siouxsie and Budgie's home, 1995's The Rapture, part-produced by John Cale, became the Banshees' swansong. Naturally using a cello as a primary instrument will do that but there was still a certain something that was missing from the LP.
In 1984, asked if he would know when it was time to finish the Banshees, Severin said: "I hope so, and I believe we would know. The understanding between Sioux and I wouldn't allow us to carry on if that feeling wasn't there. It's instinctive and I trust it." That moment came in 1996, as nostalgia raged for punk's twentieth anniversary with a Sex Pistols reunion. Sioux stated: "I just think it's the most dignified thing to do for the idea of the band and the spirit in which it started. We've had a fantastic journey."
Siouxsie and Budgie continued as the Creatures before splitting around 2004. Siouxsie's next release was 2007's Mantaray, her robustly diverse solo debut. They reunited once, a core trio joined by guitarist Knox Chandler, for 2002's "Seven Year Itch" tour, from which came the following year's live album of the same name. The set-list for the tour favoured early album tracks rather than their greatest hits, typifying a band whose influence had burned into rock's fabric.
The massively influential records the Banshees released between 1978 and 1995 stand among the most timelessly evocative, provocative and compelling of their era, with songs tackling schizophrenia, childhood trauma, fatal compulsion, lacerated love and serial killers.
The albums
The Scream (1978)
Join Hands (1979)
Kaleidoscope (1980)
Juju (1981)
A Kiss in the Dreamhouse (1982)
Hyæna (1984)
Tinderbox (1986)
Through the Looking Glass (1987)
Peepshow (1988)
Superstition (1991)
The Rapture (1995)