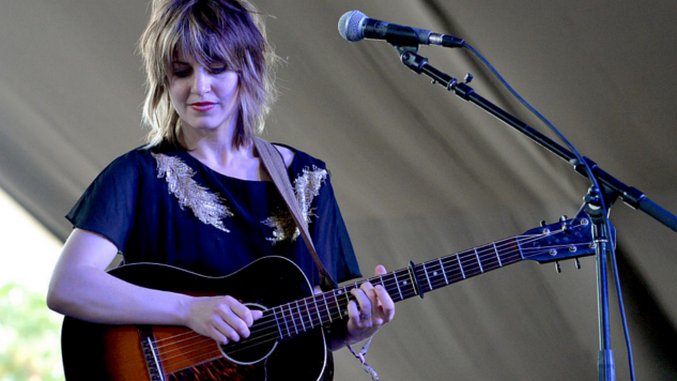 Anaïs Mitchell has been called "the queen of modern folk music." Her poetic lyrics have been likened to those of Bob Dylan and Leonard Cohen. She wrote an off-Broadway musical about which Lin-Manuel Miranda recently raved. And yet, despite such accolades, she has never quite gotten the attention her music deserves.
Mitchell writes many of her songs about history, politics, folklore, and—self-reflectively—how music can explore those topics to document and shape the world. She is both a wielder of and commentator on music's potential as a change agent, and this has been true from the title track of her debut album, The Song They Sang… When Rome Fell, to her most artistic work, the musical "Hadestown", a retelling of the Orpheus myth in Depression-era America. In an interview with The New York Times about the show, she said, "Whether or not you can change the world with a song, […] you still have to try."
"Brooklyn Bridge" is the opening song and second preview of Mitchell's album and is accompanied by a live performance video directed by Jay Sansone.
Mitchell says of the new release, "Having left New York, I was able to write a love letter to it in a way I never could when I was living there. It was like, fuck it. This is how I feel. There is nothing more beautiful than riding over one of the New York bridges at night next to someone who inspires you."
Earnest, observant, and philosophical, Mitchell brings poignancy to the ordinary and meaning to adversity. Looking back at her extraordinary, if too often overlooked career, The new record is produced by Josh Kaufman, who will also feature on the album alongside Michael Lewis, JT Bates, Thomas Bartlett, Aaron Dessner, and Nico Muhlu, who provided string and flute arrangements.
Last year, Mitchell collaborated with Eric D. Johnson and Kaufman on the debut "Bonny Light Horseman" album, and this year she featured on Big Red Machine's How Long Do You Think It's Gonna Last? album in August.
"Brooklyn Bridge" is out now. Anaïs Mitchell's self-titled album will be released 28th January 2022 via BMG Records,