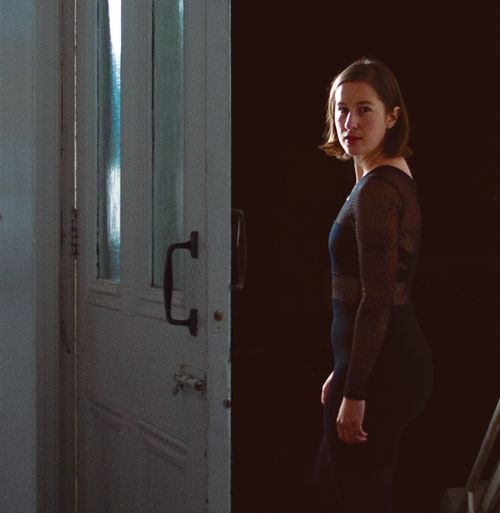 This is the 3rd album from Brighton's Hattie Cooke that confirms her metamorphosis into a glorious synth empress! a record soaked in the outer edges of pop music, full of dense textures held together by Hattie's unique voice.
The Brighton born artist's third album and debut release for Castles in Space opens up her sound by managing to find a balance between the introspective and the communal. it is an album that looks forward whilst acknowledging the creators past creating a work full of a nostalgia that also feels vitally current. initially conceived as a soundtrack album, during its creation, "Bliss Land" morphed into a beautiful set of personal songs born out of anticipation, excitement and anxiety. speaking about the themes of the albums, Hattie says: "it wasn't until the album was finished that I realised what it was about. having recently graduated from university and people were beginning to take more notice of my music. I was excited about the possibilities of the future, but at the same time the immediate future had been put on hold due to the pandemic, so I was frustrated and anxious. and then whenever i think about the future, I can't help but think about the past and where I've come from and what I've been through to get to that point. so in some ways it's a reflective record and in other ways it's a record full of anticipation. "One Foot Out The Door" is a track that really resonates with me – it's about that liminal space between the past and the future when you're on the threshold of something. I think that's what the album is about, it's about the in-between moments. "growing up on a small council estate on the outskirts of Brighton in a house that was full of music. Both my parents played guitar and my dad also bought and sold records for a living. I taught myself the guitar at around twelve and made plenty of music throughout my teens. at 17, I won a scholarship to study at the British Institute of Modern Music and continued writing and playing local shows. I also started to learn how to record and produce my own music on Garageband as a necessary alternative to going into an expensive recording studio. Garageband has some fantastic synth and electronic drum sounds and that's when I became more interested in electronic music and music production. in 2015, Third Kind Records approached me after hearing my songs on a homemade demo cd that a friend had passed on. we released my debut album in 2016 and I've been making and releasing music ever since." Hattie writes, records and produces all her own albums, however she is keen to express how others have helped shaped parts of Bliss Land: "the record isn't a completely solo effort, I had people along the way to help shape this album into what it became, although I had complete artistic freedom to let the album grow into what it wanted to be. With invaluable help from Dom Keen who helped me mix the album.
"Bliss Land" is an album soaked in the outer edges of pop music making it a cohesive and beautiful album full of dense textures held together by Hattie's unique voice. it's an album that will undoubtedly chime with a cross section of audiences.
her Bliss Land album is out now.