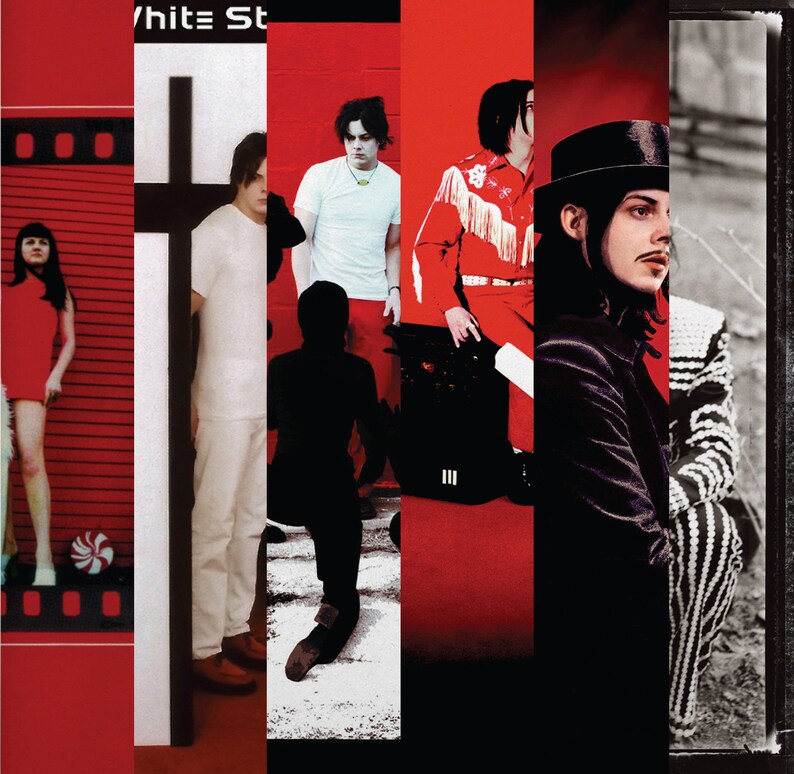 Meg and Jack produced whipped up blues-rock waves around the globe as The White Stripes between 1997-2011 with 6 top notch albums, searing gigs (I know, I was there) and some glorious video clips for singles. The White Stripes were a band that spilt opinion. For many music fans, they were a thrilling two piece rock band who were able to update the blues tradition for a modern audience. To others they were a gimmicky and derivative act with a drummer of limited ability who were little more than a vehicle for the frontman's blues fantasies. Regardless of your opinion though, it's impossible to view them as anything less than one of the key rock acts of the 21st Century.
Jack and Meg White they have been releasing albums since 1999. But what is the most raw and authentic sounding of all their albums, their self titled debut has a rough and untamed feel to it, yet that is much of its appeal. At the time of recording this the band were unknowns, yet they had already put in place most of what would make them one of the most discussed bands of the next decade. The basic guitar and drums sound, the black, white and red colour scheme, a sound influenced by – but not restricted to – the blues.
Even at the start of their career it was obvious that the White Stripes were a vehicle for the man who called himself Jack White. Drummer Meg was there to provide the most simple and unfussy of rhythms for Jack to build upon with his thrillingly untutored guitar playing and his rock yelp. The sound is derivative of so many bands that had gone before, be they Led Zeppelin, The Who, The Stooges or the blues masters, but that's the point. There were many retro-rock bands about at the time that this album was released, but few were so open and enthusiastic about updating the blues for the modern era. The White Stripes weren't particularly interested in emulating their heroes, they were more interested in encouraging younger generations to investigate the acts that had influenced them.
The White Stripes, were more than just one of those "The" bands (see The Datsuns, The Vines, The Hives et al) who proliferated around the turn of the century. Those others were good, but The White Stripes were exceptional. In the "official" cannon I make it 6 studio albums, a live album and 24 singles. They are all in print in vinyl (except "Get Behind Me Satan" which for some reason never got an official vinyl release).
Their six studio albums are easy to track down and each one has it's own distinct character. Their "Under Blackpool Lights" concert DVD is a celebration of the band at the apex of their fame following the successful promotion of "Elephant".
Although perhaps a little uneven, The White Stripes can boast a fine selection of great tunes. First and foremost of these is the opener "Jimmy The Exploder", a glorious statement of intent which starts with Meg's booming drums, continues with Jack's gargantuan riffing and loads of whooping and hollering. It's one hell of an entrance for any band, let alone one with only two members. Further into the album, the run of songs beginning with "Cannon" and ending with "When I Hear My Name" almost matches the opener's ebullience. Another highlight is the cover of "One More Cup Of Coffee" which they handle better than you may expect.
The rest of the album is solid enough, but can get a little bit samey with with some blues licks and lyrical lifts being too obvious to actually be interesting. You get the sense that Jack White was only just getting into his stride, but he had enough faith in the enthusiastic sound of the album to realise that it needed minimal production, leaving it sounding endearingly scruffy and oddly loveable.
Minimal to the point of sounding monumental, this Detroit guitar-drums-voice duo makes the most of its aesthetic choices and the spaces between riffage and the big beat. In fact, the White Stripes sound like arena rock as hand-crafted in the attic. Singer/guitarist Jack White's voice is a singular, evocative combination of punk, metal, blues, and backwoods while his guitar work is grand and banging with just enough lyrical touches of slide and subtle solo work to let you know he means to use the metal-blues riff collisions just so. Drummer Meg White balances out the fretwork and the fretting with methodical, spare, and booming cymbal, bass drum, and snare cracks. In a word, economy (and that goes for both of the players). The Whites' choice of covers is inspired, too. J. White's voice is equally suited to the task of tackling both the desperation of Robert Johnson's "Stop Breakin' Down" and the loneliness of Bob Dylan's "One More Cup of Coffee." Neither are equal to the originals, but they take a distinctive, haunting spin around the turntable nevertheless. All D.I.Y. punk-country-blues-metal singer/song-writing duos should sound this good.
Despite their reputation as garage rock revivalists, the White Stripes display an impressive range of styles on their second album, De Stijl, which is Dutch for "the style." Perhaps the album's diversity — which incorporates elements of bubblegum, cabaret, blues, and classic rock — shouldn't come as a surprise from a band that dedicates its album to bluesman Blind Willie McTell and Dutch artist Gerrit Rietveld. Nevertheless, it's refreshing to hear the band go from the Tommy James-style pop of "You're Pretty Good Looking" to the garagey stomp of "Hello Operator" then shows that the band were starting to take their blues influences very seriously indeed, even if all they were doing was merely taking old classics and making them louder and potentially more accessible to a modern audience. "I'm Bound To Pack It Up" makes a better fist of things and is one of the strongest tunes on the album, as it indicates that Jack White was getting increasingly comfortable with acoustic tunes. .
It's even more impressive that the theatrical, piano-driven ballad "Apple Blossom" and a cover of Son House's "Death Letter" go so well together on the same album. It is a slightly more mature work though and opener "You're Pretty Good Looking (For A Girl)' definitely starts things off on the right foot.
Jack White's understated production work and versatile guitar playing and vocals also stand out on the languid, fuzzy "Sister, Do You Know My Name?" as well as insistent rockers like "Little Bird" and "Why Can't You Be Nicer to Me?" As distinctive as it is diverse, "De Stijl" blends the Stripes' arty leanings with enough rock muscle to back up the band's ambitions.
"De Stijl" is the preferred White Stripes album for those that maintain The White Stripes sold out when "Seven Nation Army" charted. This may be due to the fact that it's probably their most serious album and the one with the least obvious commercial appeal.
"De Stijl" deserves its cult status, catching the duo at the tipping point before everything went batshit crazy. Dedicated to Blind Willie McTell, this second album was recorded to eight-track in White's living room, but that rudimentary production belied a track-listing that runs the gamut.
White Blood Cells is The White Stripes strongest album, the one where they left behind the limitations of their deconstructed blues format and made something which stood entirely on its own merits. The slide guitar which had been all over the previous two albums had been dispensed with, which had the unusual benefit of improving Jack White's guitar skills. The album combined the energy of their debut with the maturity and skill of De Stijl. Even Meg's drumming seemed to have improved considerably, though she endearingly stuck to her none-more-basic technique.
The straight-blues direction and slavish covers of the band's earliest work were ditched for 16 White-penned compositions the bandleader insisted on analogue grit and impulse tracking, rattling through the songs at whip-cracking pace (they didn't even bother with a bass track).
Despite the seemingly instant attention surrounding them — glowing write-ups in glossy magazines like Rolling Stone and Mojo, guest lists boasting names like Kate Hudson and Chris Robinson, and appearances on national TV — the White Stripes have stayed true to the approach that brought them this success in the first place. White Blood Cells, Jack and Meg White's third effort for Sympathy for the Record Industry, wraps their powerful, deceptively simple style around meditations on fame, love, and betrayal. As produced by Doug Easley, it sounds exactly how an underground sensation's breakthrough album should: bigger and tighter than their earlier material, but not so polished that it will scare away longtime fans. Admittedly, White Blood Cells lacks some of the White Stripes' blues influence and urgency, but it perfects the pop skills the duo honed on De Stijl and expands on them.
The country-tinged and joyous singalong of "Hotel Yorba" and immediate, crazed garage pop of "Fell in Love With a Girl" define the album's immediacy, along with the folky, McCartney-esque "We're Going to Be Friends," a charming, school-days love song that's among Jack White's finest work. However, White's growth as a songwriter shines through on virtually every track, from the cocky opener "Dead Leaves and the Dirty Ground" to vicious indictments like "The Union Forever" and "I Think I Smell a Rat." "Same Boy You've Always Known" and "Offend in Every Way" are two more quintessential tracks, offering up more of the group's stomping riffs and rhythms and us-against-the-world attitude. Few garage rock groups would name one of their most driving numbers "I'm Finding It Harder to Be a Gentleman," and fewer still would pen lyrics like "I'm so tired of acting tough/I'm gonna do what I please/Let's get married," but it's precisely this mix of strength and sweetness, among other contrasts, that makes the White Stripes so intriguing the freaky "Aluminum" continue the strong showing and the piano led closer "This Protector" is one of the album highlights.. Likewise, White Blood Cells' ability to surprise old fans and win over new ones makes it the Stripes' finest work to date.
White Blood Cells may have been a reaction to the amount of fame the White Stripes had received up to the point of its release, but, paradoxically, it made full-fledged rock stars out of Jack and Meg White and sold over half a million copies in the process Elephant is a great album, but it's a great album that got overplayed, . Despite the White Stripes' ambivalence, fame nevertheless seems to suit them: They just become more accomplished as the attention paid to them increases. Elephant captures this contradiction within the Stripes and their music; it's the first album they've recorded for a major label, and it sounds even more pissed-off, paranoid, and stunning than its predecessor. Darker and more difficult than White Blood Cells, the album offers nothing as immediately crowd-pleasing or sweet as "Fell in Love With a Girl" or "We're Going to Be Friends," but it's more consistent, exploring disillusionment and rejection with razor-sharp focus.
Chip-on-the-shoulder anthems like the breath taking opener, "Seven Nation Army," remains the band's signature tune and one of their biggest hit singles. Possessing an instantly recognisable bass line, a stupidly simple drum beat and one of the best riffs in years, it gained vast amounts of airplay. which is driven by Meg White's explosively minimal drumming, and "The Hardest Button to Button," in which Jack White snarls "Now we're a family!" — one of the best oblique threats since Black Francis sneered "It's educational!" all those years ago — deliver some of the fiercest blues-punk of the White Stripes' career. "There's No Home for You Here" sets a girl's walking papers to a melody reminiscent of "Dead Leaves and the Dirty Ground" (though the result is more sequel than rehash), driving the point home with a wall of layered, Queen-ly harmonies and piercing guitars, while the inspired version of "I Just Don't Know What to Do With Myself" goes from plaintive to angry in just over a minute, though the charging guitars at the end sound perversely triumphant.
At its bruised heart, Elephant portrays love as a power struggle, with chivalry and innocence usually losing out to the power of seduction. "I Want to Be the Boy" tries, unsuccessfully, to charm a girl's mother; "You've Got Her in Your Pocket," a deceptively gentle ballad, reveals the darker side of the Stripes' vulnerability, blurring the line between caring for someone and owning them with some fittingly fluid song writing.
The battle for control reaches a fever pitch on the "Fell in Love With a Girl"-esque "Hypnotize," which suggests some slightly underhanded ways of winning a girl over before settling for just holding her hand, and on the show-stopping "Ball and Biscuit," seven flat-out seductive minutes of preening, boasting, and amazing guitar prowess that ranks as one the band's most traditionally bluesy (not to mention sexy) songs. Interestingly, Meg's star turn, "In the Cold, Cold Night," is the closest Elephant comes to a truce in this struggle, her kitten-ish voice balancing the song's slinky words and music. While the album is often dark, it's never despairing; moments of wry humour pop up throughout, particularly toward the end. "Little Acorns" begins with a sound clip of Detroit newscaster Mort Crim's Second Thoughts radio show, adding an authentic, if unusual, Motor City feel. It also suggests that Jack White is one of the few vocalists who could make a lyric like "Be like the squirrel" sound cool and even inspiring. Likewise, the showy "Girl, You Have No Faith in Medicine" — on which White resembles a garage rock snake-oil salesman — is probably the only song featuring the word "acetaminophen" in its chorus.
"It's True That We Love One Another," which features vocals from Holly Golightly as well as Meg White, continues the Stripes' tradition of closing their albums on a light hearted note. Almost as much fun to analyze as it is to listen to, Elephant overflows with quality — it's full of tight song writing, sharp, witty lyrics, and judiciously used basses and tumbling keyboard melodies that enhance the band's powerful simplicity (and the excellent "The Air Near My Fingers" features all of these). Crucially, the White Stripes know the difference between fame and success; while they may not be entirely comfortable with their fame, they've succeeded at mixing blues, punk, and garage rock in an electrifying and unique way ever since they were strictly a Detroit phenomenon. On these terms, "Elephant" is a phenomenal success.
With "Elephant", The White Stripes showed that their blend of influences could be shaped together to appeal to a mass audience and achieve sustained success. Sadly this meant that a lot of music fans that had been previously indifferent to them suddenly hated them. To combat this Jack White ensured that the next White Stripes album would be much more rootsy and authentic, thus alienating their fair-weather fans and attempting to regain some credibility with the hip indie-set. Regardless of this, while "Elephant" may not be the coolest White Stripes album to own, it's still one of their best.
The mighty "Elephant" trampled all-comers in 2003, giving The White Stripes their first UK No.1 album and the rock scene a new poster-boy. Recorded at London's Toe Rag studio on equipment predating 1963, the record ram-raided the mainstream without compromising White's vision one iota.
According to Jack White, Get Behind Me Satan deals with "characters and the ideal of truth," but in truth, the album is just as much about what people expect from the White Stripes and what they themselves want to deliver. Get Behind Me Satan is an album that divided longstanding White Stripes' fans, the music press and confused the hell out of those fans they picked up following the release of Elephant. Considerably more moody, downbeat and, lead single and first track "Blue Orchid" aside, a considerably less accessible album, it's The White Stripes 'difficult' fifth album. Actually, maybe that's a little unkind, as both "Mt Doorbell" and the duet "Little Ghost" are great little tunes,
Advance publicity for the album stated that it was written on piano, marimba, and acoustic guitar, suggesting that it was going to be a quiet retreat to the band's little room after the big sound, and bigger success, of Elephant. Then "Blue Orchid," Get Behind Me Satan's lead single, arrived. A devilish slice of disco-metal with heavily processed, nearly robotic riffs, the song was thrilling, but also oddly perfunctory; it felt almost like a caricature of their stripped-down but hard-hitting rock. As the opening track for Get Behind Me Satan, "Blue Orchid" is more than a little perverse, as though the White Stripes are giving their audience the required rock single before getting back to that little room, locking the door behind them, and doing whatever the hell they want.
Even Jack White's work on the Cold Mountain soundtrack and Loretta Lynn's Van Lear Rose isn't adequate preparation for how far-flung this album is: Get Behind Me Satan is a weird, compelling collection that touches on several albums' worth of sounds, and its first four songs are so different from most of the White Stripes' previous music — as well as from each other – that, at first, they're downright disorienting. As if the red herring that is "Blue Orchid" isn't enough warning that Get Behind Me Satan is designed to defy expectations, "The Nurse's" ironically perky marimbas and off-kilter stabs of drums and guitar — not to mention lyrics like "the nurse should not be the one who puts salt in your wounds" — make its domestic skulduggery one of the most perplexing and eerie songs the White Stripes have ever recorded (although Meg's brief cameo, "Passive Manipulation," which boasts the refrain "you need to know the difference between a father and a lover," rivals it).
"My Doorbell," on the other hand, is almost ridiculously immediate and catchy, and with its skipping beat and brightly bashed pianos, surprisingly funky. Meanwhile, "Forever for Her (Is Over for Me)" turns cleverly structured wordplay and those fluttering marimbas into a summery, affecting ballad.
Perhaps a factor in the mood of Get Behind Me Satan was the fact that Jack White was getting ever more involved in side-projects like The Raconteurs, a band he formed with Brendan Benson and back up by Patrick Keeler and Jack Lawrence, whose debut album was every bit as commercial as Get Behind Me Satan wasn't.
A lot changed in the White Stripes' world between Get Behind Me Satan and Icky Thump: Meg White moved to L.A., while Jack White left Detroit for Nashville, married and had a daughter, and formed the Raconteurs, a side project that won so much praise that some fans worried that it meant the end of the Stripes. Those fears were as unfounded as the speculation that White's new hometown meant that the band was going to "go country" (after all, Jack and Meg are wearing the costumes of London's Pearly Kings and Queens, not Nudie suits, on Icky Thump's cover). Though it was recorded at Nashville's state-of-the-art Blackbird Studio and covers everything from bagpipes to metal, Icky Thump is unmistakably a White Stripes album. It's a solid return to blues, guitar heroics, willfully unorthodox drumming and a sense of fun. It kicks off well with the title track and continues The White Stripes' grand tradition of having a killer opening track which sets the bar for the rest of the album, but like some of their other albums, the rest of the album does it's best to escape the shadow of its' lead track. Jack and Meg do give it their best shot though and they do come close at points.
The eclectic feel of Get Behind Me Satan remains, but is less obvious; interestingly, out of all the band's previous work, Icky Thump's brash and confessional songs most closely resemble De Stijl. "300 MPH Torrential Outpour Blues"' acoustic blues and carefully crafted wordplay hark back to "Sister, Do You Know My Name." Meanwhile, "Rag & Bone" is a cute, ragamuffin cousin of "Let's Build a Home" that casts Jack and Meg as enterprising garbage-pickers; the sly grin in Jack's voice as he says "we'll give it a…home" is palpable. And, while Get Behind Me Satan was heavy on pianos, Icky Thump is just plain heavy, dominated by primal, stomping rock that feels like it's been caged for a very long time and is just now being released. Jack White's guitars are back in a big way; "Catch Hell Blues" is a particularly fine showcase for his playing. Once again, though, the Stripes defy expectations, and their "return to rock" isn't necessarily a return to the kind of rock they mastered on Elephant.
Aside from the searing "Bone Broke," which would fit on almost any White Stripes album (and in fact was partially written in 1998), on Icky Thump Jack and Meg push the boundaries of their louder side. Darker and slower than most Stripes singles, "Icky Thump" is their very own "Immigrant Song," with guitars that chug menacingly and lyrics that run the gamut from fever dream meditations on redhead senoritas to pointed political statements ("Why don't you kick yourself out/You're an immigrant too"). "Little Cream Soda" is also outstanding, pairing ranting, spoken-word verses with grinding surf-metal guitars that make it one of the Stripes' heaviest songs. However, the boldest excursion might be "Conquest," which turns Patti Page's '50s-era battle of the sexes into a garage rock bullfight, complete with dramatic mariachi brass, flamenco rhythms, backing vocals that would do Ennio Morricone proud, and duelling guitar and trumpet solos that capture the band's love of drama. As fantastic as Icky Thump's rockers are, its breathers are just as important. Though the Celtic detour that makes up Thump's heart feels out of place initially, "Prickly Thorn, But Sweetly Worn" is indeed a sweet and genuine sounding homage to Scottish folk, bagpipes and all (and could also be a nod to the Rolling Stones' flirtation with British folk in the mid-'60s). And while its psychedelic counterpart "St. Andrews (This Battle Is in the Air)" doesn't work quite as well, it feels like the kind of quirky tangent that pops up on plenty of vintage albums as a palate cleanser. The Stripes' poppy and vulnerable sides get slightly short shrift on Icky Thump. "You Don't Know What Love Is" is so hooky it could just as easily be a Raconteurs song, though it boasts a guitar solo that stings like lemon juice in a paper cut. "I'm a Martyr for My Love for You" is the album's lone ballad, and while its melody is beautiful, it may be the album's weakest track. And though "Icky Thump's" track listing might be slightly front-loaded, the Stripes uphold their tradition of ending their albums on a playful note with the wonderful "Effect and Cause," which feels equally indebted to hillbilly wisdom and Mungo Jerry's sly jug-band shuffle. With its fuller sound and relaxed flights of fancy, "Icky Thump" is a mature, but far from stodgy, album — and, as is usually the case, it's just great fun to hear the band play.
Jack 'n' Meg bowed out with a glittering swansong that ensured their legacy was bulletproof. "Icky Thump" fused White's restless experimentation to some of his most rock-solid tunes.
The pianos were gone, and we didn't miss them: "Conquest" was a crazed spaghetti-western scorcher, and "Catch Hell Blues" a showcase for White's stunning electric slide work, while "You Don't Know What Love Is (You Just Do As You're Told)" was a scream-it-back anthem. Always leave them hungry, runs the adage. After Icky Thump, we were ravenous but things changed.
it was getting pretty obvious that Jack White had outgrown the band with whom he had made his name. He continued to spread his creative energies over a wider area, with a new Raconteurs album, another new band called The Dead Weather, a pretty good live album for The White Stripes and even a theme tune to a James Bond film.
| | |
| --- | --- |
| 2010 | Under Great White Northern Lights |
In early 2011 Jack White finally announced what his fans had figured out a while ago, The White Stripes were no more. It was no great shock, as their last studio album had been released four years previously and it was obvious that he had become ever more interested in other projects. A well received solo debut was released and Meg White quietly slipped away to lead a life away from the glare of the media.
Given the White Stripes' reputation for powerful concerts, it's a little surprising that they waited until more than a decade into their career to release a live album. However, "Under Great White Northern Lights" was worth the wait: While nothing can really replace seeing the band live, this set captures most of their riveting on-stage presence. The album was recorded during the Stripes' 2007 Canadian tour, which was such a special experience for them that they chronicled it with a DVD as well. The band was touring in support of that year's "Icky Thump", and the Scottish and Celtic motifs that are woven throughout that album pop up here, too, from the bagpipes intro to a brisk version of "Little Ghost" that sounds almost like a reel.
Like most White Stripes concerts, "Under Great White Northern Lights" features an even handed mix of early songs and newer ones — Jack and Meg White go way back for incendiary takes on "Let's Shake Hands" and "When I Hear My Name," which sound right at home next to the lunging "Icky Thump" and "I'm Slowly Turning into You." The album opens with four furious rockers that show just how primal the duo is live — on "Black Math" and a breathless "Blue Orchid" they sound like they can barely keep up with the energy flowing through them — but many of "Under Great White Northern Lights" brightest moments happen when they slow down. Jack and Meg settle into a groove on "300 M.P.H. Torrential Outpour Blues" that makes the song fresher than it was on "Icky Thump", while a particularly stunning version of "The Union Forever," with extra-desperate vocals from Jack surrounded by a swelling, horror-movie organ, just might be the album's standout.
The Stripes also include plenty of favourites, including "Jolene," a bluesy "Fell in Love with a Girl," a singalong "I Just Don't Know What to Do With Myself," and a bruising "Seven Nation Army" as the finale, all of which capture the kind of show the band puts on for its fans. Since a big part of the Stripes' live show also rests on their visuals, the "Under Great White Northern Lights" DVD gives the complete experience, but this album is satisfying enough to make it a must for most fans.
Despite having split up in 2011, The White Stripes have released a new double live album this week. Marking the tenth anniversary of their magnum opus "Elephant", the red and white vinyl album "Nine Miles From The White City" is a recording of a 2003 Chicago show. Released as part of Third Man Records' The Vault series, which releases exclusive Third Man albums, singles and merchandise quarterly, it adds another glossy page to The White Stripes back catalogue.
The White Stripes Greatest Hits: My Sister Thanks You and I Thank You
The White Stripes always seemed to be a band that stood apart. Yeah, they were part of the garage-rock revival movement of the early 2000s, but unlike the other act from that scene that critics hyped beyond all comprehension at the time, The Strokes, Jack and Meg White didn't fall foul of the weight of expectation heaped upon them, and they did not immediately enjoy a huge commercial mega-hit breakthrough either.
As soon as I saw them perform "Hotel Yorba" on the television in early 2001, I knew I had to check them out, and after an initial listen to White Blood Cells, I was a fan. The sonic universe they were creating, was unique enough to appeal to me, and I enjoyed their bare bones approach as they brought something a bit different to blues rock. Even at this stage, with their oddly charming yet pretentious stylistic restrictions like Jack's ridiculously retro catalogue-origin Airline guitar, their red, white and black wardrobe, their insistence that Meg and Jack were siblings when they were actually a formerly married couple, and the hilariously lopsided character dynamic between the two of them, with Jack the ultra-confident frontman guitar hero in sharp contrast to the shy and retiring Meg walloping the drums in a gloriously unorthodox manner behind him.
So why release a Greatest Hits set in 2020 then? I must admit, I raised a smile when I first saw mention of this Greatest Hits set, partly because I could imagine Jack's perverse thrill at putting out such an anachronistic release, After all these years, the first two albums are enjoyable stepping stones to bigger things, White Blood Cells and Elephant are the enduring gems and the last two are a contrary fit of pique, and an apology for the contrary fit of pique respectively. The main thing that leaps out at me though, is the fact that The White Stripes would have been considerably less interesting without Meg's simplistic drumming. As much of a musical polymath as Jack continues to be, Meg and her drumming are what made The White Stripes special.
Listening to Greatest Hits is something of a nostalgia hit for me. Smartly sequenced non-chronologically, so the significant drop-off in form as their career progressed is minimised, there's so much here that reminds me why I loved The White Stripes back in the day. "Fell in Love With a Girl", "The Hardest Button to Button", "Dead Leaves and the Dirty Ground", "You're Pretty Good Looking (For a Girl)" and (of course) "Seven Nation Army", these are all great rock songs.
All in all, Greatest Hits is a fair summation of The White Stripes career. There's great stuff, there's not so great stuff, and there's just some stuff that sounds like Jack White just wanted to draw attention to how much of an unapologetic hipster he was. Mainly though, it's a reminder of just how much Meg White brought to the band, and although her bandmate took the lions share of the spotlight, she was actually the much more compelling and interesting individual.
In the years since that breakout, White hasn't squandered his platform, raising sunken treasure with his Third Man Record label and pinballing between solo albums and side-projects of varying merit.
On February 2nd, 2011, after a lengthy hiatus from recording and performing (and roughly eleven years since Jack and Meg White divorced), The White Stripes officially announced they were calling it quits.Here's what was posted on Jack White's Third Man Records website: "The reason is not due to artistic differences or lack of wanting to continue," the post reads. "Nor any health issues as both Meg and Jack are feeling fine and in good health. It is for a myriad of reasons, but mostly to preserve what is beautiful and special about the band and have it stay that way."" Both Meg and Jack hope this decision isn't met with sorrow by their fans but that it is seen as a positive move done out of respect for the music that the band has created. It is also done with the utmost respect to those fans who've shared in those creations, with their feelings considered greatly.""The White Stripes do not belong to Meg and Jack anymore," the band wrote at the end of their statement. "The White Stripes belong to you now and you can do with it whatever you want. The beauty of art and music is that it can last forever if people want it to. Thank you for sharing this experience. Your involvement will never be lost on us and we are truly grateful." The White Stripes last toured behind their 2007 disc "Icky Thump", but it was cut short when drummer Meg White began suffering from acute anxiety problems. Since then the group performed "We're Going To Be Friends" on the final episode of Late Night With Conan O'Brien on February 20th, 2009.