Arguably the best and most influential rhythm guitarist in the history of rock & roll, Keith Richards was the principle architect of the sound that would make The Rolling Stones one of rock's most iconic bands. Blessed with excellent timing and a minimalist style that cut deep without wasted moves, Richards borrowed from the playbooks of Rock n Roller Chuck Berry and a number of classic blues players to formulate a sound that was decisively his own, and would in turn be borrowed by countless guitarists who aped his moved but rarely with the same impact.
If the Stones were widely perceived as rock's ultimate bad boys in their heyday, Richards was the man who led their charge, and his swaggering style, outlaw attitude, brushes with the law, and outsized consumption of drugs and alcohol created a legend that could fill a book (and did when Richards published his memoirs, "Life", in 2010).
"Talk Is Cheap" (1988)
Keith Richards never wanted to go solo. Then Jagger started making his own records, refusing even to tour behind the Stones' lightly regarded "Dirty Work". So, Richards finally relented, cutting this debut in about 10 days. It became the best Rolling Stones-related album in forever and a catalyst for their reunion. But the gold-selling "Talk Is Cheap" was far more than comfy Stones-isms. Richards kicked things off with the nasty funk of "Big Enough" then continued through a cool menagerie of personal influences from rockabilly to Memphis soul, from reggae-fied rock to Louisiana-inspired roots music. These sessions also provided a first draft for "Almost Hear You Sigh," which became a Top 40 U.K. hit in 1990 for the quickly reformed Rolling Stones. Richards not only established himself as a standalone performer, he saved his old band.
1988's "Talk Is Cheap" is Passionate, elemental, and founded in vintage blues, R&B, and rock & roll, The album was a near-definitive statement of what Keith brought to the table in The Rolling Stones, and while he and Jagger would reconcile and continue working together in the band, Richards would occasionally cut solo sets that allowed him to put his musical vision front and centre.
"Talk Is Cheap" often resembles a Rolling Stones album ("Take It So Hard" could pass for the best Stones single since "Start Me Up"), but part of its charm is that even when it strays far from the band's template — such as the churning funk of "Big Enough" or the Chuck Berry tribute/rip-off "I Could Have Stood You Up" — it still beautifully captures what Richards brought to the band as a guitarist and songwriter, only in different surroundings and fresh contexts. It always sounds like Keith, even when it doesn't sound like The Stones, and he's passionate, engaged, and effortlessly cool on every track, with his trademark rhythm-as-lead guitar front and centre throughout.
The stellar band that accompanies Richards including Waddy Wachtel, Steve Jordan Mick Taylor Bernie Worral Johnnie Johnston and Ivan Neville has a mind and an approach of its own, but they understand that the root of what Richards does is about the groove, and they don't let him down for a moment. "Talk Is Cheap" was good, raucous, high-attitude fun in a way a Stones album hadn't been since 1981's "Tattoo You".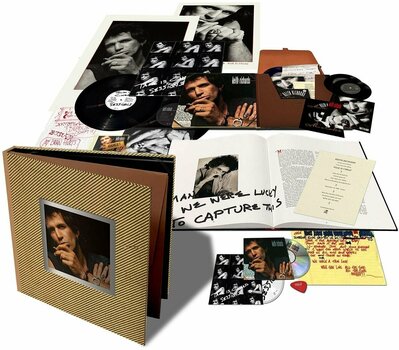 Richards' long-awaited solo debut opened with "Big Enough," a nasty funk number that reset the entire known Stones universe. He'd never wanted to step out on his own but felt boxed in by Jagger – who chose to refocus on his solo career rather than tour in support of 1986′ Dirty Work. The resulting "Talk Is Cheap" was a laconic, utterly charming stroll through a string of personal influences. Richards remained conflicted: "In the back of my mind, doing a solo record meant a slight sense of failure," he said at the time.
"The only reason I would do a solo album was because I couldn't keep the Stones together." Ironically, this one had the opposite result: Jagger, no doubt noting that his erstwhile collaborator now had a gold-selling Top 40 hit of his own in both the U.K. and U.S., promptly made his way back into Richards' life.
Reviews were generally quite complimentary, calling it a solid rock & roll record; and, buoyed by the minor hit single and MTV favourite "Take It So Hard," "Talk Is Cheap" went gold. Richards embarked on a supporting tour that produced the concert album "Live At The Hollywood Palladium" released three years later,
"Live At The Hollywood Palladium" December 15th 1988
Recorded on December 15th, 1988, during the tour for "Talk Is Cheap", "Live At The Hollywood Palladium"  is a loose, groove-laden affair, featuring the best from Keith Richards' first solo album as well as some Stones classics — mostly tunes he took lead vocals on. Opening with "Take It So Hard," the first thing that hits the listener is the lack of the gloss that was probably the only drawback to "Talk Is Cheap", which is a very good thing, because while the album was still leaps and bounds more real than, say, Dirty Work this live collection is loose without ever getting away from the band, and has an organic feel not present in The Stones' work since the early '70s. Rockers like "Whip It Up" and "Struggle" swagger, while Sarah Dash shines on "Make No Mistake" and "Time Is On My Side." Richards even manages to get into the reggae groove without sounding too clichéd on "Too Rude". 
"Live At The Hollywood Palladium" is a solid live album that stands head and shoulders above most of The Stones' live records, and is easily a must-have for any serious Rolling Stones or Keith Richards fan.
"Main Offender" (1992)
Richards second solo album is even more delightfully focused than his first. Highlights include "Wicked as It Seems," and "Eileen," and the searing "999".
The Stones are often, and not incorrectly, linked to the city-blues tradition of Chess Records, but Richards' riffy slant on the guitar had just as much to do with more groove-focused figures like Otis Redding and Solomon Burke. "Main Offender" proves the point, as Richards lets all of the coiled danger and flinty emotions of "Talk Is Cheap" unravel into a series of almost trance-like moments.
That can give the album a sense of dulled edges on initial listens, but "Main Offender" is meant to be lived with. Jagger obviously did, as Richards' work away from the Rolling Stones again seemed to provide an inspiration to return: "Wicked as It Seems" set a dark template for their next single, 1994's "Love Is Strong."

Richards' second pass felt more comfy, less focused. He dove more determinedly into groove-centered songs, rather than the Chess Records-style city blues that the Rolling Stones have so long been associated with. On first listens, that seems to soften the edges of "Main Offender£, but riffy songs like "Hate It When You Leave" are meant to be lived with. The coiled danger and flinty emotions of his debut unravel into an almost trance-like vibe.
Jagger was still listening, too, as Richards' solo turns again provided the framework for terrific Stones songs that followed: "Almost Hear You Sigh" emerged from the "Talk Is Cheap" sessions, while "Wicked as It Seems" from this album set a dark template for their next single, 1994's "Love Is Strong."
Keith gets solid guitar help from Waddy Wachtel throughout and has a first-rate band.
"Crosseyed Heart" (2015)
It sounds like it was knocked out in a week, which is about the highest compliment that can be paid to a record as casual as this. "Main Offender" felt like the result of endless hours of expensive studio jams, but "Crosseyed Heart" feels like it fell into place, with its songs arising out of jams with a drummer instead of being excuses for jams. Bookended by acoustic numbers — the first is the charmingly tossed-off title track, a song that feels clipped in its conclusion, the last a version of Lead Belly's "Goodnight Irene," with the lyrics slightly modified — the album does indeed bear the suggestion of a construction, a record that slides from obsession to obsession without calling attention to transitions. Nothing here is surprising, not the overdriven Chess boogie of "Blues in the Morning" or the ska shuffle of "Love Overdue," but that familiarity is an asset, because Keith luxuriates in his detours so much he winds up synthesizing his affections into a signature, a move highlighted by the soulful crawl of the Norah Jones duet "Illusion," a song where both singers seem seduced by the slow groove. "Illusion" mildly recalls "Make No Mistake," but where that "Talk Is Cheap" number underlined its Stax connections, Crosseyed Heart isn't so edgy: Keith no longer has to prove what he has to contribute to either The Stones or the culture at large, so he settles into his favourite sounds, loving to play the blues, rock & roll, country, and folk he's always savoured, then sliding into the open-chord boogie that's unmistakably his. He may not forcibly claim this ground here but that's the appeal of "Crosseyed Heart" it's a winningly low-key record, where the atmosphere matters more than the songs
Richards belatedly returned to his solo career after a 23 years hiatus, his third album, once again playing with his band The X-Pensive Winos. Entitled "Crosseyed Heart", the record saw release on September 18th, 2015, accompanied by the release of a documentary called Under the Influence.
yet it was striking how little had changed. In fact, that's the only consistent criticism of his sporadic efforts away from the Rolling Stones: His career is defined by diminishing returns, because every successive album followed the same exact template – from their ramshackle rootsy ambiance to the presence of many of the same collaborators. So, no, this seemingly tossed-off groover can't hold a candle to his astonishing first album or even its more jammy follow up. Yet somehow you can't deny its pirate-smiled charms.
As with the best of his Rolling Stones-rejuvenating solo work in late '80s, "Nothing on Me" comes off like a loose, late-night confession. (Maybe he's talking to Jagger, maybe to one of the women who followed him into ruin, maybe to the very drugs that should have ended him long ago.) No, it's most certainly not new ground, as every successive Richards album followed a now-familiar template – from their ramshackle rootsy ambiance to the presence of many of the same collaborators.
At the same time, however, songs like "Nothing on Me" were also never so calculated as Jagger became, never so commercial. Instead, there's a kind of comfort-food ease to this track. Richards' could-give-a-shit demeanor is still all over the map – kinda rock, kinda R&B, kinda Americana – but the result is another small but completely identifiable triumph from this pirate-smiling rock savant who somehow remained standing,
A bit more than 30 years after its release, Richards brought out an expanded edition of "Talk Is Cheap" that included six unreleased bonus tracks from the original recording sessions.
Happy 78th birthday to Keith Richards, born 18th December 1943, 'The Human Riff', guitarist, singer, songwriter and founding member of The Rolling Stones who have had over 35 Top 40 singles and albums. Rolling Stone magazine said Richards had created 'rock's greatest single body of riffs'.