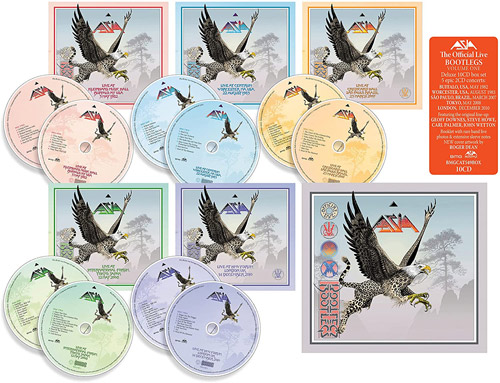 Asia were an English rock supergroup formed in London in 1981. The most commercially successful line-up was its original, which consisted of four members of different prog-rock bands that had enjoyed great success in the 1970s: lead vocalist and bassist John Wetton from King Crimson and U.K, guitarist Steve Howe of Yes, keyboardist Geoff Downes also of Yes and Buggles, plus drummer Carl Palmer of ELP. Their debut album "Asia", released in 1982, remains their best selling album and went to number one in several countries. The well known single "Heat of the Moment" from the album, remains their top charting and best-known song.
The band underwent multiple line-up changes before the original four members reunited in 2006. In 2013, the original line-up was broken once again when Howe retired from the band and was replaced by guitarist Sam Coulson. After a few years of inactivity, Billy Sherwood (of Yes, World Trade) replaced an ailing Wetton (who died shortly thereafter).
"The Official Bootlegs, Vol 1" is a 10CD Asia box set that features live performances from across the world between 1982 – 2010. We are promised "high quality original soundboard audio sources" for the performances, all of which are unheard. This comes as five two-CD sets in an outer slipcase with a 12-page booklet.
ASIA are a multi-platinum selling, global superstar English rock band formed in London 1981 and celebrate their 40th anniversary this year. The Official Bootlegs, Volume One 10 CD box set contains some of the rawest and most intimate of ASIA's live shows from across the world from 1982 – 2010.
Including shows from Buffalo, USA, 1982; Worcester, USA, 1983; Sao Paulo, Brazil, 2007; Tokyo, Japan, 2008 and London, UK 2010.
These incredible live performances are housed within an open ended slipcase, with beautifully designed original artwork from the fantastic painter and artist Roger Dean. Audio for all 5 shows previously unheard, high quality, original concert soundboard audio sources for all performances.
Inside the box set there is also a 12-page booklet with rare band photos as well as liner notes from ASIA expert Dave Gallant.