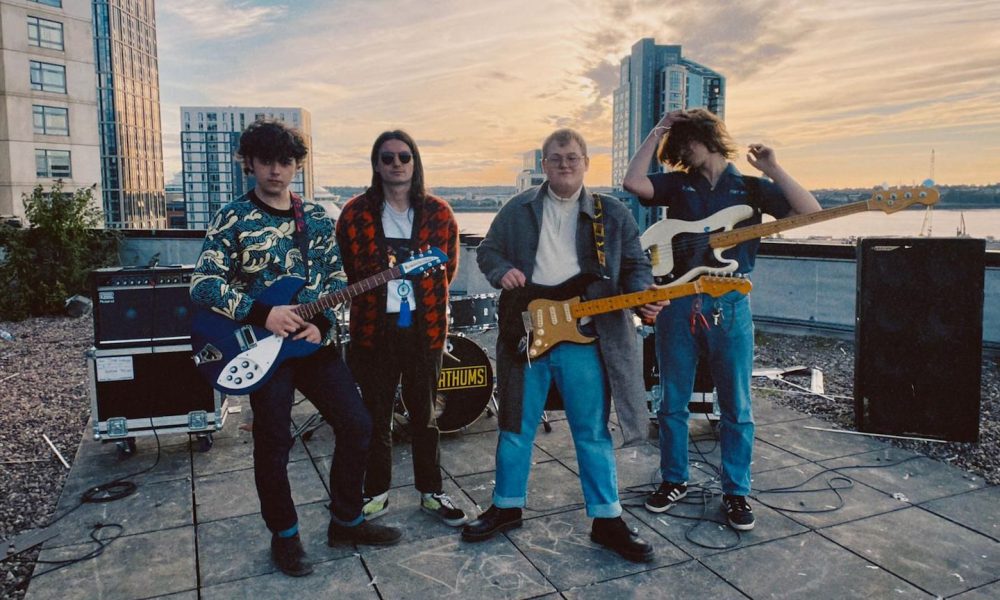 Up-and-coming UK indie quartet The Lathums has scored its first UK No.1 album with its debut album "How Beautiful Life Can Be". The Lathums' frontman Alex Moore told OfficialCharts.com: "We're four friends from Wigan who just love making music and are at No.1 with our debut album – it'll take a while for this one to sink in. It proves what's possible for young, British artists with a pure-at-heart ambition to reach people with songs like ours, making friends every step along the way, and finding that dreams can come true.
"How Beautiful Life Can Be" is about seeing the good in things, holding on, and coming through difficult times with a smile at the end. Today our smiles couldn't be any wider. Thank you."
The band released its debut album last week (September 24th) via Island Records. It was recorded at Liverpool's Parr Street Studios and was produced by The Coral's James Skelly and Chris Taylor.
The record contains songs like "Oh My Love", which were inspired by Moore's past experiences of "pain and uncertainty" and the title track, which aims to "appreciate all of the things, big and small, that we've missed the most" in life.
How Beautiful Life Can Be is The Lathums' debut album. How Beautiful Life Can Be, recorded at Parr Street Studios, Liverpool. In the company of producers, James Skelly and Chris Taylor, pushes The Lathums' remarkable story into the next, even more exciting phase. The Great Escape, having been previously self-released by the young band, emerges from the album sessions in sparkling, new form, whilst retaining the melodic stardust that caused the first rumblings of the social-media led stampede to their early gigs. Kick-started by growing pains and life's unlucky twists, fuelled by the simple salvation of six guitar strings and supercharged by the fans that found them slogging their gear into the north of England's pubs and small venues, The Lathums story may turn out to be the perfect not-all-nice-guys-finish-last tale.
It was only in the summer 2019 that the band's fuse was lit by Tim Burgess, who offering them a late slot at Kendal Calling where, inside 24 hours, social media chatter caused their audience to spill into the field beyond their tent. A year later they had achieved their first UK Album Chart Top 20 for vinyl-only EP compilation, The Memories We Make, recorded their debut appearance for Later… With Jools Holland and joined the BBC Sound Poll 2021 list of tipped acts at the end of a year that skidded on the black ice of a global pandemic but, somehow, left the band on their feet. For a band whose singing songwriter had never been to a gig before playing his own, yet incomprehensibly carried a trunk load of sensitively-crafted, empathetic, sing-a-long anthems straight into their first rehearsal, The Lathums have flown at nosebleed speed to where they are now.
Hailing from Wigan on the overlooked fringes of Greater Manchester, The Lathums are Alex Moore, casting a new outline of the modern frontman, singing alongside student of the Marr-esque jangle guitar, Scott Concepcion, rapid-fire, wise-cracking bassist, Jonny Cunliffe (aka: Bass Mon Jon) and the steady, rhythmic, wise head, Ryan Durrans on drums. Pithily described by those closest as 'like The Inbetweeners in a Shane Meadows film', they are four bright, wild flowers growing between grey paving stones.
The Lathums will hit the road in the UK for a rescheduled, expanded, and upgraded tour this autumn and winter, including shows at Manchester's O2 Victoria Warehouse and London's O2 Forum Kentish Town.
At the start of this year, the band was named on the BBC's Sound of 2021 longlist, alongside the likes of Bree Runway, Greentea Peng, and winner Pa Salieu. The Lathums was also included on NME's list of 100 emerging stars to look out for in 2021.