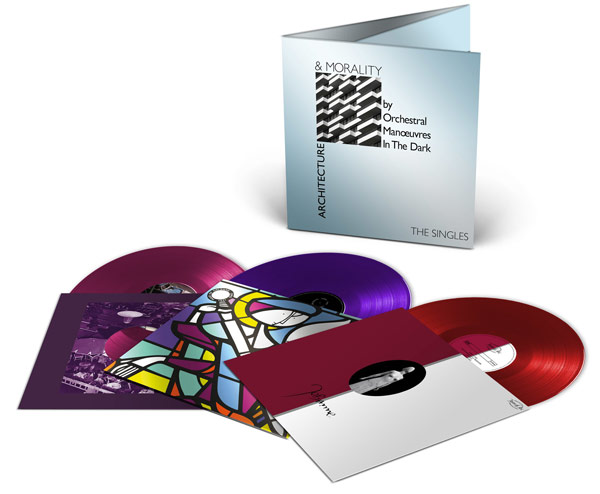 To mark the records's 40th anniversary, Orchestral Manoeuvres In The Dark will release the three singles from 1981's "Architecture & Morality" together on one album, along with associated tracks: unreleased demos, studio sessions and live performances.
The announcement follows their incredible 'You Me & OMD' livestream at London's Indigo at The O2, which raised funds for the cast and crew whose livelihoods have been affected by Covid-19,
Released in 1981, "Architecture & Morality" wad OMD's third studio album. Its iconic use of the Mellotron and choral samples resulted in international critical acclaim and has sold over four million copies worldwide. The three singles from the album, "Souvenir," "Joan Of Arc," and "Maid Of Orleans," all reached the top 5 in the UK singles chart and sold a total of eight million copies combined. It was an album that further solidified OMD as kings of the synth-pop world.
'Souvenir', 'Joan Of Arc' and 'Maid Of Orleans' are the brilliant, international hit singles from the album but they are joined by 15 other tracks including the demo of 'Souvenir', the rough mix of 'Choir Song', 'Motion & Heart (Live at Drury Lane, 1981)', a rough mix of 'Joan Of Arc', the 'Georgia Demo' of 'New Song', the demo of 'Maid Of Orleans' and more!. "The success of Architecture and Morality took us all by surprise," Andy McCluskey commented. "Once again we had followed our raison d'être of changing musical style, but we seemed to have really hit upon a sound that resonated with a wide audience… To this day, the songs remain the "Holy Trinity" in the middle of our live stage performances and the audience reaction is always rapturous."
These 18-tracks are available on one CD called Architecture & Morality: The Singles but they are also being issued as a special anniversary 3×12-inch package in a six-panel, embossed, silver-board gatefold sleeve. The vinyl also comes with a download code.
The singles are pressed on magenta, purple and red vinyl. for the first time, the band will release the hits as three 12" singles on 45 rpm colored vinyl. The vinyl contains a triple gatefold sleeve, silver-board & emboss detail. OMD are embarking on a Arena Tour in November, which will see the band perform songs from Architecture & Morality, plus many more from their legendary back catalogue. The tour will stop off at London's Eventim Apollo, as well as two hometown shows at the Liverpool Empire and Olympia.  
Architecture & Morality: The Singles is released on 15th October 2021.