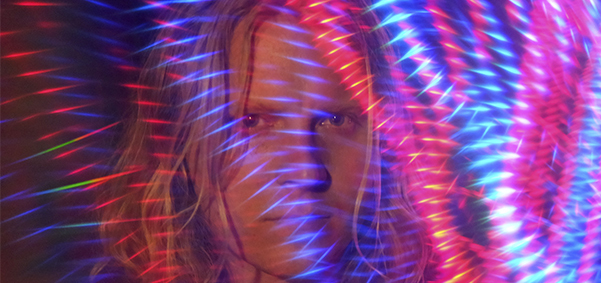 Two weeks ago, rock supremo and prolific music maker Ty Segall surprise-released a new album "Harmonizer", his first new album since 2019, out now digitally via Drag City and physically in October. Today, he presents a music video for one of its standout tracks, "Feel Good," and announces a North American tour with the Freedom Band. "Feel Good" is one of harmonizer's two songs to feature lyrics and vocals by Denée Segall. The music video, directed and produced by Joshua Erkman, sees the Segalls taking a late night drive between slick scenes of technicolor grandeur.
"Don't be afraid / I can show you the way / I'll be your right hand," Denée's cool vocals intone over the track's scorching guitars. It's a prime example of "Harmonizer's" transcendent energy as distorted synth and beats drive the chorus. By the end of "Feel Good," Denée takes the driver's seat with Ty by her side, content to see where she takes him.
Denée comments, "'Feel Good' is about allowing oneself to be confident and unrestrained in regard to whatever makes them feel good, be it emotionally, physically, or beyond. It's also about extending this sentiment to another who might desire this same sort of freedom, but needs a little encouragement. It's an ode to the joy that comes from loving and supporting one another unconditionally."
Co-produced by Cooper Crain, Harmonizer is the first recording to be released from Ty's just-completed Harmonizer Studios. Cooper's own journey in rhythm, minimalism and DIY mines the depths around Ty's peerless vocal attack and never-ending search for unfathomably corrosive guitar sounds. With an eye towards precision, feel and explosive mass, The Freedom Band — Ben Boye, Mikal Cronin, Emmett Kelly, and Charles Moothart — appear all over "Harmonizer", but often one at a time. Additionally, Denée Segall co-writes and appears on two tracks.The thing about closed doors is they need opening again, no matter what happens. You open them and then you can pass through them. And there's light on the other side. That's the essence of "Harmonizer".
"Feel Good" is from "Harmonizer," released digitally on August 3rd, 2021 by Drag City. LP, CD, and Cassette to arrive later, in the fall.
With this LP, Ty Segall has created a simply impeccable rock album. From start to finish this album is like a racecar and Segall knows just when to hit that experimental button to give the extra propellant juice. "Whisper" smacks, "Erased" shrieks.
It's a rave in 10 tracks, a mosh pit compilation. 
The surprise return of Ty Segall, with an album that dropped with no prior warning or publicity, the Freedom Band (as his current bandmates are called) are the tightest they've ever been, as Ty and guitarist Emmett Kelly riff back and fourth and frequently at the same time, the band also explores synthesizers in a big way and it leaves us wondering what else the band will explore and knock out of the park next.