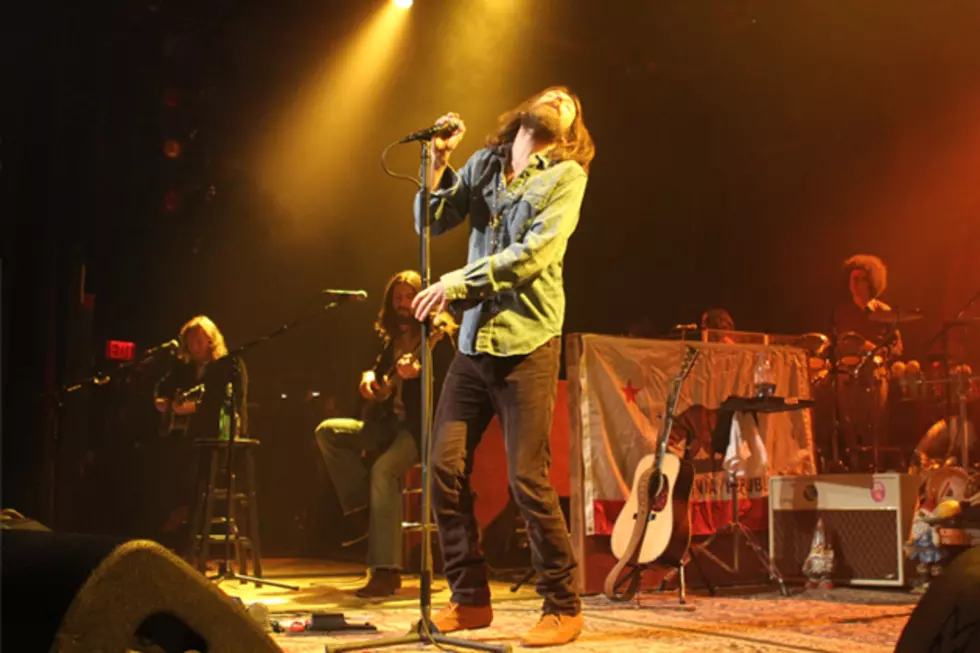 It's hard to believe, but the Black Crowes' first single, 'Jealous Again,' was released in 1990. Frontman Chris Robinson was 23 years old and his younger brother, guitarist Rich, was only 20 years old. Many years later, the Black Crowes may not be releasing new albums anymore but the impact of their career is still resonating in the world of music.
While it would be totally acceptable to simply list the 10 tracks from 'Shake Your Money Maker' as the band's best songs, we dive into the Black Crowes' deep and dynamic back catalogue the fans are as passionate about the music as the band is.
There are few frontmen in the history of rock and roll who can combine an animated on-stage presence with a killer vocal range. As the leader of the Black Crowes and the Chris Robinson Brotherhood, Chris Robinson has definitely earned his place among the rock greats. Only 23 years old when the Crowes' debut album, 'Shake Your Money Maker,' was released, Robinson's skills as a frontman are complemented by his enthusiastic passion for the music he creates.
Since the band broke through with their 1990 debut, "Shake Your Money Maker", it's been a twisting and tumultuous path through a few hiatuses and constant line-up changes with members coming and going and returning, the kind of narrative most of us probably don't have the time or interest to know inside and out. As much as the Black Crowes had recently come to sound like aged rock 'n' roll survivors, theirs was an existence that seemed on the precipice of collapsing at any given point. 
'Shake Your Money Maker' (1990)
The highest-proof distillation of the Black Crowes' history-facing sound arrived on their concise multi-platinum debut. "Shake Your Money Maker" was important not because of what it said, so much as what it did. This was a like a biting, badly needed shot of brown liquor in an era dominated by umbrella drinks. Then the Black Crowes arrived, piloting a way-back machine from a home base at Keith Richards' Villa Nellcôte. Maybe most of this had been done before – certainly "Hard to Handle" – but the familiarity of a swift kick in the ass doesn't make it any less needed sometimes.
Possibly one of the most recognizable Crowes tunes out there, 'She Talks to Angels' is a beautiful song that focuses on a woman battling addiction. Written by both Robinson brothers, what makes the song even more extraordinary is the fact that Rich wrote the music for it when he was just 15 years old. Even though the song will forever be associated with the music of the early-'90s, as with most of the Crowes' music, 'She Talks to Angels' will hold up for many years to come.
Originally written and recorded by Otis Redding during his final recording sessions before his death, the Black Crowes' cover of 'Hard to Handle' reached top spot on Billboard's Rock Charts in 1990. More than two decades later, the song still stands out as a significant contribution to the world of rock and roll. An honest rendition of Redding's tune, the radio promo remix of 'Hard to Handle' takes the cover even further by including a brass section throughout the song.
Black Crowes best songs would not be complete without 'Jealous Again,' the second track – and lead single – on the band's debut album, 'Shake Your Money Maker.' A purely blues-based rock and roll song, 'Jealous Again' is arguably one of the catchiest Crowes songs ever released. Elevating the song to a new level, the band covered the tune on their 2010 acoustic greatest hits album, 'Croweology,' opening fans up to a different interpretation of a true classic.
Both "Twice As Hard" and "Jealous Again" are huge songs. They're the powerful one-two at the beginning of the band's debut, and though they might not have been as big as "Hard To Handle" or "She Talks To Angels," they haven't lost their charm in the same way as those songs have for me, to some extent. if you're in the business of reducing the Black Crowes to the sum of their influences, this was them dressing up really well as two of the primary ones. "Twice As Hard" is their Zeppelin-indebted one, with the way Rich Robinson unspools this heavy, sliding, Jimmy Page-esque riff over a heavily stomping drumbeat. Influences aside, the point here is that "Twice As Hard" is remarkably adept at what it's doing considering they were such a young band. Meaning: now that we're well past those early days and the context of the '90s and notions of derivativeness holding as much weight, what we're left with is "Twice As Hard," which is simply an awesome rock song that could tussle with all the '70s music the Black Crowes loved so much.
So if "Twice As Hard" was the Zeppelin-ized opening salvo of "Shake Your Money Maker", "Jealous Again" was Stones-y barroom track that immediately followed. (You could make a fair argument it's where the Faces influence strongly rears its head.) And because I like the Stones more than I like Zeppelin, "Jealous Again" places ahead of "Twice As Hard," the songs function as a unit when I think about them in my head. It turns out that the songs achieve more or less similar ends in the grand scheme of the Crowes' catalog as well: These are two of the best, catchiest, most anthemic of the band's material that falls under their "'70s hard rock classicism" phase, before we got to the more "roots rock classicism" they'd eventually favour. "Jealous Again" was also one of the earliest songs that made the most sense when brought out at those '00s Crowes shows. It doesn't take too much to make this comfortably ragged enough to sit alongside the material from "Warpaint" or "Before The Frost…" One other odd thing about "Jealous Again": The Robinson brothers were apparently influenced by R.E.M. in the earliest days of their musical partnership and, well, that's obviously an influence that died down. But you can hear just a bit of it in the bluesier-jangle of "Jealous Again," especially in Rich Robinson's guitar part when all the other instruments drop out around 2:40.
The Southern Harmony and Musical Companion (1992)
The Black Crowes stretched out on their sophomore release, adding guitarist Marc Ford to what could have been a tried-and-true Rolling Stones-meets-Faces-meets-Humble Pie sound beside Rich Robinson. Instead, they began hinting at musical choices that weren't so clearly delineated the hits dried up. ("Thorn in My Pride," the Black Crowes' last charting song, This was really just a sign to come. "Southern Harmony and Musical Companion" can now be seen as a bridge between their more song-oriented first record and the longer-form jams that followed.
"The Southern Harmony and Musical Companion" was the perfect follow-up to the band's debut album. With even more rock and musical depth, the record showcased the band's quick growth in just a couple of years. One of the shining examples of that growth is 'My Morning Song,' a tune with so much soul it's become a regular fan-favourite at live shows. Besides the energy Robinson and company exude during the song, it also has a powerful breakdown that comes around the 3:30 mark when Robinson belts out, 'If your rhythm ever falls out of time / You can bring it to me and I will make it alright.' 'My Morning Song' proves to be a track that has a lasting effect on its listener.
One of the tamer songs on 'Southern Harmony,' 'Thorn in My Pride' perfectly captures the soulful edge of the Black Crowes. As opposed to 'Lickin," the band is obviously comfortable with performing the song live as they've played it nearly 1,000 times since the early-'90s. With emotional lyrics that have become definitive for the Crowes' career, 'Thorn in My Pride' is a must on anyone's Top 10 Black Crowes Songs.
Two years after 'Hard to Handle' hit No. 1, 'Remedy' did the exact same thing for 11 weeks. Like all of the Black Crowes' music, 'Remedy' stands the test of time and even 20 years later, it sounds better than ever. Taking a cue from an old Parliament song, 'Remedy' is most memorable thanks to the catchy guitar riff that not only opens the song, but is also a major part of its foundation. With such a vast catalogue.
The thing about a big rock band like the Black Crowes is that it's the anthemic guitar jams that are usually the most iconic of their iconic songs, obviously the ones that get a big reaction when they're played live, etc., etc. And while I'd probably lean toward wanting to hear a bunch of rockers in a concert setting, I've often found that the secret power of the Black Crowes is rooted in their ballads. They can range from meditative stuff to material more like "Thorn In My Pride," the kind of stuff that swells and swells to the reward of its cathartic outro. Out of the early examples of mellower Crowes material, I'll take "Thorn In My Pride" over "She Talks To Angels" part of that is it feels a little less over-exposed with over two decades' distance, but that's also because I love the build and fuller instrumentation here.
Even more so than "Amorica", you can't go wrong with anything off of "Southern Harmony". It's the band's masterpiece. You could argue "Bad Luck Blue Eyes Goodbye" into this spot, and it'd make sense to me, because that song also has a stunning and satisfying conclusion.
Whenever I heard "Remedy," it was the kind of song I turned up loud right away. It's the best, most memorable, most interesting of all the band's big rock songs. That intro, that descending guitar part, they almost sound like an early Pearl Jam song to me. And to me, that's a good thing. It lets "Remedy" stand out not just as a famous and great song by a band that happened to exist in the early '90s, but as one of the absolute classic songs from the decade.
"My Morning Song." is a titan of a song. It just immediately crashes in with that loopy yet visceral slide-guitar lead, and the strange form of that guitar line just keeps wrapping itself around you, pulling you further into this song's weird, strong current. "My Morning Song" is straight-up relentless for the first three minutes of its running time, and then it quiets down for two minutes, but not in the sort of way where you, for any moment, develop the illusion that this song is going to have a long, slow final chapter. Those two minutes push and push upwards, all the while letting you know you're really just in a calm moment of the storm before everything comes crashing in once more, that much more overwhelming on the second round. Six minutes and sixteen seconds isn't really that long of a song at all, but, man, the ride here feels epic. I used to think it was insane that this didn't close "Southern Harmony", But the overwhelming cascades and the revery of "Time Will Tell" is actually a perfect way to end an album.
Three Snakes and One Charm (1996)
"Three Snakes and One Charm", which the Black Crowes recorded during a period of intense internal acrimony, particularly between brothers Chris and Rich Robinson.
"There was a lot of emotional baggage" in the aftermath of the "Amorica" tour, and everyone got on each other's nerves," said Rich . "We almost broke up a few times, but finally we all let go and moved on." Chris, for his part, had told Guitar World a few months earlier that eventually "you just realize, 'Oh, shit, I'm lucky and I'm happy 'cause I'm making a living being a musician, which is the thing I love more than anything.'"
A little distance also seemed to do the trick, as Chris was living in Los Angeles and Rich in Atlanta when they started swapping song ideas long distance. They slowly knocked their demos into shape before calling their band mates and producer Jack Joseph Puig to record basic tracks in an Atlanta home they soon baptized as Chateau de la Crowe. Prolific as usual, the band wound up capturing over two dozen songs, out of which they picked 12 that showcased both familiar Black Crowes hallmarks and novel experiments, all of them later finished at Los Angeles' Ocean Way Studios.
Among Three Snakes' many highlights, "Under a Mountain" was a cryptic Southern rocker (sample lyrics: "Lay down with number 13") that was written in five minutes, according to Rich; "Nebakanezer" was a psychedelic strut laced with serpentine guitars and "(Only) Halfway to Everywhere" an irrepressible singalong; the Indian-flavoured "How Much for Your Wings" made for a beguiling detour and "Blackberry" was a funky rhythm & blues penned in the spirit of the band's earlier, breakthrough hit with Otis Redding's "Hard to Handle".
And while some songs, including "Good Friday," "One Mirror Too Many" and "Better When You're Not Alone," generally slacked off or dragged on like they had no place to go, the similarly slow but in every way sublime country soul of "Girl from a Pawnshop" became a peak moment in the Black Crowes' career, as it gradually built up with delicate tension, finally released via Marc Ford's stinging, cathartic lead breaks.
Three years later, with 1999's next studio album, "By Your Side", Chris, Rich, Marc, drummer Steve Gorman, keyboardist Eddie Harsch, and new bass player Sven Pipien (who replaced the popular Johnny Colt) were generally praised for reviving the safer, Rolling Stones- and Faces-inspired style of their debut. With the benefit of hindsight, the risk-taking freedom of "Three Snakes and One Charm" appears to have been vindicated in the broad scope of the Black Crowes' career – polarized opinions, occasional imperfections, and all.
By Your Side (1999)
Starting things off with a raucous slide up the guitar neck, 'Kickin' My Heart Around' never slows down for three minutes and 41 seconds. The song is soaked in overdriven guitars and a non-stop toe-tapping rhythm that culminates with an ear-piercing harmonica-laden bridge. With lyrics like, 'Well I told you so now it's time to go / Got to get this show on the road / Just stop kickin' my heart around,' it's easy to get this song stuck in your head.
Lions (2001)
On an album full of blues-, soul- and classic rock-tinged tracks, 'Lickin" stands out as the most memorable. Built on a wicked guitar riff manned by Rich Robinson, the song is filled with gritty vocals and lyrics as well. While 'Lions' may have caused some mixed reviews from critics, it's hard not to argue that "Lickin" rocks from start to finish. Adding to its appeal, it is a rarity for the band to perform the song live, having done so less than 100 times since its concert debut in 2001.
Honestly, I'd rather have more "Before The Frost" or "Warpaint" than "Lions". The former options sum up that awesomely worn sound of latter-day Black Crowes, and "Lions" is the last and the worst chunk of their career. There are some good songs there, and there are some ridiculously awkward and awful ones, but they're unified in being lost in some greasy sludge of a production sound.
There's no denying that bright spot of "Soul Singing" hidden in the middle, though. One thing about the Black Crowes is they can do gospel more convincingly than a lot of blues-rock bands. Those drums and guitars in the verses tumble forward relentlessly, in wanderlust, until it all peals out into the chorus that feels like the moment where you're driving in some new place and reaching the crest of the hill, totally unaware what you might find on the other side. "Soul Singing" was a mainstay in the Black Crowes' later tour setlists, and for good reason: It's an unquestionable highlight in an era of the band otherwise defined by diminishing returns.
Warpaint (2008)
While the blues have always played a role in the Black Crowes' music, 'Evergreen' is a shining example of just how far they can push their talents. 'Warpaint' is the first studio album with Luther Dickinson on guitar, and his Southern rock and blues influence is obvious on 'Evergreen.' Dickinson's chops shine around 2:20 as he takes front-stage for a lively and one-of-a-kind solo that bleeds perfectly into the final chorus.
The Crowes' first hiatus ended in 2005, but it wasn't until 2008 that "Warpaint", their first record since 2001's "Lions", would see the light of day. Given the lackluster nature of "Lions" and its predecessor "By Your Side", and the general nature of a band coming back after a prolonged break, "Warpaint" is way better than it has any business being, than anyone would've likely expected.
The Crowes wound up aging really, really well, arriving at an earthier classic rock vibe that suited them well and would've continued to suit them well. There are all sorts of moments from "Warpaint" that came to my mind for this list: the heavy bass thrum in the chorus of "Walk Believer Walk," the beautiful lament of "Locust Street," the Beatlesque psychedelia in the chorus of "Wounded Bird," or the blues-raga refrains of closer "Whoa Mule.".
"Goodbye Daughters Of The Revolution." has all the trademark characteristics of that late Crowes music more band than Zeppelin but with a melodic punch comparable to the more amped-up singles of their past. It might not hit you over the head the same way the chorus of "Twice As Hard" did back in the day, but it's the most infectious song on "Warpaint" without sacrificing that album's earned grit and character. Chris Robinson's voice, in particular, had aged so well after some of the unfortunate squawking on "Lions": grainier, seen-some-more-things, like you can hear the fact he was now sporting a big old shaman beard. On setlists, the song sat perfectly alongside the classics from the earliest albums.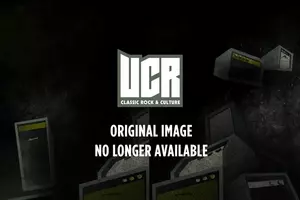 Before the Frost…Until the Freeze (2009)
The most recent Crowes' studio album featured several psychedelic tunes, but one song stands out amongst the 20 offered, and that's the Dylan-esque, 'I Ain't Hiding.' With a funky bass beat and wicked guitars, the song's vibe is amplified with Robinson's lyrics and vocals. Opening with, 'Rust on my pickups and blood on the stage / Seeds in the ashtray and coke on the blade,' the Chris Robinson-penned song is flawless in its old-school rock and roll style.
In the Black Crowes recent years, the thing that does disappoint me about their breakup is that I really loved where they'd started to go as they aged. More country and bluegrass being woven in, more weathered and whiskey-soaked guitars and vocals, more of the Band than Zeppelin. All of which is an appropriate direction for a band that had turned into ragged survivors approaching fifty. "Before The Frost…Until The Freeze", the album that for the moment is their last, and the album they recorded live in front of an audience in Levon Helm's barn, is really the sort of thing that works as a whole; anymore. "Before The Freeze"… is a warm, lived-in kind of sound where all the material sits together. "Good Morning Captain," a ruggedly chilled-out opener that shows just how good these guys sounded toward the end. Whatever line-up they'd arrived at (I, like you probably did 20 years ago, stopped trying to keep up with the band's personnel changes) has just the right vibe for the road-worn, sun-burnt sounds of "Good Morning Captain."
It's the paradox of that corner of classic rock artists where you can tell these guys are a great unit and play incredibly tight together, but that skill is put toward crafting a sound that's natural and shambling, so that every time Chris Robinson gets around to belting out that chorus, it sounds like he's in swamp bar out of a Southern myth.
Amorica
It's possible the Black Crowes could have found a slightly more tasteful way to show their patriotism than by using this picture of a not-entirely big enough bikini from the cover of the July 1976 issues of 'Hustler' magazine.
You can't go wrong with anything off of "Amorica". Having always had a soft spot for the weird "Lowrider"-isms of "High Head Blues" or the unnerving angles of "Gone," both vied for the spot of the "rock song from "Amorica" on this list. But what I like about "A Conspiracy" is, in a song, it kind of sums up the general knottiness of the Black Crowes' third record, the one that was, more or less, experimental by their standards.
The big flare-out intro of "A Conspiracy" and its heavy, wah-assisted riff collectively represent one of the rare moments in the Crowes early discography where they sounded, yes, still classicist but also like they actually lived in the '90s. And then after it rides this rigidly dirty and funky groove for a bit, it opens up into a pretty, introspective chorus. There's all these weird little sounds and structural decisions in the songs on "Amorica", but also gives it this drugged-up sprawl that can be hard to connect with compared to "Southern Harmony" or "Shake Your Money Maker". "A Conspiracy" works well as a kind of skeleton key to the album.
The strength of the Black Crowes' ballads, there's "Wiser Time," one of the most beautiful songs in the band's catalogue. "Wiser Time" is forever linked to the song that precedes it, "Ballad Of Urgency." After some of the scorched rock songs that begin "Amorica", "Ballad Of Urgency" and "Wiser Time" form a little gorgeous unit that holds down the album's mellower second half. It's when the last strains of guitar and last dwindling flashes of cymbals flow seamlessly into the beat for "Wiser Time" that I feel like we've arrived where we wanted to go. On the more overtly Southern rock end of the Black Crowes spectrum, this is their "Midnight Rider," a song that seems born from and built for aimless drives down desolate American highways, probably alone and, yeah, probably at night. Out of any of the traditions in classic rock or American music, the searching and wandering song that sounds good in a car while summer air flows in through an open window.