It's 50 years since Ian Anderson released the first Jethro Tull album. Over that time, the band's sound has evolved and diversified, but they remain an enduring touchstone of the prog rock world.
Jethro Tull is one of the best classic rock band's. Combining folk, medieval music, hard rock, metal, blues, jazz and classical, Tull's albums have defied categorization almost from day one.

They originally came on the scene as a blues rock band, but transitioned to progressive rock throughout their career, while releasing a series of awesome hard rock albums. Perhaps some could even be considered among the best albums of all time. Here, you'll find a complete list of the best Jethro Tull albums, including pictures of the album covers when available. This Jethro Tull discography includes the compilation and Live album's. To make it easy for you to collect, we haven't included Jethro Tull singles, or EPs, so everything you see here should only be albums. If you have a favourite Jethro Tull album, If you want to know, "What is the Best Jethro Tull album of all time?" or "What are the top Jethro Tull albums?"
This Was (1968)
In June 1968, just before this album was recorded, Jethro Tull began a residency at London's famed Marquee Club (where the 'Stones and The Who also launched their careers). Band advisers failed to get Ian to give up on the flute and let Mick do all the singing. The album was recorded without any record company contract presuming, correctly, that a deal could be made afterwards.
Jethro Tull also began their first US tour in January 1969, immediately after securing the services of guitarist Martin Barre.
The album had little commercial impact in the US charts (#62) but the U.S. tour did earn the band a strong cult following. key song from their very first album, 1968's 'This Was?' The band's lone outing with original guitarist Mick Abrahams barely hinted at the daring musical adventures lurking in Anderson's near future, but rather placed Tull squarely in the Brit-Blues tradition that dominated the era. Not that this in any way diminishes 'A Song for Jeffrey's' lingering popularity as an infectious, slide-guitar-driven building block for what lay ahead.
"It's all in the title, isn't it? This was Jethro Tull. That's no accident because when we were recording it, the one thing I felt sure about is that if we were lucky enough to make another album, I knew it wouldn't be like this one: based on blues elements and black American folk culture. That's not part of my life and I couldn't keep doing that – I'd look like a complete twit. The cover had no logo or anything and people were telling me we couldn't do that, but we did it, of course."
No Jethro Tull album is subject to more wildly divergent opinions than their first – which sounds like the work of another band. Ian Anderson had yet to fully develop his idiosyncratic vision for Tull's future, so, this one time, he shared both the band's leadership and its bluesy direction with guitarist Mick Abrahams (see "Someday the Sun Won't Shine for You," "It's Breaking Me Up," etc.). Even so, that fluttering flute was already unmistakable, pushing standouts like "Beggar's Farm" and "A Song for Jeffrey" closer to the artsy experimentation still ahead.

The debut album hit #10 in the British charts, partly thanks to great airplay from BBC Radio DJ John Peel. Just before the release in the U.S., guitarist Abrahams left to form "Blodwyn Pig," primarily due to Anderson's preference for a less blues-orientated future.
Stand Up (1969)
Stand Up represents the first album project on which Anderson was in full control of the music and lyrics. It also marks the first appearance of guitarist Martin Barre, who appeared on every JT album from this point on.
The recording sessions for this album started in April '69. One month later, the band scored their first U.K. hit with "Living In The Past," which charted at #3 (included in the remastered release).. Starting with "Stand Up," the band's use of dynamics, Celtic Folk, and classically-oriented tonal structures, along with Ian Anderson's flute playing and song writing, became Jethro Tull's signature. Simply put, "Stand Up" was the genesis of Tull's sound and, not surprisingly, is one of Anderson's favourite Tull records.
Reflecting back, "Stand Up" seems an obvious career turn but at its release, the reality was Tull risked a great deal. The turn from the blue-orientated approach displeased important Tull radio and promoter connections.
"A New Day Yesterday" is almost a holdover from "This Was" with its blues-stylings while "Nothing is Easy," common in concert sets, is a blues-jazz fusion. "Bouree," a "cocktail jazz" (Ian's words) rework of a J.S. Bach classical piece, would become a Tull classic and an almost must for any concert set. Many Tull fans presume Far Eastern influences on the band's music begin with Anderson's solo album "Divinities." Yet, traces can be found in "Fat Man" (sometimes considered a jab at departed guitarist Mick Abrahams) and "Jeffrey Goes to Leicester Square," one of three Tull songs devoted to Ian's boyhood friend Jeffrey Hammond who would later join the band.
While hardly a "concept" album, lyrically the album devotes a lot to Anderson's relationship with his parents (a subject continued on "Benefit") and coping with new found pop stardom. Jethro Tull's sophomore album, 'Stand Up,' may as well have been their first, since it marked their transition from British blues group to progressive pioneers, by way of folk music and hard rock. New electric guitarist Martin Barre (who permanently replaced Mick Abrahams' and his very short-term stand-in, Tony Iommi) applied some fangs on increasingly individualistic Ian Anderson compositions like "A New Day Yesterday" and "Back to the Family," but in every other way he knew better than to get in his visionary boss' way.

"The coming of age, in a way. The birth of more original music for us. It was then that what was referred to as progressive rock music was coming into being. If it's in that vein, it's rock music rather than folky, but it's progressive in that it reflects more eclectic influences, bringing things together and mixing and matching and being more creative. For me, it's a very important album, a pivotal album."
Tull's initial musical approach was torn between Mick Abrahams' blues vision and Ian Anderson's more unique approach. When Abrahams left, his replacement Martin Barre became the key player in Tull's move towards a more progressive style.
THE ELEVATED EDITION
A 2016 2cd/1dvd 'Elevated Edition' of Jethro Tull's brilliant 1969 sophomore release featuring stereo and 5.1 mixes by Steven Wilson.
Highlights include:
* Original album and bonus tracks (including a previously unreleased Bouree) mixed in 5.1 surround and stereo by Steven Wilson.
* 96/24 flat transfer of the original stereo master tapes, and the original mono and stereo mixes of Living In The Past and Driving Song.
* Video of the band performing two songs live in January 1969.
* Presented in the 'book set' format of the recent JT reissues.
* A 112-page booklet with an extensive history of the album, track-by-track annotations by Ian Anderson, and rare and unseen photographs.
* The original album's iconic pop-up artwork designed by James Grashow.
The first disc features Steven Wilson's stereo mixes of the original album, four songs recorded at the BBC, single mixes for Living In The Past and Driving Song and more.
The second disc captures Jethro Tull performing live in Sweden, where the band opened for Jimi Hendrix in January 1969. Recorded only a few weeks after Martin Barre joined the band, the concert includes songs from the band's debut in addition to two songs destined for Stand Up. Rounding out the disc are mono single mixes of Living In The Past and Driving Song, plus two radio spots promoting the album.
The DVD includes concert footage of the band performing To Be Sad Is A Mad Way To Be and Back To The Family.
'A crucial album.' – Popmatters
Benefit (1970)
"A darker album. You have to put that into the context of a band returning from the first of three forays into the USA and that altered my mindset. It's not all gloom and doom, but it's a slightly more oddball album. On For Michael Collins, Jeffrey And Me, we referenced Michael Collins, the astronaut who was stuck in the command module and we now know was given the instructions to leave the others behind. The loneliest man in space, and also he gets no glory because he's not the guy who walked on the moon."
"Benefit" became Tull's first million-seller, barely missing the Top Ten charts in the U.S. The album features a "harder, slightly darker feel" (Ian's words) than Tull's earlier works and clear hints of cynicism cresting with the following album: "Aqualung."
Jethro Tull's most underrated album, 'Benefit' yielded no absolute Tull classics to speak of, but it undoubtedly helped hone the band's signature sound ahead of the musical behemoth that inevitably overshadowed it, 'Aqualung.' But 'Benefit' also stands out as one of Jethro Tull's most refreshingly straightforward and uncomplicated efforts; highlights like "Inside," "Teacher" (from the U.S. edition) and "Alive and Well and Living In" (from the U.K. pressing) were, unusual for them, mostly recorded live in the studio.
Mostly recorded in December 1969 and January 1970, "Benefit" was the band's first album to feature keyboards – played by the band's old school chum John Evan. Evan completed the third Tull line-up when he joined Anderson, Barre, Bunker, and Cornick. John Evan joined on a temporary basis for an eight month tour and stayed for over 10 years! John's classical training and stage presence would be central to Tull's 1970's personna.
More hard-rocking and transcended from blues influences than its predecessor Stand Up, Benefit also incorporated more advanced studio techniques, such as backward-recorded flute (on "With You There To Help Me") and piano, and sped-up guitar (on "Play In Time").
COLLECTOR'S EDITION
A 2cd/1dvd 'Collector's Edition' of Benefit (1970), one of Jethro Tull's finest and most lyrically personal albums.
Includes:
CD1: Stereo CD of the album plus bonus tracks mixed by Steven Wilson (with Ian Anderson's approval).
CD2: Mono and stereo CD of rare versions of tracks, plus singles from the era.
DVD: Audio only, including Surround sound mix of Benefit, 96/24 tracks of Stereo in UK and US running orders (which were different), plus rare tracks as 96/24.
The package includes a booklet containing an 8000 word essay written by Martin Webb, interviews with band members, and rare photographs.
Aqualung (1971)
"Aqualung," to many, is Tull's masterpiece. The title track and "Locomotive Breath," with their catchy riffs, would be joined by "My God," "Cross-Eyed Mary," and "Hymn 43" as classic rock staples. There's no arguing with its commercial success, having sold more than seven million copies and continuing to outsell anything in the back catalogue.
Yet, "Aqualung" is arguably Tull's most misunderstood album. Critics dubbed it a concept album, particularly for Anderson's critical, skeptical views of organized religion, mostly on side B ("My God"). Anderson has disputed, almost resented, the assessment seeing the record as "just a bunch of songs." The labelling lead the band to really give the critics a concept album with the following studio release "Thick as a Brick."
"Aqualung" has a dominant theme but is certainly more, much more, than a concept album on a solitary subject. Anderson explores the struggles of the less fortunate in our society (e.g., "Aqualung," "Cross-Eyed Mary," "Up to Me"), teenage angst and formal education difficulties ( e.g., "Wind Up," "Mother Goose"), and returns to his parental themes with "Cheap Day Return, a tune encompassing Anderson's feelings while traveling to visit his sick father.
"Cross-Eyed Mary" is a dark and haunting song by Jethro Tull, released in 1971. The song features a menacing guitar riff, Ian Anderson's piercing vocals, and a driving rhythm section. The lyrics describe a young girl who is mistreated and exploited by society, highlighting issues of poverty, gender inequality, and abuse of power. The song's sombre tone and social commentary make it a powerful statement on the harsh realities of life. "Cross-Eyed Mary" is a standout track on Jethro Tull's classic album "Aqualung" and remains a fan favourite to this day.
"Aqualung" also cemented the exaggerated image, especially to those only casually acquainted with the band, that Tull was a "heavy rock" group. Years later, a Grammy for best heavy metal album (viz., "Crest of a Knave") would officially sanction the misconceived stereotype. Yet, "Aqualung" is where Anderson really begins to develop his personal style for acoustical guitar songs with "Cheap Day Return," "Mother Goose," and "Slipstream."
"Aqualung" did establish one of the most notable features of Tull's music: songs varying with intensity, mixing medium to heavy electrical sounds with lighter acoustical passages (e.g., "Aqualung," and "My God"). Indeed, every album up to "Under Wraps" (1984) would have at least one such styled number.
"Aqualung" is a classic rock song by Jethro Tull, released in 1971. The song is an exploration of the life and struggles of a homeless man, who is referred to as "Aqualung". It features heavy guitar riffs, powerful vocals, and Ian Anderson's iconic flute solos. The lyrics describe the harsh realities of life on the streets and the hypocrisy of the church, which claims to offer help but fails to deliver. "Aqualung" is a timeless classic that speaks to the issues of poverty, social injustice, and inequality that are still prevalent today.
One of the few progressive rock albums that even laymen listeners can't help but love – to the tune of seven million copies sold – Jethro Tull's magnum opus, 'Aqualung,' gave fans two concept LPs for the price of one. The first, spread across the first side, traces several vivid sketches of down-in-the-dumps characters (the neighbourhood lecher, "Aqualung," the schoolgirl prostitute "Cross-Eyed Mary," etc.).
And, for its part, the second ponders the meaning of life, the universe and everything ("My God," "Hymn 43," "Locomotive Breath") in Ian Anderson's typically mesmerizing and elliptical prose. A little challenging, but in the best possible way. Every song is perfection.
"That's the singer/songwriter side of things, where a lot of the music did come out of me strumming an acoustic guitar with a view to keeping it that way, as opposed to writing that way and turning it electric. That big title track riff came out of an acoustic jam – you've just got to have that imagination to hear that. You have to know that you can make it sing. It went on to sell and sell across the world. It's the album that broke us in countries beyond the UK and US."
40TH ANNIVERSARY EDITION
The 40th Anniversary edition of Aqualung available at a budget price in the 2CD/2DVD 'book set' format of the recent JT reissues.
CD 1 contains the album mixed and mastered by Steven Wilson (the original 40th anniversary edition was mixed but not mastered by Steven). CD 2 features additional 1970 and 1971 recordings (also mixed and mastered by SW).
The DVDs include SW 5.1 surround mixes, hi-res stereo mixes, the 1974 quad mix, and flat transfers of both Aqualung and the Life Is A Long Song EP (two of the EP's tracks haven't been available in this form previously).
Includes a comprehensive 80 page booklet.
Thick As A Brick (1972)
Born from a desire to really produce a concept album after the rock critics so dubbed the previous year's "Aqualung," the record features a rock first: one continuous song on both sides. The music, and the lyrics, are challenging to the listener and reflect complex influences of folk, jazz, and rock. With "Thick," Anderson and company broaden rock beyond the limitations of the short song format.
Understanding "Thick" requires recognition of the popularity of Monthy Python in the early 1970's. Anderson meant for the album to be a send up of rock pretentiousness, critics, and the band itself. The album cover claimed, outrageously enough, that the lyrics had been written by an eight year-old boy, Gerald Bostock, and set to music by the band. Even today, Anderson still gets the occasional person asking about Bostock or commenting about the prodigy's advancing age.
While the "Aqualung's" lyrics are fairly straightforward, "Thick's" metaphorical tendencies " are intentionally intricate, obscure, and bewildering as part of the running joke. If there is any true central theme, perhaps it is the sociological experiences of gifted youngsters in the modern world with a touch of paternal relations again.
"Thick as a Brick" is a progressive rock epic by Jethro Tull, released in 1972. The song is presented as a continuous piece of music, with no pauses between the tracks, and tells the story of a young boy named Gerald Bostock, who is a literary prodigy. The lyrics are a satirical commentary on the education system and the idea of intellectual elitism. The music features complex time signatures, intricate instrumentation, and Ian Anderson's trademark flute solos. "Thick as a Brick" is a masterpiece of progressive rock that showcases Jethro Tull's musical and lyrical prowess.
The lyrical incohesiveness, far greater than "Aqualung," leads Craig Thomas, who penned Tull's 25th Anniversary Set booklet, to seriously question whether it is properly deemed a concept album. Rather, he views it more of an adaptation of the "kind of free-jazz…improvisations of the 1960." Indeed, several segments were recorded in just one improvisional take.
"After Aqualung, I felt we had to take a big step forward. Many writers wrote about Aqualung as a concept album, and I kept saying, 'Maybe two or three songs in the same area, but not a concept.' In the wake of all of that, I thought, 'Right, let's show them what a concept album is,' and it seemed like an amusing idea to go down that route in this Pythonesque way and to try to use surreal humour. It clicked in America, which was a surprise, and it was our first real foray in that sort of theatrical presentation."
No discussion of "Thick"" is complete without noting the legendary 12-page newspaper, "The St. Cleve Chronicle" original cover packaging. Written by Ian, Jeffrey Hammond, and John Evan, the paper actually took longer to produce than the music. There are a lot of inside puns, cleverly hidden continuing jokes (such as the experimental non-rabbit), a surprisingly frank review of the album itself, and even a little naughty connect-the-dots children's activity.
The 1972 tour featured the entire album (with a brief break featuring comedy skits between sides). The tour established the band's reputation for often outlandish theatrical-type performances. By today's standards, the concerts were hardly major productions. But for the time, Tull was rather unique.
"Thick as a Brick" is perhaps Jethro Tull's definitive progressive rock album.
A Passion Play (1973)
Like its predecessor, "Thick as a Brick", "A Passion Play" is a concept album with a single song (which was split into two parts on the original vinyl LP release). The theme of the concept is the spiritual journey of one man in the afterlife.
Tull fans are a rather cordial group but breech the topic of "A Passion Play" at your own peril. Many vehemently defend it as Tull's finest work — others downright loath it. Tull fans are not the only confused lot. While many critics did (and still do) pan the album, it is not too difficult to find reputable, glowing evaluations. The album even hit #1 in the U.S. charts, Tull's last top runger in the standard rock/pop listings.
"The 'step too far' album. We decamped to the Château d'Hérouville in France where Elton had recorded, and had a rotten time: technical issues, gastric bugs… we just wanted to go home. So we did, and had a frantic few weeks of writing a new album. Two pieces made it on to the War Child album and one or two morphed into something more sophisticated, but they never came to light on that album. Steve Harris [Iron Maiden] loves A Passion Play. I'm glad someone liked it!"
"Play's" development began as a real concept album, after the previous genre satire, "Thick as a Brick." Work began in Switzerland, then studios in France (mostly to escape high British tax rates). Enough tracks to fill three sides of a double album were developed when technical problems in the studio, and band members' longing for home, caused all but four tracks to be scrapped (some of this material, like "Skating Away On The Thin Ice Of A New Day," would appear on "War Child"). The dreadful experience lead Ian to dub the Chateau d'Herouville studio as the "Chateau D'Isaster."
With only seventeen days left before the American tour, Ian wrote new material and vastly restructured some of the "Chateau d'Isaster" ideas and the band recorded the 45-minute album.
"A Passion Play" is much darker than "Thick as a Brick," both in music and theme. Musically, "Play" is heavily toned with dominating minor key variations. Thematically, the concept album chronicles, as the title implies, a story of life and death, beginning with a recently deceased man viewing his own funeral, descending into purgatory and Hell, then reincarnated. The lyrics are, arguably, even more confusing than "Thick as a Brick" and Tull fans vary in their interpretation of the details.
Released hot on the heels of the incomparable 'Thick as a Brick,' 1973's 'A Passion Play' became Jethro Tull's second straight chart-topper – before anyone could realize it was no 'Thick as a Brick.' The album's convoluted concept proved only slightly less impenetrable than its thorny musical arrangements, which were so labyrinthine that the band tied itself up in knots.

The strangest segment of "Play" is undoubtedly "The Story of the Hare Who Lost His Spectacles," a spoken word piece with musical underpinnings. It is often noted the piece has lyrical connections to "Winnie the Pooh" or "Alice in Wonderland" yet the best, and appropriate musical, comparison would be to Prokofiev's "Peter and the Wolf." Like this classic piece, the band backs a story teller with music representing the tale's characters and events.
The long, nine-month supporting tour (even beginning before the album's release) featured the entire album, supporting film (later to appear on the 25th Anniversary video), and perhaps Tull's high water mark for elaborate stage productions.
A low point occurred, however, when Tull's business manager announced the band would cease live performances, in response to negative critical reviews of the album and concerts. It was not true, and seriously hurt the band's image. To this day, Ian gets questions about why the group disbanded in the 1970's (see the all too frequently asked questions page for Ian's response to this all too common inquiry).
AN EXTENDED PERFORMANCE
Alongside Thick As A Brick, 1973's A Passion Play is Jethro Tull's most overtly Progressive and conceptual release, featuring a complex poetic narrative framed by the most adventurous music of the band's career.
A #1 US hit on its release, the album offers dazzling virtuoso instrumental passages, evocative synthesiser sequences, and fuses Folk, Jazz and Rock influences in a strikingly unique, wholly Jethro Tull way.
A Passion Play (An Extended Performance) features new Steven Wilson mixes (stereo and 5.1) of the album, alongside Steven Wilson mixes of the infamous 'Chateau Disaster' recordings that preceded it. Packaged with an 80 page book detailing the album, the band's 1973 tour and the Chateau recordings, (An Extended Performance) is a glorious way to celebrate a one of a kind release.
In the 80 page book:
* An extensive article by Martin Webb on the preparation and recording of the album and the 'Chateau disaster' sessions that preceded it.
* Steven Wilson's thoughts on mixing the recordings.
* Memories of the cover shoot and Hare filming by dancer Jane Eve (Colthorpe)
* The Rev'd Godfrey Pilchard's recollections.
* 1973 tour history.
* Recollections of touring and PA systems by sound man Chris Amson.
War Child (1974)
Following the ambitious long-form diversions of Thick As A Brick and A Passion Play, 1974's Warchild saw a return to short, sharp songwriting.
After two single-song concept albums, "War Child" was a return to the traditional format. The album prominently features David Palmer's string orchestration across an eclectic musical set. The music is lighter and more whimsical than the dark "A Passion Play," though the lyrics still unleash lashing critiques of established society (e.g., "Queen and Country," "Bungle in the Jungle" ), religion (e.g., "Two Fingers"), and critics (e.g., "Only Solitaire").
Bungle in the Jungle" is a song released in 1974. The song is characterized by its upbeat tempo, catchy flute melody, and playful lyrics. The lyrics describe a jungle scene where animals are competing for survival, using metaphors for human behavior such as "a monkey in silk is a monkey no less". The song was a commercial success, reaching the top 20 on the US charts and becoming a staple of classic rock radio.
"It's kind of okay. The big one on that was Bungle In The Jungle, which is a complete rebuild of a song from the Château tapes. Very much rewritten, but it used the reference of people behaving like they're animals in the jungle. It was written to be a radio hit, and in America it nailed it – we got AM radio play, which opened us up to a much wider audience and brought a lot more people into the concerts. It had its moment. Ritchie Blackmore has a soft spot for that album, for some reason."
Much of the music was written during the latter half of the "Passion Play" tour. Yet, "War Child" is arguably pre-Passion Play. "Skating Away," "Bungle in the Jungle," and "Only Solitaire" came from the aborted "Chateau D'isaster" tapes preceding "A Passion Play" and "Two Fingers" was a rewrite of a song left off "Aqualung."
Despite the seemingly disconnected themes, "War Child" was planned as a movie soundtrack. The screenplay, loosely based on "A Passion Play," featured the afterlife experiences of a little girl killed during an auto accident. Anderson had gone so far as to enlist John Cleese, Sir Frederick Ashton, and Leonard Rossiter for the project before abandoning it, due mostly to unacceptable Hollywood production demands.
The front cover catalogs Anderson's debut of his infamous "minstrel" outfit which, quite arguably, looks much more like a jester than a strolling musician. Some Tull commentators argue the vestige represents Anderson's identification with the typical sarcastic, social commenting fools of Shakespeare's plays and allude to telling references in songs such as "Only Solitaire" (vi., "Think I'll sit down and invent some fool…some grand court jester…). All intellect aside, most fans and critics are more apt to remember the persona's silver codpiece than it's literary inspirations.
THE THEATRE EDITION
The new Theatre Edition unearths a trio of unreleased recordings: "Tomorrow Was Today," "Good Godmother," and a different arrangement of "WarChild" recorded after the version on the final album.
– Original album and bonus tracks (three previously unreleased), remixed in 5.1 surround and stereo by Steven Wilson
– 10 orchestral pieces (nine previously unreleased) written for the film's soundtrack, 4 of which are remixed in 5.1 surround and stereo by Steven Wilson
– Flat transfers of the original LP mix at 96/24, and the quadrophonic version (with 2 bonus tracks) in 4.0.
– "The Third Hoorah" promo footage, and footage from a January 1974 photo session/press conference where the WarChild project was announced.
– An 80-page booklet featuring an extensive article on the preparation and recording of the album, a film script synopsis, track-by-track annotations by Ian Anderson, plus rare and unseen photographs.
Fans intrigued by the appearance of "WarChild Waltz" on the 2002 reissue of WarChild will finally get the chance to hear the rest of the mostly orchestral music the band recorded for the soundtrack album. About 30 minutes was recorded during sessions in 1973 and 1974. Soon after, the music was consigned to the archives for 40 years – until now.
Minstrel In The Gallery (1975)
"Aqualung" and "Thick As A Brick" tend to be cited as defining the 1970s' Jethro Tull – but arguably "Minstrel in the Gallery" is the quintessential 1970's Tull album. In February 1975 Jethro Tull had sold out five nights at the 20,000-seater Los Angeles Forum, prompting the Melody Maker to run the headline "Jethro – Now The World's Biggest Band?" Indeed the venues became so huge that by 1976 Tull had become one of the first bands to use giant screens for stadium shows.
"That's an odd one. It's the last one that Jeffrey Hammond [bass] played on, so it has this negative undertow to it as we knew he was going. So with Jeffrey leaving, it made me think, 'Maybe I need to do this without relying on others so much.' I started working more on my own in the studio, writing and recording, playing to a click track, so a lot of it was a bit more 'them and me' – a bit more insular, musically speaking, which wasn't great in the spirit of working together."
The band had decamped to a studio in Monte Carlo (Jeffrey Hammond-Hammond having ridden there from England on a motorbike which he managed to spectacularly crash on the way) which is pictured on the back of the album sleeve with the five minstrels standing in its gallery. The size of the studio also made it ideal for impromptu games of badminton, while the local beach provided its own temptations. Ian has since opined that such distractions and other personal problems within the band meant that it was not functioning as well as a unit as it had on previous albums, and he found himself taking more of a prominent and introspective role than he would have wished.
The upside of that was that the album contained a liberal sprinkling of the type of personal acoustic ditties which had graced the "Aqualung" album, with the string-adorned "Requiem" being possibly the most romantic song Ian has ever written, and the closing "Grace" – more whimsical in its romanticism – clocking in at a whole thirty seven seconds. And after the forty-plus minute "Thick As A Brick" and "A Passion Play" epics, Ian once again dabbled with an extended suite of music with "Baker Street Muse", a seventeen minute four-part observation of the seedier side of his then home town of London.
The acoustic guitar and strings are to the fore in most of the other songs, but the likes of "Cold Wind To Valhalla" and "Black Satin Dancer" then explode into full-blown rockers, with Martin Barre's electric guitar taking the spotlight as the band thunders along behind him in an adventurous exploration of unpredictable key-changes and time-signatures. That juxtaposition of acoustic and electric has been a feature of Jethro Tull's music throughout their career, but is perhaps never better exemplified than on "Minstrel In The Gallery" which, after earlier albums' tags of 'blues' and 'prog', is unequivocally a 'rock' album, albeit with a maturity and sophistication both lyrically and harmonically which highlighted Tull's originality.
Though "Minstrel" is heavily acoustic, songs from the disc rarely appear in concert set lists in recent years. Partly, this could very well be due to "Minstrel's" rather dark, often very personal subject matter and tone for many of the acoustical tunes. Ian was just coming off a divorce and "One White Duck/0¹º = Nothing At All" addresses the end of his marriage. "One White Duck" is related to a common British concept (and even wall ornament) that a married couple have their "ducks in a row." A sole duck, hence, represents separation.
For all intents and purposes, 'Minstrel in the Gallery' was Jethro Tull's last stand where unapologetic intricate, high-concept prog-rock was concerned. The title track brought metal to the Middle Ages, as the monarch watched on with amusement. "Cold Wind of Valhalla" blew it back across the sea, raping and pillaging like Viking warships, and "Black Satin Dancer" was as dainty as it was bombastic. But it was on the engaging, 17-minute "Baker St. Muse" suite that Ian Anderson paid a fond adieu to epic songcraft. And did he make it count.

In February 1975 Jethro Tull sold out five nights at the 20,000-seater Los Angeles Forum, prompting the Melody Maker to run the headline "Jethro – Now The World's Biggest Band?" Indeed the venues became so huge that by 1976 Tull had become one of the first bands to use giant screens for stadium shows – nicknamed "Tull-A-Vision".
Jeffrey Hammond-Hammond's final live show with Tull was in November 1975, after which he ceremoniously burnt his stage clothes and retired from the music biz to resume painting.
LA GRANDE EDITION
The 40th Anniversary edition of Jethro Tull's Minstrel In The Gallery.
The album has been expanded to include the b-side Summerday Sands, several studio outtakes, and alternate session material recorded for a BBC broadcast.
The second disc features a live recording of Jethro Tull performing at the Olympia in Paris on July 5th, 1975, a few months prior to the release of Minstrel In The Gallery. During the show, the band played songs from several of its albums, including War Child and Aqualung, as well as an early performance of Minstrel In The Gallery. It was mixed to 5.1 & stereo by by King Crimson guitarist Jakko Jakszyk.
Highlights from the set include:
* Original album plus seven bonus tracks (six previously unreleased), two mixed to 5.1 surround, and all to stereo by Steven Wilson
* Flat transfers of the original LP mix at 96/24 plus additional track Summerday Sands
* Flat transfer of the original quad mix of the LP plus additional track Summerday Sands
* An eight and a half minute film of the band performing Minstrel In The Gallery in Paris from 1975
* Presented in a case-bound DVD book that includes an 80-page booklet featuring an extensive history of the album, track-by-track annotations by Ian Anderson, recollections by roadie Kenny Wylie, Maison Rouge maintenance engineer Pete Smith, and string section member Liz Edwards plus lyrics, tour itinerary and rare and unseen photographs.
Too Old To Rock'n'Roll: Too Young To Die! (1976)
Jethro Tull frontman Ian Anderson has always said this album was not meant to be autobiographical of him as an ageing songwriter, since he was young at the time. He says the point of the album was to illustrate how his style of music may go out of popularity with every other fashion and fad, but he is determined that if he sticks to it, everything comes back around and the style will rise again.
"Too Old to Rock 'N' Roll: Too Young to Die" the title track of Jethro Tull's 1976 concept album. The song tells the story of an aging rocker who becomes disillusioned with the music industry and decides to retire. The track features a mix of acoustic and electric guitars, with a folk-inspired melody and lyrics that reflect on the passage of time and the struggle to find meaning in life. The chorus is an upbeat affirmation of the power of music, with Anderson declaring that "rock 'n' roll is a dying art". The song has a bittersweet feel, with a sense of nostalgia and regret for a bygone era.
"The title track came to me on a plane journey when I was in heavy turbulence and very frightened. It was a piece about the kind of 50s Brit rock'n'rollers. Those bikers in that era, it was their world and they were already pushing 40 or 50 by then. You could mock that but there's something rather noble and determined and dignified about it, and I just wanted to explore that dichotomy. It's wistful and nostalgic and also a bit of a put‑down, and it's finding that balance in a song sometimes."
It is widely considered a concept album. The remastered 2002 CD version contains two bonus tracks that were cut from the original LP, "Small Cigar" and "Strip Cartoon". This is the first Tull album to feature John Glascock on bass and backing vocals.
The original idea for the album was to be a rock musical, similar to the Kinks' mid-1970s outputs e.g., Preservation Act 1 (1973), Preservation Act 2 (1974) and Schoolboys in Disgrace (1975). It would follow an ageing and retired rock star named Ray Lomas as he wins money on a decadent quiz show, but finds that society has changed so much that, with no one left like him any more, he has no way of enjoying his money the way he did in the 1950s. He then decides to commit suicide via motorcycle crash but fails and lands himself in a hospital in a coma for an undetermined amount of time.
If you didn't get the hint from its title, 'Too Old to Rock 'n' Roll: Too Young to Die!' is Jethro Tull's reaction-to-punk LP. It depicts Ian Anderson in fighting form on the illustrated cover art, but sticking to his often subtle dynamics and semi-conceptual lyrics — meant to accompany a never-produced stage musical — in spite of it all. The results were meandering, though the title track is hard to resist, while its story about a bitterly nostalgic '50s biker felt a little too close to the Who's 'Quadrophenia.'


When he awakes he discovers society has changed again, and his style of dress and music are now popular again. In addition, the advanced medicine he is treated with after disfiguring his face and damaging his body in the crash makes him twenty years younger. He has become an overnight sensation with the young kids who now try to dress and act like him.
However, much of this story is only explained in a cartoon strip included with the album. The actual score of the album does not follow the strip exactly, leaving out details or, in some cases, changing the plot.
THE TV SPECIAL EDITION
Too Old To Rock 'n' Roll, Too Young To Die! – The TV Special Edition Deluxe features a previously unreleased re-recorded version of the album for a 1976 UK TV special.
It additionally contains original LP tracks and rare associated recordings, plus 2015 5.1 and stereo mixes by Steven Wilson.
Also included:
* flat transfers of the original album as well as a host of rare associated recordings including previously unreleased material.
* the previously commercially unavailable original TV footage with DTS, Dolby Digital Surround Sound and Dolby Digital Stereo sound.
* the TV audio in 96/24 stereo PCM, alongside a host of other associated recordings in surround and 96/24.
* an extensive 80 page booklet including an essay by Martin Webb on the preparation and recording of the album in Brussels and Monte Carlo, the aborted stage musical, the London Weekend TV special and the 1976 tours. The booklet also contains a track by track annotation by Ian Anderson, lyrics, a feature on Ian Anderson and his motorbikes, Dave Gibbons on drawing the LP's cartoon inner spread and 'From Carmen to Tullman' – The Musical Life of John Glascock, unseen photos and lots more.
Songs From The Wood (1977)
The album signalled a new direction for the band, who turned to celebrating British pagan folklore and the countryside life in a wide-ranging folk rock style which combined traditional instruments and melodies with hard rock drums and electric guitars.
The album is considered to be the first of a trio of folk rock albums: "Songs from the Wood", "Heavy Horses" (1978) and "Stormwatch" (1979). On the album cover appears an extended title line: "Jethro Tull—with kitchen prose, gutter rhymes and divers—"Songs from the Wood" The title track of the album contain two of these phrases in its lyrics.
"Songs from the Wood" the title track of Jethro Tull's 1977 album. The song has a folky and mystical sound, with Ian Anderson's flute playing a prominent role. The lyrics describe a celebration of nature and the simple life, with lines such as "Let me bring you songs from the wood/To make you feel much better than you could know." The song has been praised for its warm and inviting atmosphere, and has become a fan favourite in Jethro Tull's catalogue.
After a rare sojourn in the big city for 1976's 'Too Old to Rock 'n' Roll: Too Young to Die!,' Jethro Tull returned to bucolic themes and virgin forests with 1977's 'Songs From the Wood.' Long time fans were delighted to grab their camping gear and walking stick as they eagerly lapped up evocative, folk-infused pastoral flute-fests like "Jack-in-the-Green," "Cup of Wonder" and "Hunting Girl," to say nothing of the beautifully orchestrated title track. Quite simply, this is one of Ian Anderson and Tull's finest hours.
The 2003 remastered edition includes a pair of bonus tracks, featuring a live rendition of "Velvet Green."
"More than any album we've done, this is one where the band had more to do with the elements of the songs. Martin Barre [guitar] and David Palmer [keyboard] particularly had worked some material up that would fit right into a song, and where the recording process had all the band involved. There was an exception or two – Jack-In-The-Green was me one Sunday after lunch in there alone – but the rest of it was all of us. I feel perhaps since the days of This Was or Stand Up, it had much more of a band vibe. It was good."
Fan favourite Songs From The Wood was seen as the first in the band's Folk Rock trilogy (Heavy Horses and Stormwatch followed).
The album was recorded right after the tour of the previous album, Too Old to Rock 'n' Roll: Too Young to Die! (1976), and demonstrated the desire of Anderson to change the musical style of the band, since he was meeting and even producing music from the folk rock scene – in 1974 Anderson produced 'Now We Are Six' for Steeleye Span.
Heavy Horses (1978)
Heavy Horses is the eleventh studio album by Jethro Tull, released on 10th April 1978.
"You have to remember, this was at the time punk's final embers were burning out and you had bands like The Police and The Stranglers, who were, collectively speaking, a bunch of old hippies. The brave new world of punk rock had perhaps become commercialised at that point. But bands like those two used punk as a means to get their foot in the door, just as I did with the blues in 1968.
"So from our perspective then, it wasn't that we were vindicated that this new, intrusive music form had somehow ousted us from the public eye and approval, it was just a parallel event. I don't really recall being moved as a music maker by any of those changes in music that were going on. I knew what it was about and I rather liked some of it, but it was entirely separate to what I was writing. I didn't want to try to catch up or be influenced by it. We were still making Jethro Tull albums at that point."
"Heavy Horses" the title track from Jethro Tull's 1978 album, which pays tribute to the working horses of England that were being replaced by machines. The song features a beautiful, melodic acoustic guitar riff, layered with Ian Anderson's distinctive flute playing. Anderson's vocals deliver lyrics that paint a vivid picture of the pastoral landscape, where "ploughmen, ponies, and Lords" work the land. The song has a wistful, nostalgic quality that evokes a simpler time when man and beast worked together in harmony.
It is considered the second album in a trilogy of folk-rock albums by Jethro Tull, although folk music's influence is evident on a great number of Jethro Tull releases. The album abandons much of the folk lyrical content typical of the previous studio album, Songs from the Wood (1977), in exchange for a more realist perspective on the changing world. Likewise, the band sound is harder and tighter.
The successful retreat into sylvan glades on 'Songs From the Wood' encouraged Jethro Tull not to break down camp for the following year's nearly-as-satisfying 'Heavy Horses.' Swapping forest fairies and assorted sprites for real world rural imagery (see "Acres Wild"), and graceful acoustics for muscular electric guitars (portions of "No Lullaby" and other songs even recall the metallic roar of 'Aqualung'), this was like a darker second chapter in Tull's "folk rock trilogy," later completed by 1979's less impressive 'Stormwatch.' Ian Anderson, the part-time farmer, was in his element.
This album was the last studio album to feature John Glascock playing bass on all tracks.
The album reached No. 19 on the Billboard 200 album chart, and peaked at No. 20 on the UK Albums Chart. The third album in the folk-rock trilogy is Stormwatch (1979).
Stormwatch (1979)
Stormwatch is the twelfth studio album by Jethro Tull. It is considered the last in the trilogy of folk-rock albums by Jethro Tull (although folk music influenced virtually every Tull album). Among other subject-matter, the album touches heavily on the problems relating to the environment, oil and money.
"There was a lot of stress within the band, mainly to do with John Glascock's illness [the bassist had heart problems]. We sent him home and told him he had to get out of this spiral he was in because it wasn't just his illness, it was lifestyle. He'd be on stage and his face would be white like wax, with a film of sweat. I made him leave to get himself well and sadly he got worse and then we got the terrible news that he'd passed away. Did we do everything we could to help? That's a question we'll ask ourselves forever."
In 2004, a remastered version of Stormwatch was released with four bonus tracks.
This is the last Tull album to feature the classic line-up of 1970s. Bassist John Glascock, suffering at this point from the effects of a cardiac infection that eventually led to his death, is only featured on three tracks ("Flying Dutchman", "Orion", and "Elegy"). Ian Anderson played bass elsewhere on the album while Dave Pegg played on the subsequent tour.
The instrumental piece "Elegy" was written by David Palmer.
Dun Ringill is the historic site of an Iron Age fort on the Isle of Skye, which served as the original seat of the Clan MacKinnon. Anderson once owned and lived in nearby Kilmarie House, until he sold the estate in 1994. A sporran is a type of pouch traditionally worn with a kilt.
Other tracks allude to the constellation of Orion and the legend of the Flying Dutchman.
It is sometimes rumoured that "Elegy" was a homage to John Glascock — who was very ill at the time due to a congenital heart defect, and would die shortly after the album's release. Actually, it is an elegy to David Palmer's father, and is one of the few tracks on which Glascock plays.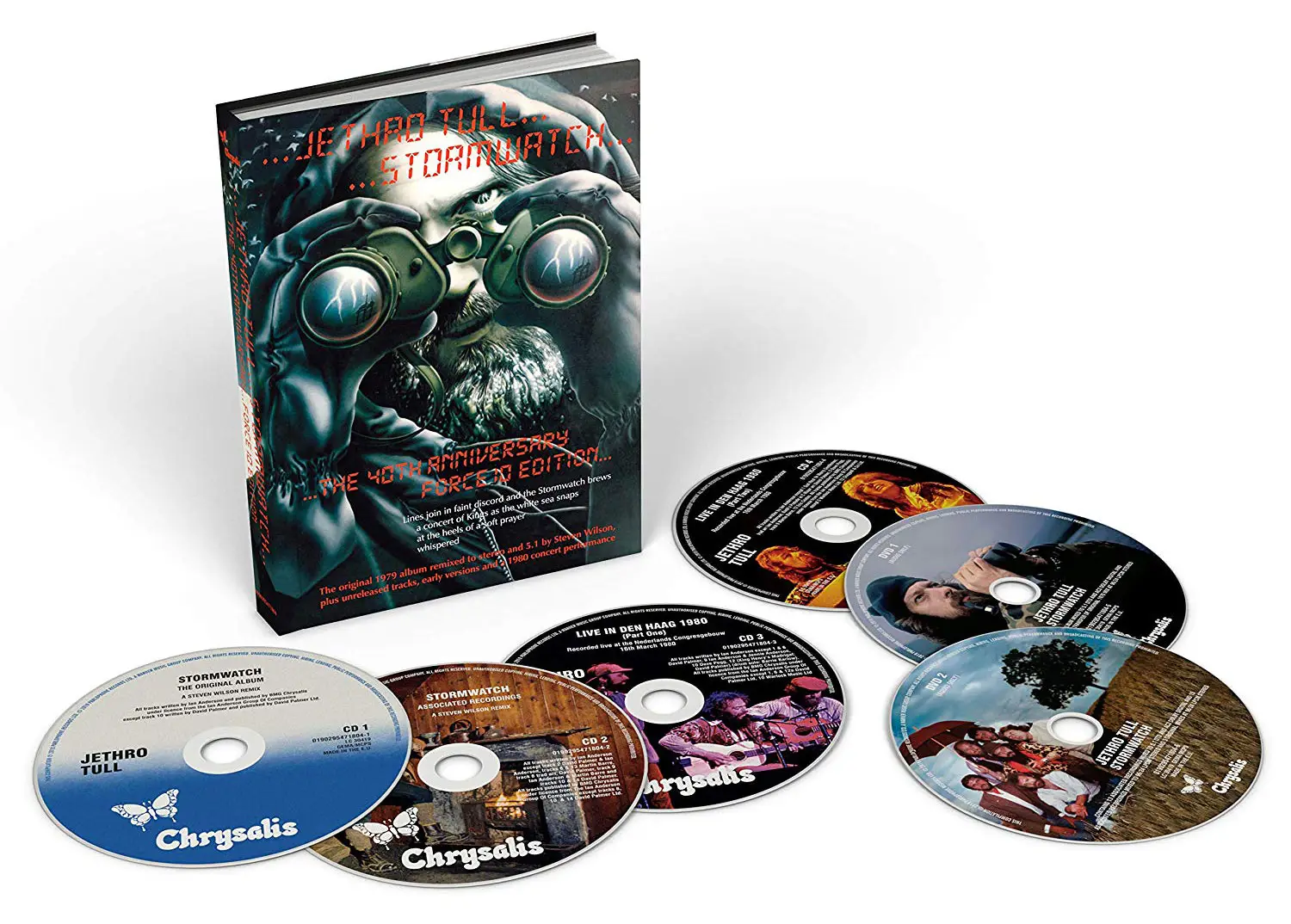 Tull's final studio record of the '70s was also their last to spotlight folk-rock for many years to come, as well as the end of the line for long-serving regulars like keyboardist John Evan, drummer Barriemore Barlow and bassist John Glascock (who died of heart disease just weeks after the album's release). Ian Anderson's muse seemed to have taken herself back to Never-Neverland, if serviceable but increasingly stale songs like "Orion," "Warm Sporran" and the forced, complex "Dark Ages" were any indication.
A (1980)
A was recorded as an intended Ian Anderson solo album before Tull's record label, Chrysalis Records, asked that it become credited to the group to help the label get through overall slow record sales. This is the reason for the album's title, as the tapes were marked 'A' for 'Anderson'. It is noted for its more synthesiser-based sound, a fact which created controversy among many of the band's fans. On the other hand, it features a folk-influenced piece, "The Pine Marten's Jig".
A features a dramatically different line-up of Tull from the band's previous album, Stormwatch (1979). Former keyboardist John Evan and organist David Palmer were de facto fired from the group, while drummer Barriemore Barlow left the band due to depression over the death of John Glascock as well as plans to start his own band.
"It was as simple as A for Anderson because it was supposed to be a solo album. I wanted to take some time out and I asked Eddie Jobson to be involved, so we started in the studio. I heard this guitar line in this bit I'd written and I called Martin Barre and he ended up staying. Then the record company said, 'It sounds like a new Tull album,' and I regret giving in to that. It sits there on the edge of our repertoire: it's quite the mainstream thing."
The only members of Tull to appear on both Stormwatch (1979) and A (1980) are Ian Anderson and Martin Barre. This is also bassist Dave Pegg's first appearance on a Tull studio recording, but he had become a member of the band during the Stormwatch tour in 1979, replacing the deceased Glascock.
Conflicting reasons have been given for the line-up change. Anderson has stated that he wanted to take the band in a different direction from the folk rock and progressive rock of the 1970s. Barriemore Barlow was unhappy with the direction the band was taking and later stated that he would have left anyway.
However, biographer David Rees reports in his book Minstrels in the Gallery: A History of Jethro Tull (2001) that Anderson had never intended to replace Jethro Tull's previous line-up with the musicians who recorded A, but was forced by Chrysalis Records, which had decided to release his 'solo' album under the name Jethro Tull. This claim was further evidenced by Anderson's note in the 2003 re-release of the album.
The Broadsword And The Beast (1982)
The Broadsword and the Beast is the 14th studio album by Jethro Tull, released on 10 April 1982 and according to Ian Anderson in the liner notes of the remastered CD, contains some of Jethro Tull's best music. The album mixes electronic sound, provided by Peter-John Vettese (a characteristic that would be explored further on the next album Under Wraps) with acoustic instruments. The album is a cross between the synthesiser sound of the 1980s and the folk-influenced style that Tull had in the previous decade.
"That followed a bit of hiatus and we were getting towards the end of the record, and I thought, as I have before, 'I've spent so much time with this material, I'd really like someone else to come in and mix.' We found Paul Samwell-Smith, who we knew from The Yardbirds, and he came in towards the end and took a lot of pressure off me. We worked well together – we had this good accord and bounced off each other very well. I'd been feeling very pressured on the previous albums, nursemaiding everything to the end."
The cover art is by renowned artist Iain McCaig, long time fan of Jethro Tull. The art was made after a talk with Ian Anderson, and tried to capture the concept of the music. McCaig has stated that he intentionally drew hidden "easter eggs" in the album art.
The runic symbols around the edge of the cover are from the Cirth rune system and are the opening lyrics to Broadsword:
I see a dark sail on the horizon, set under a black cloud that hides the sun. Bring me my broadsword and clear understanding. Bring me my cross of gold as a talisman.
The album was going to be called Beastie, responding to the first track on side one. But during production the band deliberated over the preference between Beastie and Broadsword, the first track on side two. In the end they decided (as on Aqualung) to give each side its own title and thus its own identity, and this time to combine both in the album title. As the artwork also puts much more emphasis on Broadsword, many owners and fans also refer to it as the Broadsword album.
Under Wraps (1984)
Under Wraps is the 15th studio album by the band Jethro Tull, released in 1984. The songs' subject matter is heavily influenced by Ian Anderson's love of espionage fiction.
'Under Wraps' was the first Jethro Tull album since This Was where the majority of songs were co-written with band members, primarily Peter-John Vettese.
This is also the only Jethro Tull album that features no live drummer at all. After the recordings, Doane Perry joined the band on tour and became their permanent drummer.
The album was recorded in the spring of 1984 in Ian Anderson's home studio. The original 1984 release had 11 tracks, with "Astronomy", "Tundra", "Automotive Engineering", and "General Crossing" appearing on cassette only. Of these extra tracks, "General Crossing" became the first Jethro Tull track never to be released on vinyl, as "Astronomy", "Tundra", and "Automotive Engineering" all appeared on the 12-inch single release of "Lap of Luxury".
For the 1984 tour to promote Under Wraps, Jethro Tull offered artistic stage production as usual. In a manner quite similar to the Thick as a Brick tour, the roadies appeared onstage sweeping the floor, counting the audience and studying the place. All band members and instruments were covered in "wraps", with Anderson then releasing them and the music starting.
"That was following my solo album called Walk Into Light [1983] where I'd been exploring what was then the new technology of the emerging world that was moving from analogue to digital – drum machines, very primitive sequencers and so forth. I thought we could use that on a Tull album. It's got some great songs and it's arguably the one album where I really pushed myself as a vocalist. It's a great album apart from the drum machine – it annoys me to this day, and the public didn't like it either. I'm glad I did it though."
'Under Wraps' was controversial due to its electronic/synth sound, particularly the use of electronic drums. Dave Pegg has been quoted as saying that the tracks cut from Broadsword and the Beast would have made a better album, while Martin Barre called it one of his personal favourite Tull albums. The album reached Nº 76 in the Billboard 200 and Nº 18 in the UK charts. The single "Lap Of Luxury" reached Nº 30.
Crest Of A Knave (1987)
Crest of a Knave is the sixteenth studio album by British rock band Jethro Tull, released in 1987. The album was recorded after a hiatus of three years occasioned by a throat infection of vocalist Ian Anderson. After the unsuccessful Under Wraps, the band returned to a more heavily blended electric with acoustic style of sound, one of the top characteristics of Jethro Tull.
"I was going out and doing Under Wraps [1984] live, and I ripped up my throat – I couldn't sing and I thought maybe time was up and I'd blown my voice completely. I spent a year not doing anything but seeing throat specialists, so it wasn't until the summer of '86 that we went out and did some shows, including one in Budapest where I wrote the song of the same name. In America it was the early days of MTV and Steel Monkey got quite a lot of prominence. That album did well in the US and won the Grammy."
Even though Doane Perry had been a member of Jethro Tull since 1984, several tracks still featured drum machine instead of a live drummer. Keyboardist Peter-John Vettese was also absent and it was Ian Anderson who contributed the synth programming. The album sleeve only lists Ian Anderson, Martin Barre and Dave Pegg as official band members. Barre remembers of this production as being "the album where a lot of things were of my invention. There are still chunks of the music where lan very much knew what he wanted, but I think my input was far greater on that album than on any other".
The cover was designed by heraldic artist Andrew Stewart Jamieson. The single "Steel Monkey" has the cover designed by art director John Pasche.
This album was released simultaneously on LP and on CD, but the vinyl edition did not feature the songs "Dogs in the Midwinter" and "The Waking Edge". Both tracks appeared on vinyl as B-sides to the singles.
The album was Jethro Tull's most successful since the 1970s, and the band enjoyed a resurgence on radio broadcasts, appearances in MTV specials, and the airing of music videos. It was also a critical favourite, winning the 1989 Grammy Award for Best Hard Rock/Metal Performance Vocal or Instrumental. The album was supported by "The Not Quite the World, More the Here and There Tour".
Rock Island (1989)
"Rock Island" is the 17th studio album by Jethro Tull, released in 1989. The album continued the hard rock direction the band took on the previous effort, Crest of a Knave (1987).
"The antidote to the more cheerful "Crest Of A Knave", it's mostly dark subject matter of alienation and desolation, except for the absurd Kissing Willie – an all-too-regrettable, unsubtle piece of saucy innuendo. Benny Hill would have been proud of that one. But the song Strange Avenues is still a favourite of mine. And Another Christmas Song too, which talks of origins and cultural identity. 'Everyone is from somewhere, even if you've never been there.'"
Rock Island continued the hard rock direction the band took on the previous effort, Crest of a Knave (1987). The line-up now included Ian Anderson, Martin Barre, Dave Pegg and drummer Doane Perry in his first full recording with the band, although he was already a member of Jethro Tull since 1984. Without a permanent keyboard player, the role was shared by Fairport Convention's Martin Allcock and former Tull member Peter Vettese.
The staging on the 1989 tour supporting Rock Island featured projected silhouettes of lithe dancers during the song "Kissing Willie", ending with an image that bordered on pornographic. The song "Big Riff and Mando" reflects life on the road for the relentlessly touring musicians, giving a wry account of the theft of Barre's prized mandolin by a stage-struck fan. 'Rock Island' was the immediate follow-up to 'Crest of Knave,' and it found Ian Anderson in a current-affairs mood, dealing in matters like the disaster at Chernobyl ("Heavy Water"), the never-ending whaling debate ("The Whaler's Dues") and Martin Barre's stolen (and eventually recovered) mandolin ("Big Riff and Mando"). All in all, it's a relatively engaging set, but detached, ultra-clean production and an unfamiliar timbre to Anderson's voice make this another is-it-really-Jethro-Tull?" LP.
Catfish Rising (1991)
Jethro Tull's first album of the 1990s continued in the more Hard Rock vein of its predecessor, "Rock Island".
Quirky and blues-inflected miniatures showcasing the band at its most playful.
After succumbing to ill-suited trends during the second half of the '80s, 1991's 'Catfish Rising' was a step back in the right direction for Jethro Tull. There was still work to be done for main man Ian Anderson (who at least sounded like himself again) and faithful guitarist Martin "Lancelot" Barre, as they set about steering Tull back to friendly ports, musically speaking. But they at least delivered some well-crafted rockers led by "This Is Not Love."
"A rather good collection of songs, but at a time when Tull weren't exactly in fashion! Some people felt it went back to our bluesy base – maybe too much for one reviewer who referred to it as 'cod blues'. This Is Not Love, Still Loving You Tonight and Rocks On The Road stand out for me. A lot of this was recorded alone in my studio with overdubs from Martin [Barre] and [bassist] Dave Pegg. The worst thing about the record was the album cover. Too much black! Too much Spinal! No space to sign autographs with a black Sharpie."
Catfish Rising is the 18th studio album by Jethro Tull, released in 1991. It is the first Tull album to feature keyboardist Andrew Giddings.
Roots To Branches (1995)
Roots to Branches is the 19th studio album by Jethro Tull released in September 1995. It carries characteristics of Tull's classic 1970s art-rock and folk-rock roots alongside jazz and Arabic and Far Eastern influences.
All songs on 'Roots to Branches' were written by Ian Anderson and recorded at his home studio. This is the last Tull album to feature Dave Pegg on the bass, and the first to feature keyboardist Andrew Giddings as an official band member, although he had contributed to "Catfish Rising" (1991) on a sessional basis. It was also the final Tull album to be released through long-time label Chrysalis Records.
In January 2007, a remastered edition of the album was released.
About Roots to Branches, Ian Anderson said: "I see "Roots To Branches" as the 90's version of "Stand Up", because it has a lot of the things that I feel represented the key elements of Jethro Tull: there's lots of flute, lots of riffy guitars and quite a broad palette of influences, from the blues and classical to the Eastern motifs that were apparent on Stand Up ". On the other hand, Anderson also added that "the only thing about it that lets me down is that I made it sound a little too Seventies. I deliberately made the album sound like it was in the context of a live performance, rather than have it sound too 'studio.' But looking back on it, I think it should have been a bit more varied".
You would never mistake the clean, post-digital production of 'Roots to Branches' for Jethro Tull's vintage '70s recordings, but the album did notably recapture the band's folk spirit of yesteryear … with a twist. Here, instead of his trademarked Anglo-European heritage, so entrenched in Tull's early discography, Ian Anderson's flute unleashed a torrent of Far Eastern melodies and Arabian-flavored flourishes. These sounded simultaneously exotic and familiar, making many tunes sound like Bizarro World versions of folk-rock-centric LPs past.
"The last album with Dave Pegg who played, I think, only on three tracks due to the resurgent popularity of Fairport Convention – always his first love – and the increasingly difficult task of being the bass player of two bands at the same time. All the songs on this record still work for me. We enlisted American jazz rocker Steve Bailey to play bass. He turned up on a freezing January morning to start work on the record in my new studio. These days he's Chair of Bass at Berklee College."
I see Roots To Branches as the 90s version of Stand Up, because it has a lot of the things that I feel represented the key elements of Jethro Tull: there's lots of flute, lots of riffy guitars and quite a broad palette of influences, from the blues and classical to the Eastern motifs that were apparent on Stand Up". – Ian Anderson
Nightcap (1993)
A fascinating double cd insight into the Jethro Tull that almost got away.
Nightcap's first disc contains the infamous 'Chateau d'Isaster Tapes' recorded in August 1972. Much of the material would eventually end up in a radically re-arranged form as part of 1973's ambitious A Passion Play.
The second disc concentrates on album outtakes dating from 1974 to 1991.
Nothing Is Easy "Live At The Isle Of Wight 1970
Released in 2004 and recorded over three decades earlier in 1970, "Nothing is Easy" documents Jethro Tull's performance at the Isle of Wight Festival, where they were second on the bill between The Moody Blues and Jimi Hendrix.
"At their best, as on "With You There to Help Me" (which finds room for rippling lead guitar passages, folk melodies, and elegant piano playing by John Evan), the results are as good as anything in their core Chrysalis Records output." – AllMusic
Bursting Out (1978)
"Bursting Out", Jethro Tull's first live album, was recorded at various locations
during the European Heavy Horses tour in May and June 1978.
Though released as a double-disc CD in the United Kingdom and in the rest of Europe, the original CD release in the United States was only one disc, with three tracks ("Quatrain", "Sweet Dream" and "Conundrum") omitted to fit the 80 minutes CD length, while the double-disc 1990 CD version in the United Kingdom (and Europe) incorporated the first track for both discs (the Introductions) in the song that follows.
In 2004, the complete album was released worldwide as a two-disc set with the Introductions as separate tracks.
Live At Madison Square Garden (1978)
Monday, October 14th, 1978 marked a very special event in music history. Performing live from Madison Square Garden, Jethro Tull became the first rock group to appear live from America on British TV. The performance was part of the US tour supporting their first full length concert album, "Bursting Out: Jethro Tull – Live".
A Little Light Music (1992)
All songs on "A Little Light Music" were recorded during a semi-acoustic European tour in May 1992.
Greek singer George Dalaras participates and sings a duet with Ian Anderson in the song "John Barleycorn".
Living with the Past (2002)
"Living with the Past" is a live document of Jethro Tull's performance at the Hammersmith Apollo on 20th November 2001, with a bonus disc comprising earlier recordings.
"Living with the Past" features songs from different eras of Tull's history as well as two pieces from Ian Anderson's solo albums: "The Habanero Reel" from The Secret Language of Birds and the instrumental "In the Grip of Stronger Stuff" from Divinities: Twelve Dances with God.
Aqualung Live (2005)
"Aqualung Live" documents a live performance of Aqualung
before an audience of 40 invited guests at XM Studios in Washington, D.C..
The album was given away to ticket holders on almost all US concerts in October and November 2005. Royalties from the European release go to various charities for the homeless.
Live in Montreux (2007)
"Live in Montreux" documents the band's performance at the 2003 Montreux Jazz Festival. In 2003, Jethro Tull made their first (and so far only) visit to the Montreux Festival. Split into a semi-acoustic first half and a full on electric second half, the concert was a triumph combining newer songs such as "Dot Com", "Pavane" and "Budapest" with classic favourites.
JETHRO TULL, COMPLIATION ALBUMS,
Original Masters (1986)
Original Masters is a greatest hits album by Jethro Tull released under Chrysalis Records in 1985. It was the band's third such effort, the first two being M.U. – The Best of Jethro Tull (1969-75, released 1976) and Repeat – The Best of Jethro Tull – Vol II (1969-75, released 1977).
Although the compilation was released in 1985, it does not include material released after 1977. The first two compilations had already covered material released exclusively up to 1977 and Original Masters rehashes much of their material.
The CD's back insert, as well as the back cover of the LP's sleeve, mislabels the song "Witch's Promise" as "Witches Promise".
Living in the Past (1972)
Living in the Past is a double album quasi-compilation collection by Jethro Tull, which contains album tracks, out-takes, the "Life Is a Long Song" EP, and all of the non-LP singles except for "Sunshine Day"/"Aeroplane" (1968), "One for John Gee" (b-side of "A Song for Jeffrey", 1968), "17" (b-side of "Sweet Dream", 1969) and the original version of "Teacher" that appeared in the UK as the b-side of "Witch's Promise" in 1969 (the re-recorded 1970 one that was released on the American version of "Benefit" was included instead).
The album peaked at No. 3 on the Billboard 200 charts and went gold not long after its release. The title track from the album became Tull's first top-40 hit in the United States, reaching No. 11, a full three years after it performed well in Britain. In UK, the album reached No. 13. In Norwegian charts, the album hit No. 5.
'Living In The Past' was named after the single released in May 1969 and was released in an elaborate gate-fold packaging that contained a large colour photo booklet with over 50 photos of the band.
Though it wasn't a studio album in the traditional definition, this four-sided collection of Jethro Tull's many early singles and EP tracks – most of them released only in Europe – was a virtual godsend to their fans located elsewhere around the globe. Plus, all technicalities aside, Ian Anderson's precocious and prolific craftsmanship on songs like "Witches Promise," "Sweet Dream" and "Life's a Long Song" helped elevate this odds-and-ends collection to must-own status for any Tull fan.
Two songs, "By Kind Permission Of" and "Dharma for One", were recorded live at Carnegie Hall. "Love Story", "Christmas Song", "Living in the Past", "Driving Song", "Sweet Dream" and "Witch's Promise", some of which had only appeared on mono versions before, were given new stereo remixes for inclusion on the album. Additionally, "A Song for Jeffrey" and "Teacher" were also remixed. Many of the tracks only appeared as British releases before being compiled on Living in the Past for the first time in the American market.
In the United States, Living in the Past was the first Jethro Tull album to appear on the Chrysalis Records label; while each of the band's previous albums were marked as "a Chrysalis Production", the albums were released by Warner Bros. Records' Reprise Records subsidiary. Early U.S. editions of Living in the Past bore both a Chrysalis catalogue number (2CH 1035) and a Reprise catalogue number (2TS 2106), suggesting that the album was scheduled to appear on Reprise Records but that Chrysalis gained control of the band's USA releases in late 1972.
All of the tracks that were not on the original This Was, Stand Up and Benefit albums have appeared as bonus tracks on their 2001 Digital Remasters.
AllMusic reviewed the collection positively, stating that: "Not only was Ian Anderson writing solid songs every time out, but the group's rhythm section was about the best in progressive rock's pop division. Along with any of the group's first five albums, this collection is seminal and essential to any Tull collection, and the only compilation by the group that is a must-own disc."