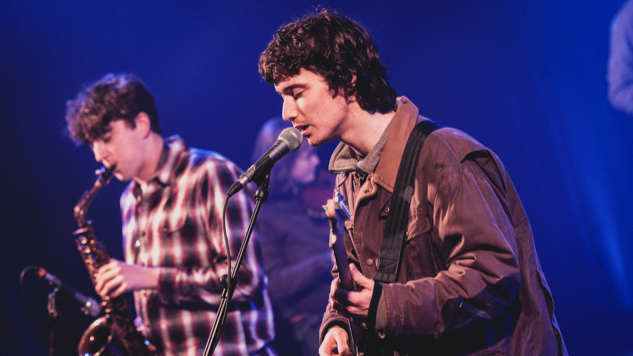 Part of the current fecund strain of British art-prog alongside Black Midi and Squid, BCNR married klezmer, garage rock and Tortoise-y jazz in a highly original melange. But it's the lyricism, and its delivery by Isaac Wood, that really sets them apart: neurotic, proud, hurt, fitfully romantic, and with a great sense of comedy: "Still living with my mother / As I move from one micro-influencer to another.
The English group crafted their SXSW set expertly, starting with "Track X," lofty on plucked strings but more subdued than their other songs. The sprawling, klezmer-filled "Opus" made for a magnificent closer, building to a frenzy that would have been unreal to experience in the flesh but was nonetheless rewarding as a virtual experience. Seeing the seven-piece perform reinforced not just how young they are and, therefore, how much we have yet to see from them, but also their natural connection as musicians. Throughout the set they made slight improvisations and changes as they played together, like some amorphous aural post-punk organism.
Freeform jazz, post-rock, and the Jewish tradition of klezmer all make up Black Country, New Road's riveting stylistic blend, but you're more likely to appreciate the London band's creative spirit by paying attention to the contributions of each the band's members, from vocalist Isaac Wood's often absurd yet impassioned musings to Lewis Evans' frantic saxophone and Georgia Ellery's sweeping violin; Charlie Wayne's agile drumming, Tyler Hyde's menacing bass, and May Kershaw's twitchy synths also form the backbone of the unnerving opening track and provide startling dynamics throughout the album. Though there seem to be virtually no limits to the band's musical instincts, all seven members are perpetually in sync with one another, carrying momentum even when their incendiary crescendos come closer to approximating uncontrollable chaos. For the first time serves as a dazzling display of the heights that music can reach, even if it ultimately leaves you with more questions than answers – and I guess, in some way, that's part of the magic of a really good first impression.