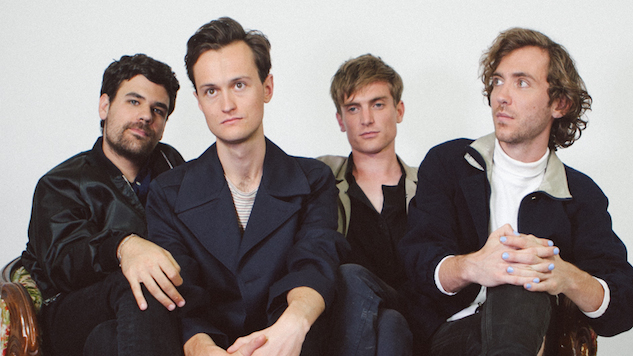 Ought are a post punk band based in Montreal Canada on Constellation/Merge Records which is both the most obvious and most misleading thing you can say about them. For one, they're not actually Montreal natives, or even Canadians their collective passports list birthplaces as far-flung as New Hampshire, New Jersey, Oregon, and Australia. Their tetchy, talkative brand of art-punk makes them anomalies .
Ought formed back in 2011 when its members began living together in a communal band practice space and recorded their earliest material. Ought came together at McGill University in 2012,
Their debut EP, "New Calm", was released in 2012. After signing with Constellation Records, they released a full-length, "More than Any Other Day", in 2014. The album achieved critical acclaim, including a Best New Music accolade. 
It was noted in numerous year-end lists for 2014 including Rolling Stone, Pitchfork, Loud and Quiet and may others.
In October 2014, the band released "Once More with Feeling", an EP featuring B-sides from "More Than Any Other Day" and re-recordings of earlier songs. "Sun Coming Down", the band's second full-length album, was released in September 2015.
The band worked with French producer Nicholas Vernhes on their third studio album "Room Inside The World", which was released February 16th, 2018, Lead singer Tim Darcy also released his debut solo album, "Saturday Night", in 2017.
"More Than Any Other Day"
Ought's debut album, More Than Any Other Day, so endearing and electrifying. It's an anxious, distressed record to be sure—brimming with feelings of disaffection and dislocation—but it presents itself as such simply to show you how that nervous energy can be put to more positive, constructive use.
More Than Any Other Day over its eight tracks, Ought strive to recapture and inspire that same sense of anarchic abandon they witnessed on the streets of Montreal in 2012. To that end, they couldn't have chosen a more emblematic album cover not because, as some have pointed out, its image of hands clasped in a show of solidarity bears an uncanny resemblance to another debut album, but because, as the liner notes reveal, that photo was found discarded atop a dumpster. Accordingly, More Than Other Day is Ought's effort to ensure that the basic tenets of passion and commitment don't get tossed aside amid a culture of instant gratification and distraction, and remind their hashtag activist generation of how it really feels to feel.
And as singer/guitarist Tim Darcy convincingly illustrates throughout the record, the process of reconnecting with your inner iconoclast can be more potent than any drug. In the standout, Marquee Moon-lit ballad "Habit", the addiction in question is to the act of expression itself, and the liberating/empowering sensation of getting something off your chest (even if the strung-out, string-screeched coda nods to a song about a different sort of habit. The almost-title-track "Today More Than Any Other Day" puts that transformative theory into even more explicit action: over a slowcore trickle, a dejected Darcy mutters the dispiriting line "we're sinking deeper"—but then repeats those words over and over as the song accelerates until his ennui is reborn as exhilaration. And as the song hits its joyously frantic stride, even the prospect of going grocery shopping is elevated to a near-religious experience: "Today more than other day/ I am prepared/ To make the decision/ Between 2 per cent and whole milk," Darcy shares, fully aware that the concept of choice in a late-capitalist economy is an inherently flawed one. But for him, even such small victories can provide one with the motivation to achieve much greater ones.
With his sardonic, conversational style and ticking-time-bomb outbursts, Darcy belongs to a lineage of brainiac-maniacs that span the likes of David Byrne and the Violent Femmes' Gordan Gano to modern-day rant-rockers like Parquet Courts and Protomartyr. Likewise, the band's sound encompasses myriad eras and permutations of proto- and post-punk: Velvet Underground drones (via the omnipersent hum of keyboardist Matt May), Feelies speed-jangle, daydreamy Sonic Youthian sprawl. And with the gritty grooves of "Pleasant Heart" and "Around Again", bassist Ben Stidworthy and drummer Tim Keen display an amazingly deft, Fugazi-like facility with injecting a little funk into their punk without turning it into punk-funk.
But more so than any identifiable influence, More Than Any Other Day is ultimately defined by its unsettled, restless spirit; this is an album that treats panic attacks and adrenalized ecstasy as two sides of the same pounding heart, with its simultaneous transmissions of joy and fear, discipline and chaos, comedy and tragedy. As Darcy spells it out in the album's thrillingly combustible closer, "Gemini": "I retain the right to be disgusted by life/ I retain the right to be in love with everything in sight." Though born of a highly politicized protest movement, Ought aren't telling you what to do with your life. They just want to make sure you live it.
Sun Coming Down
When Ought singer-guitarist Tim Darcy drops a fulsome "yes" in the middle of "Beautiful Blue Sky"—the spectacular centerpiece track of his band's second album, "Sun Coming Down"—he's sure to savour it. Amid a song whose chorus reads like a laundry list of 21st-century blights ("Warplane/ Condo/ New development") and excruciating water-cooler chit chat ("How's the family?/ How's your health been?/ Fancy seeing you here!")—Darcy declares, "I'm no longer afraid to die/ Because that is all that I have left/ Yessssss," stretching out that last letter like pizza dough on a woodblock.
It's an alarming admission, one that reads like the last will and testament of somebody who's been so numbed by the dispiriting, clockwork demands of modern life that choosing death feels like the only empowering, self-actualizing move at their disposal. But Darcy invests his "yes" with an ecstatic sense of clarity. Though Darcy is a poet whose voluminous verbiage often overwhelms his melodies, it's no insult to say that simple "yes" is the greatest lyric he's written—because it so perfectly crystallizes his band's essence and purpose.
Ought make indie rock that sounds like how urbanity makes you feel: nervous, antsy, sometimes hostile, yet intoxicatingly vibrant. And Darcy, likewise, gesticulates like a dutiful office drone who's played by the rules his whole life but just can't take it anymore. Ought's 2014 debut "More Than Any Other Day" was an album of slowly unfurled epiphanies, stoking simmering tension into fiery, exultant release. Those sort of affirming moments are a little harder to come by on the more chaotic and caustic Sun Coming Down, but the album's relentless drive and uncompromising attitude constitute their own special kind of thrill. If More Than Any Other Day was about the hard-fought, triumphant ascent, Sun Coming Down is the giddy, daredevil "wheeeeeey!" down the other side of the peak.
A lot has changed for Ought since the release of their first album—not the least of which is their lead singer's surname. (Darcy was billed as Tim Beeler) More significantly, what was once a casual project among university roommates was promoted to workhorse touring act, and Sun Coming Down sounds like the sort of record that was hastily hashed out in between transatlantic jaunts. But that's not to suggest the album sounds unfinished or is lacking focus—rather, the new album takes full advantage of Ought's fully revved, road-tested engine and increased horsepower, in a strike-while-the-iron's-hot move. Gone are the ambient styled ballads the strato stepped grooves that, on More Than Any Other Day, counterbalanced the band's wiry freneticism. Here, Ought doubles-down on their oft-cited early-'80s Fall and late-'80s Sonic Youth reference points, handily destroying any inkling you might have had about this band following the likes of Clap Your Hands Say Yeah or Vampire Weekend into big-tent-indie territory.
Sun Coming Down's more aggressive attack pushes Darcy out of his usual agitated-everyman mode to deliver more cryptic narratives in a theatrical snarl that, at times, verges on Mark E. Smith karaoke. But while Ought's influences may be obvious, you're never really sure where they're taking them: the fearsome rapid-fire rants, clanging guitar tangle and jackhammered drums of "The Combo" turn oddly celebratory in the wake of the song's surprisingly cheery chorus ("Jubilation, darling!"); the bee-swarm buzz and frantic accelerations of "Celebration" are undercut by Darcy's wonderfully fey, Fred Schneider-worthy exhortations ("Okay… let's do it!"). Other songs are subjected to more abrupt change-ups: "On the Line" alternates between ponderous tone poem and garage-punk rave-up, before settling into a sublime third act that recalls the steady, galloping build-up of Patti Smiths "Gloria" while "Passionate Turn"—the only time here Ought attempt to channel the nocturnal grace of More Than Any Other Day's knockout ballad "Habit" turns from swooning, stumbling serenade into a menacing, militaristic march for its final verse/chorus run.
Ought performing "Beautiful Blue Sky" live in the KEXP studio. Recorded October 15th, 2015.
Even the songs that remain locked into formation undergo subtle yet substantial mutations. The opening sprint of "Men for Miles" sees Darcy rewriting his verse melody with each pass and, as the band lean their full weight into the song's motorik momentum, his unyieldingly abrasive guitar noise gives way to hypnotic, third eye-prying bliss. And the aforementioned "Beautiful Blue Sky" may initially sound like Ought's answer to "Marquee Moon" but spiritually speaking, it's their "Once In A Lifetime"song that paints a vivid picture of cubicle-bound 9-to-5 conformity before providing you with the sledgehammer to smash it. The transmission may be a little more distorted this time out, but, with Sun Coming Down, Ought's underlying message is the same as it ever was: you have the power within you to change your lot in life. When you feel like there's no way out, just say "yes."
Room Inside the World
Ought's third album straightens out their sound, offering a more refined new wave palette underneath their singular and compelling lyrical style.
The best songs from Montreal post-punk band Ought contain the rapture of humble truths you might chance upon while spacing out on the subway, staring at the stars, or communing with a cup of coffee. "I am no longer afraid to die because that is all that I have left," singer Tim Darcy sang on their 2015 album "Sun Coming Down", which was a fun way of saying "I am alive." Ought's feverish, live-wire sound said that, too. The music was convincing because it felt scrappily human and Darcy could utter knotted word clusters about civilization or milk with a flair that somehow felt comforting. The band seemed to suggest, with a rare spark and radiant positivity, Mundanity can be a marvel. You will find the light at the end of the tunnel. Everything will be OK.
Ought's third album, "Room Inside the World", straightens out their sound. It offers a more refined and sophisticated new wave palette, redolent of the 1980s to an extreme, and it finds Darcy really singing—about isolation, tentative feelings, self-possession and lack thereof. Most of the record is cast in a newly muted and noirish hue with flourishes of vibraphone, sax, and clarinet. In its more compelling moments, Room Inside the World sounds like a young Scott Walker fronting the Gang Of Four a mix of grandeur and angular tension.
The album finds Ought making considerable changes, then, if not taking many risks. On "These 3 Things," the singer preens in the glammy way you'd expect from a guy who legally changed his name to Darcy, while the droning closer, "Alice," is named for cosmic jazz swamini Alice Coltrane. The best Room Inside the World songs still retain some post-punk fragmentation. One of the album's most compelling moments occurs when "Disaffectation" methodically breaks apart after building itself into a deep trance, as Darcy sings of "some liberation" that "you can order […] online." "Take Everything" fares better when it moves away from swirling psychedelia and towards lovely, threadbare balladeering, with images of dreaming and "the soul's indecision." "When the feel of a flower/Keeps you home for an hour/Throw it away," Darcy sings, a curious and charming bit of verse.
Ought first ignited their sound with what they once called the "revolutionary spirit of radicalism and adventure" that they witnessed at the Quebec Student protests in 2012, and their songs pushed back with subtle comments on patriarchy, gentrification, and consent. Bits of Room Inside the World also have discernible political undertones or social critiques. The gentle "Brief Shield" flips gender scripts and comments on toxic masculinity. But where the title "Disgraced in America" seems like a bold gesture, any form of dissent therein is fairly oblique. At times, the album lends itself to superfluous jamming, and it can feel overwrought and opaque. Given Ought's radical inklings, you wish they dared to make these lovely songs say or do something a little more righteous, to twist them into more adventurous shapes.
However, Ought achieve this spectacularly on the blue-eyed soul of "Desire" It towers over Room Inside the World like the album's lighthouse. It begins wide-open, all wonder and shimmering drone, before Darcy unspools an exquisitely vulnerable Boss-style narrative about someone that left. A former lover is "the moon in a basket of weeds." Two imagined characters drive through the night smiling. They escape a "petty little town." It is a moment of romance and joy at a dead-end. "Desire was never gonna stay," Darcy repeats like a mantra, scaling new reaches of passion and resolve with each turn, as if he were reckoning old feelings right as he recorded. A 70-piece choir eventually joins him and when they come in, the song's architecture feels stitched to the sky.
"Desire" taps into a universal energy of persistence through life's endless inquisition. It is at once the simplest and most ornate song Ought have done, but it feels in keeping with their essence. The power of Ought, and of many great artists, is an uncommon X-ray vision: to see things as they really are.
The band consists of Tim Darcy (vocals, guitar), Ben Stidworthy (bass), Matt May (keyboards) and Tim Keen (drums).
Albums
More than Any Other Day (2014)
Sun Coming Down  (2015)
Room Inside The World (2018)
EPs
New Calm (self-released, 2012)
Once More With Feeling EP (2014)
Four Desires (2018)