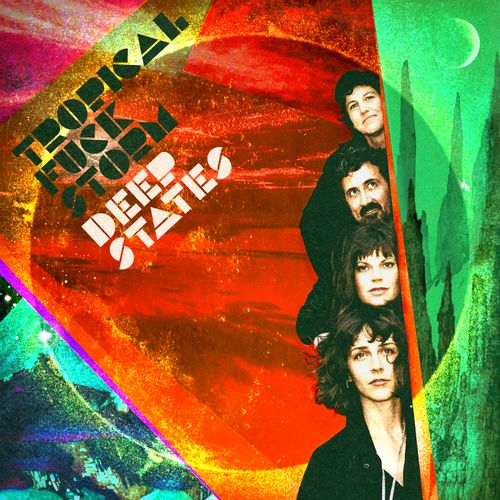 Australia's Tropical Fuck Storm will release their third album, "Deep States", on August 20th via Joyful Noise. The band have always felt like they were making music on the brink of the apocalypse, and that hasn't really changed here. "We make pop records that don't deny we're all in a bit of trouble here," says the band's Gareth Liddiard. Deep States feeds off the paranoia and conspiracies of the last year and focuses it through their distinctly warped lens.
The first single from the album is "G.A.F.F." which stands for "Give a Fuck Fatigue." Over a slinky, grimy funk backing, Liddiard spits out lyrics like "one death's a tragedy, we want the stats / sadistic statistics keep the shit abstract / pestilence, treachery, cloaks and daggers / when I'm talking arms length I'm talking knuckle draggers." The band say, "'Give A Fuck Fatigue' is an ode to the occasional dispassion brought about by the mandatory concern for every perceived injustice that happens, has happened and might yet happen that is being foisted upon the masses by super-yacht dwelling tech barons who monetise our indignation."
Most of us have lived some inner Tropical Fuck Storm over this past year and a half.
Even for a band that's made a career out of crafting songs attuned to political and social crisis, there was a new bleak in the air for Tropical Fuck Storm, what the band calls "give-a-fuck fatigue." the third album from the avant-punk quadaptly titled deep states mines familiar ground as well as new cultural terrains, while digging deeper into the subjective state of contemporary panic. while not quite a protest album, "Deep States" comes complete with q drops, nods to the January 6th capitol riot, a riff on pizzagate, magas squaring off with antifas, waterboarded martians, dangerous cults from heaven's gate to the shining path and, not to be outdone, romeo agents who bed us at night only to betray us by morning. We live in a world in which the bizarre has become the normative, and Tropical Fuck Storm plumbs that paradox. That said, the band is far too wary of the self-importance attached to songs in the didactic mode. "we make pop records," frontman Gareth Liddiard says, "that don't deny we're all in a bit of trouble here." what makes Tropical Fuck Storm so great is the intersection between their dark but satiric storytelling and musical arrangements intent on perverting received canons and wisdoms. these are songs as experiment, advancing and retreating at their own idiosyncratic, deeply unsettling pace.
They hang on the slant beat and slide into jazzy, distortion-packed jams so tumultuous they'd make charlie mingus proud. musically, deep states goes wherever it wants, riffing on pop, r&b, talking heads-style new wave, delta blues, Tom Waits, and some of the band's hip-hop favourites such as wu-tang clan and missy elliot. Barriers aren't just broken, they seem to have completely fallen away. in this present moment, parts of the world are opening up, or trying to. but Tropical Fuck Storm is here to remind us that many of our most urgent political and social problems have been around a long time now. same as it ever was, as another genre bending band once sang. as the signs of the latest crisis subside, and the dull ache of awareness with it, deep states is here to remind us that there is no foreseeable end to human folly, nor, fortunately, to the creativity that resists it. over the past few years we've all heard the noise in our own heads. Tropical Fuck Storm has made music of it.