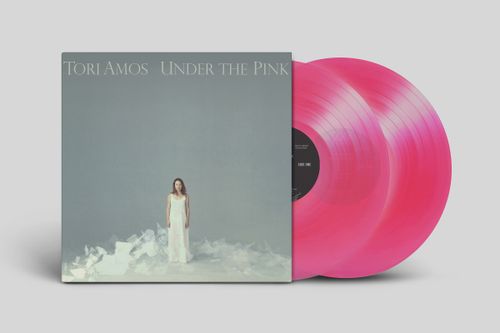 Tori Amos "Under the Pink" entered the uk charts at No1, it's regarded as one of Tori Amos most acclaimed albums, featuring in a number of 'Best Albums of the 90s' lists. On Tori's second album, this is the place to start when talking about all her accomplishments. Under the Pink is an expertly orchestrated conflagration of wildly surreal note combinations accompanied by elegant piano (almost as an afterthought) and Tori's ever-yearning voice. Under the Pink is essentially an hour-long suite of dream sequences that transforms the listener into another dimension.
Charting at No4 in the singles chart, the lead single "Cornflake Girl" is one of several unforgettable singles featuring in the album, which also include god, past the mission, and pretty good year. The album was bpi certified platinum in 2007, and continues to be an album which draws interest to new and old fans alike.
Tori Amos' second full-length solo effort has often been considered a transitional album, a building on the success of Little Earthquakes that enabled her to pursue increasingly more adventurous releases in later years. As such, it has been unfairly neglected when in fact it has as good a claim as any to be one of the strongest, and maybe even the strongest, record she has put out. Able to appeal to a mass audience without being shoehorned into the incipient "adult album alternative" format that sprang to life in the mid-1990s Amos combines some of her strongest melodies and lyrics with especially haunting and powerful arrangements to create an artistic success that stands on its own two feet. The best-known tracks are the two contemporaneous singles "God," a wicked critique of the deity armed with a stiff, heavy funk-rock arrangement, and "Cornflake Girl," a waltz-paced number with an unnerving whistle and stuttering vocal hook.
While both memorable, they're actually among the weaker tracks when compared to some of the great numbers elsewhere on "Under The Pink" (other numbers that more openly misfire are "The Waitress," a strident and slightly bizarre rant at such a figure, and "Yes, Anastasia," which starts off nicely but runs a little too long). Opening number "Pretty Good Year" captures nostalgia and drama perfectly, a simple piano with light strings suddenly exploding into full orchestration before calming again. "Bells for Her" and "Icicle" both showcase what Amos can do with prepared piano, and "Past the Mission," with Trent Reznor guesting on gentle, affecting backing vocals, shifts between loping country and a beautifully arranged chorus.
The secret winner, though, would have to be "Baker Baker," just Amos and piano, detailing the story of a departed love and working its cooking metaphor in just the right way.
"Under The Pink" as a Limited-Edition Double Vinyl, Remastered at Half Speed for Superior Quality and Pressed on 180g Pink Vinyl
Available on July 16th!