As the 70s dawned, so did a brand new sound – progressive rock. And at the centre of it all was influential British label Vertigo Records, home of Gentle Giant, Magna Carta, Black Sabbath and more, home also to bands such as Colosseum, Jade Warrior and Affinity. Ben and other bands from 'the "cutting edge" of the early-'70s British prog-folk-post-psych circuit'. The first Vertigo releases came with a black and white spiral label, which was replaced with the Roger Dean designed spaceship in 1973.
The spiral logo. The eclectic bands and classic rock albums… Vertigo Records represented the vibrancy and expectation of progressive rock in its infancy. But if the heritage left behind by the imprint has inspired and impressed for the past 40 years, then its birth was far more prosaic. In fact, it happened simply because of the impotency of its parent company, Philips.
"You have to understand where things were when I joined Philips," recalls Olav Wyper, the man who created the Vertigo concept. "I'd started off in the music business with EMI, before spending three years at CBS from 1966, as head of marketing and sales. Then I took over running Philips' UK operation in 1969. And the company I inherited had lost its way. They had two separate A&R departments, each following their own policies. There was nothing at all unifying everyone."
Wyper's first task was to get the whole of the label working on the David Bowie single Space Oddity, ensuring that this was a massive hit, thereby giving the whole of Philips a much needed boost. However, such was the complete lack of credibility at the label that Wyper determined a new subsidiary had to be introduced, which could actively pursue hot young bands.
"I already had an interest in progressive music through my time at CBS. When I joined, we had a lot of progressively-inclined names – from Laura Nyro to Big Brother & The Holding Company – who enjoyed considerable media coverage in Britain, but couldn't sell anything. So, I came up with the idea of the sample albums like "The Rock Machine" and "The Rock Machine Moves On", which showcased all these acts including Simon and Garfunkel and Blood, Sweat and Tears with lesser known bands including Spirit, The Peanut Butter Conspiracy and others., and gave them the chance to get noticed. As a result, we sold loads of records.
"What I wanted from Vertigo was to create a progressive music label. I already had the name in my mind – as a former advertising copywriter and journalist, I was always good at coming up with that sort of thing – so now we just needed the bands to go with it."
The Phillips company that up to that point focused on classical recordings and easy listening music, started producing psychedelic and rock albums since the mid-1960s. However they needed to compete with other major labels such as Decca and EMI who created subsidiaries (Deram, Harvest) to focus on progressive music. Olav Wyper was quickly flown in a private jet to Eindhoven, Netherlands, to meet with the suits at Phillips' headquarters. He quickly signed a deal to have full control over a new label, supervising its A&R, marketing and art direction. The Vertigo label was born.
Working together with young A&R executives Mike Everett and Dick Leahy, Wyper went out in active search of talent: "In those days, no label would think of signing anyone who wasn't already working with a solid fan base, so we saw loads of gigs, looking for the sort of acts who fitted in with our vision."
The first signing to Vertigo were Colosseum, who were already working on their second album. "Valentyne Suite" was the second album released by the band. It was Vertigo Records' first album release, and reached number 15 in the UK albums chart in 1969. The group consisted of excellent musicians who could play long instrumental pieces and lengthy solos. They had eclectic tastes in music, the reason for the varied styles that you can hear on this album. Keyboardist Dave Greenslade, who will later form the progressive rock outfit Greenslade with Colosseum's bass player Tony Reeves, talks about his background: "We would listen to Vaughan Williams, Stravinsky, Richard Strauss, and all these other wonderful composers. I don't suggest that I'm anywhere near these artists, but it opened my mind to another way of writing; something different to rock and roll in the 1950s which was great fun but limited. With Jon Hiseman and Tony Reeves, I used to go to Ronnie Scott's quite a lot and listen to Bill Evans.
"Gerry Bron, who was a manager and booking agent at the time, was producing the new album from Colosseum, "Valentyne Suite". And, as the first record (Those Who Are About To Die Salute You) had been on Philips, we met up to discuss things. That's how they became the first band to sign to the new label. I was a fan of theirs anyway; I loved the band's jazz-rock approach, and also knew many of the band personally. Through Gerry I also picked up Juicy Lucy, Uriah Heep and Manfred Mann Chapter Three, which was the new, progressive project from Manfred Mann."
Wyper also momentously signed Black Sabbath – almost by accident. Perhaps the two best-known releases for Vertigo in 1970 were by the same band. Time to introduce Black Sabbath, one of the first bands to join Vertigo's roster. Olav Wyper ended up one night in Birmingham, arriving a day too early for a meeting. Always on the lookout for new talent, he asked a hotel worker for a recommendation.
"I'd gone up to Birmingham for a meeting, but gone a day too early. So, I ended up in my hotel that evening with nothing to do."
On the advice of a young hotel worker, he ended up seeing Black Sabbath play a local pub. He was so impressed that…What he saw in that pub is likely a set that was later recorded for the band's debut album. His experience was similar to that of other listeners in the audience. Guitarist Tony Iommi remembers Black Sabbath's early performances: "They just stopped and stared in disbelief: 'What IS that? We knew then we had something special. That's what sealed our future direction, when we saw the look on their faces. We arrived at the height of the Vietnam War and on the other side of the hippie era, so there was a mood of doom and aggression."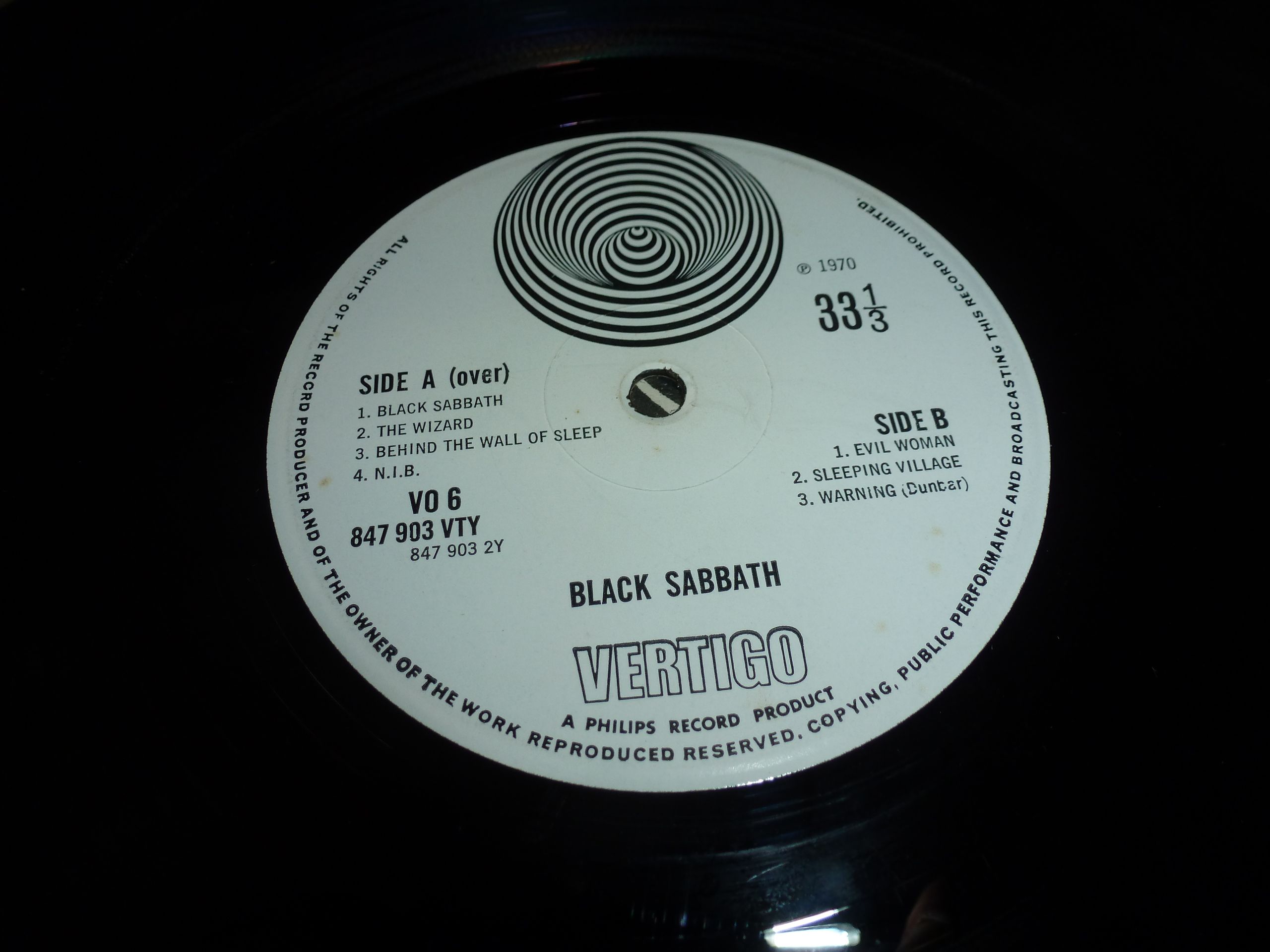 "I took them and their manager Jim Simpson out for a meal at a Chinese restaurant three doors down from the venue. And we ended up signing a heads of agreement [a tentative contact] on the tablecloth."
Like many other early albums on the Vertigo label, Black Sabbath's debut was essentially a recording of the band's live set, completed in a single day. Olav Wyper on the label's recording technique: "The reason these records sound good is because these bands didn't need to do much overdubbing. They could all play in the studio as they played 'live.' So that's the reason it sounds less processed and more lifelike
Black Sabbath's debut album was released on 13th February 1970 and it opens with a song called, what else… Black Sabbath. If the beginning of the song sends shivers down your spine, you are not alone and you can come out from under the bed. Iommi remembers the recording of the song: "When I first played the riff to 'Black Sabbath,' that set the standard for the rest of the album. When you heard those doomy guitar notes behind Ozzy, the hairs on your arms prickled. We knew it was good and different. The special effects like the chiming bell and the thunderstorm were put afterwards. I think it was Rodger's idea."
Producer Rodger Bain worked with the band on their first three albums, and later continued to work with hard rock bands including Budgie and Judas Priest.
Black Sabbath quickly followed up with a second album in September of 1970, an album that sealed their place in the pantheon of hard rock/metal. We are talking about "Paranoid", a record that produced three of the band's most acclaimed songs: War Pigs, Paranoid and Iron Man. The title track got to #4 in the UK charts and earned the band a performance at Top of the Pops. Tony Iommi remembers: "It was like – oh no – we don't really want this. We are not a pop group – We're heavy underground. We were on the same show as Cliff Richard and Engelbert Humperdinck and must have stuck out like a sore thumb."
My favourite song on the album is one that features no heavy guitar riffs, no satanic messages and no pounding bass and drums. Ozzy Osbourne's voice is fed into a rotating Leslie speaker in this atmospheric track called Planet Caravan. Bassist Geezer Butler: "We didn't want to come up with the usual love crap, so it is about floating through the universe with your loved one." And about that jazzy guitar solo: "Tony, he used to love Django Reinhardt, Joe pass, and he used to play that a lot which didn't really fit in with the heavier stuff. But it gave him a chance to show where his roots were."
One more heavy rock band to release a debut album on Vertigo in 1970 is Uriah Heep, named after the manipulative character from David Copperfield, written by Charles Dickens in 1850. The band's line up was formed when organist Ken Hensley joined the ranks of the band Spice late in 1969. This boosted the band's sound significantly, as guitarist Mick Box remembers: "We'd actually recorded half the first album when we decided that keyboards would be good for our sound.
Their debut album …Very 'Eavy …Very 'Umble (Very 'Umble was Uriah Heep's catch phrase in the book) starts with "Gypsy", a track which was also released as a single. One minute into the song Mick Box unleashes one of heavy rock's best-known guitar riffs, backed up by Ken Hensley's fantastic Hammond work. The song became the band's anthem for many years. The album hit the racks in a striking sleeve that featured a cobweb-covered human being screaming as if in torment. Look very closely and you'll see the subject is none other than David Byron. Bron had set up a photo session at which a cobweb machine had been hired to create the olde-world effect. Box wasn't too enthusiastic about the results so went off to the pub and upon returning in a 'suitably refreshed' state decided it might be amusing to spray the contents of the device all over his singer.
I tapped him on the shoulder and I went 'Ssshhssssshhh!' with this glue all over his face," guffaws Mick at the memory. "I found it absolutely hilarious and the photographer was quick enough to pick up his camera and snap away. And of course they were the pictures that we used. The cover looked fantastic, it really caught the eye."
With this first batch of signees, Wyper set the tone for the next two years, a period which would also see the likes of Jade Warrior, Magna Carta, Dr. Strangely Strange, Nirvana (the original one), Warhorse and Gentle Giant sign to Vertigo.
"Our attitude was, obviously, that anything we signed had to be good. But it should also broadly fit into the progressive style, whether it was folk, jazz or rock. We did pick up a surprising range of acts, but they were all characterised by being 'progressive' in nature."
However, what made the label stand apart was its attention to detail, and the fact that each release was presented as a work of art.
"I was determined that the packaging would be fresh and innovative, that every record would be seen as totally artistic. So, we put out our records in gatefold sleeves. Back then, this rarely happened, and only for big names. The idea of having new acts treated in this way was unheard of."
Of all the albums the label released in 1970, about 30 albums in total
On top of this, Wyper also hired an aspiring young photographer to design most of those initial sleeves, giving them a coherence that helped to create a label style.
As you may have noticed from the album covers for Colosseum's "Valentyne Suite" and Black Sabbath's debut, the striking photographs are very unique and bear similar artistic style.
"The first British pop promo was for Fleetwood Mac and their big suprising hit "Albatross" and I'd gone down to the shoot, when I was at CBS. I got talking to the young guy who was the focus puller, and he'd told me that he was studying photography at the Royal College Of Art. In the end, he invited me down to an exhibition he was mounting there at the end of term. It was stunning. His work and ideas were just incredible. So, I hired him on the spot. His name was Keith MacMillan, who did a lot of those early Vertigo covers under the name of Keef; that helped us to have an identity."
Equally as vital was the famed spiral logo, which has become so much a part of the Vertigo lore. The initial idea was created by Wyper himself.
"I wanted something on the A-side of a record that drew you in. So that when the record spun you felt as if everything was pulling you towards the record. I did the rough designs, and then a lady – Maggie – in our art department came up with the final version. What we did was use this to take up the whole of the label on the first side of a record, so it really stood out. For collectors, it was these releases that are especially sought-after today. After I left, the powers-that-be reduced the size and the impact, which was such a shame."
The Vertigo imprint enjoyed considerable artistic and commercial success in its infancy, fuelled by Wyper's desire to drag Philips as a whole into a fresh era.
Like Uriah Heep, Cressida also took its name from a literary giant: William Shakespeare, and his tragic play Troilus and Cressida. Bass player Kevin McCarthy remembers them becoming one of the first bands to sign with the label: "We had never heard of Vertigo and of course had no idea how iconic the label would become. But it didn't matter. We just thought it meant we were on our way to achieving some success."
Label head Olav Wyper said of the album: "That first Cressida album is as good as it gets – those guys were entitled to the crown of ultimate 'progressive' bands as much as King Crimson, but unless you are into Vertigo or deeply into progressive music from the era, my bet is you never heard of the band."
Affinity and their self-titled debut album included a number of great interpretations of well-known songs, including a long jam on Bob Dylan's All Along the Watchtower, made famous by Jimi Hendrix's timeless cover. This is a treasure for lovers of the Hammond organ (the band bought the Hammond that was previously used by Brian Auger).
Although the album received great reviews and the band was touring, they did not last long and remaining recordings with a modified lineup were released only many years later.
The album's cover resembles Black Sabbath's debut in style, again the distinct colouring created by photographer Marcus Keef.
"An Old Raincoat Won't Ever Let You Down" was the debut solo studio album from still then Faces frontman Rod Stewart, Several other members of the Faces also appear on the album, as well as keyboard player Keith Emerson and Jeff Beck drummer Micky Waller released in the United Kingdom in February 1970 it was the fourth release on the label.
"I changed so much about the company. Even the reception area, which I completely overhauled, and made sure that it was staffed by young people who were music fans. Before there had been a very unwelcoming concierge."
After releasing their debut album on Fontana in 1969, Magna Carta signed with Vertigo, starting a brilliant streak of three albums over the next few years. The first was "Seasons", an excellent progressive folk album made even better due to the involvement of Gus Dudgeon, Tony Visconti and Rick Wakeman. The three collaborated on David Bowie's single "Space Oddity" the previous year. The album features the acoustic guitars of Chris Simpson and Lyell Tranter and heavenly vocal harmonies.
Rick Wakeman plays as a session musician on a number of songs on the album, including a nice organ accompaniment and short solo on Ring of Stones. Magna Carta remained a favourite of Wakeman. After they released their milestone album "Lord of the Ages" in 1973, he hailed it as "arguably one of the greatest albums of its kind ever made."
Excellent work by guitarist Davey Johnstone before he joined Elton John's band.
From the opposite end of the folk spectrum comes Dr. Strangely Strange, a wonderfully wonderful band that sadly released just one album with the label, and even sadder, their last one. Heavy Petting they were joined by guitarist Gary Moore of Thin Lizzy. Joe Boyd: "I think I remember discussing using Gary Moore with them. The mix of acoustic and electric was in the water in those days. The LP package featured an elaborate cut-out designed by Roger Dean. This was one of his first hand-drawn fonts, for which he became world-famous with album covers for Yes and other artists. Dean on the cut-out sleeve: "You had to treat it very gently – you can't really slide it on a shelf next to other record covers without damaging the flaps – it's a real pain – though it's not like Sticky Fingers, which will do damage to other covers!"
However, Wyper's tenure at Philips and Vertigo lasted only two years. In 1971, he was headhunted by RCA and their boss Keith Glancey. Once more inheriting a label in total disarray, Wyper tried the same trick as he'd pulled off with Vertigo, by establishing Neon Records, and signing the likes of Quintessence, Centipede (Canterbury band led by pianist Keith Tippett) and Fair Weather (with Andy Fairweather Low). However, this time it didn't quite work as well.
"We had a few successes, but couldn't do it again. I think everything about Vertigo was just aligned so well…the people at the label, the artists we signed, the way we packaged and marketed the albums. It was a special time."
Some have suggested that Vertigo was Philips' direct response to the fact that EMI had launched the Harvest label so successfully. But Wyper sees things a little differently.
"To my way of thinking, if you look at where Harvest were in 1969, they really had lost their way artistically. So yes, they were the first to do this sort of thing – create a special label for young progressive acts who reflected the times – but they'd gone past their best by the time we arrived on the scene."
Vertigo, too, suffered from a loss of focus once Wyper left. He himself attributes this to the way the parent Dutch company took control of things, to the detriment of the original vision.
"When I first joined Philips, the UK office was regarded as a lame duck by the rest of the European companies. Anything we released they automatically rejected. So, when the first batch of releases was ready for Vertigo, I personally went round to every managing director of Philips at each office round the continent, to get them on our side. The German company, in particular, was very enthusiastic about it all.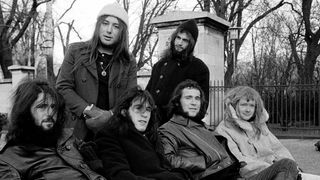 "But it was always a constant struggle to convince the Dutch that it was worthwhile putting records out on Vertigo. They were always badgering me to put them on Philips releases instead, and could never understand the advantages which Vertigo offered. They hadn't fully appreciated the battle I had to wage because of Philips' bad reputation when I joined. So, there were a succession of arguments between me and them, which I won, but it was a battle."
So, when Wyper left, Philips began to impose their own ideas…
"The people who took over from me suddenly found themselves under intense pressure. Philips decided to dump a load of inappropriate bands onto the label. For instance they put Status Quo onto Vertigo – which to my mind was just crass lunacy."
There's little doubt that the glory years for Vertigo were those early times, when Wyper and his team proved than an innovative, imaginative and quality-fuelled approach to a label could reap dividends. It's for this reason that Vertigo has remained among the most acclaimed of labels.
"There was a long period of time, when Vertigo's stock fell dramatically, mainly because of the way it was handled by the parent company – which is now Universal. But in the past few years, the early releases – with the original logo – have become collectible again, and I am quite proud of the way there is now a real respect for what we tried to do – and for the most part delivered. There was even a three-CD box set a few years ago (Time Machine, 2005), which helped to underline what we achieved.
"My philosophy with Vertigo was always to involve everyone. Even the head of classical music for Philips at the time, Jack Boyce, came up with ideas for the label. At its height, the whole of Philips became a hive of activity, centred around Vertigo."
Therein lies the secret to why Vertigo was such a considerable success. It was a specialist label that was inclusive, rather than exclusive. A unique vision from a record company visionary. A one-off that's left a legacy so dynamic and enormous that, when the label was activated a few years ago, even the likes of Metallica deemed it an honour to have the famous spiral logo swirling on their releases.