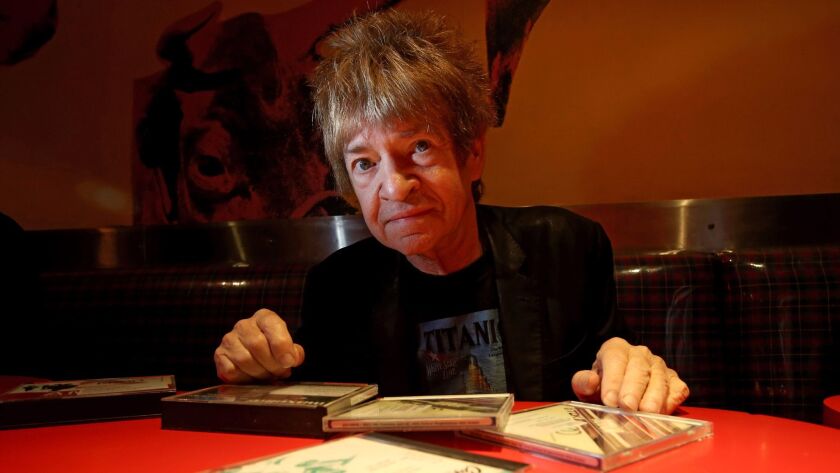 Open most books involving rock in Los Angeles over the last four decades and Bingenheimer's name will no doubt be indexed. His Los Angeles club Rodney Bingenheimer's English Disco helped bring to prominence superstars including David Bowie and Iggy Pop, and was infamous as a centrer of rock star excess in the 1970s.
Bingenheimer ran an American radio show, who is best known as the host of "Rodney on the ROQ", a radio program that ran on the Los Angeles rock station KROQ from 1976 to 2017. In the early 1970s, he also managed a Los Angeles nightclub called Rodney Bingenheimer's English Disco. His radio show strongly influenced the emergence of the Los Angeles punk scene in the late 1970s and was at odds with the prevailing country rock style that dominated the West Coast music scene at the time. The show featured the latest punk, new wave and glam releases from London and New York, and laboured to help celebrities build their careers.
Over the years his musical fetes have featured then-unknown acts such as the Sex Pistols, the Runaways, Blondie, the Ramones, X, the Go-Go's, Black Flag, the Bangles, the Smiths and hundreds of others. For many musicians, spins during "Rodney on the ROQ" offered first glimpses of stardom that eventually came to pass.
Barney Hoskyns, whose definitive book on Los Angeles music, "Waiting for the Sun," documents the landscape that helped define popular music, calls "Rodney on the Roq" "part of a general revolt against what one might call the bloated Eagles-style superstar bands of the mid-'70s."
"The timing was perfect," writer Barney Hoskyns added on the phone from England. "Here was this little station in Pasadena. Then on Sunday nights, Rodney becomes a real kind of flag-bearer, a really, really important part all of that [do-it-yourself], indie 7-inch resistance to stadium superstardom."
Why is it that records such as this first of three volumes of "RODNEY ON THE ROQ" have never been re-released (except for two best of volumes, one on vinyl in the UK, one on CD)? I mean, c'mon – hit after hit, from alpha to omega. Take this version of one of the very best songs ever written "Bloodstains" (AGENT ORANGE) blows away the other two version's (on the first 7″ and on the fab "Living in Darkness" 12″). Same for ADOLESCENTS' "Amoeba"! The CIRCLE JERKS, you know that, should have called it a day after the first "LP", so their song is the weakest here. UXA we love, KLAN is great, BLACK FLAG deliver their most aggressive song ever (what a sound!) and RIK L RIK is out there in the "Outback". The flip has poppier sounds, nevertheless they're all smashers! CROWD, DAVID MICROWAVE, the invincible NUNS, FENDER BUDDIES, VIDIOTS plus an unreleased SIMPLETONES jump-a-rounder.
But, frankly, the last song, listed as "Surprise" done by a band called NEW YORK. It's actually a gal named Cristina covering Peggy Lee's "Is That All There Is" and drastically changing the lyrics, turning the song into one dark dyonisian chant. Isn't this exactly the kind of music Quentin Tarantino would use in one of his movie soundtrack's?.
Track Listing: 1. Introduction – Brooke Shields 2. Bloodstains – Agent Orange 3. Amoeba – The Adolescents 4. Wild in the Streets – Circle Jerks 5. Tragedies – U.X.A. 6. Pushin' Too Hard – The Klan 7. No Values – Black Flag 8. The Outback – Rik L Rik 9. Right Time – Crowd 10. I Don't Want to Hold You – David Microwave 11. Wild – Nuns 12. Furry Friend – Fender Buddies 13. Laurie's Lament – The Vidiots 14. TV Love – The Simpletons 15. Surprise – New York
Track Listing: 1 Target 13 – Rodney on the ROQ 2 Social Distortion – 1945 3 Shattered Faith – Right Is Right 4 Black Flag – Rise Above 5 Minutemen – Search 6 Redd Kross – Burn Out 7 CH3 – You Lie 8 Agent Orange – Mr. Moto 9 Red Rockers – Dead Heroes 1 Unit 3 + Venus – B.O.Y.S. 2 The Stepmothers – Where Is the Dream 3 Gleaming Spires – Are You Ready For the Sex Girls 4 The Little Girls – The Earthquake Song 5 Levi and The Rockats- Ready to Rock 6 Twisted Roots – Snaked 7 Geza X – We Need More Power
ROTR3: Kent State, Ill Repute, J.F.A. Channel 3, Catch 22, Pariah, Red Scare, No Crisis, Rudi, Unit 3 with Venus, Bangles, Action Now, Signals, Gayle Welch, Radio Music, David Hines – Produced by Robbie Fields / Compiled by Rodney Bingenheimer / Posh Boy Records
Track Listing: A1. Kent State – Radio Moscow A2. Ill Repute – Clean Cut American Kid A3. J.F.A. – Preppy A4. Channel 3 – Seperate Peace A5. Catch 22 – Stop The Cycle A6. Pariah – Up To Us A7. Red Scare – Streetlife A8. No Crisis – She's Into The Scene A9. Rudi – Crimson B1. Unit 3 with Venus – Pajama Party B2. Bangles – Bitchen Summer (Speedway) B3. Action Now – Try B4. Signals – Gotta Let Go B5. Gayle Welch – Day Of Age B6. Radio Music – Johnny Angel / New Dance B7. David Hines – Land Of 1,000 Dances
Many bands knocked on the parking lot door of KROQ's studio in Pasadena and handed Rodney a copy of their music. If he liked a track, such as Agent Orange's 1979 hit "Bloodstains," he would play that song within the hour. In 1978, guitarist Eddie Vincent and drummer Tad of The Hollywood Squares gave Rodney a copy of their just released 45 single at his studio door. Within minutes Bingenheimer introduced the mysterious group to his wide listening audience and played "Hillside Strangler." The song promptly charted in Record World's New Wave Hit Parade.
Power pop band Candy singer Kyle Vincent, who at the time was Kim Fowley's personal assistant, tells a similar story: "We had just finished recording a few tracks with Kim producing. He told me to take one of the songs over to Rodney's studio, knock on the door, and tell him that Kim says we're the illegitimate sons of Rick Springfield and the Go-Gos. On the way back to my apartment Rodney talked about it and then played it. That was pretty historic for us." Bingenheimer was credited for giving the group Broken Bottles a big break by playing their single Gothic Chicks.
His championing of punk continued through the '80s, as he played a mix of early hardcore, retro-psychedelia, rockabilly, and pop at the station. This generous collection includes highlights from his three "Rodney on the ROQ" albums, with the bulk of the numbers being hardcore cuts from the late '70s and early '8Os.