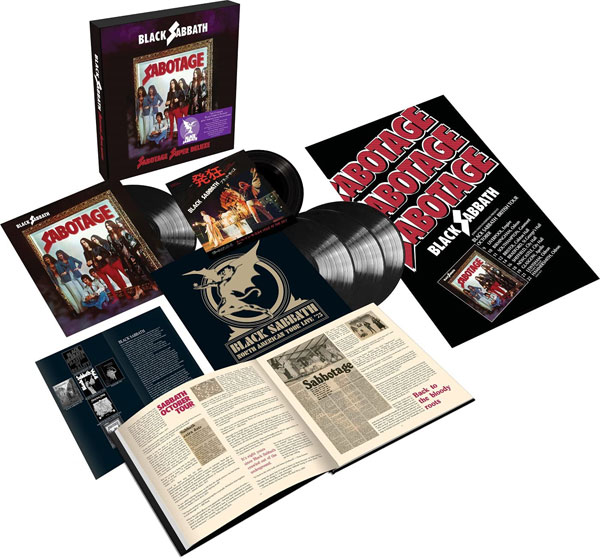 Black Sabbath created "Sabotage" with their backs to the wall, yet it was a masterpiece, fearlessly experimental and adding added yet another dimension to their music. The 1975 Black Sabbath album, "Sabotage", will be re-issued as vinyl and CD super deluxe edition box sets, in June. The band's sixth studio album was recorded amidst legal wranglings with their former manager – which is how the title came about.
It's been a big year for fans of Black Sabbath.  In the first few months of 2021, Rhino has already released a box set of the band's 1972 album Vol. 4, followed by 2CD expanded editions of the first two Dio-era albums.  Now, the label has announced another super deluxe box set – this time of 1975's "Sabotage."  Due on June 11th, it will be available in both 4CD and 4LP/7″ editions.
While the album's title was inspired by the legal battle raging between Sabbath and its former manager, the album was filled with some of Ozzy Osbourne, Tony Iommi, Geezer Butler, and Bill Ward's most harmonious music together.  Sabotage blended hard rockers ("Symptom of the Universe" was even said to have inspired the thrash metal genre) with acoustic material (the instrumental "Don't Start (Too Late)") and even pop-oriented material (the hook-laden "Am I Going Insane (Radio)"). Out of this chaos would come one of the greatest and most influential albums in rock history, and the last classic album Sabbath would make with Ozzy. Its title – a bleakly humorous comment on the forces bearing down on the band – was Sabotage.
It was in 1970 that Patrick Meehan was appointed manager of Black Sabbath. The band had already made significant progress by this point, under the guidance of their first manager, Jim Simpson, a club promoter in Sabbath's native Birmingham. Their first album, Black Sabbath, had reached the UK Top 10; their second, Paranoid, went to No.1. But as their popularity rapidly escalated, there was a feeling within the band that Simpson was a little out of his depth. In Osbourne's opinion: "overwhelmed".
Enter Meehan, a former assistant to the self-styled 'Mr Big' of rock'n'roll managers, Don Arden. The band were impressed by his global business plan, symbolised by his company's name, Worldwide Artists, and by his go-getter attitude. "Meehan talked a good talk," Iommi said. Once installed as Sabbath's manager, Meehan delivered on his promises. 
"In the early days," Iommi said, "he really got things going. He was the one who got us to America." But after four years on a continual cycle of touring and recording, they were running on empty. As Butler says: "We wanted to take a break after Tony had collapsed with exhaustion on the "Sabbath Bloody Sabbath" tour. We were in England, having just returned from the tour, when our management called us all and said we had to go back out to do the California Jam. We said no, but we were eventually forced into doing it."
Moreover, Black Sabbath had grown suspicious of Meehan. Osbourne complained: "Patrick Meehan never gave you a straight answer when you asked him how much dough you were making." Butler said, more bluntly: "We felt we were being ripped off." But with Meehan at the helm, Black Sabbath became a genuine international success. The three albums that followed Paranoid – Master Of Reality in 1971, Vol.4 in 1972, Sabbath Bloody Sabbath in 1973 – all hit the UK Top 10 and the US Top 20. By 1974 the band had all the trappings of success, the country houses and flash cars.
Shortly after their return from California Jam, the band notified Meehan of their decision to end their contract with Worldwide Artists. But Meehan was not going to give up one of the biggest rock bands in the world without a fight. 
Such was the managerial turmoil surrounding Black Sabbath that it took them almost a year to complete the recording of Sabotage. Geezer Butler sums up the band's state of mind during this period in four words: "Concerned, tired, drunk, stoned." Iommi was also reacting, on a deeper level, to the ongoing litigation with Patrick Meehan. "We were in the studio one day and in court or meeting with lawyers the next," the guitarist said. And his anger and anxiety fed into Sabotage. "The sound was a bit harder than Sabbath Bloody Sabbath," Iommi explained. "My guitar sound was harder. That was brought on by all the aggravation we felt over all the business with management and lawyers."
Mike Butcher had been the engineer on Sabbath Bloody Sabbath, and he was charged with producing Sabotage. Butcher recalls that the sessions ran to a loose schedule. "I'd arrive at two in the afternoon, but the band wouldn't start showing up until four. And because Morgan had a bar, that's where the guys would wait for the others to arrive. So most days, we'd start work at nine and go through till one or two the next morning." The drinking continued in Morgan's studio rooms 3 and 4. The band also had a plentiful supply of cocaine and marijuana: "Bags of the stuff," says Mike Butcher. During the actual recording, however, it was work all the way. "When it came to laying track, my intake of anything mind-altering would diminish somewhat," says Bill Ward.
The album was recorded at Morgan Studios in Willesden, north-west London, a state-of-the-art facility where Sabbath had made their previous album, Sabbath Bloody Sabbath. The band worked at Morgan for a total of four months, split into three-week sessions. Certainly Iommi's heavy riffing is the dominant tone on Sabotage, not least on the song chosen as the album's opening track, "Hole In The Sky", which begins with the hum of amplifiers set at maximum volume and a scream of "Attack!" The scream was an in-joke, delivered by Mike Butcher. 
Even heavier was Symptom Of The Universe, Sabotage's most famous and influential song. Its bludgeoning, staccato riff would provide the template for Metallica and countless other metal bands, but it was more than a one-note head-banger. It ended in a funky coda, created by the band jamming while recording the track and subsequently overdubbed with acoustic guitar.
Other tracks leaned heavily into experimentation such as "Supertzar," a driving instrumental with a grandiose choral arrangement. There were more left turns throughout the album. Iommi may have set out to make a more straightforward rock record, but Sabbath continued the experimentation they started on Sabbath Bloody Sabbath. And, ironically, it was Iommi who created the most bizarre and unorthodox song ever to feature on a Black Sabbath album. More atmospheric even than the song that gave the band its name, Supertzar was a darkly dreamlike piece featuring the English Chamber Choir, and described by Ward as "a demonic chant". Tubular bells, played by Ward, carried an echo of the 1973 movie chiller The Exorcist.  The only connection to conventional rock music was Iommi's slow guitar riff, played like a death march. Ozzy had no part to play on Supertzar, but what he heard as he observed the song being recorded was, in his words, "a noise like God conducting the soundtrack to the end of the world". Iommi said, with characteristic reserve, that "it sounded really different and really great".
In stark contrast was Am I Going Insane (Radio), essentially a pop song written by Ozzy on a Moog synthesiser, which he played on the finished track. "Oz drove us all nuts with that Moog thing," Ward recalls, "but the song was great. And in hindsight, it was kind of a precursor for his solo career. His personality was blooming on this song."
Ozzy's lyrics for the album's heavyweight final track, in which he poured scorn on Black Sabbath's tormentor, Patrick Meehan. 'You bought and sold me with your lying words,' Ozzy sang, before threatening a curse on his enemy. The song was named The Writ, a title that was suggested by Mike Butcher after Meehan's lawyers arrived unannounced at Morgan Studios. For Ozzy, writing and singing the words to this song had a therapeutic effect. "A bit like seeing a shrink," he said. "All the anger I felt towards Meehan came pouring out." And yet, for all the vitriol in The Writ there was a note of hope, and defiance, in its closing line: 'Everything is gonna work out fine.' And, in the short term at least, those words would ring true. Patrick Meehan would not break Black Sabbath.
Bill Ward believes it was sheer force of will that got Black Sabbath through the making of "Sabotage". "We'd taken some knocks," he says, "but we carried on. It was a tough band."
Rhino's upcoming Super Deluxe Edition boasts a remastered version of the original album plus a complete live show from Sabbath's 1975 tour.  The vinyl version only includes a bonus 7-inch single of the single edit of "Am I Going Insane (Radio)" b/w "Hole in the Sky," replicating a Japanese release.  The new album remaster will also be available via digital/streaming services.
"Sabotage", co-produced by the band and Mike Butcher in London and Brussels, received a July 1975 release in the U.S. while the U.K. release date wasn't until September.  It fared well in both countries, placing in the top 30 of the Billboard 200 and the top ten of the U.K. Albums Chart.  It eventually earned Gold and Silver certifications, respectively.  The album inspired a well-received appearance on Don Kirshner's Rock Concert and a successful U.S. tour that was only derailed when Ozzy was injured in a motorcycle accident.
That tour was the source of the composite show presented here on two CDs or three LPs.  Of the 16 tracks, 13 are previously unreleased.  The setlist represents the band's discography to that point with numerous songs from Sabotage including "Hole in the Sky," "Megalomania," "Supertzar," and "Symptom of the Universe."
The box set features a booklet with liner notes, rare photos, and memorabilia and clippings from the period as well as a replica tour book from the 1975 stop at Madison Square Garden and a replica tour poster.  Sabotage: Super Deluxe Edition is due from Warner Records/Rhino on June 11th.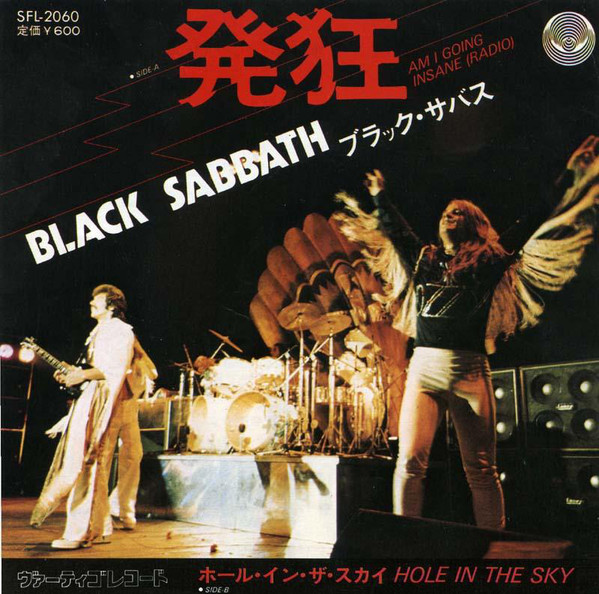 Black Sabbath, "Sabotage: Super Deluxe Edition" (Warner/Rhino, 2021)
The both box sets feature a newly remastered version of the album paired with a complete live show recorded during the 1975 tour. 13 of the 16 live tracks included are previously unreleased. The four-CD box set features the studio album and live concert across three CDs with a fourth disc effectively a CD single. It features the single edit for 'Am I Going Insane (Radio)' and 'Hole In The Sky'.
The vinyl box set features the same content across four vinyl records and those two extra tracks feature on a bonus seven-inch single, with artwork replicating the rare Japanese version of the single. All this music is accompanied by sleeve notes in a 60-page book (CD version – the vinyl is a 40-pager) that tell the story of the album through quotes from band members and the music media along with rare photos and press clippings from the era.
Also included in both packages is a 1975 Madison Square Garden replica concert book and Sabotage 1975 tour poster.
Sabotage is released on 11th June 2021, via BMG.