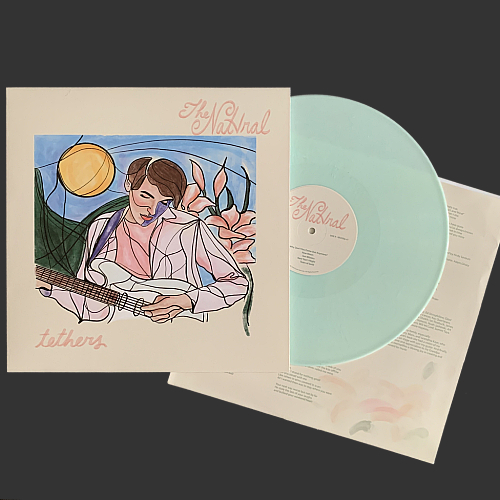 Former Pains of Being Pure at Heart leader Kip Berman will release the album "Tethers", his solo debut as The Natural, on April 2nd via Kanine Records. Warm and driven by Hammond organ, Kip says, "It's a song about how you don't always want what's for the best– and neither do I." 
As the frontman of The Pains of Being Pure at Heart, Kip Berman wrote songs about the thrills and ills of young adult life with the care and concern of a cool older sibling. The long-standing New York City indie-pop group disbanded soon after releasing their final record, The Echo of Pleasure (2017), and Berman found himself at a creative crossroads. He wanted to keep making music, but the themes and sounds he was interested in had shifted; it felt time for a course correction.
Enter Tethers, Berman's first solo record as The Natvral, which finds him coming to terms with the changes in his own life by observing those transformations in the people he's known – a self-portrait in relief. In the time between making his last record with his former band, Berman's life and location have shifted dramatically, as he welcomed a daughter, then a son, and moved from Brooklyn to Princeton. With his new identity as a parent came a crucial shift in how he approached music. Gone were the months in a cramped tour van and late nights rehearsing with his band in a windowless warehouse space. In its place were amorphous, suburban afternoons playing whimsical songs to two young children, while writing music for himself after their bedtime.
But in this time away from the life of a touring artist, Berman discovered an unvarnished, broken folk rock sound– a marked departure from his previous work. The Natvral, the solo project that sprung up in the final years of Berman's dearly departed Pains Of Being Pure At Heart, has thus far shared two singles from official debut album Tethers: "Why Don't You Come Out Anymore?" and "New Moon." Today he adds a third advance track.
As explained in promo materials for the album, "Sun Blisters" is about the freedom that comes with embracing your fate as a fuckup, and how that counterbalances with the emotional consequences of living in the margins. "In the end maybe I was wrong/ Laughing where only tears belong," Berman sings. "But love to you's just a pretty song/ And I'm a sour note." It surges along with the energy of a Blonde On Blonde classic — not to raise your expectations too high, but think of something like "One Of Us Must Know (Sooner Or Later)." It's strengthening the case that Berman can write great songs in just about any historical rock milieu you throw at him.
Berman says of "Sun Blisters": "It's a song about how you don't always want what's for the best– and neither do I." Stereogum says "I'm loving these Dylan-inspired bangers from Kip Berman!"
From The Natvral album "Tethers'