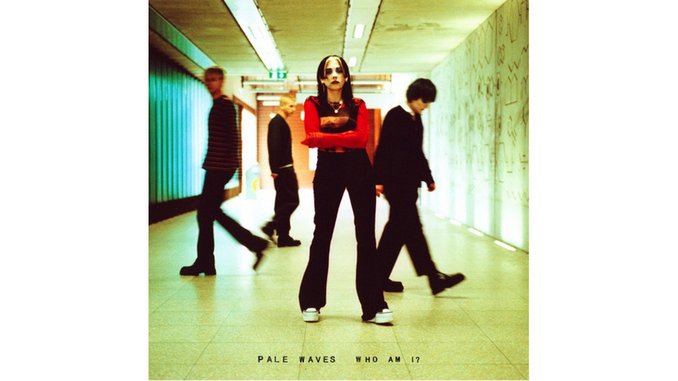 Pale Waves from the band's very beginning. They had the dark, brooding look of an '80s goth act, but a discography full of danceable pop hits. Even while receiving acclaim as the NME Under The Radar Award winner before their debut album's release, they caught heat from critics for sounding too much like other indie-pop artists. With all of the discourse on the individuality of Pale Waves (or lack thereof), their second album "Who Am I?" amplifies the qualities that caused fans to label them as the next big thing
Pale Waves are looking forward to calmer waters in 2021. Last year promised so much—the release of their sophomore album and an ensuing world tour, for one thing—but amid the COVID-19 pandemic, the UK indie rock band found their usually steady boat rocked by rough seas.
A near-deadly tour bus crash last March wasn't the only life-altering event that they endured (drummer Ciára Doran, lead guitarist Hugo Silvani, and bassist Charlie Wood were lucky to escape with their lives). Self-identity struggles plagued Doran and lead singer Heather Baron-Gracie, and the usually tight-knit duo found themselves butting heads over their next album's musical direction. Add in a life-threatening virus that completely changed how records are produced, and the physical and mental impact of numerous setbacks was taking their toll.
And yet, hope sprung eternal. The pandemic's arrival allowed Doran, Silvani, and Wood to recover from their injuries. For Baron-Gracie, the global shutdown provided the opportunity for some long-overdue self reflection—a period that has not only led to Pale Waves' frontwoman being more open about her sexuality and inner demons, but one that lit a creative fire.
Born out of that soul-searching is "Who Am I?", Pale Waves' second LP that is equal parts post-grunge and pop-rock, a middle finger to societal labels and a haven for anyone who feels lost or alone. Speaking to us over Zoom, Baron-Gracie revealed the unusual influences behind the album, discussed comparisons to The 1975, and shared why the foursome are closer than they've ever been.
Pale Waves excels at making the personal feel relatable on "Run To" and "Tomorrow." While "Run To" is told from Baron-Gracie's perspective and "Tomorrow" is a collection of stories from others, both songs take an optimistic view of the growing pains that arrive with coming of age as an outcast. With catchy and relatable one-liners like "sexuality isn't a choice" and "everything is going well / except my mental health," the band reaches through their past of stifling small towns and feelings of hopelessness to uplift fans who know their feelings all too well.
"Who Am I?" opens with "Change," a track that trades the '80s glam synths of Pale Waves' debut album My Mind Makes Noises in for a '90s-inspired acoustic guitar. The switch-up is perfect for frontwoman Heather Baron-Gracie's vocal prowess, with the singer's voice landing somewhere between the pop-with-an-attitude of Avril Lavigne and the raw emotion of The Cranberries' Dolores O'Riordan. This isn't to say Pale Waves floats by on the nostalgia factor alone—the band translates their many inspirations into their own brand of indie pop that feels perfectly fit for 2021, with their lyrics bouncing between relationships, identity and mental health. On an album centered around a question of identity, the band is at their strongest when shouting out the answer. Few songs on the record compare to "You Don't Own Me" in terms of pure anthemic pop-rock, as Baron-Gracie defiantly asserts, "You don't own me / and I'll do whatever I want to" in the face of everyday misogyny.