"Station to Station" is an odd album for me, in that I feel I would probably have a higher opinion of it than I do were it not for the album that immediately preceded it. It's not that I prefer "Young Americans", far from it, but I feel that if Bowie had been able to make a smooth transition from the Glam-flecked dystopia of Diamond Dogs to the disconnection of Station to Station, I may have a far higher opinion of Bowie's late 70s work.
As it is, Station to Station is a vast improvement on the shiny and disposable Young Americans, but there's nothing on it to lift it to the level of anything from his early 70s hot-streak. That said Station to Station does have its moments, none more so than its epic title track, which brilliantly re-establishes Bowie as an artist of genuine depth after his previous stumble from greatness. "Golden Years" follows up the title track with a sprits of the type of funk soul that Bowie had dabbled with previously, but was an enjoyable single nonetheless.
The thing about Station to Station though is that while it gave notice that Bowie hadn't totally lost his marbles, it also simultaneously marked the point where he traded 'entertainment' for 'serious artistic statement', and to me at least, became a lot less fun. That's not to say that the albums from this era are without charm, but for me they suffer in comparison to his earlier work which managed to juggle rock, artistic statements, great song writing and brilliant entertainment. For me Bowie's albums from Station to Station through to Lodger just took themselves to damn seriously.
Legend has it that David Bowie was so lost in a vortex of cocaine and ego during the making of this record to such a degree that he now can't remember anything about its creation at all. Typically though, in the midst of all this madness he created a masterpiece, and arguably his greatest album of all. With a hint of the funk of influence of 'Young Americans', yet filtered through a glacial European sensibility, it's a genre-transcending tour-de-force of boundless scope and imperious swagger. Forty-one years on, this record still sounds like the future.
David Bowie's masterpiece or not, "Station to Station", was released this week in 1976, its creation fuelled by "astronomic" cocaine, peppers and milk, an Aryan zombie alter-ego, a mental breakdown with a Hollywood backdrop, the Kabbalah, and finally a desperate search for love and meaning amid profound spiritual confusion.
It's also a sonic masterpiece on a level un-attempted before or since, having been variously described as the merger of "Lou Reed, disco and Dr. John," "space funk," "alien dance music" with "a wail and throb that won't let up," "a masterpiece of invention" and, according to long time Bowie collaborator Brian Eno (who was not involved with Station to Station but would produce his imminent Berlin trilogy), "one of the great records of all time."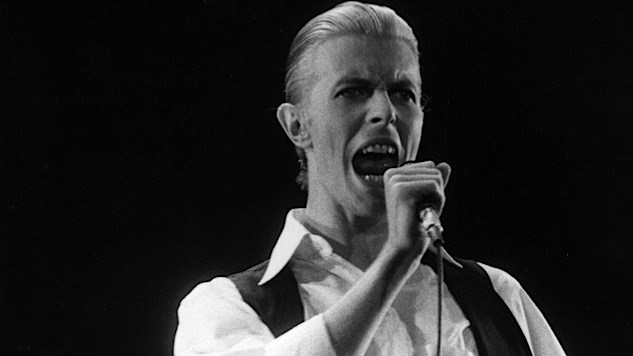 The title track kicks off the LP with the sound of a train shoving off—for about 75 seconds, part of an instrumental opening that's longer than many songs. Then comes the entrance of "The Thin White Duke," whom Bowie described to Crawdaddy magazine as "The most scary of the lot [of characters he created] because he was the result of all those years of putting characters together. He was an ogre for me. I hadn't seen England for a few years and when I got back there I found that I'd taken back to England with me a character who was the epitome of everything that it looked like could be happening to England. I saw the National Front and it was obvious to me: There was a Nazi Party in England. Whether or not it was a good thing that I did, I don't know. I believe the best way to fight an evil force is to caricature it."
Somehow the opening track that goes on for over 10 minutes (and really is three songs in one) doesn't seem remotely self-indulgent. In fact, the most thrilling thing about the song and the album generally is that it's so close to completely falling apart, yet not only holds together but soars. After the prog-rock(ish) title track, the album recaptures the white soul of Bowie's previous record, Young Americans, with "Golden Years" (which Bowie said he offered to Elvis Presley), then rocks in full guitar-hero fury with "Stay." Here's a live version of "Stay" from that same 1976 show at the Nassau Coliseum in New York.
Bowie deconstructs and then reconstructs a pop masterpiece in "TVC 15," and croons with a passion so pronounced it almost seems unreal—and maybe that's what makes "The Thin White Duke" most frightening—on both "Word on a Wing" and "Wild Is the Wind." Every track is enthralling.
Half a decade after writing himself into fame with the intergalactic rock messiah Ziggy Stardust, David Bowie was in danger of crash-landing – just like Thomas Jerome Newton, the extraterrestrial he had assumed the role of throughout August 1975. Though there's some debate about this, Station to Station was reportedly a failed soundtrack for 1976's The Man Who Fell To Earth, Bowie's first big-screen credit. That would make it the second rock masterpiece to hold that distinction, as The Who's Who's Next was an abandoned soundtrack for a planned Peter Townshend film (Lifehouse) that seemed to drive Townshend to the edge of insanity, to the point where his bandmates could no longer even follow what he was trying to say.
In deference to the demands of the movie, resolved to lead a clean life, when he returned to Los Angeles, preparing to work on what would become his new album, "Station To Station", Bowie was at a spiritual, psychological and artistic crossroads that would eventually lead to one of his greatest albums
According to Crawdaddy's Timothy White writing 40 years ago, "Bowie shuttled from house to house around the Hollywood area, sometimes staying with onetime Deep Purple bassist Glenn Hughes and later moving in with his next (ill-fated) choice for a 'business adviser,' Michael Lippman, before leaving for a three-month stay in New Mexico to star in Nic Roeg's uneven sci-fi film, 'The Man Who Fell to Earth.' Reappearing shortly thereafter at Cherokee Studios in Hollywood to record, Bowie was, to quote Lippman, 'in a very weak mental state.'"
Reportage at the time had Bowie seeing ghosts, worrying about witches stealing his semen and living in fear of rock's reigning master of black magic, Led Zeppelin's Jimmy Page. "I had this more-than-passing interest in Egyptology, mysticism, the Kabbalah, all this stuff that is inherently misleading in life," Bowie recalled in 1983. Black magic, Aleister Crowley's late-19th-century collection of occultist poetry, White Stains, and the Stations Of The Cross also filled his head. Pushing himself to extremes, Bowie kept increasingly long hours ("There's things that you have to do to stay up that long," he later acknowledged) that would see him enter a "hallucinogenic state" in which he envisioned "this bizarre nihilistic fantasy world of oncoming doom, mythological characters and imminent totalitarianism", he reported seeing a body fall past his apartment window, so had taken to living with the blinds drawn, lighting black candles and scrawling chalk symbols around the place, in the hopes of warding off evil spirits.
As sessions for "Station To Station" unfolded, however, it became clear that Bowie was pursuing an entirely different vision, and was spending more time than ever in the studio trying to capture it.
But in the studio, Bowie was grounded by a band that was perhaps the best he ever assembled: Carlos Alomar and Earl Slick on guitars, Roy Bittan of E Street Band fame on piano, plus long time rhythm section Dennis Davis on drums and George Murray on bass. Earl Slick was key, with Bowie later saying to Kurt Loder as part of the Sound + Vision boxed set, "I got some quite extraordinary things out of Earl Slick. I think it captured his imagination to make noises on guitar, and textures, rather than playing the right notes."
More recently, Slick said, "It was a very important record artistically because it was the first time somebody took pop songs and twisted the hell out of them but didn't lose the essence of the song. The only person who was really doing 'out there' shit at the time was Zappa, and that was wonderful but it was Zappa. This wasn't avant-garde, this was pop stuff and nobody had approached a record like that."
You've got play around with it or it gets to be a dreadful bore." Pulling apart the notions of conventional song writing, Bowie would bring formative ideas to the core group of Alomar, Murray and Davis in the studio, fashioning finished wholes out of an array of takes that turned these fragments inside out. "He had one or two songs written, but they were changed so drastically that you wouldn't know them from the first time anyway,"
Bowie would later claim Station To Station was so "devoid of spirit" that "even the love songs are detached", it contains two remarkable outpourings of emotion that are almost painful in their defencelessness. A "hymn" which Bowie also felt "sure… was a call for help", Word On A Wing was written during The Man Who Fell To Earth shoot, and finds Bowie plainly seeking spiritual salvation amid "the darkest days of my life". "It was the first time I'd seriously thought about Christ and God in any depth," he revealed to the NME, adding that it "was a protection. The passion on the song is genuine." Closing the album, Wild Is The Wind – a cover of a 50s film tune which Bowie had discovered through Nina Simone's 1966 recording – was similarly yearning. With a vocal nailed in one take, it marked yet another progression for Bowie, in terms of his abilities as a singer. Having long admired Elvis Presley and Frank Sinatra, Wild Is The Wind proved he had the range and nuance to take his place alongside them as one of the all-time great vocalists.
Dramatically entering the song "throwing darts in lovers' eyes", the Duke, with his haughty demeanour, slicked-back auburn hair and monochrome clothing – white shirt, black slacks and waistcoat – was, in Bowie's estimation, a "nasty character, indeed". But he also pointed the way to his creator's eventual rescue from LA. Acknowledging the new musical influences Bowie was gravitating towards, the Duke, Bowie never went back to either the Thin White Duke or that sound again. No one did. Maybe it was the product of so many destructive forces that he couldn't revisit. As for the rest, it's just too perfect and fully realized for anyone else to dare pick up.
In the case of Bowie's relocation to Europe, one of those moves would be literal, and would find him laying the blueprint for the future of music, starting with the first album in his "Berlin Trilogy", 1977's Low. However, a deep psychological change had also taken place. Two decades after Station To Station's release, Bowie reflected on how he had been "lucky enough to know somewhere within me that I was really killing myself, and that I had to do something drastic to pull myself out of that".