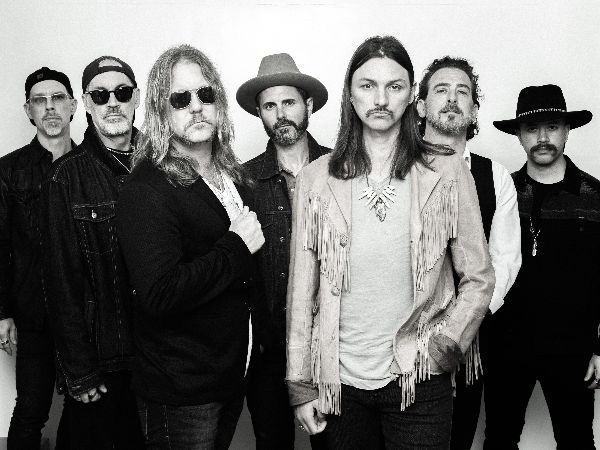 The Allman Betts Band has returned with their stunning sophomore album "Bless Your Heart". The band recorded at Muscle Shoals Sounds Studio on two-inch tape, just as they did with their debut, Down To The River. The band enlisted veteran producer Matt-Ross Spang (Jason Isbell, Margo Price, John Prine and Elvis Presley) who also produced Down To The River. Bless Your Heart shows the band stretching their musical legs making it quite apparent that they have gelled into a tour de force. The musical themes in their latest effort hit on everything from serious and deeply personal themes, to light-hearted music that will make you want to boogie.
If Down To The River was the sound of the band's combustible sparks igniting, then Bless Your Heart is their bonfire, built for the summer of 2020 and beyond; a double-album follow-up fuelled by road-forged camaraderie and telepathic musical intensity, vibrantly reflecting the individual and collective experiences of these seven, all drawing inspiration from the band's symbolic hometown—a place Devon Allman calls "the United States of Americana.
Although I liked The Allman Betts Band debut album, it did not leave a real lasting impression. This album is a very different story. I love it. The musical inspirations are obvious but Devon Allman and Duane Betts are not slaves to it and add their own take on the Allman Brothers Band musical legacy.
Devon and Duane are joined by another musical family member Berry Duane Oakley on bass, honouring his late father Berry Oakley. This being a Southern Rock tinged effort, you need three guitars and Devon and Duane are joined by Johnny Stachela on the slippery slide guitar. Also noted keys player John Ginty adds some great background colouring on the Hammond and the Rhodes. Of course there had to be two drummers, stand up John Lum and R Scott Bryan.
The opening track 'Pale Horse Rider' really sets the mood and proves that Devon Allman is a fine singer, a broody and stormy piece with the guitars all combining perfectly. 'King Crawler' could easily pass for a track off 'Exile on Main Street' by the Stones with great sax work by Art Edmaiston . The 12 minute instrumental 'Savannah's Dream' brings back memories of the Allman Brothers debut, Devon and Duane plus Johnny do Duane and Dickey proud with their guitar work. Devon and Duane's singing impresses throughout.
There is so much to enjoy here as the long running time of 13 tracks and 71.15 minutes really give the songs a chance to breath and the band the opportunity to flex their considerable musical muscles.
This is a very good album by any classic rock standard.
Picking up from where the Allman Brothers Band left off, Devon Allman (son of Gregg), Duane Betts (son of Dickey) and Berry Duane Oakley establish their own identity on their sophomore release.