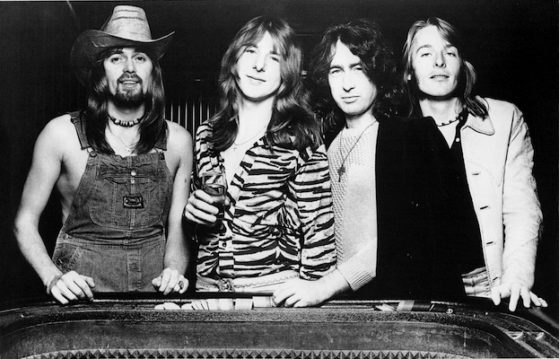 The original band: Paul Rodgers (vocals), Mick Ralphs (guitar), Boz Burrell (bass), and Simon Kirke (drums) – formed from the offshoots of three bands: Free, Mott the Hoople, and King Crimson – was one of the greatest British Rock super groups of the 1970s. Rodgers is and always was one and still is of the finest British Rock singers.
Their first three albums "Bad Company," (1974), "Straight Shooter," (1975), and "Run with the Pack, " (1976) all crashed the Top 10. Singles such as "Bad Company," "Can't Get Enough," "Good Lovin' Gone Bad," and "Feel Like Makin' Love,' are all standard fare on Classic Rock stations. Later albums "Desolation Angels," (1979) and "Rough Diamonds," (1982) where the end of the line for the original group, but the band soldiered on with variable personnel until the end of the 90s. Except no substitutes: the original band left their indelible mark on the History of Rock. It is long past due for Bad Company to be inducted into the Rock and Roll Hall of Fame.
Sometimes rock is just rock. The blue-collar kind that doesn't aspire to be artsy, that just wants to hit and finesse bedrock sounds that give fans a good-time . Coming at the end of the classic rock era, Bad Company aimed at that mark—and for the first two albums, mostly hit it. As they steered between overstuffed prog-rock and introspective singer-songwriters, they pared back roots-rock styles to be lean and mean. But they tucked in nuances that, listening today, make the hits you've heard so many times pop with subliminal surprises. For a while. Then they and the arena-rockers who rose in their wake turned their discipline and chops into radio-ready formulas—and helped paved the way for punk's extreme rock teardown and reboot.
In 1973, Paul Rodgers finally abandoned Free and was touring as opening act for Mott the Hoople, the glam-meets-proto-metal agglomeration boasting the fierce, rangy guitar of Mick Ralphs.
Ralphs, as it happened, had had enough with Mott, and one reason was the song he was playing for Rodgers that had the singer's ears pricked up. Mott didn't want it. (They turned down David Bowie's "Suffragette City" and "Drive-In Saturday" too.) But Rodgers most definitely did.
Free's stock in trade was a restraint and airiness that popped because it cut against the grain of many late 1960s trends. But the band ultimately came to grief over a widespread problem: drugs. Guitarist Paul Kossoff couldn't stop—and didn't until he was dead.
As soon as he heard Ralphs' new tune, "Can't Get Enough" became the seed Bad Company sprang from. Rodgers suggested they join forces. The distinctive guitarist's models included James Burton and Steve Cropper, masters of classic minimalism. Paul Rodgers' singing idol was Otis Redding, a master of phrasing and Cropper's Stax primo songwriting partner. And they both heeded the advice of blues master Alexis Korner who doled out to his many acolytes: less is more.
So the embryonic Bad Company started with a mission: to reformulate blue-collar roots-and-blues rock and avoid the growing excesses of so much early 70s album rock, stripping it down to essentials in themes and sounds.
Rodgers soon tapped Free's drummer Simon Kirke, into the band who'd taken off for Brazil to escape the last debacle. After auditions, they settled on Boz Burrell, on bass late of prog-rockers King Crimson, who Korner dubbed "the most natural bass player I've ever heard."
Plucking up his courage, Paul Rodgers called on ex-wrestler Peter Grant, Led Zeppelin's feisty six-foot-five biz guru. Grant signed them to Zeppelin's Swan Song label and brought them up to Headley Grange, Zep's mansion/rehearsal studio, enlisting Ronnie Lane's mobile recording unit.
While other outfits were stretching studio time to often extravagant lengths, these four vets produced the disc themselves in two weeks. Now, they knew Zep was coming in to reclaim their space for what became 'Physical Graffiti'. But that didn't really affect how they worked. They knew exactly what they wanted.
You can think of 'Bad Company', the band's debut, as a kind of genre study, where they cast their essentialist spell over a wide range of roots-rock sounds track by track.
It's fitting they open with Ralph's seminal "Can't Get Enough." The tune's lean sound sets the template for what Bad Company is all about. Its loping blues-rock shuffle has a jaunty assertiveness that hones the sexual edge, thanks to the driving rhythm section.
Kirke lives up to his rep as one of rock's hardest-hitting drummers, an effect heightened by his way of leaning back on the beat and maxxing out on minimalist fills—one of his heroes is the MGs' Al Jackson Jr. And Burrell avoids Crimsonesque filigree as he threads his full-toned, subtly complex lines between Kirke's bass and snare drums, dovetailing with his offbeat fills, creating finesse that pumps their power. They repeat that nuanced dance throughout Bad Company's best tracks.
Rodgers is often compared to fellow Otis fan Rod Stewart as one of the time's premier singers, and here his skillful plotting of phrasing and delivery builds tension and release as he deploys his considerable timbral expressiveness. Catch how he never repeats himself on the rideout.
Ralphs, as he was in Mott, is the joker in the pack. Here he's tuned to open C (C-C-G-C-E-C), which gives those imploding power chords their peculiar ring. His tone is creamy but edgy as his double-tracked solo torques unexpected notes with Albert King-style bends jangling with dissonant overtones. A helluva kickoff: elemental rock presented with airy sonics that enhance its verve. No wonder it's still their biggest hit, .
"Bad Company" The piano-driven title track, its music inspired by spaghetti Westerns with a touch of Joni Mitchell's "Woodstock," demonstrates how adept Bad Company can be with the midtempo feels that define most of their output. Moody, dark, macho, and ominous, it's a bad boy's dream of imaginary showdowns during the time when Peckinpah and Leone and Eastwood were reinventing Westerns, and its sound shaped all the Bad Company wannabes from Foreigner onwards.
Here Rodgers goes for the gold with his passionate expression: he cut these vocals outdoors under a late fall full moon via what Kirke called "the longest microphone wire ever."
For the music industry, the band's timing and aim were perfect. AOR radio had emerged to showcase the tsunami of singer-songwriters who were spearheading soft-rock, which drew boomers looking for introspective retreats from a tumultuous world. But Bad Company met them halfway. Their sound, lean but crunchy a la Stax, allowed AOR program directors to slot them alongside mellower stuff without jarring listeners.
They'd ride that horse to the top of the charts for years—just as Rodgers had hoped when he teamed up with Ralphs. "Ready for Love" recalls Free, even though Ralphs, not Rodgers, wrote it. The ballad stays tensile and coiled till the choruses, when it bursts into heavier rock; the dynamic contrast adds heft.
The soulful ballad called "The Way I Choose" is a Stax homage complete with fine female backup singers and solid horn section, showcases both Rodgers' and Ralphs' love and intense feel for the idiom as they play Otis and Steve with their call-and-response phrasing.
"Movin' On" rejiggers that rock perennial, the I'm-hittin'-the-road song, complete with startling wah-wah squibs answering Rodger's throaty, soaring vocals. "Don't Let Me Down" is the songs many fans love to hate…mostly because they think it's uncharacteristic. They're sorta right. Here the quartet recombines bits of the Beatles song into the album's most ambitious composition, laced with yearning sax and churchy harmonies.
In 1974, even essentialist blue-collar rockers had to test their reach sometimes. Witness "Seagull," which lays bare the weakness in Bad Company's firepower the lyrics. Now, this tune is just one of those endless fantasy trips of the time, like Zep's "Stairway to Heaven," whose lyrics really don't make a whole lotta sense either. So no biggie by itself. But their lackluster-or-worse lyrics would become the band's creative Achilles heel as time went on.
By 1974, the heydays of clubs and mid-sized venues like the Fillmores were mostly nostalgic history. Sports stadiums, converted hockey and basketball arenas, anywhere a promoter could push tens of thousands of tickets for a lucrative but expensive package of acts was where the big action was.
Technology hadn't exactly kept pace, though, so musicians and fans alike struggled with little things like hearing the details of the music. By the finales of too many shows, struggling sound mixers battled with overwhelmed sound systems and musicians' monitors, standing waves built and clashed, and the music became at best blurred, at worst a wall of murk.
Rodgers' Free did one of the earliest oversized-venue tours as openers for moribund Blind Faith. Their crisper, taut sound managed to stay more intelligible in horrific Madison Square Garden than the headliner's. Maybe Rodgers knew something: at the time Bad Company was one of the rare arena acts whose sound at least started well.
So they were made for this moment. After their debut, they opened for the likes of The Who, Edgar Winter, ZZ Top, Santana, Joe Cocker—usually fourth on any big bill. In September 1974 they headlined at New York's outdoor Wollman Rink, a prestigious but smaller venue. The following spring, when they returned to America, they were the headliners at caverns like Philadelphia's Spectrum and the Dallas Convention Center.
Rodgers & Co. learned to use charisma and staging to tame these forbidding spaces for effect and create a sort of suspended-disbelief intimacy. The strong clarity and driving power of the material helped; their disciplined arrangements translated to stadiums without much overt loss.
So it's kinda ironic that they didn't release a live album until much later, although Ralphs recorded them regularly so they could self-critique. 'Live in Albuquerque 1976' was from one of those high-quality tapes. But it was quickly withdrawn as a "bootleg," and years passed before any live Bad Company saw official daylight.
Too bad, onstage at these hangar-sized venues is where they made the commercial promise of their debut stick, and made the moniker "supergroup," tagged onto them with the wanton profligacy of the day, a reality. Radio play, arena tours, and album sales dovetailed into Bad Company becoming a million-dollar industry—and a template that the ever-expanding music business would try to duplicate from now on.
Bad Company got tarred with all those bad epithets. But listening back to their early stuff now, I'm remembering how much they had to offer before they, like their knockoffs, became too formulaic for me to care.
'Straight Shooter'
One of the funny after-effects of Bad Company hits being all over the radio and damn near every bar on the planet for years and years is that it can make you forget how much range they had, even within their self-imposed focuses.
Their debut makes that undeniably clear. Their followup follows suit. Musically, that is; there are still some great hooks and the band's arrangements usually max out on their four-way strengths and inventiveness. But their lyrics, never their strong suit, range from good to workable to ouch.
Unlike Stewart, who knew the value of covering strong songs by others, Rodgers was obsessive about sticking to material the band generated. That may have helped keep the quartet on target stylistically, but their variable lyrics would increasingly depend on the music's seductive power to get over.
Their second album also reflects their new status as arena rock stars sonically and conceptually, as they edge away from their blues-and-roots foundations. But their artistic sleight-of-hand coupled with their commitment to rock basics and sonic clarity still powers mostly solid-or-better material.
'Straight Shooter' fires from the hip with its opener, "Good Lovin' Gone Bad." It's pure hard-rock blast over raunchy power chords and a four-to-the-floor beat that chugs along till the turnaround that sets up the refrain, when it dissolves and floats for a bit, then slams back into gear. Pacing can be everything.
Take how Rodgers edges as near to metal-screamer mode as he ever gets, yet still manages to keep his phrasing distinctive, unlike the million headbangers coming up in Robert Plant's wake. Ralphs' guitar threads the agile rhythm section's parade of nuanced change-ups with the grungy edges and blues phrasing he could dial up with the best.
Next up: the alchemical power ballad "Feel Like Makin' Love." Its country-tinged verses and cool minimal guitar lead vividly illustrate this group's nimbleness and rearranging rock's building blocks in ways that are simultaneously familiar but refreshingly new: catch the subtleties lining the long coda as the crescendo builds.
Kicking off as a hard funky strut, "Wildfire Woman" is fueled by the powerful grooves these guys can routinely deliver even as they hew mostly to mid-tempo rhythms. Ralphs' winding, snarling guitar sets off Rodgers' vocals with the finesse he learned from studying Cropper with Redding et al; the bonus is we get a wacked-out slide solo too.
Ballads are tricky, and drummer Kirke doesn't really care any more than his bandmates about piercing into the warp and woof of relationships. Fair enough: they were a hard-rock band aimed at young males and saw the singer-songwriter wave around them as "wimpy."
So the music rides to the rescue of Kirke's compositions: the gospel-flavored sound of "Anna" saves the song. And incidentally reminds us that, hey, most of Otis's and Wilson's and other soul hitmakers' lyrics rarely rose to poetic heights; they were deliberately simple, elemental, laced with sexual hormones the music also stoked behind the riveting vocal delivery. Ditto the country-tinged "Weep No More."
"Shooting Star" and "Deal with the Preacher" take off from rock staples: premature death by drugs (by 1975 the rockers' list was plenty long) and a bad boy's refusal to "make a deal" about love with a wedding that's a "bargain in heaven." Both became live-set favorites for fans.
Rodgers' dynamically shapeshifting vocals, Ralphs' ever-morphing guitars, and one of the outstanding bass and drum teams of the period combine in smart arrangements that lend their recycled narratives the extra emotional resonance they need. Which, from now on, will become increasingly true.
'Run with the Pack'
With their third album, the falloff in quality begins. The material feels thin, with too many retouched updates of earlier tracks. There are exceptions: the piano-centered "Silver, Blue & Gold," another onstage fave unwrapping the tenderness Rodgers could deliver, has aged well.
They'd obviously mastered crafting radio-friendly rockers, which they repeat here with the scorching "Live for the Music" and the hard-driving "Honey Child." But the freshness of the first two albums is fading. It's one measure of how tapped or desperate for something new they felt that they tried cover the old Coasters novelty song "Young Blood." Ironically, 'Run with the Pack' was the first Bad Company album to go platinum. Maybe it's one measure of the group's success that their basic concept—lean sound, catchy hooks and so on—not only got them the mass audience they aimed for, but made fans so loyal they kept on buying in.
The original line-up made three more desultory albums, one even larding the group's streamlined sonics with synths and strings. It didn't really matter. The album tanked but they kept selling out supersized venues until the late 1970s, when they finally got tired of the whole circus—the mammoth exhausting tours, the album-per-year contractual obligations, the mounting commercial and artistic pressures.
Why wouldn't they? As Rodgers once explained, "There's more subtlety in what we do than just hammering the hell out of people. We grab the audience and take them somewhere. The idea is to combine mood and excitement, with subtlety as the third ingredient."