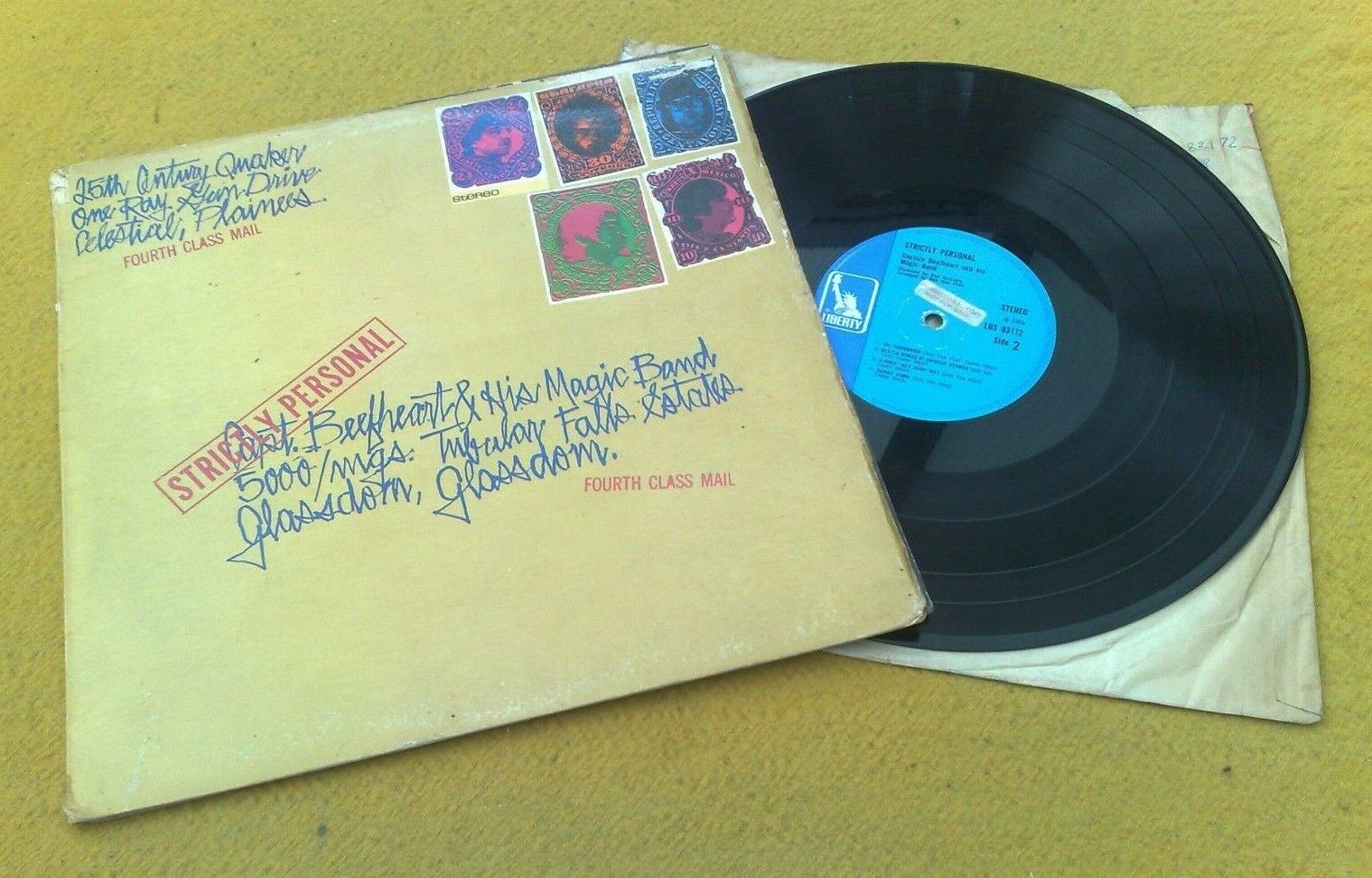 An overview of Captain Beefheart's 1968 studio album "Strictly Personal", Ultimately a failed attempt at a double album (the partner project released years later under the title, 'Mirror Man'), this second record from Beefheart and his unwavering Magic Band is a pivotal point in his career whereby it provides a nod to the past (the debut, 'Safe As Milk') and prognosticates things to come ('Trout Mask Replica'). This album comfortably bridges the predictable and "formulaic" nature of the songs on the debut, yet takes the music in unconventional directions; just listen to the song "Son Of Mirror Man – Mere Man" or "Kandy Korn" to illustrate the point. Gone are the traditional Blues song forms, yet the soul and musical vocabulary used is still very rooted deeply in that Delta Blues style.
The songs still have a strong semblance of unity where the instruments largely play in complementary ways while the vocals follow, yet diverge and are clearly becoming more abstract in definition and delivery. Opening with "Ah Feel Like Ahcid," an a cappella blues workout with its roots in Son House's "Death Letter," the brief (barely 35 minutes) album is at the same time simpler and weirder than Safe As Milk had been.  'Beatle Bones 'N Smokin' Stones' might just be the signature tune of the album to foreshadow what is to come…the breakdown of conventional forms, idioms, expectations and ultimately what could be done in a "Pop/Rock" format was galvanized with this album. It wasn't until 'Trout Mask Replica' that it was completely realized.
The Captain; He frustrated, hurt, abused, rebuked and demoralized more than a handful of musicians in his artistic pursuit of absolute freedom. While I think that he achieved his goal…and created unparalleled music in the process, the result is timeless and "tip my cap" to all of those who bore the weight of his tyranny, persevered and ultimately created this incredibly groundbreaking music.
Producer Bob Krasnow was the owner of Blue Thumb added phasing and reverberation effects to the recordings, which have since been the topic of much discussion among music fans and critics. The original intention was to record the album for Buddah Records entitled "It Comes to You in a Plain Brown Wrapper" (Strictly Personal's sleeve design is a relic of this initial concept). A considerable amount of material was recorded for the project during the period of October–November 1967 with Krasnow producing. Buddah Records, however, declined to release the album, which appeared in revised form the following year. Strictly Personal features re-recorded versions of songs from the 1967 sessions. Beefheart subsequently condemned the production. He said the effects were added without his knowledge or approval. These comments became public only after sales of the album failed to reach expectations. It has been claimed by other band members that he initially agreed to the use of these sounds. Regardless, Beefheart did release his later recordings with a much more basic and unprocessed sound.  The CD I May Be Hungry But I Sure Ain't Weird contains all of those '67 tracks, except Korn Ring Finger recorded for the sessions.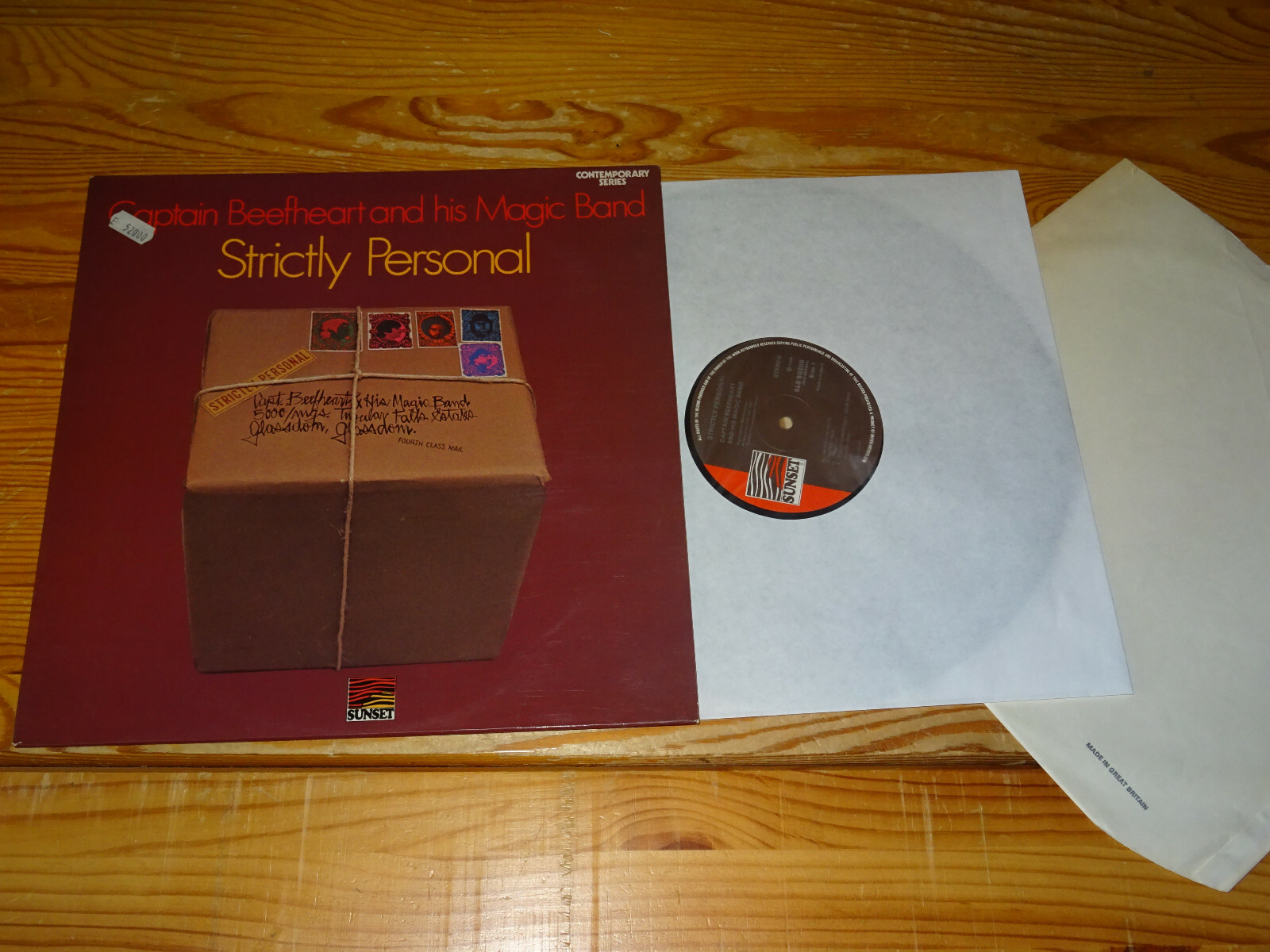 Buddah released some recordings from the earlier sessions, along with an earlier version of "Kandy Korn", as Mirror Man in 1971. Much other material from the 1967 sessions has since been released: This album has long since been out of print, but all eleven tracks can be found spread across The Mirror Man Sessions and the current version of Safe as Milk. Some of these tracks were also used for a vinyl-only release by the Sundazed label in 2008 bearing the original intended title of It Comes to You in a Plain Brown Wrapper but this release does not duplicate the original album's concept or sequence.
'Strictly Personal' is not only required listening to every Captain Beefheart fan, I think it deserves mention of one of the most Avant-Garde albums in the Pop/Rock genre (is that even possible?!?!) Hopefully, some who visit this page will investigate this landmark recording and comment on my emotions, but this is a Huge milestone in his development as a "musical" artist and what (along with a healthy dose of competition he felt with fellow friend and maverick, Frank Zappa) created the Beefheart aesthetic.
thanks for words by Brent Rusche
Originally released in October 1968 as the first album on the Blue Thumb Records
The Magic Band:
Don Van Vliet – vocals, harmonica
Alex St. Clair – guitar
Jeff Cotton – guitar
Jerry Handley – bass
John French – drums