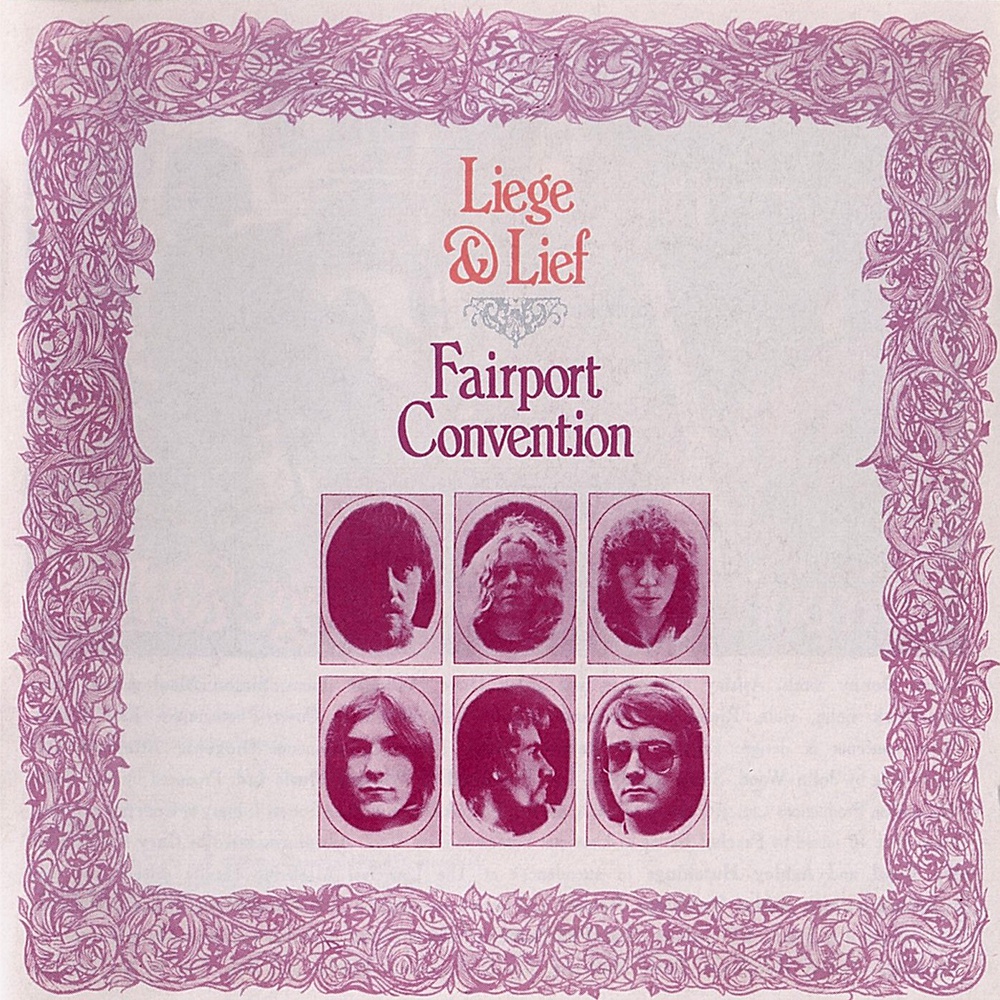 This incarnation of Fairport Convention comprising lead vocalist Sandy Denny and newcomers Dave Swarbrick and Dave Mattacks, together with founder members Richard Thompson on lead guitar and some vocals, Simon Nicol on rhythm guitar and Ashley Hutchings on electric bass, rehearsed and put together the album "Liege & Lief" over the summer of 1969 at a house in Farley Chamberlayne, near Braishfield, Winchester, launching its material with a sold-out concert in London's Royal Festival Hall on 24th September that year. Liege & Lief  was the fourth album by the English folk rock band . It is often credited, though the claim is sometimes disputed, as the first major "British folk rock" album, It is the third album the group released in the UK during 1969, all of which prominently featured Sandy Denny as lead female vocalist (Denny did not appear on the group's 1968 debut album). 
Gone were the covers of songs by Bob Dylan and others, replaced by electrified versions of traditional English folksongs ("Reynardine", "Matty Groves", "The Deserter", "Tam Lin"), new compositions by band members but with a "traditional" feel ("Come All Ye", "Farewell, Farewell", "Crazy Man Michael"), and the first of a long line of instrumental medleys of folk dance tunes driven by Dave Swarbrick's violin playing. The virtuoso fiddle and mandolin player Swarbrick, was a little older than the rest of the band, had already been in a successful duo with guitarist Martin Carthy. After his appearance on Unhalfbricking, he joined Fairport full-time. Much of the traditional material had been found by Hutchings in Cecil Sharp's collection, maintained by the English Folk Dance and Song Society, although Swarbrick has elsewhere claimed credit as the source of the traditional material used.
Also rehearsed and/or recorded, but omitted from the final album, were versions of The Byrds' "Ballad of Easy Rider", the traditional ballad "Sir Patrick Spens" with Sandy Denny on lead vocals, and "The Quiet Joys of Brotherhood", a Richard Fariña lyric he had set to a traditional Irish melody, the last two of which were to appear in different arrangements on later albums by Fairport Convention and Sandy Denny, respectively.
Liege & Lief is composed of two Middle English words: liege meaning loyal and lief meaning ready. The cover, a gatefold in grey and purple, featured cameo images of the band along with track listing and credits. On the inside of the original gatefold cover, a set of illustrated vignettes told the story of ten different aspects of English traditional music and folklore, including notes on customs such as pace-eggers and the Padstow hobby-horse, as well as collectors such as Francis James Child (of "Child Ballads" fame) and Cecil Sharp.
The band toured the UK for several months, also visiting Denmark, performing the Liege & Lief material before recording it in the studio (also including a performance recorded for BBC radio's Top Gear). However, in November 1969, even before the album was released on 2nd December, both Hutchings and Denny quit the band: Hutchings to further pursue traditional music in a new band Steeleye Span, and Denny to form her new venture Fotheringay, with more emphasis on her own original compositions.
 "Liege and Lief" won the award for Most influential Folk Album of all time.
In 2007 a double album "Liege and Lief Deluxe Edition" was released; the second album consisted mainly of BBC radio live performances and two stylistically uncharacteristic outtakes, the great American songbooks standards "The Lady Is a Tramp" and "Fly Me to the Moon".
The Band:
Sandy Denny – vocals
Dave Swarbrick – fiddle, viola
Richard Thompson – electric & acoustic guitars, backing vocals
Simon Nicol – electric, 6-string & 12-string acoustic guitars, backing vocals
Ashley Hutchings – bass guitar, backing vocals
Dave Mattacks – drums, percussion
I often found Bob Dylan songs that no-one else had, like "Percy's Song", which is a fabulous song. Fairport Convention got a reputation for doing unreleased Dylan songs, but we never knew if Dylan heard about us. The years rolled by – and then, unbeknownst to me, a friend who does some work over here for Bob's management sent me a quote he'd got for my website from Bob: "Ashley Hutchings is the single most important figure in English folk-rock. Before that, his group Fairport Convention recorded some of the best versions of my unreleased songs." What I now discover is, he's known about us right from the beginning! He loved "Liege & Lief", he thought Sandy Denny was the best singer he'd heard. He turns out to be lovely, very considerate, very funny and very, very knowledgeable about all kinds of things» – Ashley Hutchings, 2022