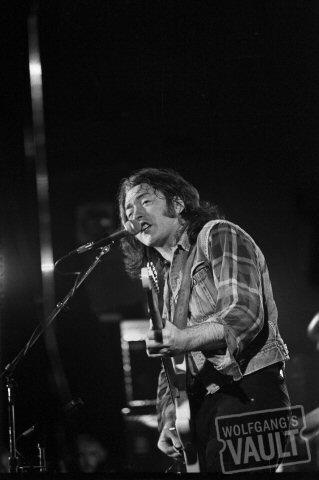 This King Biscuit Flower Hour show captures Irish blues guitarist Rory Gallagher during his terrific '70s run of studio and live albums. He was renowned for his unhinged, impassioned live performances, and the quality of this show only helps cement his legendary status. The three-piece lineup, including longtime live band member Gerry McAvoy on the bass and new drummer, Ted McKenna, rips through eighteen tunes in a little over two hours on their second night at the Bottom Line in New York City.
Before launching his solo career, Gallagher led the London-based group Taste from 1966 to 1971, playing a Cream-inspired brand of blues-rock and gaining a U.K. fanbase that included John Lennon. By 1978, Gallagher had already recorded with Albert King, Muddy Waters, and briefly as part of the Rolling Stones in Rotterdam while they searched for a replacement for Mick Taylor. His tour of Ireland four years earlier had been documented by a live record, Irish Tour '74, and in a film by Tony Palmer, Rory Gallagher: Irish Tour 1974. The record was an international bestseller, and the tour was momentous both for the band's strength and Gallagher's willingness to play in Northern Ireland during a violent, politically tumultuous year.
The band featured Lou Martin on keyboards until shortly after the recording of 1978's Photo-Finish, when the group was reduced to the fiery three-piece that played this show.
Opening with "Shin Kicker" (which also opens Photo-Finish), Gallagher keeps the crowd excited, especially with "Shadow Play," a particularly hot tune also on their then-new LP. Gallagher doesn't indulge in much stage banter, providing brief introductory remarks to a couple of covers, including Leadbelly's "Out on the Western Plains" as well as "Too Much Alcohol," a tune originally by J.B. Hutto that also appears on Irish Tour '74. These tunes receive a stripped-down treatment: Gallagher's voice and his resonator, which come as a marked, pleasant contrast to his rousing originals, which are played on his loyal '61 Sunburst Stratocaster that he bought at age 15. The main set swings back into full-on rock mode before concluding with Buddy Guy and Junior Wells classic "Messin' With the Kid," but it doesn't end there—Gallagher then leads the group through two encores spanning a half hour.
Rory Gallagher – guitar; Gerry McAvoy – bass; Ted McKenna – drums