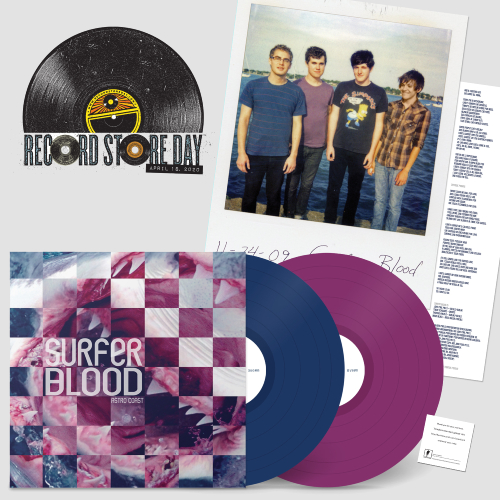 Florida natives Surfer Blood released their debut and indie breakout album "Astro Coast" over 10 years ago now.
In 2009 Barack Hussein Obama was President and a scrappy bunch of kids from West Palm Beach, Florida were booking their own shows across the country, sleeping in 24 hour Walmart parking lots and going for broke like only teenagers can. They had songs of MySpace. They became CMJ breakout artists. They had a chance meeting with a Brooklyn indie label. And in January of 2010, Surfer Blood released their debut album Astro Coast, 10 tracks that Pitchfork named Best New Music and said upon release that it "succeeds wildy" as a "relentlessly catchy, 'classic indie' album"– and their "debut LP … is first and foremost a great guitar album packed with sing-along hooks, but there's more going on beneath the surface." Rolling Stone said "they dress up their guitar-mad escapades in a stadium-echo kick that Nineties indie kids were too grumpy to try." Surfer Blood spent the year touring the world and were the most blogged about indie artist – blogs were a very big thing – culminating with them landing on everyone's year end lists.
They spent the year touring around the world playing major festivals in Tokyo, Australia, United Kingdom and at home.They have continued to tour and release music in the past 10 years. For the anniversary, Surfer Blood will revisit their most popular release and include some never before heard material.
The limited edition double coloured (blue / purple) vinyl gatefold release, with 10 unreleased demos and live tracks, a foldout poster and download card, is available on Record Store Day 2020 at participating record stores worldwide. This Record Store Day release Includes download code. Limited to 2,000 copies worldwide. Gatefold vinyl. Exclusive color vinyl.