Genesis are one of the biggest selling recording artists of all time and one of Britain's most internationally renowned bands. The band have gone through several line-up changes, The discography of the British band Genesis contains 15 studio albums, six live albums, three compilation albums, and a variety of box sets.
Genesis were formed by frontman Peter Gabriel, keyboardist Tony Banks, bassist / guitarist Mike Rutherford and guitarist Anthony Phillips at the British public school Charterhouse School, where they drew on contemporary pop, soul, classical and church music influences to write their own songs. From then to 1974, Genesis released a studio album around once a year.
Genesis came to epitomise the sound and character of British progressive rock – far more so than the deliberately abstruse eclecticism of King Crimson or the pastorally inclined, cod-mysticism of Yes – it's worth recalling that that perception actually outlived for some considerable time Gabriel's departure in 1975, and that their first real singles chart success was not some Collins-fronted 80s blockbuster but the typically quirky Gabriel-esque "I Know What I Like (In Your Wardrobe)" in '74. The line-up stabilised in 1971 afterSteve Hackett replaced Phillips and Phil Collins joined as a drummer. The group established commercial success in the UK with "Foxtrot" (1972), and with the following year's "Selling England by the Pound".
All of the group's work since signing to Charisma (since acquired by Virgin Records and then EMI) has been remastered and re-released, and is available on various compilations albums such as "Turn It On Again: The Hits" and "Platinum Collection". The sole exception is "From Genesis to Revelation", whose copyright is owned by King, which has been reissued several times independently to the rest of the band's releases
'Gabriel – good, Collins – Not So Good (or indeed vice versa) is a common sub-text in discussions between Genesis fans. That split view of Genesis's music over the years is based mostly on the assumption that during each of those two frontmen's respective eras with the band, Genesis's music was rigidly delineated musically, and/or that the frontmen were always the chief architects of the band's music at the time. But it's a flawed premise that such an argument is based on. At all stages of the band's career, all the members of Genesis contributed to the song writing and arrangements, and the shift from Gabriel-led epics to Collins-fronted pop was neither instant nor as obvious as is often made out.
From Genesis to Revelation (1969)
This album is very Beatles-ish and it has some very early Beegee's influence too, it isn't very original and there are only a few songs on this album that I enjoy Fireside Song and A Place To Call My Own are the exception. I have never thought that this album was very special and was never a fan. The band's debut, From Genesis To Revelation ('69), is fascinating as an historical curiosity, but not much more. Owing much to fey 60s pop, folk and psychedelia, it's for cultists and completists only. There's nothing at all wrong with the band's debut album, but it bears very little resemblance to the Genesis the world would come to know. Instead of prog, it's filled with '60s-sounding orchestral pop (not that there's anything wrong with that) that has more in common with the early Bee Gees (of whom label manager Jonathan King was a fan) and the Zombies, but isn't quite on their level. Every band has an embryonic phase, and this was theirs.
The first Genesis album, "From Genesis to Revelation" is all but forgotten, even by many of the band's fans. While the band is obviously not fully developed yet, as a first step, it's got plenty of charm and great tunes. Early on, Genesis had adopted a significantly more "pop" approach than what they would soon immerse themselves in. Plenty of nods to the likes of the Beatles were front and centre, but you can hear the rumblings of what would become the true Genesis sound on the song "In the Beginning." The song begins with an ominous rumble before the acoustic guitar driven tune kicks in, and the offbeat lyrics give a hint as to what was to come. While the song has elements of the it is decidedly more aggressive. The essence of musical drama was in the air. A lost gem if ever there was one.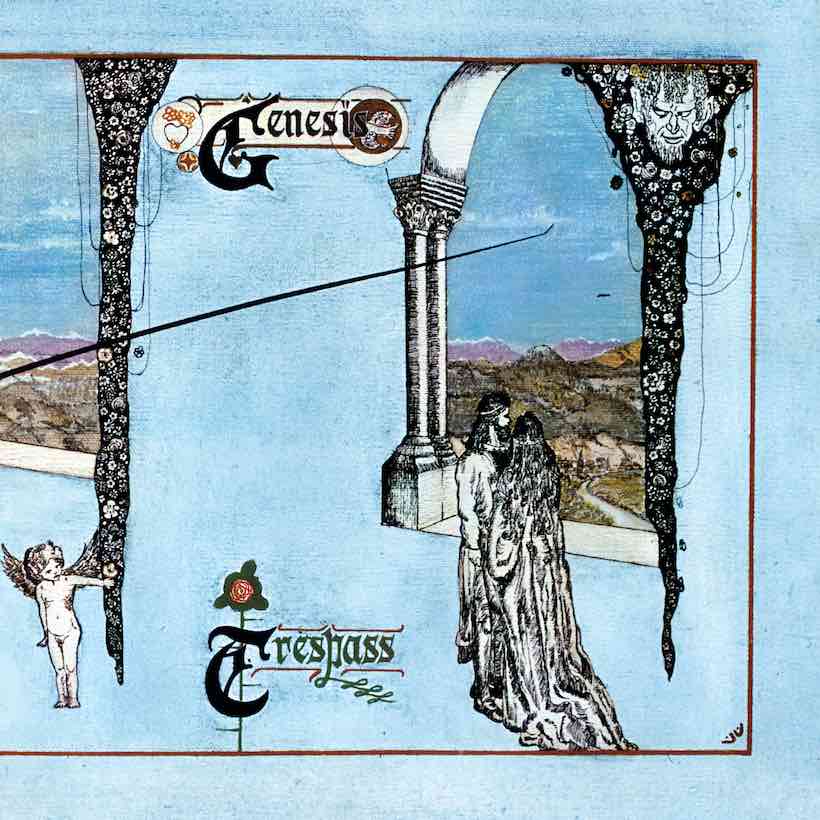 Trespass (1970)
Quite the sophomore album, it has some songs I adore by the band ("Visions of Angels, White Mountain", "Stagnation" and Of course "The Knife"). This album is full of great songs but I think it suffers a bit from amateurish writing. These guys were still trying to find out where they were going with this new, experimental sound. Also I think the drumming was severely lacking, John Mayhew (in my honest opinion) is just not that good of a drummer. Genesis certainly wasn't at it's peak, but it contains the classic sound that would characterize Genesis albums for years to come. With masterpieces such as "The Knife" and "Stagnation", it is an essential for any early Genesis fan. Be ready to be patient, though, because it is much more pastoral and peaceful than the group's later work. "The Knife" was the start of what was to become Genesis sound. While neither Phil Collins nor Steve Hackett had come aboard yet, Genesis' second album is widely considered their proper debut. And although it concentrates more on acoustic guitar tapestries than subsequent albums would, 'Trespass' creates the template for the pioneering prog statements that were just around the corner for the band.
With their second album, "Trespass" Genesis noticeably changed direction from their first recordings. Gone were the more quaint, Baroque pop stylings, and in their place a more, dare we say, "mature" mood created. The songs were longer, more complex and more demanding. This approach would be cemented by album number three, but of the songs here, there is no denying "The Knife" as king. This song was their first show-stopper, serving as the center-piece of their concerts at the time. The band is commanding as they flex their musical muscle here, while Gabriel is finding his signature voice here as well.
Beautiful album, definitely doesn't get the praise it should. "Stagnation" is one of Genesis' best tracks, so gorgeous and powerful. Although nowhere near the class and sophistication of later albums, demonstrates the enormous leap from the band's undistinguished debut.
Nursery Cryme (1971)
This first album from the 'classic' Rutherford/Banks/Gabriel/Hackett/Collins line-up may sound dated now, but a growing level of unique invention was evident in timeless Genesis now-standards "The Musical Box" and "The Return Of The Giant Hogweed". There's terrific ensemble playing throughout, lyrical erudition and Gabriel's dry wit. On "Harold The Barrel", he skilfully weaves a tale of mental illness and suicide – a challenge that he pulls off with aplomb. An interest in mythology (an influence that can also be discerned in the band's next three albums) finds expression in the proto-epic "Fountain Of Salmacis", hinting at what was to come on Foxtrot.
It's bright but bleak, hyperactive and horrifying, grim with a grin, there's only one "Harold the Barrel." If you strip away the vocals, it sounds like some kind of mutant pop song, Banks' piano thrashing and Mike Rutherford's slippery bass favouring the upper octaves. But the singing changes everything.
In a cartoonish unison delivery, Gabriel and Collins detail the titular Harold's tragic tale: He disappears, ascends to a high window ledge and takes a "running jump," ultimately ignoring the pleas of his gathered family.
This album had some growing pains, losing Phillips and Mayhew and having both of them replaced by Hackett and Collins. This album was going in the right direction for sure. There isn't one bad song on this album in my eyes, however my personal favourites on this album have to "Seven Stones" and "The Fountain of Salmacis". They are two sides of the same coin, Seven Stones being the soft piece and "The Fountain of Salmacis" being the more busy in terms of playing and just… well… a brilliant song. I love this album a great deal.
Having done 'Stagnation' [from 1970's "Trespass"], which had gone through various different moods, we wanted to do something along those lines but perhaps with a bit more meat to it," Banks told filmmaker Joel Edginton in 2014. The result of that ambition was "The Musical Box," the band's first full-fledged prog epic — and first tangible step into weirdness. The music builds from childlike 12-string chimes to pseudo-classical thunder, a quiet-loud dynamic they'd more brazenly explore down the line. But Gabriel's words put this in the oddball category, presenting a warped Victorian fairy tale filled with rapid aging, croquet violence and creepy sexual advances.
I think we wanted to expand the horizons of the musical world we were living in, Peter Gabriel said in a documentary about "Nursery Cryme" their third album, and first album to feature guitarist Steve Hackett and drummer Phil Collins. By this time, they had finally found their musical identity. Incorporating a variety of influences from the worlds of pop, rock and classical, "The Musical Box" kicks off that album and welcomes the listener to their unique world. It's all here, the drama, the humour, and the intricate musical road map. And the nurse will tell you lies of a kingdom beyond the skies were not your standard rock and roll lyrics, but of course, Genesis were not your standard rock and roll band. They would up the ante over the next few albums, surpassing themselves at every turn, but this is their first genuine classic.
"The Return of the Giant Hogweed" "Botanical creature stirs, seeking revenge!" In what sounds like the plot of a so-bad-it's-good sci-fi movie, this knotty, heavy number follows the titular plant (properly known as Heracleum mantegazzianum) as it attempts to destroy the human race. The music is also fairly odd, particularly when Gabriel shapes his voice into an aggressive snarl.
This is where the band really started strutting its stuff for the first time. With the classic Peter Gabriel/Steve Hackett/Tony Banks/Mike Rutherford/Phil Collins lineup in place, Genesis began developing the complex writing style and dazzling instrumental interplay that would become their trademarks. They start putting prog-rock on the map straight out of the gate with the opening epic "The Musical Box," which remains a fan favourite to this day.
This album is the perfect blend of pastoral passages and hard-rocking moments. The songs contrast beautifully while still maintaining a singular atmosphere that is both beautiful and haunting. Tragically underrated, Nursery Cryme deserves more recognition than it receives
Foxtrot (1972)
Supper's Ready, the archetypal prog epic – 23 minutes of unabashed musical/lyrical acrobatics and allusions to the Book of Revelations and classical mythology (not to mention the flowers, geese, and Winston Churchill dressed in drag) – isn't the only reason to buy "Foxtrot". The album also includes two other Gabriel-era favourites: "Watcher Of The Skies", with its dystopian future earth, and "Get 'Em Out By Friday", a sardonic commentary on corporate greed. Individual contributions are central to this album's impact, Tony Banks' "Watcher…", his wonderful keyboard solo on "Apocalypse In 9⁄8", and Steve Hackett's solo guitar composition "Horizons" being evocative illustrations.
The opening number during the band's 1972 tour and among the best Peter Gabriel Genesis Songs, "Watcher of the Skies" set the stage for the band's increasingly visual stage shows. As Gabriel appeared out of the darkness with bat-wing headdress, glowing eye make up and glittery cape, he transformed Genesis concerts into a feast for the eyes as well as the ears. The long organ intro by Tony Banks creates a tension not broken until the band crash the party in 6/8 time. The stop-start riff may have been inspired by the intense style of King Crimson but Genesis put their own spin on things. Certainly one of the band's most loved songs.
When you're talking Genesis, it doesn't get much better than 'Foxtrot.' The jaw-dropping sweep of the 23-minute "Supper's Ready," the magisterial Mellotron of "Watcher of the Skies," the cutting, almost Kinks-like sociopolitical commentary of "Get 'Em Out by Friday" — it all adds up to a peak of the band's canon, not to mention one of the greatest prog albums ever to toss tricky time signatures at listeners' eager ears.
The signature song of the band's live set for several years, "Supper's Ready" is an epic tour de force, its power and beauty remaining in full bloom all these years later. Though the song clocks in at over 22 minutes, it's hardly the pretentious ramblings often associated with prog rock. It is, in fact, a handful of shorter songs strung together to create a milestone of the progressive rock era. The often surrealistic lyrics are laid out atop the ever-shifting, always dynamic musical backdrop to create one of the most unique entries in their catalog.
Every song is brilliant, I love everything and everyone's work on this, however some songs are better than others. This album also had my favourite song ever, "Can-Utility and the Coastliners". The chord progressions, the atmosphere, the vocals, everything about that song, I love. "Suppers Ready" is the obvious choice for everyone and I think it's a brilliant song, and I honestly believe that "Time Table" and "Get'em Out by Friday" are just as good.
Selling England By The Pound (1973)
Gabriel is superlative, and the musicians apply themselves with controlled passion to an album which successfully celebrates, caricatures and comments on the nature of Britain and Britishness.
Creating backdrops to diverse themes – gang violence "(The Battle Of Epping Forest)"; ruminations on gender "Cinema Show" a supermarket price-list "Aisle Of Plenty" – extraordinary and gorgeous performances proliferate. The strength, consistency and exquisiteness of the material is enhanced by a crisp, rich production.
A milestone of near-flawless prog rock, the album doesn't have a single ugly sound. The albums that occupy the Top thee Genesis Albums Ranked by most are all exceptional, and represent not only the pinnacle of prog-rock, but a high point for '70s rock in general. On one hand, 'Selling England by the Pound's quirky, hooky "I Know What I Like (In Your Wardrobe)" was the closest Genesis came to a radio song at that point; on the other, "The Cinema Show" and "The Battle of Epping Forest" are prime examples of the broad range of possibilities prog's ascendance brought.
While Gabriel's performance on this tune from their fifth album, "Selling England by the Pound" is nothing short of brilliant, it is the instrumentalists who really steal the show here. From the grand piano intro by Tony Banks to the spine-chilling guitar solo from Steve Hackett this is a tour de force. Banks, Hackett and Gabriel (on flute) each draw from the same melodic theme for their respective solos, but it's not until Hackett is in the driver's seat that it takes off for the skies.
As the needle hits the vinyl on the first track on "Selling England by the Pound" we hear Peter Gabriel alone in the spotlight, almost as if he's delivering a sermon. "Can you tell me where your country lies, said the uni-faun to his true love's eyes he sings acapella before the band quietly make their presence known. Gabriel recites a tale of a not-so merry Old England, as the band are blazing here with complex changes dished out left and right. "One of the aims of this record was to look at Englishness in a different way," said Peter Gabriel . Guitars and entwine to create a beautiful wall of sound.
Every song on this album is completely equal to me, I don't think there are any songs on this album I would consider worse than another. When an entire album has amazing songs and they come together in total unison, that's when an album is a masterpiece, and this is among my favourite Genesis album of all time.
"The Battle of Epping Forest" Drinking Game: Take a shot every time Gabriel sings a goofy character name or uses a ridiculous accent. (You'll be drunk halfway through.) This 12-minute song is easily the "love it or hate it" moment on "Selling England by the Pound", cramping some elite-level prog craftsmanship with one of the singer's most tiring lyrics. Gabriel was inspired by a news story about rival London gangs, and his breathless delivery — which includes introducing us to folks like Mick the Prick, Harold Demure and Liquid Len — makes "Epping Forest" feel more like the stoned misremembering of an epic war story.
Also, the musicianship throughout the whole album is unmatched and that goes for Tony Bank's intro and Steve Hacket's solo on 'Firth of Fifth', the drum work on 'The Battle of Epping Forest' by Collins, the cool and interesting chord work of Mike Rutherford on the intro to 'The Cinema Show' and the lick of 'I Know What I like (In Your Wardrobe)', and of course the singing of 'Dancing With the Moonlit Knight' by Peter Gabriel.
The Lamb Lies Down on Broadway (1974)
The big concept, the double discer, the long album in their discography. I listened to this album from beginning to end… just for fun. A surreal adventure of a New York street kid, Rael, and a cast of decidedly strange characters, "The Lamb…" is the essential prog concept album. A structured, cleverly scripted set of connected songs performed by a band at the top of its game.
A more contemporary lyrical feel contrasts with the bizarre storyline, and musically the shifting moods are captured perfectly.
A sizable segment of the Genesis fan base would give Peter Gabriel's last stand with the band top ranking. And there's no question it's one of their best, with their elaborate art-rock coming through at its most visceral. But concept albums are a tricky business, especially double albums, and the fact that this one wanders astray in a couple spots over the course of its considerable length means that it cedes its claim to the primary position.
this is one of the best albums ever made from the first song. The storyline by Peter Gabriel is strange but superb and the lyrics are awesome. Unlike their earlier albums there aren't really so many individual songs that stand out. Rather all the tracks flow together to form a single big song. The music is a logical extension to their earlier works and contains some hints as to how Genesis would later sound like.
The shimmering piano intro sets the scene as the band slowly move in and the story of the troubled Rael is put forth on the best of Peter Gabriel Genesis Songs. The catchy, yet far from implistic song, is brimming with a bravado not always part of the Genesis arsenal. Gabriel's vocal here ranks as one of his finest. "The story in a way, is like a Pilgrim's Progress but on the streets of New York," Gabriel later said "It's a spiritual journey into the soul, but it was quite a tough world that's feeding the imagery.
"The Carpet Crawlers" is arguably the most beautiful song Genesis ever laid down. From the haunting piano intro to the final fadeout, it is second-to-none in terms of dreamlike beauty. The melody itself is haunting, but Peter's performance here is beyond compare. The song builds, becoming more forceful and majestic as it moves along. Though a 1999 re-recorded version featuring both Gabriel and Phil Collins made its way to radio play, the Lamb original resonates for the ages.
"The Colony of Slippermen" is most famous for its stage presentation, where Gabriel would dress up in a grotesque costume covered in bumps. ("The worst was the Slipperman, where he came in through this inflatable dick, dressed in this horrible outfit, which sometimes got a little bit stuck on the way out," Collins recalled in the Lamb DVD commentary.) The song is also the weirdest moment on this cryptic concept album, evolving from ambience into a jagged prog-funk groove, squealing synth solo and various other fragmented but fascinating ideas. That's before you even consider the lyrics, which wiggle through a labyrinth of nightmarish settings and characters (gotta love those "slubberdegullions").
There are several instrumental links on "The Lamb Lies Down on Broadway", but "The Waiting Room" feels more substantive than that description suggests. Though it consists of an improvised studio jam, opening in a haze of twinkly guitar and synth effects, the song feels fully fleshed out in concept — capturing the band's aim of "darkness to light." It's the sound of strolling through a legitimately haunted house, only to emerge into a field of sunflowers. "I just think [the "Lamb" instrumentals] display a side of Genesis that everyone forgets, apart from the ardent fan – they forget or they've never heard," Collins said on the album's reissue DVD. "It would be good if people remembered that side of it. That's the same band … that plays 'Hold on My Heart.' It's the same band that plays the songs they say we sold out [with]. It's the same band. It's the same mentality."
Released in the fall of 1974, "The Lamb Lies Down on Broadway" is arguably the band's masterpiece. The listener is taken on a thrilling ride from start to finish, veering from pure pop melodies to wild sonic experimentation, often within the same song. As the conceptual, and admittedly confusing, story of Rael unfolds before our ears, one thing is for certain, Genesis were at the top of their game. Gabriel's performance throughout is stunning, perhaps nowhere more so than on "Back in N.Y.C." The power of his voice here is striking as he spits out the lyrics with pure venom. The anger in his performance, and the fact that the character of Rael was a leather jacket-clad street punk, predates punk rock by nearly a year. So much for the prog vs. punk wars.
This album is beyond great, you have the heavy opener, the title track, and then straight into "Fly On A Windshield", "Broadway Melody", "Cuckoo Cocoon", and then straight into… "In The Cage". "Carpet Crawlers", "The Chamber of 32 Doors", "The Waiting Room", "The Lamia", "The Colony Of Slippermen", etc… it's all brilliant. This is in my eyes, the greatest concept record of all time. After punk, such records were savaged for their pomposity and portentousness. Yet art so well-crafted, entertaining and thoughtful needn't apologise for itself. "If you think that it's pretentious, you've been taken for a ride"… indeed.
A Trick of The Tail (1976)
A masterful riposte to the nay-sayers in the immediate aftermath of Gabriel's departure. From the muscular, deceptively complex opener "Dance On A Volcano" to the closing fusion-esque instrumental "Los Endos", this album affirmed that Genesis were far from washed up artistically. Melodic ballads contrast with more rocky, character-based narratives, and while prog-heavy the record sounds more mainstream than its predecessors.
A massively important record for the band, who with it effectively came out from the shadow cast by their ex-frontman Gabriel. At the time, it probably seemed unlikely that Genesis could survive the departure of a frontman as distinctive and charismatic as Peter Gabriel … until they tossed a vocal mic behind the drum kit. For the most part, the first album with Phil Collins as lead singer is indistinguishable from the band's mid-'70s heyday, especially since Collins hadn't quite sussed out his own vocal style yet and was still echoing Gabriel's inflections, not a bad thing in this context.
Nothing is quite what it seems, Collins sings on this lost classic from 1976's "A Trick of the Tail", "Sometimes entangled in your own dreams". That lyric is a perfect summation of this mystical, percussion-free ballad, which builds from serene 12-string acoustic textures to a sweeping Mellotron coda. And it's also a wonderful example of the band's lyrical strengths: Steve Hackett depicts a tongue-in-cheek vision of a sickly patient under hypnosis, floating through his sub-conscious in a "Freudian slumber.
In a way, Phil Collins-Era Genesis Songs is the most important track the band ever released. When Peter Gabriel fled for a blossoming solo career in 1975, the remaining quartet were left without a singer. Collins (who'd already contributed vocal harmonies prior to Gabriel's departure) took over the reigns after failed auditions with other vocalists. "Dance on a Volcano" kicks off A Trick of the Tail with a simmering fusion-prog anthem, defined by Collins' impassioned vocals and Banks' lava-ooze synths.
The Banks album, everything here is Banks and frankly this album is amazing. I have always thought that this is one of the best albums Post-Gabriel. Entangled, "Dance on a Volcano", "Ripples", "Los Endos"... everything here is amazing. Just a perfect album, every track is very strong, super enjoyable.
Wind and Wuthering (1976)
"Wind And Wuthering" posed a problem for Genesis: with the huge success they'd just had with "Trick Of The Tail", how could they now capitalise on the momentum they had picked up via that album? . In failing to come up with a suitable answer, they ended up producing a pleasantly atmospheric work that had real flashes of excitement and majesty (for example, in "11th Earl Of Mar", "Wot Gorilla?" and "Blood On The Rooftops", the end of "One For The Vine"), but much of it is far too wistful and polite for its own good. This 'Trick…- Lite' album clearly failed to keep Steve Hackett engaged, and proved to be his final studio album with Genesis.
The final album to feature guitarist Steve Hackett, a key contributor to the sound of the band's "classic" era, 'Wind and Wuthering' found Genesis still sitting quite comfortably in the world they'd been inhabiting since the start of the decade. The lone attempt at a pop song, "Your Own Special Way," was on the half-hearted side and didn't stick, leaving plenty of room for the elaborate instrumental highlights that sound like prime Genesis.
After Peter Gabriel left in 1975, Genesis went through a transitional stage as a quartet. It's a painfully overlooked chapter in Genesis history that produced two incredible albums, 1976's "A Trick of the Tail" and the following year's "Wind & Wuthering". The latter album included this sprawling, multi-part prog epic, which demonstrates the band at the height of their adventurous instrumental powers: Banks' sharp organ, Mike Rutherford's frenetic bass, Steve Hackett's graceful classical guitar, and Collins' fusion-inflected drumming.
Alright, the only reason why I believe that this isn't as good as "Trick" is because of… well… "Your Own Special Way". I don't mind that song but I think overall, this album is very good but "Trick" is just an overall better album. Steve Hackett the underestimated magician, from here the prog went out of the window
And Then There Were Three… (1978)
Ok, so this one is very good but yet it lacks the magic of the previous albums. I think that this album has some prog smashes such as "Down and Out", "Snowbound", "Ballad Of Big", "Undertow", "Scenes From A Night's Dream", and of course… (I do in fact like "Follow You Follow Me"). This is a good album, but I don't think it's as good as the previous albums. "Undertow" and "Burning Rope" are two of the strongest songs that Tony Banks has ever written, worthy of the best of Genesis. Overall, the album is a bit uneven
Even though it contains the band's first big pop hit (the undeniably appealing "Follow You, Follow Me") and was, as the title indicates, the debut of the Phil Collins/Mike Rutherford/Tony Banks lineup, this is really the swan song of old-school Genesis. As such, it's a fine farewell to the prog-rock days of yore, sporting a generous supply of epic art-rock moments.
As a general rule of thumb, most of the songs of the Phil Collins-Era Genesis Songs won't work well if played during your wedding. "Follow You Follow Me," a groovy, teary-eyed ballad from 1978's. And "Then There Were Three", is one major exception. Now whittled down to the core trio of Collins, Rutherford and Banks, Genesis were slowly trimming back their expansive arrangements, writing fewer lyrics about dragons and knights and more lyrics about sweet, sweet romance. "Follow You Follow Me" was their first real love song – and also their first major hit.
In "Down and Out" The rhythm is bonkers, and Collins attacks his drum set with a rare ferocity — before your ears have adjusted, you might mistake those quick snare rolls for record skips. "Down and Out" is an outlier on Genesis' ninth LP, the most unabashed old-school prog moment from their entire trio era. And they famously struggled to recreate that intricacy onstage, playing the song only 38 times.
Suffers from the loss of Hackett and – apart from the commercialism of Many Too Many and Follow You, Follow Me – lacks direction.
Duke (1980)
Genesis created something of a hybrid with "Duke". As well as having moments of terrific energy and musical drama, the record was also the tipping point for the band's enviable pop fortunes over the next decade. Alongside "Turn It On Again" and "Misunderstanding" (huge hit in America) are simplified beats and memorable hooks.
Ignoring Genesis's impact on 80s popular music would be churlish – the fact is that, whatever the zeitgeist may have been, they sliced through it with surgical precision. Those still hankering after a bygone age got a generally satisfying product, but the die had definitely been cast. This album marked a major turning point for the band. It occupies a perfectly balanced place between Genesis' proggy past and their poppy future. They were really just beginning to take a more accessible turn on tracks like "Misunderstanding" and "Turn It on Again," but there were still plenty of prog elements on board to satisfy old-school admirers.
Collins re-recorded this 1980 art-rock classic on his debut solo album, "Face Value", transforming it into a soulful, horn-fuelled strut. But he didn't improve upon it: "Duke" version remains one of the greatest Genesis tracks of all-time, cramming technically complex instrumental performances and massively catchy vocals into one compact, five-minute package. The song never sits still, moving from a busy instrumental opening theme to a tight verse-chorus groove and back again, all glued together by Banks' subtle, sophisticated chord changes.
Behind the Lines is upbeat and sensual, "Man of Our Times" is big and bold, "Please Don't Ask" is melancholy, not forgetting "Misunderstanding" and "Cul-De-Sac". Phil really proved himself as the true successor to Gabriel on this. My absolute favourite piece of work by this outrageously talented, wonderful band.
This album is brilliant, I love this album, its brilliant. The concept of the album, this keyboard heavy album has a different mood than most of their discography. "Heathaze", "Duchess", "Behind The Lines", "Man Of Our Times", etc, all of these songs are just amazing. Need I say, Duke is just … it's a personal favourite.
Abacab (1981)
This is the beginning of the end for the band, this is still very good in my eyes but I think that this album could be better. The opening track is good, "Me and Sarah Jane" is very good, "No Reply At All", "Dodo" is a brilliant prog song, "Man on the Corner". There are quite a few mediocre songs on this album, "Who Dunnit" is a fairly terrible song… even though it was intentionally bad.
"Abacab" won't surprise anyone expecting full-on 80s pop classics, but there were still flashes of the band's prog greatness. This album is in some ways revolutionary for the band it married prog, dance and pop with 9 killer songs. Lots of '70s prog bands tried to reboot themselves for the '80s, but nobody did it better than Genesis … at least for one album. Though subsequent releases would bring diminishing returns, 'Abacab' was a triumph. Against all odds, the trio totally reinvented itself, taking on the influence of the New Wave era and jettisoning all the '70s prog-rock excess. The place they ended up was an uncharted new paradigm that worked shockingly well and brought them loads of new fans in the bargain.
The driving title-track from the band's 1981 album, "Abacab" epitomizes Genesis' stylistic reinvention of the early '80s. Like the album itself, "Abacab" boasts a bold new sound: Tony Banks' synthesizers are punchier and more rhythmic; Collins' drums explode out of the speakers with an emphatic gated drum sound. Most importantly, with its soulful backing vocals, sparse arrangement, and gibberish hook, "Abacab" offered the band levity and quirkiness, casting Genesis' serious prog-rock image in a more playful light – just in time for punk's crushing blow.
Genesis — perhaps one of the whitest bands in rock history — were (rightfully) never known for their funkiness. But when Phil Collins began releasing solo albums in the early '80s, he started embracing his inner soul child, covering Motown classics and putting his now-trademarked horn blasts on almost all of his huge pop hits. "No Reply At All," a standout funk-pop jam from 1981's Abacab, is a mesmerizing middle-ground between Collins the Solo Soul Brother and Genesis the Prog Behemoth, with Collins crooning passionately over Banks' uptempo synth blasts, Rutherford's complex bassline, and Earth, Wind, & Fire's horn section.
'Three Sides Live'! Directed by Stuart Orme and originally released in 1982, the concert film features live performances and behind-the-scenes footage recorded during the 1981 'Abacab' album tour across Europe and North America.
Genesis (1983)
"Home By The Sea" and "Second Home By The Sea", "Its Gonna Get Better", "That's All", "Silver Rainbow" are the best songs on this album. I have always thought of this album as a fairly ok album, just has some fairly mediocre songs. "Mama" is a pretty ok song, but "Illegal Alien" is just… a pretty bad song. Everything would have perfectly fine if Genesis would have just walked away after this self-titled album. Sure, it had plenty of poppy moments, but they aren't buried in the era's production cliches; "That's All" feels charmingly McCartney-esque rather than obnoxiously '80s. And "Mama" and "Home by the Sea" even sound like they could have come from 'The Lamb Lies Down on Broadway' era.
"Mama" is a masterstroke of brooding climb and explosive climax. It's also one of the most purely cinematic rock songs ever recorded: We open with a clanky drum machine loop, gradually engulfed in Banks' spooky synth-pads, as Collins unfurls his enigmatic tale of a young man's obsession with an elusive prostitute. The track builds and builds, slowly but surely – peaking first with Collins' manic laughing and shrieking, and then with a stark snare-bass groove that propels the final minute. It's a spine-tingling exercise in musical restraint.
check out the Genesis concert film was shot by Jim Yukich in 1984 and contains highlights from "The Mama Tour's" final five shows at NEC Arena in Birmingham.
Invisible Touch (1986)
"Invisible Touch", "Land Of Confusion", and "The Brazilian" are just not songs that work for me, I think these songs are all half decent. The best work is "Tonight Tonight Tonight", "In Too Deep", "Domino" and "Throwing It All Away". Most of my favourite songs are the Soft Rock songs. Well either way, this is a pretty decent album overall.
On the dark day in Genesis history when this record was released, the band fully transitioned from art-rock glory to radio-ready piffle, replete with all the worst that '80s overproduction had to offer. The fact that just the tiniest bit of the "old" Genesis is discernible in a couple of tracks.
The next Phil Collins-Era Genesis Songs strikes a perfect balance between the band's prog and pop sides. "Tonight Tonight Tonight" was the fourth single released from 1986's "Invisible Touch", but unlike the album's other hits, this track is as eerie and artful as it is catchy, marrying its belted chorus and infectious drum machine rhythms with brooding, minor-key synth atmospherics, stretching out to a grand eight minutes.
Genesis were immersed in the sonic fabric of the '80s on "Invisible Touch" bright synth pads, booming percussion, airy drum machines. For many early die-hards, this album was the last straw in an unending streak of catchiness. But as they proved with multi-part masterpiece "Domino,"' Genesis hadn't totally shed their prog skin. Tony Banks' engrossing tale of a global domino effect is set to an expansive instrumental palette, dominated by Rutherford's funky guitar riff. Over a skittering drum machine, Collins belts, "We prayed it would last forever!" It's hard not to wish the same of the song's ethereal prog-pop voodoo.
Genesis classic was filmed at the height of summer in 1987 during the grand finale of 'The Invisible Touch' tour in London's Wembley Stadium.
We Can't Dance (1991)
"No Son Of Mine", "Driving the Last Spike", "Never A Time", "Dreaming While You Sleep", "Tell Me Why", "Living Forever", "Hold On My Heart", "Way Of The World", "Since I Lost You" and of course "Fading Lights". This is album is pretty good actually, and I do have a soft spot for soft rock so…. this album is great in my opinion.
We could have lived with videos of Phil Collins, Mike Rutherford and Tony Banks mugging like a British ZZ Top if there had been anything approaching actual songs to go along with it. Recorded during the 'We Can't Dance' tour at Earls Court in London, 'The Way We Walk' was first released on VHS tape in 1993
Calling All Stations (1997)
This album is just … merely good. The title track, "Congo" and well… of course "Shipwrecked". I really enjoyed this album and well it's nothing really special. This is an album that leaves you with a bad taste in your mouth, kinda like you got a really good dish at a good restaurant but you feel like it wasn't cooked right.
The band's final offering is not a Genesis album so much as the sound of desperation on the part of guitarist Mike Rutherford and keyboardist Tony Banks. The last men left standing roped in new singer Ray Wilson when Phil Collins' departure forced an attempt on the pair's part to justify their continued existence as a creative unit.
Genesis Live (1973)
Released as a minor stop-gap while Genesis worked on Selling England By The Pound, this is a great sampler from the early years. The performances are spot-on and the stirring magic of the shows is evident.
Collecting together live mainstays like Watcher Of The Skies, The Musical Box and The Knife, the album emphasises the surprising synergy between the five very young musicians – listen out for Steve Hackett's often understated yet sublime guitar work, and the ever-unsung Mike Rutherford underpinning the band and adding sparkle with his undeniable skills as bassist and sometime 12-string guitarist. Shame there's no "Supper's Ready" though.
Seconds Out (1977)
With a polished, powerful and very accessible live celebration of both past glories and then-current material, Genesis demonstrate exactly why fans were flocking to see the band on stage. Collins' voice smooths some of the quirky edges off older material, and Hackett, Banks and Rutherford turn in consummate and studied performances of everything from Supper's Ready to Afterglow, ably assisted by drummer-for-hire Chester Thompson. Indeed, this is very much a drummer's album, not least for the sole track from the '76 tour (Cinema Show), on which Bill Bruford is joined by Collins in a jaw-dropping percussive backing to Banks' showcase keyboard onslaught.
Three Sides Live (1982)
Awesome live versions of a number of superior Genesis songs, highlighted by "Behind the Lines/Duchess" and the amazing Old Medley, featuring a relentlessly driving version of "In the Cage", the soaring keyboard section of "Cinema Show", and a truly overpowering vocal performance by Phil Collins on Afterglow. My only regret with album is that I wish the band would have held off a few months in releasing it so that "Supper's Ready", which was part of the 1982 Encore Tour setlist, could have been included as the "fourth side live."