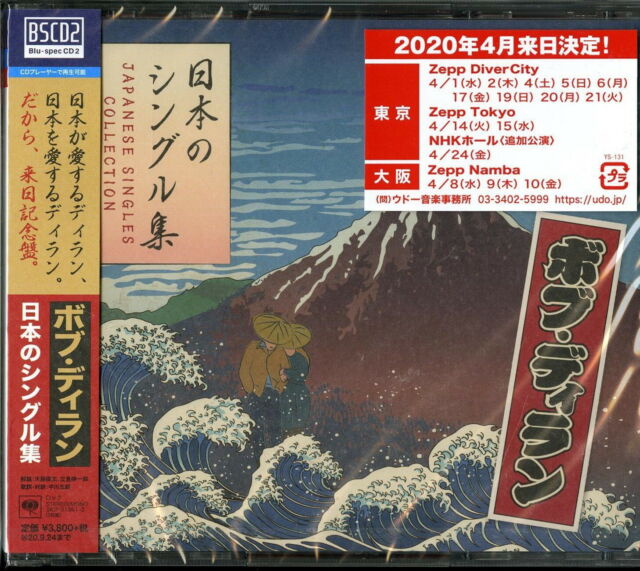 This Japanese original compilation release of Bob Dylan Japanese released single features the high fidelity Blu-spec CD2 format. Includes 31 songs from his singles originally released as vinyl format from 1965 through 1985, and they are included in this compilation in release date order. Single version(s) becomes available as CD format for the first time in the world. Comes with a booklet with photos of vinyl discs of 31 songs
Late April 2020, Bob Dylan is embarking on his ninth tour of Japan.  Sony Japan commemorated the event on March 25th with a new 2-CD set, "Japanese Single Collection".  It brings together 20 years' worth of A-sides released from 1965 to 1985, presented in the order they were released in Japan, including the rarity "George Jackson (Big Band Version)."
As far as packaging, the album cover was newly designed in Japan and the illustrated booklet includes discographical information and scans of the original Japanese picture sleeves.  The music is pressed on the Japanese Blu-Spec CD2 format, compatible with standard CD players.
Disc: 1
1. Subterranean Homesick Blues (CBS LL-764-C, 1965)
2. Like a Rolling Stone (CBS LL-821-C, 1965)
3. Positively 4th Street (CBS LL-847-C, 1965)
4. Can You Please Crawl Out Your Window? (CBS LL-882-C, 1966)
5. One of Us Must Know (Sooner or Later) (CBS LL-919-C, 1966)
6. Rainy Day Women #12 & 35 (CBS LL-928-C, 1966)
7. I Want You (CBS LL-956-C, 1966)
8. Just Like a Woman (CBS LL-987-C, 1966)
9. Blowin' in the Wind (CBS LSS-434-C, 1966)
10. The Times They Are A-Changin' (CBS LSS-434-C, 1966)
11. Lay, Lady, Lay (Cbs/Sony Cbsa 82001, 1969)
12. Take a Message to Mary (Cbs/Sony Cbsa 82070, 1970)
13. Watching the River Flow (Cbs/Sony Cbsa 82116, 1971)
14. When I Paint My Masterpiece (Cbs/Sony Cbsa 82132, 1971)
15. George Jackson (Big Band Version) (Cbs/Sony Sopa 1,1972)
16. Knockin' on Heaven's Door (Cbs/Sony Sopb 257, 1973)
17. A Fool Such As I (Cbs/Sony Sopb 269, 1973)
To tie-in with the new set, Sony Japan will also release a pink vinyl reissue of "Subterranean Homesick Blues" b/w "She Belongs To Me," utilizing the 2010 mono remasters.
Though Amazon U.S. links are not available at the time of writing, fans can order the single and the 2-CD set from Amazon Japan, HMV, CDJapan, or Tower Records (still big in Japan!)  CDJapan buyers will receive a postcard with the Japanese Single Collection album artwork while supplies last.
So, Dylan collectors, get ready to place those pre-orders.
Bob Dylan, Japanese Single Collection (Sony Japan, 2020) (Amazon U.S. [not live] / Amazon Japan / HMV Japan / CDJapan [with bonus postcard] / Tower Records Japan)
Disc: 2
1. On a Night Like This (Asylum/Warner-Pioneer P-1293 y, 1974)
2. Something There Is About You (Asylum/Warner-Pioneer P-1315 y, 1974)
3. Most Likely You Go Your Way (And I'll Go Mine) (From Before the Flood) (Asylum/Warner-Pioneer P-1330Y, 1974)
4. Tangled Up in Blue (Cbs/Sony Sopb 307, 1975)
5. Mr. Tambourine Man (Cbs/Sony Sopb 321, 1975)
6. Hurricane (Part 1) (Cbs/Sony Sopb 349, 1975)
7. Mozambique (Cbs/Sony Sopb 360, 1976)
8. One More Cup of Coffee (Valley Below) (Cbs/Sony 06SP 1,1976)
9. Stuck Inside of Mobile with the Memphis Blues Again (From Hard Rain) (Cbs/Sony 06SP 126, 1976)*
10. Baby Stop Crying (Cbs/Sony 06SP 241, 1978)
11. Gotta Serve Somebody (Cbs/Sony 06SP 410, 1979)
12. Man Gave Names to All the Animals (Cbs/Sony 06SP 433, 1979)
13. Sweetheart Like You (Cbs/Sony 07SP 765, 1983)
14. Tight Connection to My Heart (Cbs/Sony 07SP 901, 1985)