One of the world's most commercially successful and acclaimed artist/bands in the history of popular music, Steve Miller was a mainstay of the San Francisco music scene that upended American culture in the late '60s. The Steve Miller Band released two LPs on Capitol Records in 1968: Children of the Future, and Sailor, which included "Living In The USA," which became a staple on the new rock radio format. Next came Brave New World, the band's third album including the hit "Space Cowboy," and "My Dark Hour," which Miller recorded in London with fellow label-mate, Paul McCartney, who is credited as Paul Ramon.
After the band's next few albums, Your Saving Grace (1969), Rock Love (1971), Recall The Beginning (1972), and Number 5 (1970), Miller made some changes to the band, went to Los Angeles and produced his own record in 19 days. That album was The Joker. The title track became a Number One worldwide smash hit. Miller had crafted a brand of pure pop that was polished, exciting and irresistible that dominated radio in a way that few artists have ever managed. His next two albums, Fly Like an Eagle (1976) and Book of Dreams (1977), both went multiplatinum, and the hits they generated are among the most recognizable songs in pop music history. Hit followed hit in what seemed like an endless flow: "Take The Money And Run," "Rock'n Me," "Fly Like An Eagle," "Jet Airliner," "Jungle Love," and "Swingtown," to name a few. In 1978, Capitol released Greatest Hits 1974–78, which has sold more than 17 million copies worldwide. Miller's had a worldwide hit with "Abracadabra," the title track of his 1982 album and in 1986, a #1 Billboard Rock Album Track with "I Want To Make The World Turn Around." To this day, his songs are instantly recognizable when they come on the radio. Their hooks are the very definition of indelible.
Steve Miller's Ultimate Hits offering was the initial project that marked the start of a new Steve Miller Band licensing deal with Capitol Records/UMe and this continues with the Vinyl Box Set Volume 1 (1968-1976), a set that brings together the group's first nine studio albums in a 9LP vinyl box.

It has been fifty years since the first two Capitol Records albums (Children of the Future and Sailor) were issued in 1968 and this new set features newly remastered audio (by Steve Miller and Kent Hertz)
As well as those two records, this new set features 1969's Brave New World (which features Space Cowboy and the Macca-assisted My Dark Hour), Your Saving Grace(1969), Number 5 (1970), Rock Love (1971), Recall The Beginning… (1972), and The Joker (1973). The latter's success paved the way for 1976's Fly Like An Eagle and Book of Dreams from '77.
Vinyl Box Set Volume 1 (1968-1976) will be released on May 2018. The albums are also available individually (not everything is listed, yet) and there are some limited coloured vinyl pressings available at certain retailers (the box is only black vinyl).
When Steve Miller signed a licensing deal with Capitol last year, it was stated that Capitol would have unlimited access to Miller's personal archive of audio, video & memorabilia, and the contract seemed to get off to a good start with the 2-CD set "Ultimate Hits", whose previously unreleased live and studio tracks seemed to be a preview of further archival projects
Some people call him the Space Cowboy. Some call him the Gangster of Love.
CHILDREN OF THE FUTURE
In February 1968, while in England, the band recorded their debut album, Children of the Future, at Olympic studios with Glyn Johns as engineer/producer. At this point the Steve Miller band is a democracy of sorts with Jim Peterman's atmospheric keyboards underpinning Tim Davis's drums and vocals and Lonnie Turner's super funky bass guitar. The SMB took a psych rock blueprint and ran riot on the title track, 'The Beauty of Time is That's Snowing (Psychedelic B.B.)' and the trippy 'In My First Mind'. However their R&B roots also shine through on Scaggs' moody ballad 'Baby's Calling' Me Home' and Buster Brown's rolling 'Fanny Mae'. As debuts go this is immaculate and fully deserves reappraisal. It's a five star wonder.
Fans of "Jet Airliner," "Take the Money and Run," and "Fly Like an Eagle" wouldn't recognize this incarnation of the Steve Miller Band. Five years before "The Joker" topped the charts and the group became one of the Seventies' biggest hits machines, the Steve Miller Band was just another psychedelic band in San Francisco during the Summer of Love. On their debut album, Miller featured guitarist Boz Scaggs and keyboardist Jim Peterman. By 1969, those two were out of the group and Steve Miller Band adopted a much more pop-rock sound.  Children of the Future showcased how infectious psychedelic rock could be in the hands of a real songwriter.
Steve Miller Band has, for a number of different reasons, done a superb job on their first album. It ranks with Moby Grape's first album in terms of economy and with Sgt. Pepper in terms of taste… One would not characterize the record as being "far out" or revolutionary, but rather as being excellent. many of the songs had been written earlier when Miller was working as a janitor at a Texas music studio. "Baby's Callin' Me Home" was written by band member Boz Scaggs who later rose to considerable global fame in his own right.
SAILOR
The second album Sailor appeared in October 1968 successes included the single "Living in the USA." may be even better. It's certainly a regular entry in most discerning critics Best 100 Albums of all time lists. Sticking with Johns but moving to Burbank to record Miller now brings in a battery of synth effects on 'Song for Our Ancestors' – whale noises from the deep included – and also introduces one of his soon to become familiar alter egos in the shape of the irresistible 'Gangster of Love'. The album is notable for other items like 'Living in the USA', which would eventually become a hit in its own right and Scaggs' rock soul brother vocals on 'Overdrive' and 'Dime-a-Dance Romance'. The albums Brave New World and Your Saving Grace did the trick again in 1969 while Number 5 (1970) took a side trip to Nashville to team the band with country luminaries Charlie McCoy and Buddy Spicher.
The band's first album, Children of the Future, was somewhat disjointed. While it features some good tracks, it wasn't until their second album, Sailor, that everything started to come together. "Quicksilver Girl" is a beautiful song with some haunting vocals and dreamlike guitars that weave in and out of each other in fine acidic fashion without ever being swallowed up by gimmicks of the era. Miller seems pretty conscious about keeping his feet on, or at least near, the ground.
Even though it never became a hit single, "Living in the U.S.A." was all over FM radio back in the day and served as many fans' introduction to Miller. It's one of the many great tracks on the band's 1968 sophomore album, Sailor, and features Miller on lead vocals with harmonies by band member Boz Scaggs, who would go on to bigger things as a solo artist around the same Miller finally broke through in the mainstream in the mid '70s.
BRAVE NEW WORLD
Brave New World is the third album by Steve Miller Band, released in 1969. It is the band's first album following the departure of founding members Boz Scaggs and Jim Peterman, with Ben Sidran replacing Peterman on keyboards.
featured the songs "Space Cowboy" and "My Dark Hour".  A certain "Paul Ramon" (alias Paul McCartney) played drums, bass and sang backing vocals. "Space Cowboy" uses the same primary guitar riff as the Beatles' song "Lady Madonna," owing perhaps to McCartney's involvement
By the time of their third album, 1969's Brave New World, Miller and band were sharpening their focus and style. That's no more evident than it is on "Space Cowboy," one of the LP's key tracks. Even though it wasn't released as a single, it became a favorite on underground and FM radio. The song, co-written by Miller and keyboardist Ben Sidran, features distinct harmonies that would become a Miller trademark. He would later reference the song on his 1973 hit "The Joker."
The title cut from 1969's Brave New World is a psychedelic-shaded tour de force. "We're traveling fast from our dream of the past to the brave new world where nothing will last that comes from the past," Miller sings in the song's opening verse. It features a fairly straightforward blues groove, but it's vividly painted in technicolor. If you're not familiar with Miller's work before the familiar chart hits, this is a good place to start.

YOUR SAVING GRACE
Your Saving Grace is a much more earthy collection of tunes when compared to the band's previous three long-players. While there are distinct psychedelic remnants of the Boz Scaggs (guitar/vocals) and Jim Peterman (keyboards) era, the addition of keyboardists Ben Sidran and Nicky Hopkins — which began on the Steve Miller Band's previous effort, Brave New World — adds a jazzier facet to this second incarnation of the group. Harking back to the band's blues roots, Your Saving Grace includes a couple of distinct blues originals — such as the up-tempo and gospel-doused "Don't Let Nobody Turn You Around" and a somewhat uninspired arrangement of "Motherless Children," which sounds more synchronous with the Sailor or Brave New World albums. The funky "Little Girl," the elegantly pensive "Baby's House," and the title track — which is oddly programmed as the LP's final cut — are among the highlights of this disc. Once again, the production is handled by Glyn Johns, whose contributions here are more subdued, yet no less noticeable. This is especially true of Miller's crystalline slide guitar licks on Lonnie Turner's cryptically titled "The Last Wombat in Mecca." The same upfront clean sound holds true on the laid-back and bluesy "Feel So Glad" — which is punctuated by some inspired and unmistakable ivory tickling by studio wunderkind Nicky Hopkins. Although the album is not as thoroughly solid as earlier efforts, Your Saving Grace and the follow-up, Number 5, are definite bridges between the early trippy montages prevalent on Children of the Future and the direction that Millerwould take on his much more successful mid-'70s discs.
NUMBER 5:
Number 5 is one of the Steve Miller Band's strongest albums; "Jackson-Kent Blues" is the LP's centerpiece. Clocking in at more than seven minutes, the song not only allows Miller and band to stretch out, but also to comment on the world around him. The lyrics deal with shootings of students at Kent State University and Jackson State College, which occurred within days of each other. Likewise, the song gives Miller an opportunity to sail away on lead guitar. Released at the end of 1970, it would be the last of Miller's batch of classic early albums.
The Steve Miller Band released their first five albums over a two-and-a-half year span. That's a heavy workload, especially when you mix in concerts and such. But the hectic schedule did little to hinder Miller's creativity on Number 5. "Going to the Country" remains one of the highlights of the LP and features killer guitar work by Miller and ace harmonica playing by session pro Charlie McCoy, While nobody could ever mistake the Steve Miller Band for a country outfit, there was definitely a nod to Nashville that was evident on the band's 1970 set Number 5. Lending their instrumental talents to the session were Music City stalwarts Charlie McCoy and Buddy Spicher. Also appearing on the same album was Bobby Thompson on the banjo. Though a departure, the sound of this track isn't too removed from such sounds of the era as Pocoor theByrds. If you haven't heard this Steve Miller Band song, check it out. 
This is the last Steve Miller Band album to feature original drummer Tim Davis.
ROCK LOVE
In 1971, Miller broke his neck in a car accident. Capitol Records released the album Rock Love, featuring unreleased live performances and studio material. This is one of two Steve Miller Band albums not to be released on CD, the other being Recall the Beginning…A Journey from Eden. In 1972, the double album compilation Anthology was released around this time, containing 16 songs from the band's first five albums.
Rock Love was the sixth album by The Steve Miller Band, released in 1971. All of Miller's previous backing band had left following the recording of the previous album, save bassist Bobby Winkelman. They were replaced by members of Winkelman's previous group, the psychedelic rock band Frumious Bandersnatch for this record, including Ross Valory (a future member of Journey) on bass, and Jack King on drums. Bobby Winkelman was in the band (having moved back to rhythm guitar) during the live recordings on the album's first side, but is not credited on the album cover. David Denny, who later joined the band in 1976, is a guest guitarist.
The album consists of three blues-rock tracks recorded live, including lengthy jam-style "Love Shock" which lasts nearly 12 minutes and includes an extensive drum solo, and four studio tracks. The first song starts with the words "I'm going to play you some blues 'cos I know you like that", but some critics disagreed, criticising the album's songs as "generic white-boy blueisms".
RECALL THE BEGINNING…A JOURNEY FROM EDEN
If the former combines slick live electric blues with fiery poppy moments in the brilliantly speedy title cut and the lurching 'Let Me Serve You', the latter is an extended amalgamation of Miller soul, enigmatic lyrics, thoughtful arrangements and the best melodic breakdowns known to West Coast music. The evolution of the album on side two is assisted by Jim Keltner's drumming and regular cohort Ben Sidran's ability to fuse his keyboards to Miller's languid singing and immaculate guitar prowess. Completely recommended.
THE JOKER
In 1973, Miller finally broke through in a big way. Steve Miller went to Los Angeles and produced his own record in 19 days. That album was The Joker. The title track became a Number One worldwide smash hit. Miller had crafted a brand of pure pop that was polished, exciting and irresistible that dominated radio, The title track became a  huge single and was certified platinum, reaching over one million sales.
The style and personnel of the band had changed radically for The Joker , concentrating on straightforward rock and leaving the psychedelic side of the band behind. The live 'Come On in My Kitchen' and 'Something to Believe In' still sound like vintage Miller Band.
On his eighth album, The Joker, he would steer his band's sound into a more focused pop-rock direction with few ties to his blues roots. The payoff was huge, giving Miller his first No.1 hit with the title track. The song's lazy groove and distinctive wordplay — especially the "pompatus of love" line — caught listeners' ears and have lived a long life in the lexicon of pop culture ever since.
So it's hard to say if Miller really invented the word — one story has him misinterpreting the lyrics from a 1954 song by the Medallions  or if it somehow drifted down to his ears from some long-lost snippet of obscure conversation by someone with the world's weirdest vocabulary.
Kind of a lot of work to put into understanding a song about weed and chicks, but hey, that's rock 'n' roll. Plus, "the splendor of love" sounds downright boring.
After a string of blues-influenced albums, 1973's 'The Joker' took the band's music and Miller's songwriting in a more pop and rock direction, resulting in the biggest hits of his career. That rise to superstardom began with 'The Joker,' and it's hard not to see why. With a guitar riff that's as catchy as it is simple and the kind of lyrics that are instantly quotable, 'The Joker' is almost so stupid it's brilliant, or maybe so brilliant it's dumb.
Maybe what's most compelling about 'The Joker' is the fact that even though the lyrics seem to make absolutely no sense, if you just listen hard a few more times, you'll somehow unlock the secrets of Maurice, the space cowboy, and the pompetus of love.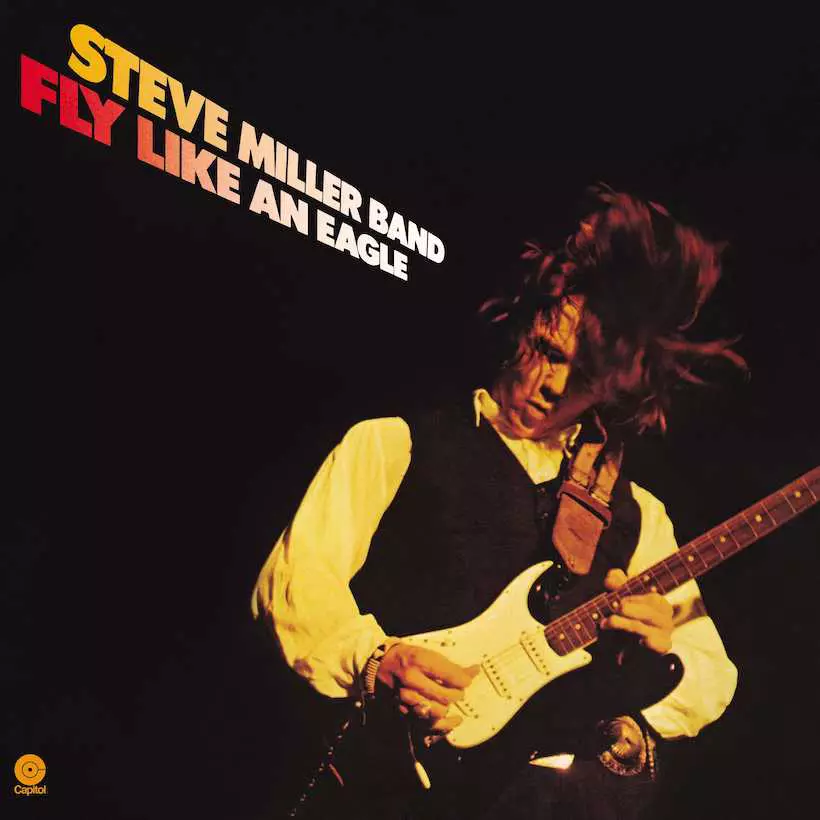 FLY LIKE AN EAGLE
Nineteen-seventy-six was a key year for Miller. A month before the release of his breakout Fly Like an Eagle LP, "Take the Money and Run" landed as its first single. Miller attempted to borrow a page from American history with a '70s take on Bonnie and Clyde, but with the lead characters in this 1974 single being named Billy Joe and Bobby Sue. FM radio wore out the album's title track, but it was "Take the Money and Run" that caught fire in the Top 40, where it stalled just shy of the Top 10 that spring. It remains one of Miller's all time best and biggest hits.
it was Three years later, the band returned with the album Fly Like an Eagle, Lonnie Turner retained from the previous album and got to work on more than two-dozen tracks in San Francisco in 1965, they divvied up the songs; half went to Fly Like An Eaglewhile most of the remaining tracks ended up on their follow-up album, 1977's Book of Dreams. Three singles were released from the album: "Take the Money and Run" , "Fly Like an Eagle" and their second  No.  1 success in America, "Rock'n Me". Miller credits the guitar introduction to "Rock'n Me" as a tribute to the Free song, "All Right Now".
At that time the band included drummer Gary Mallaber and Turner on bass, but the albums also featured contributions by harmonica player James Cotton, session guitarist Les Dudek and the Doobie Brothers' John McFee. Eagle  was singles-centric. Composed of a seemingly endless series of hit singles of differing styles, the album is a musical anthology of sorts, representing all of the music Steve Miller had ever known. From the blues to hippie-rock, country and R&B  it could almost pass for a greatest hits album.
With a titular track that's recognized at first rift, Fly Like An Eagle stands the test of time as the epitome of 70s classic rock. After its release in May 1976, the album blazed its way  and introduced Steve Miller Band's special brand of synth-driven spacey blues-rock that would spawn a string of hits and dominate the FM radio dial.
when it comes to an infectious melodies and radio-ready singles, 'Take the Money and Run' and the slick guitar boogie of 'Rock 'n' Me' take the cake. With its cinematic storyline and everyone's favourite rhythmic device, energetic handclaps, 'Take the Money and Run' kept the album on the charts for nearly two years.
Even though the Steve Miller Band had dropped the "Blues" from their moniker, it didn't mean they fully left it behind. Some of the songs that skate close to the band's blues roots are 'Sweet Maree', thanks to harmonica stylings of Muddy Waters player James Cotton and 'Mercury' which traverses its way around the blues scale.
From slow dance numbers like the Sam Cooke cover, 'Send Me' to sitars on 'Wild Mountain Honey', the album is anything but predictable and even dabbles in bluegrass on 'Dance, Dance, Dance'. Often overshadowed by the other hits on the album, 'Serenade' is a fan favourite and really is the underdog of the album. With its driving beat and dynamic key shifts . A fabulous set it's even more vital as a remastered 30th Anniversary Edition with unreleased demos, a documentary and live DVD all in 5.1 Surround Sound.
It took the band eight years and nine albums before they finally hit the big leagues and reached a whole new level of fame.
Steve Miller had experimented with different genres throughout his career, but it wasn't until he drew upon all of his past influences that his sound would coalesce into something greater. Steeped in the blues from his Chicago days, Steve Miller Band was always a blues band at heart that experimented with hippy psychedelia.
Steve Miller's '61 LP Special,
given to him by Leslie West, later painted by surfboard artist Bob Cantrell. Played in the 70s