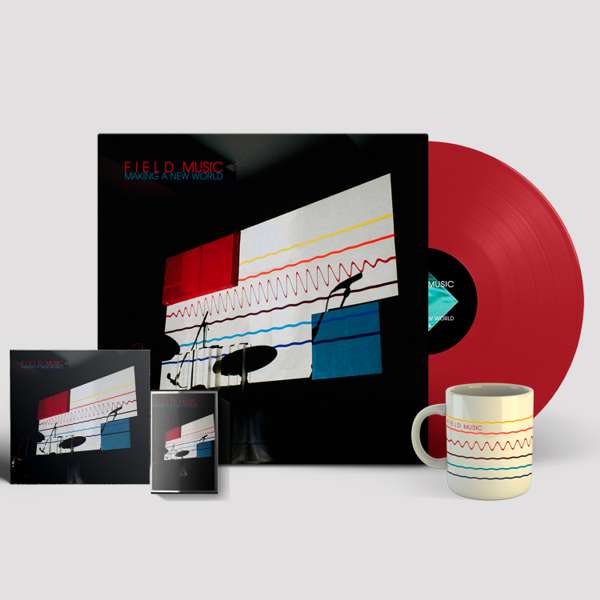 Britain's Field Music (anchored by brothers Peter and David Brewis) announced a new album, "Making a New World", inspired by the aftermath and repercussions of World War I, and shared its first single, "Only In a Man's World."Making a New Worldis due out January 10th, 2020 via Memphis Industries and features Field Music's full live band in the recording sessions for the first time in a while. Check out the album's cover art and tracklist, as well as the band's upcoming tour dates, here. We'll be playing both the new album in full and a set of what might loosely be termed Field Music classics . We've added in a show in Kendal, and  we are pleased to announce Emma Pollock, Rozi Plain and Tenement & Temple will be taking it in turn to join us for these shows
Making a New World began when the band performed two World War I-themed shows for England's Imperial War Museum at their sites in Salford and London in January 2019. The basic tracks for the album were recorded the day after the London Imperial War Museum show. While the majority of Field Music's studio work has been put together by Peter and David Brewis, the one-day session featured Field Music's full live band (Liz Corney on keyboards, Kevin Dosdale on guitar, and Andrew Lowther on bass), with Peter and David on guitar and drums respectively.
This is the first album since 2007's Tones of Town that could be considered more of a full band album.
A press release describes the themes and inspirations of the album in more detail: "Making a New World [is] a 19-track song cycle about the after-effects of the First World War. But this is not an album about war and it is not, in any traditional sense, an album about remembrance. There are songs here about air traffic control and gender reassignment surgery. There are songs about Tiananmen Square and about ultrasound. There are even songs about Becontree Housing Estate and about sanitary towels."
The jumping off point for the Imperial War Museum performances was, as the press release explains, "an image, from a 1919 publication on munitions by the U.S. War Department, made using 'sound ranging,' a technique that utilized an array of transducers to capture the vibrations of gunfire at the front. These vibrations were displayed on a graph, similar to a seismograph, where the distances between peaks on different lines could be used to pinpoint the location of enemy armaments. This particular image showed the minute leading up to 11am on 11th November 1918, and the minute immediately after. One minute of oppressive, juddering noise and one minute of near-silence."
David Brewis explains further in the press release: "We imagined the lines from that image continuing across the next hundred years, and we looked for stories which tied back to specific events from the war or the immediate aftermath. In writing these songs, we felt we were pulling the war towards us – out of remembrance and into the everyday – into the now."
David also had this to say about "Only In a Man's World" in the press release: "I found myself researching the development of sanitary pads – not a statement I've ever imagined myself making – and was surprised at how little the advertising material has changed in a hundred years. It's still, 'Hey Ladies! Let's not mention it too loudly but here is the perfect product to keep you feeling normal WHILE THE DISGUSTING, DIRTY THING HAPPENS.' And you realize that it's a kind of madness that a monthly occurrence for billions of women – something absolutely necessary for the survival of humanity – is seen as shameful or dirty – and is taxed more than razor blades?! At every stage of making this song, I had to ask myself, am I allowed to do this? Is it okay to do this? And I cringed in the next room when I first showed it to my wife. But I think confronting my own embarrassment is a pretty fundamental part of what the song is about."
Field Music's last album was 2018's Open Here. In May David Brewis released "45", a concept album about President Donald Trump released under his School of Language solo side-project moniker. Meanwhile, in January Peter Brewis released You Tell Me, the self-titled debut album for his side-project You Tell Me (a duo with Sarah Hayes of Admiral Fallow).