Arguably, no bandleader in modern history has attracted more sterling guitarists to his line up than John Mayall. During the '60s and '70s, Mayall hired and shaped some of the most distinguished axemen of all time, including Eric Clapton, Peter Green, Mick Taylor, Jon Mark and Harvey Mandel. In a frenzied, fourteen month period, between 1966 and '67, Mayall released the seminal "Bluesbreakers With Eric Clapton" album, followed by "A Hard Road", which showcased the string-bending talents of Peter Green right before he formed Fleetwood Mac, chased by "Crusade" , which introduced the world to later Rolling Stones' guitar wiz Mick Taylor.
And it's not just guitarists who are drawn into Mayall's orbit. In addition his ever-shifting bands have included such vaunted bass players as John McVie, Jack Bruce, Andy Fraser and Tony Reeves, while, on drums, he nurtured the classic stickmen Mick Fleetwood, Aynsley Dunbar, Keef Hartley and Jon Hiseman. To boot, he provided early showcases for British sax icon Dick Heckstall-Smith and fusion violin pioneer Don "Sugarcane" Harris.
"I guess I've got good taste," said Mayall, with a laugh. He's also got longevity. At 83, Mayall still tours widely and puts out albums, including a crisp and toned new one, Talk About That
John Mayall Talk About That
The music on the album honors, and reemphasizes, the star's more than half century devotion to the blues. Two cuts feature contributions by Joe Walsh. "Apparently, it was on [Joe's] bucket list to play with me," Mayall said. "I didn't know his qualifications as a blues guitarist, to be honest. But he fit right in. He was only with us a few hours but it was a magical experience."
Much the same could be said of Mayall's many collaborators over the years. Few of them tarried long in his band, but each left an indelible impression. After more than half a century of talent scouting, it's high time to celebrate everything John Mayall did with, and for, the star musicians he nurtured.
If you ask Mayall what he brought to all these axemen in their formative phases, he'll answer with one word: freedom. "If I hire somebody to play with me, I'm hiring them because I love their playing," he said. "I don't want to usurp that by saying 'you must play this and you can't play that.' I gave them the freedom to help them develop their own style."
Mayall's age helped him assume that mentor role convincingly. He was already thirty when he got his first record contract and began his storied hiring spree. His father had also been a guitarist and jazz fan, though John leaned closer to the blues as a teen after hearing artists like Lead Belly and Pinetop Smith. Armed with a guitar and a harmonica, Mayall played in blues bands during his time at the Manchester College of Art. Years later, the visual flair he honed at school would allow him to design some of his early album covers. In 1962, Mayall formed the group Blues Syndicate, mixing that genre with jazz, a balance inspired by Alexis Korner's band. Korner convinced Mayall to move to London where, in 1963, he formed his first version of the Bluesbreakers, featuring John McVie on bass. Mayall himself sang lead vocals and played rhythm guitar. The group secured gigs at the Marquee Club, which led to a contract with Decca Records. In 1964, Mayall's band received an amazing opportunity—to back John Lee Hooker on a British tour of clubs and festivals. "We learned a lot from playing with him," Mayall said. "The first thing we noticed was that, where all the English bands were playing as loudly as they could, there was a different dynamic from the American blues greats. From them, we learned all about dynamics and volume."
Mayall believes that the British and European musicians had more respect for the roots players than their American brethren did back then. "There were two separate societies in America at the time because of the color bar," he said. "When the black jazz and blues musicians came over here they were treated like Gods. So it was inevitable that Europeans would eventually come to the blues line of work themselves."
While some accused the British players of ripping off American blues stars, in fact they brought a different level of velocity, virtuosity and abstraction to the form. Essentially, they applied the expansions of free jazz to the chord structures of the blues. "Everybody found their own style within that structure," Mayall said.
John Mayall Plays John Mayall
Not that the older generation in the music industry understood what these young bucks were doing. Mayall says his label, Decca, hadn't a clue what he was up to on his debut work, John Mayall Plays John Mayall a live album released in 1965. On the disc, he sang and played harmonica, organ and 9 string guitar, while Roger Dean served as the band's first lead guitarist. "Decca washed their hands of me after that first album," the musician said. "It didn't sell well enough for their executives. But Mike Vernon, the producer, talked to them and, they thought, 'if it's okay with Mike, then.. Still, things might not have been okay for long had Mayall not made a crucial change in his band that year. On the small London music scene, he had heard buzz about a young guitarist in the band The Yardbirds—one Eric Clapton. At first, Mayall wasn't interested. When The Yardbirds made that first big single, "For Your Love" it didn't impress me very much," Mayall said. "But it had a B-side, "Got To Hurry" which was an instrumental. That was the thing that knocked me out."As it turned out, Clapton felt much the same way. He hated the pop direction of "For Your Love" enough to ditch the band. "I approached him to see if he wanted to join my band," Mayall said. "All we were doing was playing blues and that's exactly what Eric wanted."
Clapton replaced the departed Roger Dean and the refigured band began to cut their teeth in the London clubs. Unfortunately, Clapton proved to be a mercurial soul, prone to moodiness and hard to control. Mere months after cutting some sides with the Bluesbreakers, he announced he was running off to play with a bunch of virtual amateur musicians he had met in a group called The Glands. The unflappable Mayall told Clapton he could always come back if he changed his mind. In the meantime, the band leader subbed in another promising young, blues-obsessed guitarist from the scene: Peter Green. By November of '65 Clapton came to his senses, pushing Green out. The next year the reconstituted band recorded that first Bluesbreakers release, an instant classic. Mayall said he considered the album just "a nice opportunity to go into the studio and put down what we were doing live. We never realized it would have the success that it did."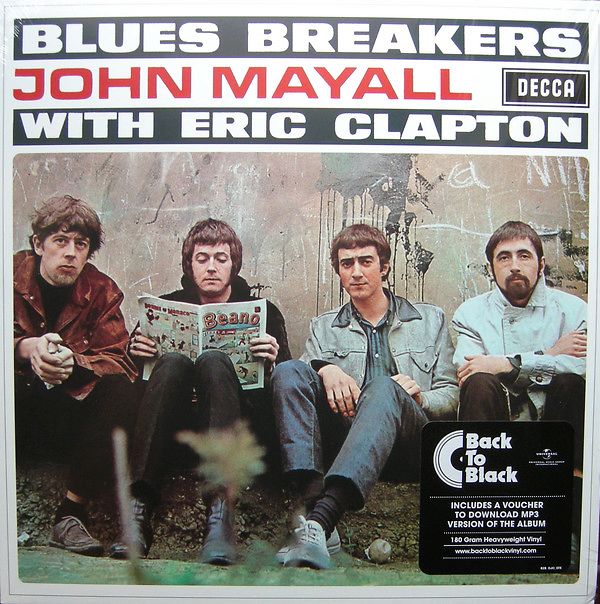 Bluesbreakers with Eric Clapton
'Bluesbreakers with Eric Clapton' shot to to No. 6 on the U.K. Top Ten. The material on it included some original pieces by Mayall, who played keyboards and sang on the album. But mainly the repertoire emphasized covers of blues songs by artists like Otis Rush, Mose Allison and Little Walter. Clapton's solos dominated the disc, fully earning the star billing he received on the cover. It was Mayall's idea to highlight his impeccable contribution right on the album sleeve.
The album struck such a deep chord with the public, it inspired that famous graffiti scrawl in London, "Clapton Is God." It also set the template for all the rock guitar heroes to come over the next decade. Some fans believe 'Bluesbreakers with Eric Clapton' contains the most fiercely emotive work of the guitarist's career. At the time of its release, however, Clapton had already met bassist Jack Bruce who, together with drummer Ginger Baker, had a notion for new kind of band—a power trio. Clapton formed that group Cream without telling Mayall, who found out the way everyone else did—by reading about it the music press.  One can hear the very direct influence of Buddy Guy and a handful of other American bluesmen in the playing. And lest anyone forget the rest of the quartet: future pop/rock superstar John McVie and drummer Hughie Flint provide a rock-hard rhythm section, and Mayall's organ playing, vocalizing, and second guitar are all of a piece with Clapton's work. His guitar naturally dominates most of this record, and he can also be heard taking his first lead vocal, but McVie and Flint are just as intense and give the tracks an extra level of steel-strung tension and power, none of which have diminished across several decades.
Remarkably, Mayall considered the surprise defection of his star attraction no big deal. "It was inevitable," he said. "Eric and Jack wanted to do something different and Ginger Baker was there to talk them into it. From my point of view, this has always been simple. If somebody left the band, I found a replacement. And it seemed there was always somebody out there that I'd like to work with. As a bandleader I had the privilege to hire anybody I wanted."
Mayall rallied by asking the 20 year old Peter Green to come back to the fold one year after he'd been shown the door. "He was a bit reluctant to trust that this job would be reliable," the bandleader said. "Peter had the opportunity to work with The Animals and go to America. But because of his love of the blues, he decided he'd rather play in my band."
John Mayall Bluesbreakers A Hard Road
Again, the chance to stick with pure blues became Mayall's selling point for his young players. The result paid off with another Top Ten album, the critically hailed 'A Hard Road,' out in February of '67. It featured two songs written by Green, and two sung by him. Green had a more economical style than Clapton, with a tone so sweet, B.B. King later said that it brought him to tears. Original pieces dominated 'A Hard Road,' most of them written by Mayall. As with Clapton, Green only remained with Mayall for a year, but when he left, he inspired a major defection, taking with him then drummer Mick Fleetwood—and bassist John McVie not soon after. Together, they formed Fleetwood Mac.
Even with so with another huge a blow to his band, Mayall kept an even-keel. It helped that he soon ferreted out another six-string master—18 year old Mick Taylor. Finding three such amazing players in a row makes Mayall seem like the brains behind Menudo, an act which subbed in new kids every time one got too old. Only in Mayall's band, age wasn't a factor and every young guitarist he hired turned out to be a genius.
John Mayall Crusade
The reborn band's debut, 'Crusade," released in September of '67, followed its predecessors path by shooting straight into the U.K. Top Ten. The music found Taylor in a commanding position. "He has a very elegant sound," Mayall said. "He was more jazz influenced than Peter or Eric. but no one sounds like Mick, even today."
The final album of an (unintentional) trilogy, Crusade is most notable for the appearance of a very young, pre-Rolling Stones Mick Taylor on lead guitar. Taylor's performance is indeed the highlight, just as Eric Clapton and Peter Green's playing was on the previous albums. The centerpiece of the album is a beautiful instrumental by Taylor titled "Snowy Wood," which, while wholly original, seems to combine both Green and Clapton's influence with great style and sensibility.
While it seems amazing that Mayall surfed so smoothly through all these fast changes, brisk switch-up weren't at all unusual in the '60s or early '70s. The culture itself was moving at warp speed. Each year brought a whole new look, sound, and sensibility to the culture. The tender age of Mayall's proteges also played a part. "They hadn't much experience in playing," he said. "They were in the process of finding their own style and finding out what they wanted to do in music. Being with my band helped them to develop rather more quickly than they might have done otherwise."
"When one looks back you can see that speed," of the changes, Mayall said. "But when you're involved in it, you're just doing a job, playing seven or eight gigs a week. You don't have time to notice the big picture."
John Mayall Bare Wires
To momentarily stave off more changes, Mayall pulled a fast one himself. He cut his next album The Blues Alone nearly entirely himself, penning all the songs and playing all the instruments save the one manned by drummer Keef Hartley. The album contains a rare example of Mayall playing lead guitar. It didn't pay off commercially, but the bandleader rebounded strongly on 1968's Bare Wires, his first album to crack the U.S. charts (reaching No. 59). "Wires" devoted a full side to a single suite, gave new reign to Taylor's fluid guitar and provided a showcase for saxist extraordinaire Dick Heckstall-Smith.  The album began with a 23-minute "Bare Wires Suite," which included more jazz influences than usual and featured introspective lyrics. In retrospect, all of this is a bit indulgent, but at the time it helped Mayallout of what had come to seem a blues straitjacket (although he would eventually return to a strict blues approach). It isn't surprising that he dropped the "Bluesbreakers" name after this release.
Blues From Laurel Canyon (Remastered)
'Wires' marked the final album credited to the band name Bluesbreakers, but that wasn't the strongest break Mayall made at that time. Late in '68, he left England to take up full time residence in what was then the newest hotbed of musical creativity—Laurel Canyon. While that locale gave rise to the whole singer-songwriter renaissance, as well as to the CSNY axis of creativity, Mayall says he didn't participate much in the scene. "The only person I met there was Frank Zappa," he said. "But I fell in love with the place. It was everything I hoped America would be."
Turning Point,
Mayall trumpeted that love on Blues From Laurel Canyon, a seamless work which ran all the songs together in rootsy reverie. Soaking up the mellow L.A. atmosphere had an even greater impact on his next album, aided by a key loss. In June of '69 Taylor bolted to replace the just-deceased Brian Jones in the Rolling Stones. The jolt brought out something revolutionary in Mayall. For his next work—the aptly named The Turning Point.
Mayall ditched high-octane, top volume blues for an acoustic-based band that featured no drummer. "I just got tired of the same instrumentation," the bandleader said. "With a drummer-less band, there are more dynamics and no one gets drowned out. People who heard about the album were very skeptical. Promoters were horrified that they were booking a band that had no drums. But I went ahead anyway."
Mayall had key help from folk guitarist Jon Mark. A sensitive player, Mark had previously been part of an overlooked gem of a band, Sweet Thursday, which included piano wiz Nicky Hopkins and future Cat Stevens collaborator Alun Davies. For the new project, Mayall amped up the role of a sax and flute player he'd already collaborated with: Johnny Almond. Mayall's inspiration for the radical project was the record The Train and The River by Jimmy Guiffry, which featured just guitar and sax. To nail the immediacy of his new approach, Mayall cut 'The Turning Point' live at The Fillmore East. One song, Room To Move became an FM staple, prized for its brisk rhythm and wild mouth-organ flourishes.
Empty Rooms
In this incarnation, the group put out one studio album, 1969's Empty Rooms, Immediately afterwards, Mark and Almond broke off to form their own acoustic-jazz group, inventively named The Mark-Almond Band. Some thought they ran off with Mayall's idea but the magnanimous bandleader prefers to view MAB simply as "a continuation" of the style. Either way, the defection paved the way for yet another creative leap, this one involving the dexterous guitarist Harvey Mandel (late of Canned Heat) and fusion violinist Don "Sugarcane" Harris. The latter had made key contributions to Frank Zappa's Hot Rats as well as to great Mothers' albums like Weasels Ripped My Flesh The new band issued USA Union in 1970, pushing the sound deeper into jazz while retaining the drummer-less motif. "For me, jazz and blues have always been intertwined," Mayall said. "There's no dividing line."
Back to the Roots
As a perfect capper for Mayall's classic era, he released Back To The Roots. in 1971, a work which briefly reunited him with Clapton, Taylor, Almond, and other great players from his past. Mayall says he has maintained good relationships with all of his starry graduates of his group in all the years since. Taylor, for one, has often returned to play with him. The bandleader harbors no jealousy for the successes his proteges have achieved with other bands, most of them far greater than his own. Mayall's insistence on sticking with the blues, rather than moving into more pop friendly sounds, accounts for the disparity. He believes he had no choice in that. "Blues is the only thing I know how to play," he said.
Over the past few decades, Mayall's blues-rooted bands have given platforms to other significant, if less celebrated, guitarists, including Coco Montoya, Walter Trout and Buddy Whittington. His current band has no lead axeman at all, the better to let the three players shine. At 83, Mayall still tours 100 days of the year and records regularly. The latest album ranks as his 41st. "There's never a shortage of ideas," he said. "I just love music, and so I always want to explore it.