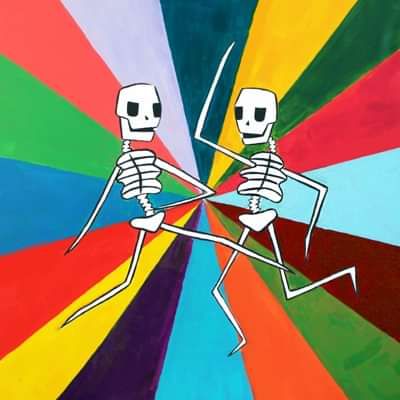 Gender-fluid, playful, but built on classic songwriting, Sundara Karma have established themselves as a singular new British rock band, in the time it took to dream up and broadcast one magnificent debut album – thus far. Still all only in the region of 22-23 years of age, but together as a unit since they were 14, their collective confidence now manifests, as they pull off a bold and future-forward metamorphosis, rematerializing with a second album called 'Ulfilas' Alphabet', which intrepidly ventures into collaborative tech-exploration, and is poised to mount an irresistible charge on the pop charts' upper échelons.
Oscar Pollock, most are agreed, is a supernova star in waiting. Strikingly blonde-haired and blue-eyed, but ever wrestling with an outsider identity, he's one of few contemporary artists who can draw (and frequently has!) realistic comparisons with David Bowie. Like the Thin White Duke, his second batch of songs derives from a compulsive absorption of ideas, from disparate sources ranging from Buddhist/occultist literature and Hindu singer Krishna Das, through to contemporary pop icon Ariana Grande, and Tears For Fears in their mid-'80s maximalist pomp.
Informed by all those and more, 'Ulfilas' Alphabet' was made with a burning desire to sound colourful, wild, forward-looking, full of optimism and revelatory zeal. Says Oscar, "We were definitely out to mess with people's heads, to make music that paints a picture, and transports you somewhere. We didn't want to be limited by that thing of, 'Oh no, we can't do that, it's too many instruments, we won't be able to do it live…' Nah! Minimalism went right out of the window. We wanted to throw the kitchen sink at it. Sometimes we had to rein things back in a bit, but mostly, we let the boat go out really quite far – as far as it could go!"
Oscar and his compadres were keen to engage at the forefront of contemporary music-making, to use the sound palette of the moment, and hopefully extend it. To that end, they enlisted a freshly-minted production alliance coined on Everything Everything's 'Get To Heaven', where that band's own in-house studio wunderkind Kaines, aka Alex Robertshaw, would record the band's music, raw and exploratory, then pass the tracks on to Los Angeles-based Stuart Price, whose elite-class pop CV includes work with Madonna, The Killers, New Order and Pet Shop Boys, to be streamlined with an expert sprinkling of aural magic.
This winning formula has worked wonders all over again, as Sundara Karma re-emerge revolutionized with a sound from a new dimension. Upfront tune 'One Last Night On This Earth', which was premiered on 30th October on BBC Radio One as Annie Mac's Hottest Record, effervesces with hi-spec sonic invention, adding momentary pizzazz to the carpe-diem message in Pollock's song.
"I wanted to write about an extra-terrestrial who's been sent to Earth to observe human interaction," explains Oscar, of that delirious anthem. "The being's mission is to find an emotion that their species has never felt before but it ends up finding nothing…until it falls in love the night before it has to leave and realises, 'Aaahh, this is the trick, this is the game we haven't been playing!'"
A joyful sense of 'eureka moment' runs right through 'Ulfilas' Alphabet', which'll surely transmit to the buying public in 2019, sending Sundara Karma into the Big League they were always destined for…
Oscar Pollock spent his early years in Singapore, until he was seven, when the family moved to England – to Bourne End, near Maidenhead. One of the first friends he made at school was Haydn Evans, later to become drummer in Sundara Karma. Oscar acquired his first guitar aged eight, and his songwriting adventure began right there. "It just felt right for me," he shrugs, "you know something's true when you don't think about it – it just happens."
The music he heard from his folks included Bowie (from his mum), while his father, a party DJ, introduced him to a whole gamut of classic pop-rock, from Thin Lizzy and Pink Floyd, to The Smiths and Shirley Bassey. He'd later find his 'own stuff' in post-millennial acts like The War On Drugs, but his early teens were a tumultuous time in his family, and his father relocated them to nearby Reading. Oscar started at a new secondary school, and there met lead guitarist Ally Baty and bassist Dom Cordell; quickly reconnecting with Haydn Evans, Sundara Karma (Sanskrit for 'beautiful action') was born, says Pollock, as "a reaction to the void of Reading".
Aged 17, circa 2013, the band were signed by indie label Chess Club on the strength of an online posting of early composition, and were already gigging heavily during their A-level year. Shelving plans to go to uni, they'd released two EP's, supported Swim Deep and Wolf Alice around the UK ("party central!") and played their first headline tour before 2015 was out.
Oscar's songs, as spirited up in their tight-knit group, evoked the skyscraping majesty of early Arcade Fire, as well as Bowie's 'Hunky Dory', amid themes of loneliness, identity crisis and precocious self-awareness. Released in January '17, their debut long-player, 'Youth Is Only Ever Fun In Retrospect', also showcased a depth of cultural engagement rare in 'Teens music, with inspiration drawn from Manet, Plato and Lama Marut, and even then Pollock talked of this collection as only "the tip of the iceberg – I don't even know if it captures us totally, or everything we have to say."
Still, the album shot to Number 24 in the UK, and took Sundara Karma to unimaginable heights. Their fifth UK headline tour culminated with an euphoric sold-out show at Brixton Academy, and at last year's Reading Festival, which the four of them had attended together as kids, with dreams of one day playing there, they were anecdotally the weekend's biggest draw in the second-stage tent, with scores of latecomers forced to listen from outside.
As touring rumbled exotically onwards through Japan, South Korea and Indonesia, "meeting people who'd literally waited years to see us play live", Oscar says it was all "so much fun, filled with a huge amount of joy", and it never got too much, because there'd be breaks in the itinerary "for me to be reclusive and go into writer mode at home". And so 'Ulfilas' Alphabet' was percolating.