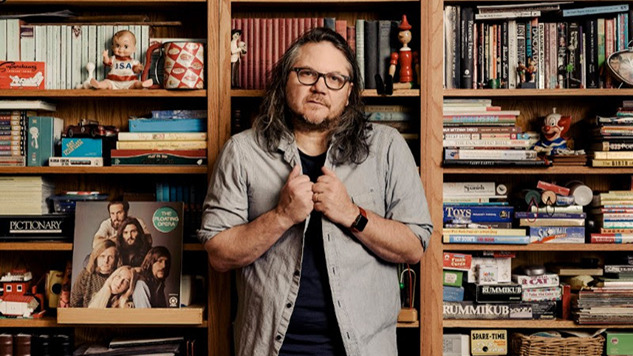 Jeff Tweedy  has shared "Some Birds," the first single off his forthcoming solo album Warm, due out November. 30th through dBpm Records. The record, recorded at Tweedy's legendary Chicago studio The Loft, will be his first proper album of entirely new solo work, and will feature liner notes by the acclaimed author George Saunders.
"Some Birds" finds Tweedy up to his old Uncle Tupelo tricks once again. The rusted alt-country of No Depression has, throughout the years, alternately been Tweedy's boon and bane some of Wilco's best work occurred when he was running as far away from roots rock as he could. But when he's on his own, that naturalistic style of songwriting feels, well, natural.
Like Wilco's collaboration with Billy Bragg, or Tweedy's own cover of Dylan's "Simple Twist of Fate" off the I'm Not There soundtrack, "Some Birds" just feels right. His reedy voice seems to be made for lap-steel slides and clomping acoustic vamps. That's not to say he's gone all "beer, trucks and broken hearts," though—he's still got his deadpan wit and an eye for good imagery. "Some birds just sit / useless, like a fist," he sings to start. "I lean on the wall / like a broom, confused / by the scope it all," he adds later, his metaphors always dangling for a few moments, leaving you wondering just how a fist is useless, or how a broom can be confused. It's comfortable but funny, lived-in but not tired.
According to Tweedy, "Some Birds" is "like a lot of songs on Warm, being a confrontation between self and shadow self simultaneously feeling I'm to blame and not to blame, present and gone, and utterly confused, but determined to hold someone accountable."
Official video for "Some Birds," the lead single off Jeff Tweedy's solo album Warm.
Tweedy will be touring this fall in support of his new record. Check out the "Some Birds" video