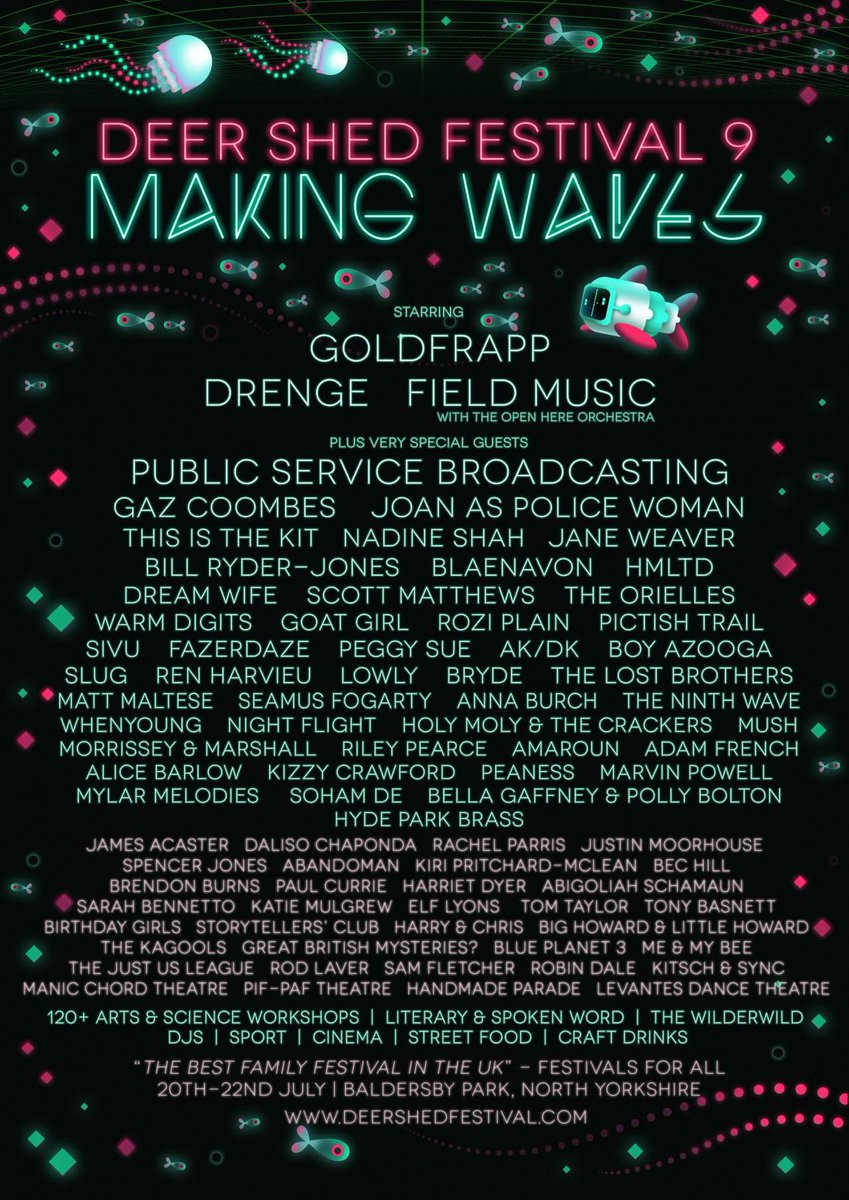 The Deer Shed Festival is among my favourite festival events of the year, I have only missed two of these yearly events the first one I didnt know about the other was due to a car mishap Its always the week after the larger and more hetic Latitude the Deer Shed is a wonder, a small site easy to navigate your way around and full of family led  people that just want to find a few new bands and let their children thoroughly find themselves in the vast array of things to do . At Deer Shed you are probably more likely to come across a small person going a bit wild after too many fruit juices than an adult getting drunk and rowdy. Deer Shed Festival could quite possibly be the best family festival in the UK ever.
Friday
Everything is a delight on this opening day all I can say is that every band is worth seeing, so how do you decide who to see, My top choices are Blaenavon, they should surely warm up the crowd with their infectious indie rock and insanely energetic performance, Ben Gregory introduces them with: "We're Blaenavon. It's difficult to spell and even harder to say!" their incredible debut album "That's Your Lot" released last year. Received with critical acclaim, the band have been festival faves ever since it came out and if you haven't caught them live yet, well, you're really missing out. released last year.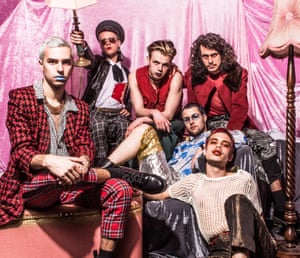 Then the visually new romantic punks and creatures of the night: whatever you describe them HMLTD are, they're absolutely ace. Outlandish, strange and on the rampage, HMLTD are all dressed up with somewhere to go.
Dream Wife  the Icelandic-Brightonian star trio, From their Riot Grrrl roots right up to their raucous live show, we been waiting a long time for a band like Dream Wife. They've got the art school cred – they all met while studying down in Brighton but are now based in London – they've got the slamming tunes and they've got the kind of attitude that, were you able to bottle it and sell it to shy and retiring 14-year-olds, you'd make millions. 'Cool' is a word that's chucked about far too lightly these days, but cool is what Dream Wife are. The trio are made up of Rakel Mjöll on lead vocals, Alice Go on guitar and Bella Podpadec on bass, and their glimmering punk-pop is the most exciting thing you're going to hear this weekend.
but in the Lodge Stage there is not one act to be missed too Joan Wasser aka Joan As Police Woman is the colossal Friday night headliner. Simon Raymonde of Bella Union Records ( surely the best indie label in this world) bass player in legendary Cocteau Twins. For his new venture Simon has teamed up with Richie Thomas, ex-Dif Juz member, to release some more tunes of their own. They're called Lost Horizons, and their stunning debut album, Ojalá, is a rare sighting of two gifted musicians who, for different reasons, have been largely absent from music-making for the last twenty years.
Check out Art School Girlfriend and girl band Peaness, and finally friday night headliner Drenge , Drenge may be from the Peak District but they often gig in Sheffield, have not performed live for nearly three years all intents and purposes a Sheffield band with echoes of Jack White or the Black Keys. Their heavy riffage of Black Sabbath and sounds as though Messrs Iommi and Ward dropped by the shack where they recorded it to help out, Drenge are an English three-piece rock band made up of Eoin Loveless, on guitar and vocals, his younger brother Rory, on drums, and Rob Graham on bass. The brothers grew up in Castleton, Derbyshire, where they formed the band in 2010, relocating to Sheffield in 2014. The band take their name from something "that would sound like a noise that we would be playing onstage." Their name also translates into "Boys" in Danish. They have released two albums, Drenge (2013) and Undertow (2015).
Saturday
Goldfrapp the Electronic synth pop duo, comprised of Alison Goldfrapp and Will Gregory headline the saturday night along with the return of the excellent Public Service Broadcasting to Deer Shed consisting of J. Willgoose, Esq. on guitar, banjo, other stringed instruments, samplings and electronic musical instruments, Wrigglesworth on drums, piano and electronic musical instruments, and J F Abraham on flugelhorn, bass guitar, drums and assorted other instruments. The band mostly plays instrumental music; Willgoose has said that "singing is never going to work. I'm not going to be happy with it, I'm not going to be comfortable playing it to other people."They take samples from old public information films, archive footage and propaganda material.
This Is The Kit, featuring Kate Stables' her angelic voice and her magnificent band of musicians, After making a long-awaited breakthrough with 2015's Bashed Out – which featured PJ Harvey collaborator John Parish and the National's Aaron Dessner – last year's Moonshine Freeze a certain Best Album of the Year cemented the Winchester-born, Paris resident's position as the rising star of contemporary folk. Although her music nods to Sandy Denny, Beth Orton and Robert Wyatt, she's carving her own niche in a notoriously tough field. Her songs veer from achingly stripped down – just voice and banjo – to deliciously more complex, with layers of trumpet, clubbier grooves and psychedelic folk mantras.
Young Halifax band The Orielles first caught our attention with their jangly brand of surf-pop, Consisting of sisters Esme and Sidonie, with friend Henry on guitar, The Orielles are skilled at creating sunny melodies, fused with reverb-strewn harmonies and their own trademark sparkling, youthful energy. 
Cardiff-based Boy Azooga is piloted by Davey Newington, a young man with much musical heritage currently making waves.. The gifted vocal of Matt Maltese, but my highlight of the day is Gaz Coombes and his band the ex-Supergrass frontman, if you saw his set on Jools Holland it was just sublime.  A key inspiration for the album was reading Grayson Perry's assessment of contemporary manhood The Descent Of Man. The book resonated on a personal level, making him contemplate his conduct as a man in the context of being a partner, a father to two daughters, a son, and a songwriter, but also as a male who feels compelled more generally to be an active participant in deconstructing and rebuilding masculinity in order to create a better, fairer, more equal society. Check out his latest solo album World's Strongest Man, So here's an album by a male songwriter who feels deeply affected by the conversations happening around men and masculinity right now in light of #MeToo, Time's Up and gender inequality in all its forms. Gaz Coombes isn't congratulating himself on having these thoughts, he's just trying to be more like the man he wants himself and other men to be. There's room for a lot more of those.
Psychedelic super vocalist Jane Weaver with her latest album Modern Kosmology leads us to the claim that she could well be the queen of psychedelia.,
One of the many multi-talented members of This Is the Kit is singer songwriter Rozi Plain as a solo performer pleases both the traditional folkies and those with more experimental tastes. Dreamy electronic synth riffs and fluttering soundscapes surround her vocals layered with lovely harmonies.,
Someone I really need to see is American singer songwriter Anna Burch. Burch's debut album, "Quit The Curse",  released in early February. The nine tracks of pop rock generously glazed with her honeyed vocals. It's "about processing unhealthy and tumultuous relationships" from the Detroit singer-songwriter. Though, on first listen, the album's many difficult themes are rarely given away by the breezy production that shrouds the lyrics like a beautiful, catchy cocoon. If singles '2 Cool 2 Care' and 'Tea-Soaked Letter' are anything to go by, it's going to be a phenomenal set with Burch's super-sweet vocals and song subjects.
Sunday
Field Music  brothers David and Peter Brewis are that awesome band from Sunderland  What a Sunday afternoon finale to Deer Shed Festival 9 this should be! co-founder and former guitarist of The Coral, a producer extraordnare is pretty much Merseyside music royalty. Bill Ryder-Jones, one of the most intelligent and moving guitar-driven singer songwriters around. Scottish band and Lost Map act Pictish Trail  also I'll be checking out one woman and her guitar. who after 3 super EP's released her debut album "Like An Island" Sarah Howells is beginning to make seismic waves in the British music scene. as Wales based songwriter Bryde formerly part of the duo Paper Aeroplanes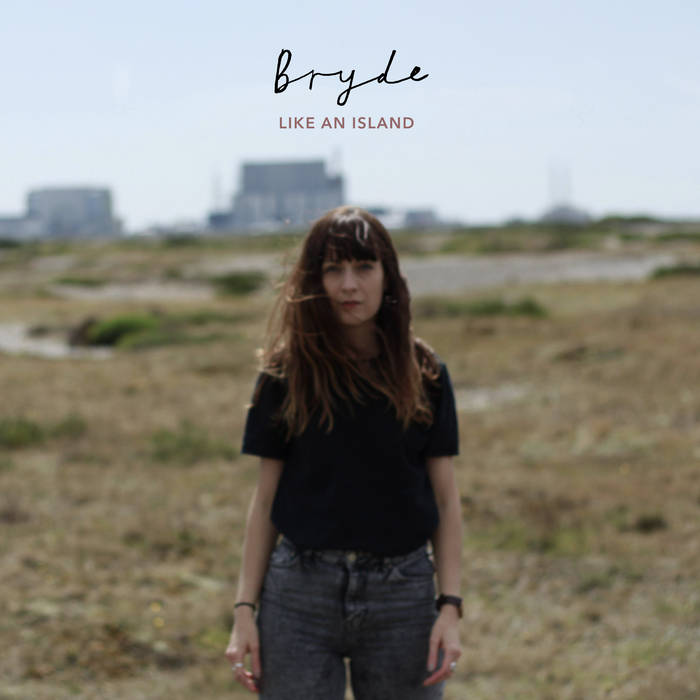 Make sure you check out the Big Top and the comedy of James Acaster  and over in the new Buckends tent is legendary songwriter Chris Difford from the band Squeeze hopefully playing a few songs and talking about his time with the much loved quintessionally english group.
Head over to the legendary Science tents where the Deer Shed offers a fantastic selection of activities for all ages with craft activities and workshops going on during the day. a huge effort to ensure that older children had interesting and age appropriate things to do as well as the younger ones. There are workshops galore, one where you could  screen print your own festival poster,
Don't forget the other highlights the run around the park on sunday morning and of course who does'nt love a game of Swingball or the chance to construct something at Cardboard City.