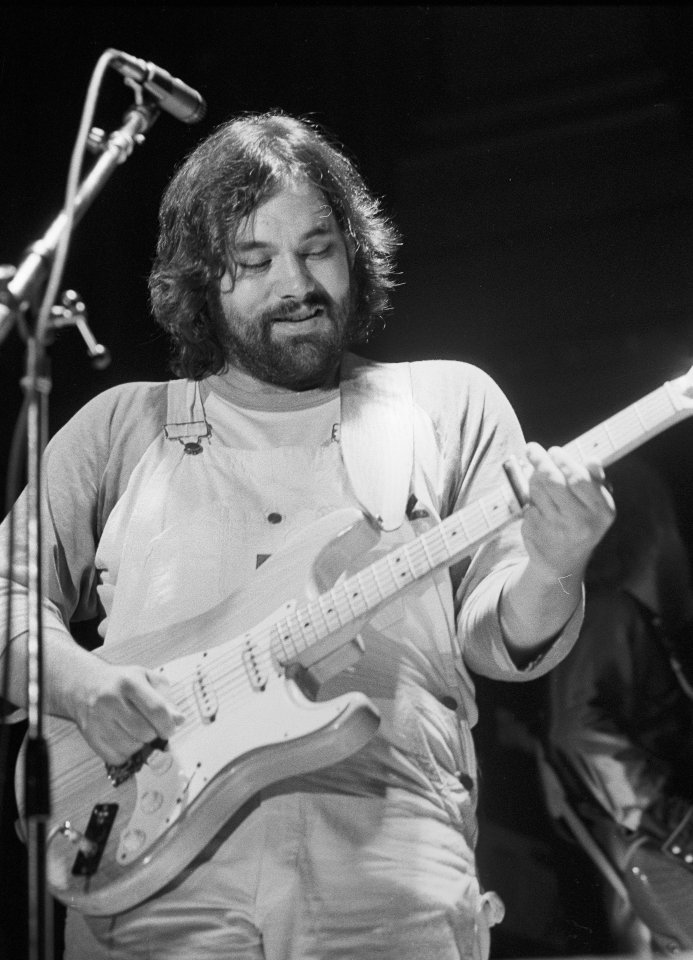 Today we are remembering the late Lowell George. The Little Feat guitarist would have turned 73 years old this year. Lowell initially funded his first band by the sale of his grandfather's stock in 1965 and released at least one single on the Uni label, "Smile, Let Your Life Begin" (co-written by George). Members included future Little Feat drummer Richie Hayward (who replaced Dallas Taylor in September 1966), Martin Kibbee (a.k.a. Fred Martin) who would later co-write several Little Feat songs with George (including "Dixie Chicken" and "Rock & Roll Doctor"), and Warren Klein on guitar. Frank Zappa produced two tracks for the band, but they weren't released until 1993 on the album Lightning-Rod Man, billed as Lowell George and The Factory.
The band made an appearance on the 1960s sitcom F Troop as "The Bed Bugs". They were also featured in an episode of Gomer Pyle, U.S.M.C., "Lost, the Colonel's Daughter" (season 3 episode 27). Although not visible in the scene inside the A Go-Go club, their music can be heard playing loudly. They received credits at the end of the episode as "'The Factory' Lowell-Warren-Martin-Rich, Courtesy of Universal Records".
Following the disbanding of The Factory, George briefly joined The Standells. In November 1968, George joined Zappa's Mothers of Invention as rhythm guitarist and nominal lead vocalist; he can be heard on both Weasels Ripped My Flesh and the first disc of You Can't Do That on Stage Anymore, Vol. 5. During this period, he would absorb Zappa's autocratic leadership style and avant garde-influenced conceptual/procedural-oriented compositional methods. He earned his first production credit, in conjunction with Zappa and Russ Titelman, on Permanent Damage, an album recorded by "groupie group" The GTOs. George later asserted that "he performed no real function in the band" and left the group in May 1969 under nebulous circumstances. GTOs member Pamela Des Barres has claimed that George was fired by the abstemious Zappa for smoking marijuana, while he claimed at a 1975 Little Feat concert that he was fired because he "wrote a song ["Willin'"] about dope." On the contrary, biographer Mark Brend asserts that Zappa "liked the song" but "thought there was no place for it in the Mothers' set"; George himself alternatively claimed that "it was decided that I should leave and form a band" by mutual agreement.
On June 15, 1979, George began a tour in support of his solo album. On June 29th, 1979, the morning after an appearance at Washington, DC's Lisner Auditorium where the bulk of Little Feat's seminal live album Waiting for Columbus had been recorded, George collapsed and died in his Arlington, Virginia hotel room.
Lowell George from Little Feat's 1970's Fender Stratocaster. This is one his last ones, apparently he got so many guitars stolen during his career that he only played on modern Strats that was easy and cheap to replace. Most of them did look the same since he favoured light wood coloured big headed Strats with maple necks. He always installed a Telecaster bridge pickup and volume knob and used an 11/16 socket wrench as a slide. Don't ask me what's going on with the input jack but he changed that on all his guitars too. Notice his dungarees behind the guitar.George struggled quite a lot in life and was addicted to cocaine and hamburgers but he was a helluva slide player. Little Feat, the best kept secret of the Seventies.