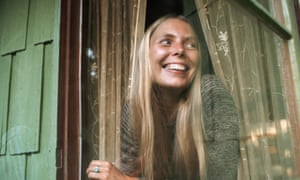 Joni Mitchell emerged at a time when the women's rights movement was still building steam, and had to fight for recognition as a serious artist. Her image was often defined in terms of whom she was dating – a Rolling Stone article dubbed her "The Queen of El Lay", and her famous boyfriends included David Crosby, Graham Nash, James Taylor, and Jackson Browne. As her material became more ambitious, and her lyrics became more questioning of society, she was abandoned altogether by Rolling Stone, who named her 1975's excellent The Hissing of Summer Lawns as one of the worst albums of the year. So if she often appears a little self-promotional in interviews, ranking herself alongside Bob Dylan as the great solo artist of her generation, she's generally justified, reacting to the sexism she encountered in her prime.
The sophistication of her songwriting and, in particular, her musical arrangements is the essential element that sets Joni Mitchell apart from her contemporaries and her peers, whether the troubadours of the early 70s Laurel Canyon singer-songwriter scene or lyrical heavyweights such as Leonard Cohen, Neil Young and even Bob Dylan. And yet in the music industry, Mitchell has never really been afforded the kind of respect heaped on her male counterparts.
Mitchell's a wonderful singer, songwriter, and guitarist; a childhood bout of polio left her unable to play guitar conventionally, and she's an expert of alternative tunings. While her public persona is of a folk singer of songs like 'Both Sides Now' and 'Chelsea Morning', her musical reach expanded throughout the 1970s into pop and jazz. Towards the end of the 1970s, her albums became too insular for me to follow, but her run of albums in the early to mid 1970s is stunning, a peak that ranks with the greatest artists in popular music. It defines the best songs that Joni Mitchell wrote at her creative peak, which stretched from the release of Blue (1971), through For the Roses (1972), Court and Spark (1974) and The Hissing of Summer Lawns (1975), to the pared and broodingly atmospheric Hejira (1976).
Blue (1971)
Joni Mitchell's early work was often folk based – 1970's Ladies of the Canyon featured singalongs like 'The Circle Game' and 'Big Yellow Taxi'.  These five classic releases began with the starkly powerful Blue, on which she single-handedly redefined the notion of the singer-songwriter. Intimate and confessional, her new songs of love and heartbreak shocked some of her male counterparts with their emotional intensity. On first hearing them, her friend Kris Kristofferson exclaimed: "Oh Joni – save something of yourself!" . That was not an option for Mitchell, whose songwriting had now approached a level of rapt intensity. Graham Nash, the Manchester-born, Los Angeles-based songwriter, remembers her "channelling" her songs so intensely at the piano of the house they shared in leafy Laurel Canyon that she would be utterly immune to his presence in the room.
Arguably the most vulnerable song on Blue, "A Case of You" is an intimate window into Mitchell's personal life. In 1979 Rolling Stone interview, Mitchell said, "The Blue album, there's hardly a dishonest note in the vocals. At that period in my life, I had no personal defenses. I felt like a cellophane wrapper on a pack of cigarettes." Said to be inspired by her breakup with Graham Nash, "A Case of You" is yearning and raw. And interestingly, that's James Taylor on guitar in the back, Mitchell's love interest at the time.
The best song on Mitchell's best album has become a seasonal classic over the past couple decades, with artists as diverse as Rosanne Cash, Cee Lo Green and old buddy James Taylor recording cover versions for holiday records. Mitchell's spare, piano-driven take is the most heartbreaking. Like most of 'Blue"s tracks, it's a love song. But this one looks back on a particularly painful breakup that still hasn't settled in as Christmas nears.
She took a more direct approach with 1971's Blue, a stripped back, emotionally vulnerable album that diaries her relationships with Graham Nash and James Taylor. Side two is the stronger half with masterful songs like 'A Case of You' and 'River', and the intense paranoia of 'This Flight Tonight'. Blue features Mitchell's work on the Appalachian dulcimer.
The trio of austerely beautiful and forlorn songs – River, A Case of You and The Last Time I Saw Richard – that close Blue are the real beginning of that creative tightrope walk. On the final repeated line of the beautifully forlorn River – "I wish I had a river I could skate away on" – she lingers on "skate", making it sound like the resigned cry of someone falling slowly, wilfully though the ice.
"During the making of Blue, I was so thin-skinned and delicate that if anyone looked at me, I'd burst into tears," she admitted years later, referring to the messy fracturing of her relationship with Nash and the tentative beginnings of a short, but intense, relationship with James Taylor, then in the throes of heroin addiction.
Blue, though, also signalled in more subtle ways the more dramatic musical shift that was to follow. Listen to the way she enunciates the very first notes of the title song, settling on the word "blue", stretching and bending it across an octave or two in the manner of a seasoned jazz singer. Then there's the joyous lilt and sway of Carey, one of several songs of wanderlust that, across the years, testify to a relentlessly restless spirit.
Mitchell came up though the American trad-folk circuit of the mid-60s and was for her first two albums marketed as a fey, fragile hippy folk singer. She had already survived several setbacks. Her childhood in small-town Saskatchewan was fractured when she contacted polio, aged eight, in 1951. In 1964, she had fallen pregnant and, struggling financially, gave her newborn daughter up for adoption the following year. (The song, Little Green, from Blue, is an ode to her lost daughter and, on Chinese Cafe, a song released in 1982, she sang: "My child's a stranger / I bore her / But I could not raise her." She was reunited with her daughter, Kilauren Gibb, in 1997.)
For The Roses (1972)
If Blue was a dramatic refinement of her songwriting approach, the next album, For the Roses, seemed like a step sideways. Revealingly, though, the usual coterie of LA session players was augmented by jazz musicians Wilton Felder and Tom Scott. Between her two undisputed classics 'Blue' and 'Court and Spark,' Mitchell released 'For the Roses,' which, in its way, is the quintessential Joni Mitchell album's, despite its shortcomings. The record's lead single stems from a meeting with record-company executives, who asked the commercially averse artist to write a hit single. Even though it's delivered with tongue firmly in cheek, 'You Turn Me On, I'm a Radio' ended up in the Top 30, The effortlessly commercial You Turn Me On, I'm a Radio – written to assuage David Geffen, the boss of her new record label, and the snaky thrust of Cold Blue Steel and Sweet Fire both pulse with the more musically loose-limbed presence of Felder (bass) and Scott (woodwind and reeds). Joni was branching out and moving on once again.
For The Roses has always felt like the overlooked album from her 1970s peak. It's also an important step in her development, a big leap in musical sophistication after the emotionally naked Blue. Seemingly straightforward songs like 'The Blonde in the Bleachers' are filled with complex chord changes that showcase Mitchell's musical sophistication. Her arrangements are fuller than before, with more guest musicians, but it's still centered around Mitchell's acoustic guitar and piano. A lot of these songs concern Mitchell's recent breakup with James Taylor.
Court and Spark (1974)
All of Mitchell's studio albums between 1971 and 1976 are strong, but my favourite is the smooth jazzy pop of Court and Spark. Mitchell recounts; "Nearly every bass player that I tried did the same thing. They would put up a dark picket fence through my music, and I thought, why does it have to go ploddy ploddy ploddy? Finally one guy said to me, Joni, you better play with jazz musicians." .  "Help Me" Mitchell's biggest hit (it reached No. 7, her only Top 10 showing) is also one of her instantly likable songs, thanks to an impeccably played melody that splits the difference between soft rock and smooth jazz. Backed by an ace session group fronted by L.A. saxophonist Tom Scott, Mitchell breezily works her way through this distress call that goes down like a cool cool cocktail on a hot summer day.
The sound and the melodies are smooth, and the singles like 'Free Man In Paris' and 'Help Me' are among her most approachable songs. But there's still plenty of trademark romantic insecurity on songs like 'Car On The Hill' and 'Down To You'. On Free Man in Paris – reputedly about Geffen – and the observational People's Parties, Mitchell turned her gaze on the newly ascendant Los Angeles rock music aristocracy with their "passport smiles" and cocaine cool. As Court and Spark became her bestselling album, she was still the conflicted outsider, unable to fit comfortably into this new elite – "I feel like I'm sleeping, can you wake me?" she sings on People's Parties, sounding resigned, almost numb, "…I'm just living on nerves and feelings with a weak and a lazy mind/ And coming to people's parties, fumbling, deaf, dumb and blind."
Court and Spark came as a surprise. Gone was the fragile, confessional songstress in a flowing dress; instead, here was a confident, full-throated singer in designer threads with a slick electric band in tow. Gone, too, were the acoustic songs sung with just a guitar, piano or dulcimer backing, replaced by an electric, jazz-inflected, intricately arranged sound, courtesy of Tom Scott's LA Express Band, that weaved around lyrics that were acutely observational or dazzlingly impressionistic, rather than soul-baringly confessional. When her friend, Malka Marom, author of Both Sides Now, asked her if the band's presence meant that she might risk the vulnerable singer-songwriter image she had cultivated, Mitchell replied defiantly: "Well, I don't want to be vulnerable any more."
Not for the first or last time, Joni Mitchell had moved on and, in doing so, had remade herself in the manner of a true artist. The band were rehearsing the Court and Spark songs for the live tour," says Malka Marom. "Joni had a close connection with drummer John Guerin. He was the first person to put her music on paper; he mapped it out for the band. But he was also the one who inspired the courting and the sparking." You can hear that romantic static loud and clear on the raucously sensual Raised On Robbery,  After five albums of increasingly personal songs, mostly guided by acoustic guitar, Mitchell didn't want to rush the record she had released an album each year since 1968 — but she also didn't want it to sound anything like those other ones, which were starting to pigeonhole her as a single-minded singer-songwriter. So she incorporated jazz elements into the songs. 'Raised on Robbery,' the album's first single, begins as a big-band-style boogie before giving way to one of the hardest-rocking songs in Mitchell's catalog. In which Mitchell inhabits the role of a good-time girl on the pick-up, relishing the lines, "I'm a pretty good cook, I'm sitting on my groceries/ Come up to my kitchen, I'll show you my best recipe." It was a long way from Laurel Canyon, lunar miles from the folksy piety of Clouds.
The Hissing of Summer Lawns (1975)
The follow-up, The Hissing of Summer Lawns, sparked a critical backlash that  is hard to fathom. Rolling Stone noted Mitchell's increasing sophistication as a songwriter while lambasting her "increasingly eccentric" melodies and "uninspired jazz-rock style". One suspects that the rock blokes wanted folk-rock authenticity, but her hybrid sound and the shifts in style that now marked her writing had taken her way beyond that.
Among those who did get The Hissing of Summer Lawns, though, were Smiths frontman Morrissey – who called it "the first album that completely captivated me" Hissing got thrashed," a defiant but still bruised Mitchell recalls So, though it got thrashed by the press, the young artists coming up could see there was something special going on there.".
The Hissing of Summer Lawns marks where Mitchell focused on texture, a much more eclectic record than anything she'd done previously. 'The Jungle Line' is built around a sample of Burundi drumming, while 'Shadows and Light' is filled with airy synthesisers. But the dominant mood of the album is sumptuous, feminist ballads like 'Shades of Scarlett Conquering' and 'The Boho Dance'. Prince was vocal in his admiration for this record, and 'Don't Interrupt The Sorrow' is my favourite of Mitchell's songs, with its fluid bass line and dobro textures.
"For a long time, I've been playing in straight rhythms," Mitchell told her friend, Malka Marom, in 1973, in the first of the three extended interviews that are included in Both Sides Now, a new book published next month. "But now, in order to sophisticate my music to my own taste, I push it into odd places that feel a little unusual to me, so that I feel I'm stretching out." The Jungle Line, which jumps out at you with its juxtaposition of Mitchell's voice and the thunderous rhythms and whoops of the Drummers of Burundi.)
Hejira (1976)
After the richness of Hissing, the mood poems of Hejira seemed to me for a long time to be a muted coda to Mitchell's golden period. Over time, though, the best of these often slow and brooding songs – Hejira, Amelia, Blue Motel Room have kept calling me back despite my slight aversion to Jaco Pastorius's relentlessly virtuoso bass playing. If Blue Motel Room is a study in longing and languorous sensuality. Amelia, an ode to the pioneering aviator Amelia Earhart, sees Mitchell in reflective mood, her confessional honesty now even more nakedly self-searing than before. "Maybe I've never really loved, I guess that is the truth", she sings in the penultimate verse, "I've spent my whole life in clouds at icy altitudes…"
After splitting with drummer John Guerin, Mitchell embarked on a road trip. Hejira is effectively a journal of her travels, documenting characters like the horny protagonist of 'Coyote' and veteran blues-man Furry Lewis. Texturally, the album revolves around Mitchell's guitar and Jaco Pastorious's fretless bass. With the homogeneous sound, it's perhaps the most difficult of her first five albums to access, but it's filled with gorgeous songs like 'Amelia' and 'Refuge of the Roads'.
https://www.youtube.com/watch?v=f7MbmXklj3Q
It is an acknowledgment that Joni Mitchell created her best music at some personal cost, which is part of the reason it carries such emotional resonance across the years. She once said that her audience connected with the honesty of a great song because "it strikes against the very nerves of their life". She then added: "To do that, you have to first strike against your own." For me, she is indisputably the most sophisticated voice of hope and heartbreak, joy and sorrow.
A Four-disc box set Love Has Many Faces: A Quartet, a Ballet, Waiting to Be Danced, featuring 53 remastered songs from Joni Mitchell's career, is out 17th November on Rhino.
Also check out: 1977's double album Don Juan's Restless Daughter has lots of great moments, and it's a little overlooked in her catalogue. 1969's Clouds is the best of her early folk-oriented work, with gorgeous songs like 'That Song About The Midway'.