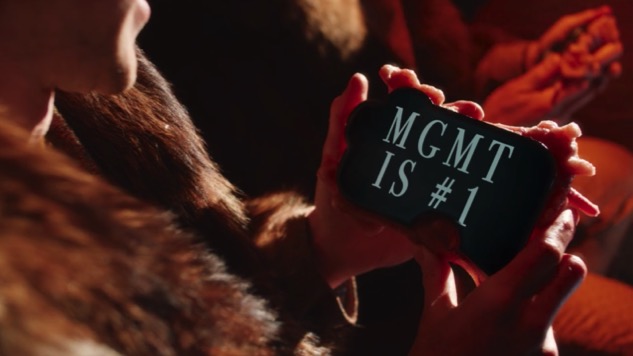 MGMT's first album in almost five years is close at hand, and the psych-rock duo have put out one more single ahead of the release of Little Dark Age this Friday, February.
New single "Me & Michael" is out now, along with a narrative-based music video from directors Joey Frank and Randy Lee Maitland. The song itself is a bright, synth-driven ode to a companion, built on sparkling guitars and keys straight out of the '80s. As the video observes, "It's a hit song!" . The bizarre, yet charming "Me & Michael" video sees Andrew Van Wyngarden and Ben Goldwasser become successful musicians in an odd, cardboard universe, only to be exposed as plagiarists. A press release explains the clip as follows:
The video tells the story of MGMT being moved to steal a song written by Filipino band Truefaith, a theft leading to a rise of unprecedented success followed by an accusation of plagiarism and a crashing fall. When the band puts their heads together and decide to ask for forgiveness, they contact Truefaith—who are actually an established rock band from the Philippines and who recorded a version and video called "Ako at si Michael" for this little MGMT stunt. If you look around for influences, you will find Russian versions too.
Sure enough, Truefaith's version of the song and its accompanying video went up on YouTube a few days ago.
"Me & Michael" follows three previous Little Dark Age singles, including its title track, "When You Die" and "Hand It Over." The album will be MGMT's first new release since their 2013 self-titled, which itself followed their Grammy-nominated 2007 debut Oracular Spectacular and their acclaimed 2010 followup Congratulations.