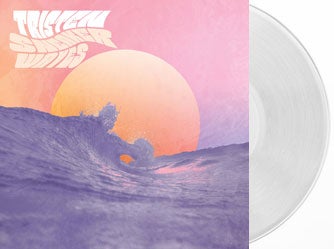 After years as Jenny Lewis' back-up singer and keyboardist, Tristen is back with her third album. The songs, recorded in her home studio, act as snapshots on universal themes. The melodic "Clandestine" is but one fine example.
It's coming up on four years since songsmith Tristen Gaspadarek released her wide-ranging sophomore full-length album "Caves", but she's been plenty busy since then, including a stint touring in Jenny Lewis' band and also releasing a collection of poetry. Her new album "Sneaker Waves" is due via Modern Outsider.
Recorded and co-produced by Buddy Hughen, the record features contributions from a wealth of top local players, including touring band members Coley Hinson and Kaleb Kirby as well as Ben Parks (Fox Fun, Sun Seeker), Matt Rowland (Ghostfinger, Rayland Baxter, Kacey Musgraves), Linwood Regensburg (Those Darlins) and Jerry Roe (Friendship Commanders, many more) — plus a guest appearance from Jenny Lewis on standout track "Glass Jar."
The based Nashville singer-songwriter Tristen is ready to put her killer vocals on the map with a new psychdelia-tinged single and music video for "Glass Jar." The song is on the album Sneaker Waves, her first original album release  though she did release a poetry book called Saturnine last year.
Tristen  also toured with the likes of Vanessa Carlton and the Weeks, but for the past two years she's been part of the backing band for Jenny Lewis, Perhaps not coincidentally, fans of Lewis' most recent album The Voyager will probably find a lot to like here too.
"I don't have to say goodbye/ You don't get to see me cry/ You put me in a glass jar and tap, tap, tap to see how I move," Tristen croons on the track, which speaks to more weight than the song's overall airy vibe suggests. Synths and guitars overlay the the idea of being trapped and on display in something more like a prison than a home.
Director Casey Pierce's music video plays on the themes of the song's '60s-nostalgic sound and the isolationist lyricism. Tristen is often cast in pale, pastel light, outfitted in the tunics and skirts of the time. Her image is duplicated side-by-side, like looking through a half of a kaleidoscope. The jar imagery comes to mind as she dances by herself with only a shadowy, undeterminable background behind her, emphasizing the song's seclusive language.
Sneaker Waves is out via Modern Outsider Records.